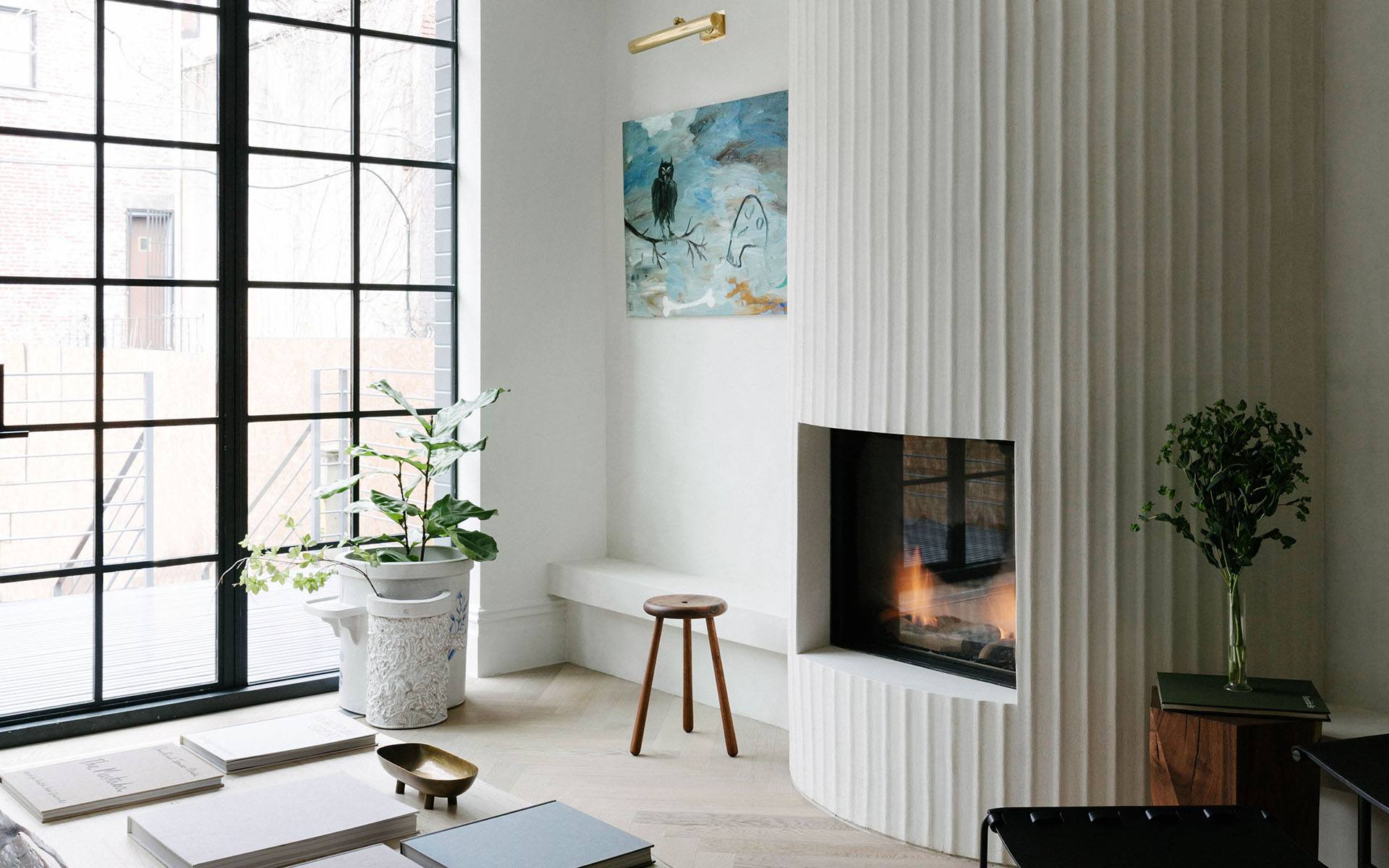 This Women-Run Studio Crafts Transformative Wall Treatments Using Venetian Plaster
The artists at Kamp Studios create sculptural, textural, and painterly effects that blend modern design with old-world techniques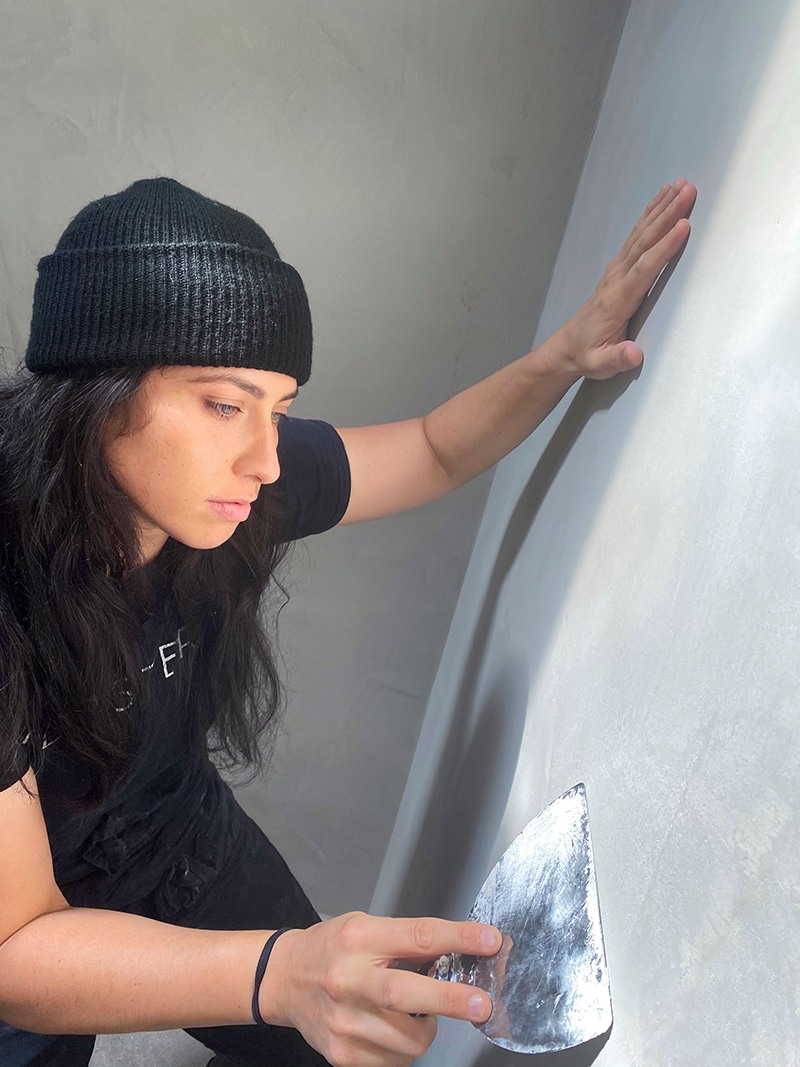 As wallpaper ateliers are touting innovative new creations, one dynamic studio is transforming walls with a creative process that dates back centuries. With artists in both New York and California, Kamp Studios is using Venetian plaster to create one-of-a-kind textures and painterly effects in both residential and commercial interiors.
"The walls go from being painted, which feels so flat, to being able to breathe," says Kim Collins, who founded the company in 2005. "It's such a nice backdrop to an entire moment that just feels so alive."
Collins got her start after moving to New York in 2000, leaving behind a teaching career to try her hand at something more creative. She joined a crew doing decorative finishes and experimented with different techniques on samples of sheet rock in her apartment. After a year, she branched out on her own, creating a postcard to advertise her new business which she distributed at a Front Street bagel shop in Dumbo, Brooklyn. The announcements produced only one client, but it has turned out to be one of Kamp's most fortuitous relationships: Athena Calderone. "It's been an incredible journey with her," says Collins, who has collaborated with the EyeSwoon founder on a number of her Brooklyn residences and her Hamptons home, as well as her latest townhouse.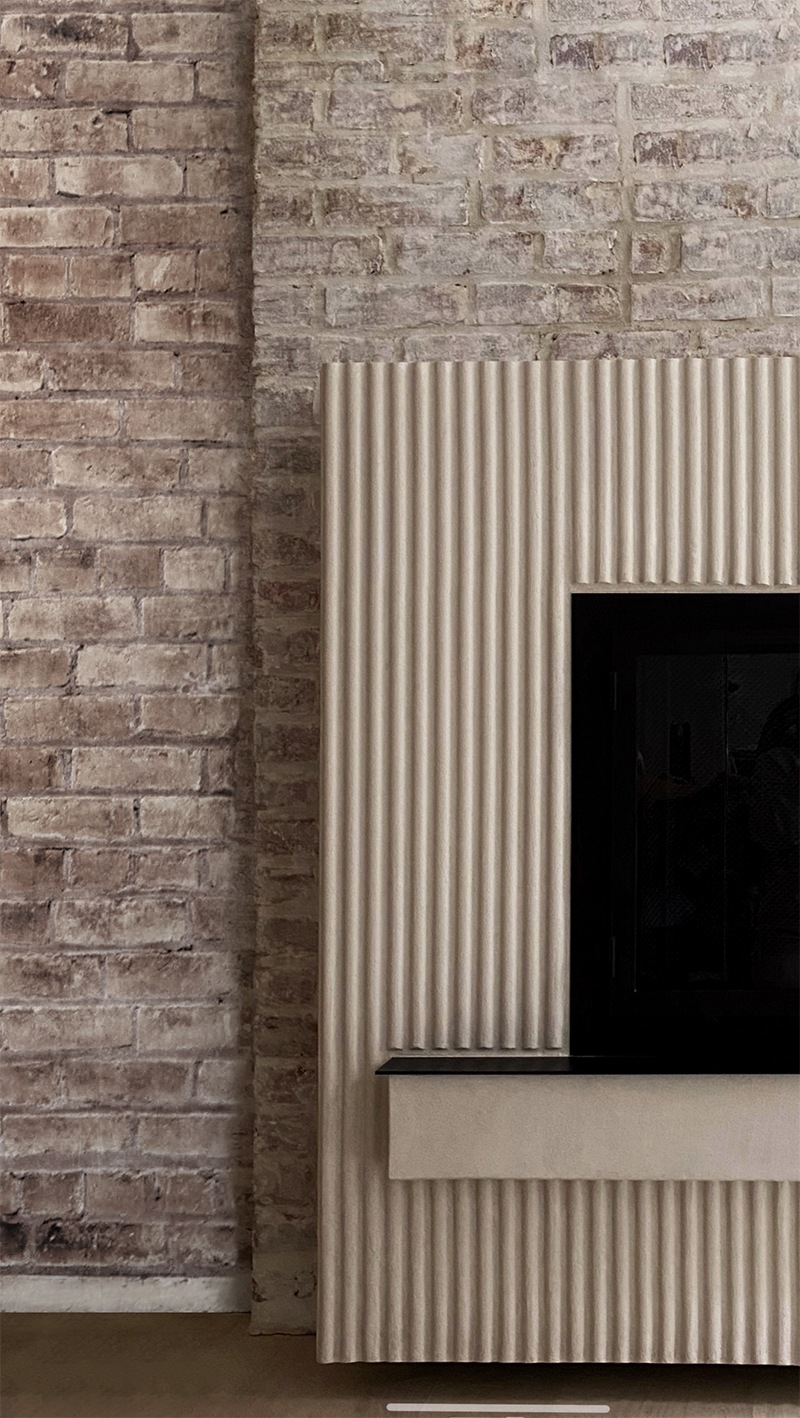 Under the Kamp umbrella, Collins and her colleague, creative director Amy Morgenstern, have experimented with traditional Venetian plaster, cultivating new colors, texture, high gloss or matte. Everything they make is fully customizable, and they're continually looking for new techniques, shapes, and effects to add to their repertoire.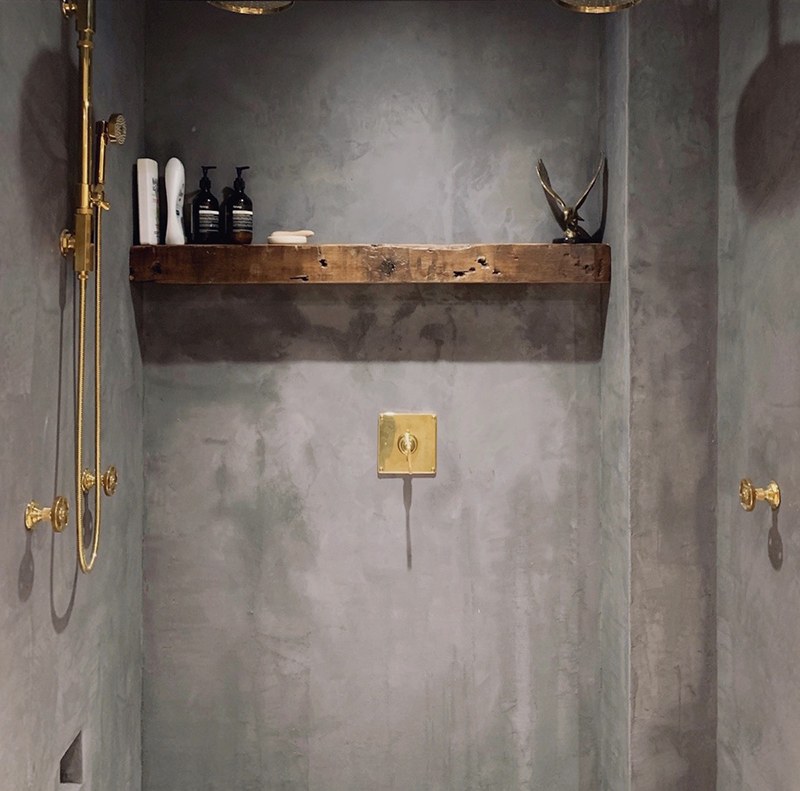 Morgenstern joined the firm in 2010 as an apprentice following an equally unconventional educational path. Before meeting Collins, she attended the U.S. Military Academy and was planning on enrolling in Hofstra University's pre-med program. "I'm not someone that reads instruction labels and follows protocol," she tells Galerie. "I'm more the person that says, Let's do things that no one's seen before. Let's do what isn't prescribed and that's been our way—taking over techniques and textures, cutting new tools that we were making up on the fly. Stopping the decorative aspect of plaster and the insertion of architectural."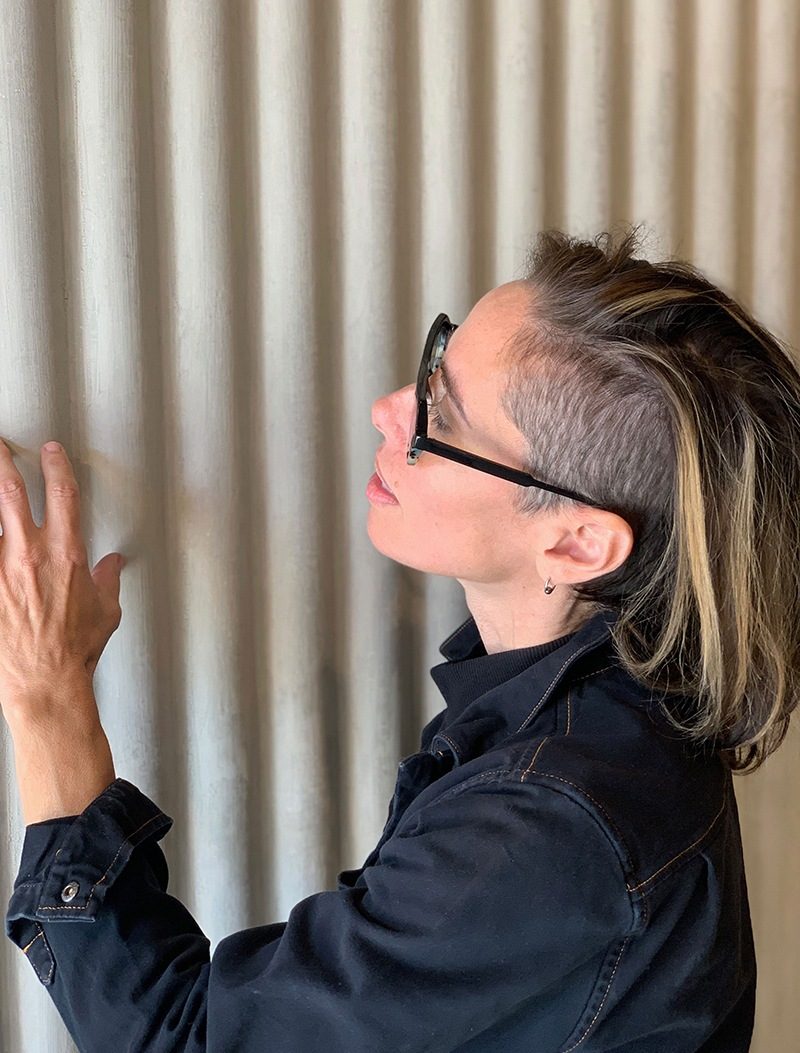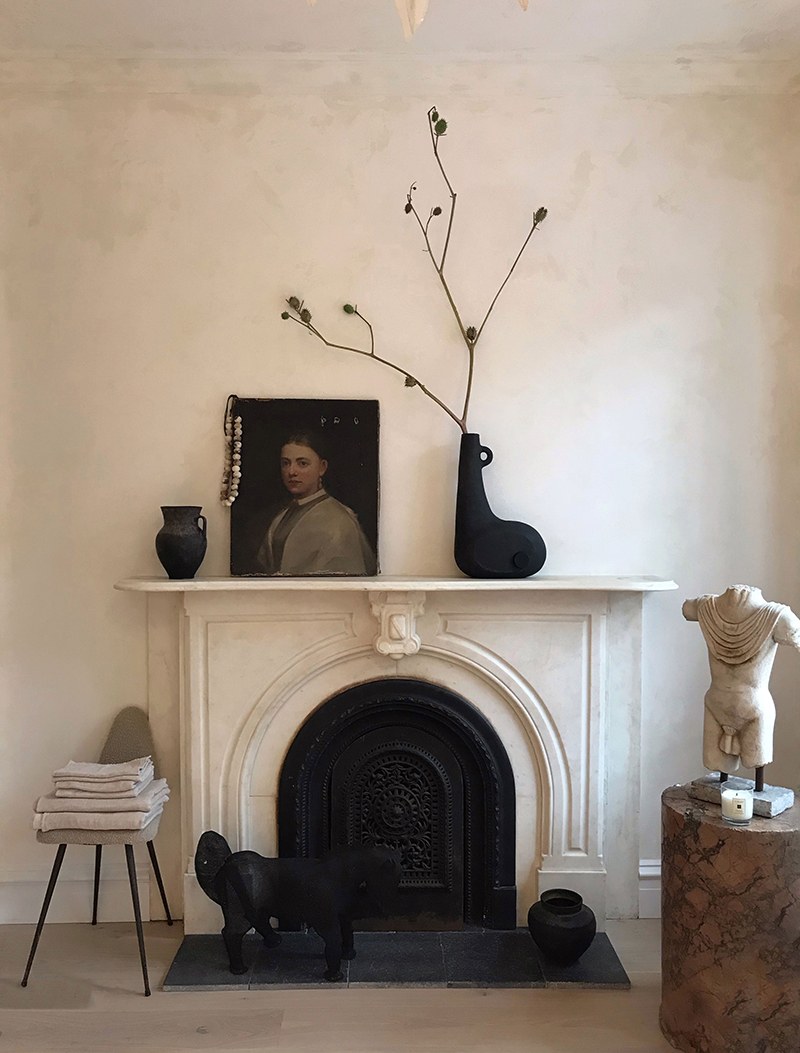 Today, Kamp is in high demand for its unique Venetian plaster fluting, which first gained major attention in the West Coast showroom of lighting design studio Apparatus. For cofounder Gabriel Hendifar, Collins and Morgenstern crafted a custom creamy vanilla shade, which has become one of their most requested colorways. "The ability to take a seed from a designer or architect and then create a sample set, that's the best part," says Collins of the collaboration.
"For the first time, we were becoming comfortable with our own aesthetic and working with so many designers that thought the glossy finish was the only thing you could do with plaster," she adds. "We were doing more of what we really like, which people really love because it's so authentic. It's not decorative. It got really fun for us in that everyone wanted what we like and enjoy doing."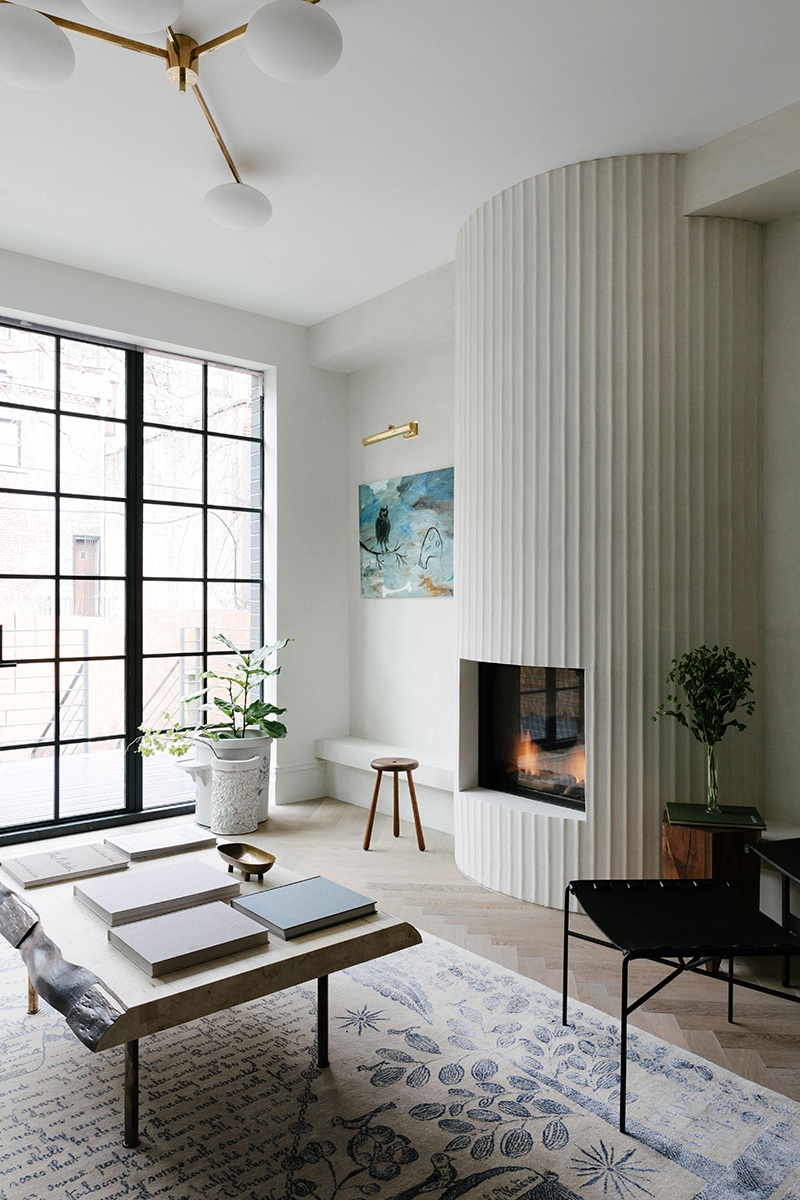 The Kamp Studios team has also worked on Apparatus's New York showroom, recently updating plaster walls they did years prior with a hand-carved inlay. Their work with plaster fluting has appeared everywhere from Nate Berkus's Manhattan home to high-design boutiques Saturdays NYC and Marysia on New York's Crosby Street. For the latter, they created the effect in a bubble-gum pink shade, with fluting running up walls and across the ceiling.
The team has also devised plaster techniques for Roc Nation's executive suites on both coasts, and they are wrapping up a Los Angeles residence for a major young musician—a project that grew from few accent walls to a 20,000-square-foot job. "I think one of our most successful traits is our ability to build, really understand, and make something more than what a client thought it could be," says Morgenstern, whose fills the firm's Instagram page with hashtag #PlasterOverEverything.
Currently working on 30 different projects at any given time, Collins and Morgenstern—who remain a team of two with just a handful of applicators—are selective about the projects they'll take on. But what they're looking for the most is something that's collaborative, with an element of trust.
"The designers who benefit the most from makers like us are the ones who allow creativity to become a collaboration and that relationship not be so one-dimensional," Morgenstern says. "I personally live very, very far outside the box and so I think that's something the industry is seeing more and more of."
Next Post