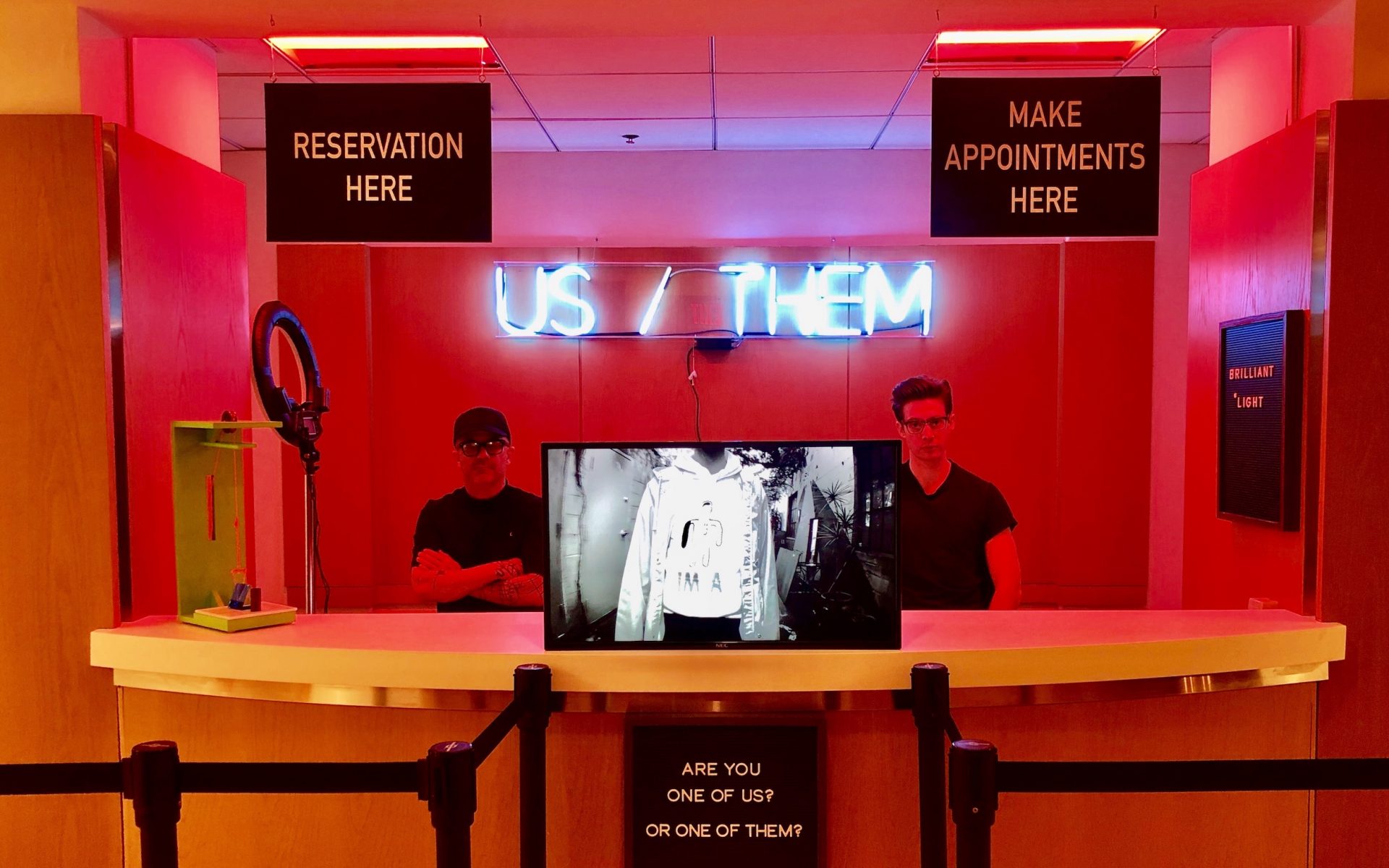 Inside the Performance That Is Making People Cry at Spring/Break Art Show
The artist Jonathan Paul is asking visitors to pick an identity, and it's causing strong reactions
"Are you one of us or one of them?" This is the question posed by artist Jonathan Paul's performance Us/Them at Spring/Break New York. Located behind a reception desk in a second-floor office at 866 United Nations Plaza, Paul's setup looks more than a little institutional. Two lines, one for making appointments, the other for reservations, stretch nearly out the door. By the end of the day, everybody here will have a new identity: "us" or "them."
Paul assigns these identities one by one in a soft, serious tone, and with the assistance of a mechanical device he calls the "Decider"—a detail picked up from Terry Gilliam's 1985 dystopian movie, Brazil. The "Decider" designates "us" or "them" with the same randomness as a coin flip, at which point guests are photographed and presented with a freshly printed ID card, complete with a list of the responsibilities their new identity entails—mainly, small kindnesses like holding the door for others. Paul reads the card, then adds, "I wrote this because this is the kind of person I would like you to be."
"I thought of the idea seven or eight months ago, when society had me feeling really dichotomized," Paul tells Galerie, remarking that he wanted to comment on people's tendency to push away those who are different from them, rather than to seek unity. Art enthusiasts might recall the performance's debut at Art Miami last December, where it was still in its earliest stages. There, Paul estimates he assigned some 100 identities total, but at Spring/Break New York, he's interacting with some 150 people per day. Reactions have run the gamut from slightly amused to incredibly moved.
"We've had many people cry," Paul remarks, seeming touched but not entirely surprised. "Yesterday, a lady literally started sobbing as I was reading the card, halfway through. I couldn't even say the whole sentence—I'd already lost her."
View this post on Instagram
The performance's key visual elements have been carefully considered, especially the "Decider."
"In the film Brazil, there's a pendulum," says Paul. "It swings yes and no. In the film, he was making some of the most important decisions in the world." While Paul could have gone for a more conventionally random decider—a Magic 8 Ball, for example—he felt that the film's version was "the perfect machine to appropriate."
Appropriation is a recurring element in Paul's practice, especially as of late. He fooled fairgoers at Spring/Break in Los Angeles last month with All the More Best, where he donned layers of Oscar-worthy makeup to stage an impersonation of famed appropriation artist Richard Prince. His performance was so convincing that more than one gullible fairgoer went home giddy with what they believed to be a genuine Richard Prince autograph, forged, of course, by Paul. 
"It was hilarious," he recalls with a laugh.
Paul is an artist well versed in satire; some might know him by a pseudonym he obtained when working as a street artist: Desire Obtain Cherish. His early artworks were an insider's take on the worlds of fashion and advertising, where he spent good portions of his career, and included everything from Louis Vuitton–branded pills to melting lollipops. In an Instagram post, Paul warns fans not to lick one such sculpture with the caveat that "Taste is the enemy of art."
Recommended: VIDEO: Tour the Independent Art Fair 2019
Paul's more recent decision to operate under his given name suggests a heightened interest in making a personal connection with his audience. 
"Some people are very skeptical," he notes. "Sometimes you're dealing with artists or curators who are completely jaded. They've seen it all. Been there, done that." He adds of the performance, "If I get the opportunity to do this again, I would rather it be quiet when I'm talking to people. It can't be so chaotic," he says, gesturing around at the bustle of the fair. "It needs to be personal to really make an impact."
Us/Them is curated and presented by UNIX Gallery at Spring/Break through March 11. A documentary of the project is also in development by Paul.
Next Post