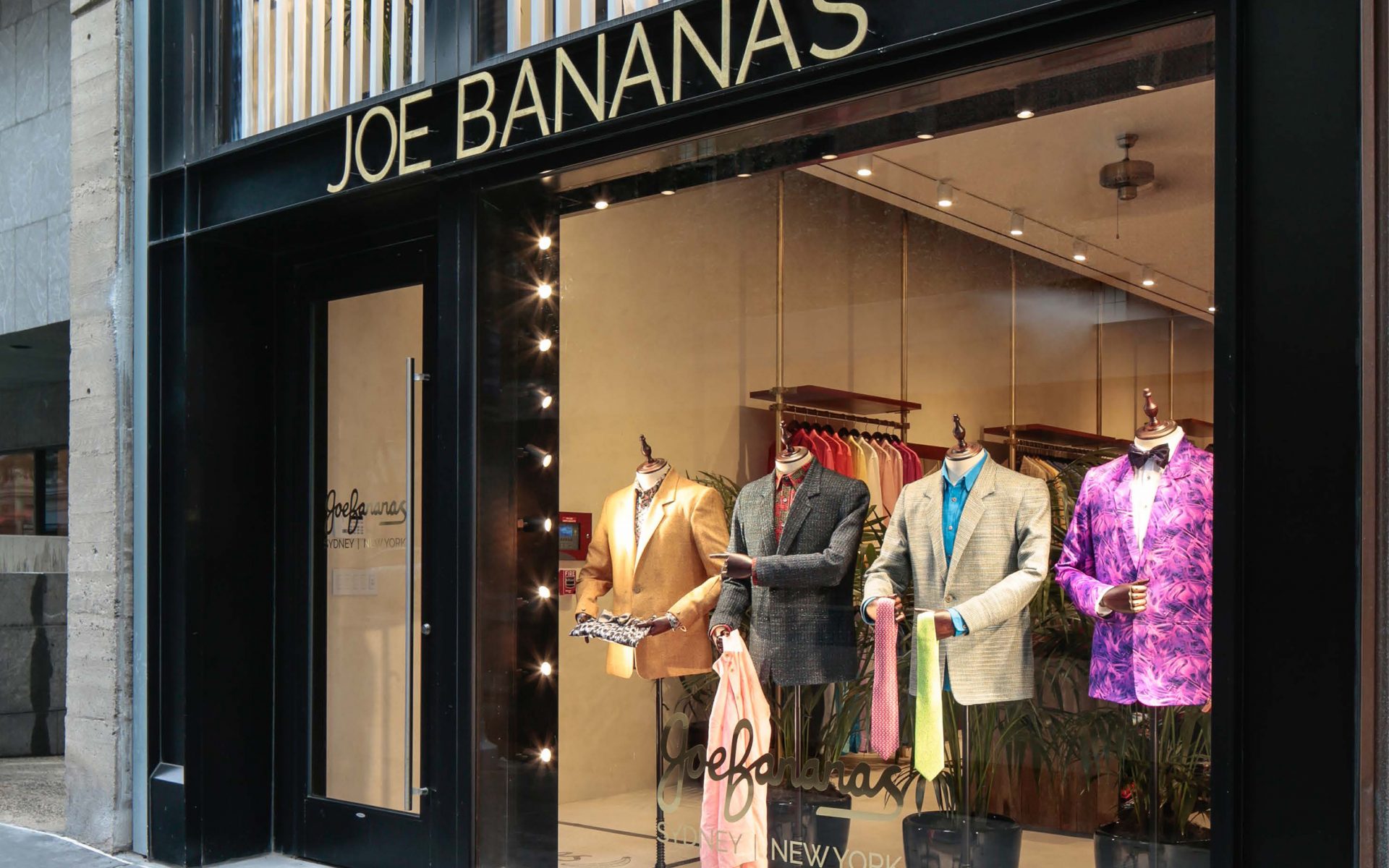 Bespoke Menswear Brand Joe Bananas Lands in the U.S.
The Sydney-based label, which just opened a New York boutique, has attracted famous fans like Elton John and Whoopi Goldberg
Sydney-based menswear label Joe Bananas has made its way Stateside with a high-design boutique on New York's Madison Avenue. Company co-owners Kim Bourke and Evan Sturrock use their own silk farms and in-house weavers to create an ultra-limited quantity of colorful and textured fabric that is transformed into bespoke suiting beloved by everyone from Sir Elton John to Whoopi Goldberg and Shirley MacLaine.
"There's nothing more beautiful than silk because it's such a fine and delicate textile," says Sturrock. "To create something that is durable and robust and also masculine out of it, I think there is a bit of beauty in that."
A family-owned company, Joe Bananas was launched in 1986 by Bourke's uncle Joe Bananas and father, Peter. A showpiece in the New York boutique are the massive old-world-style doors on the brand's original shop at Sydney's landmark Queen Victoria Building.
Recommended: Dior Enlists 11 Women Artists to Create Chic New Handbag Collection
Inside the refined, gentleman's-club-like boutique are the company's signature blazers in a wide array of colors and patterns, from rich navy to "knockout Liberace pieces." It takes artisans roughly 250 to 300 days to weave enough fabric to create six or seven jackets. The labor intensity and variations in the tapestry give Joe Bananas's jackets an unparalleled level of exclusivity. "You can't achieve quality when you're mass-producing anything. You have to make compromises and sacrifices," says Sturrock. "To operate in this sphere of niche, you got to do something different, and that's what we love doing."
To cater to an "absolute individualist" client that is both a risk-taker and global traveler, each silk jacket can be rolled into a carry-on, and by nature of being made from raw silk,  won't crush. In addition, the pieces feel warm in cool weather and breathe in hotter climates. The store also carries shorts and winter overcoats all year long to cater to customers who frequently travel from one end of the globe to the other.
"[We create] something that's interesting, something that's different, to bring to these guys that have everything—and have seen everything—something they've never seen before," says Bourke. "We give them the opportunity to have something they don't have. That's every piece we create."
A version of this article first appeared in print in our 2018 Winter issue under the headline "Tailored Tapestry." Subscribe to the magazine.
Next Post