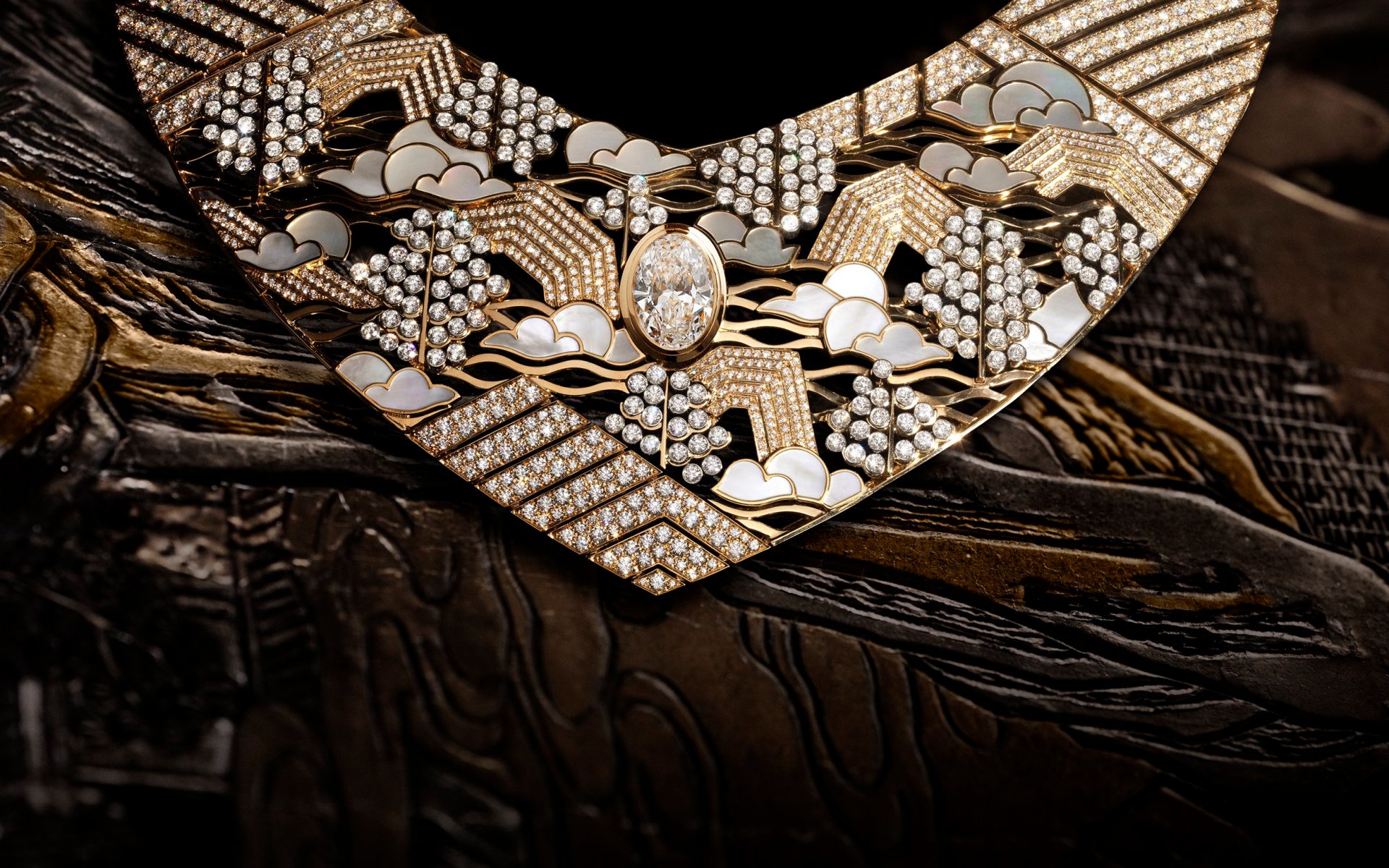 These 12 Extraordinary Jewels Will Debut This Fall
These pieces of high jewelry from Paris Haute Couture Week feature stunning stones and a passion for heritage
Every July, during Haute Couture Fashion Week, all eyes in the jewelry industry turn to Place Vendôme, where jewelers showcase their high-jewelry debuts. Artisans have set up shop in the famed Paris square since Frederic Boucheron arrived in 1893 when he opened an atelier at No. 26. Soon after, Chaumet, Van Cleef & Arpels, and others quickly followed. Fold in the private salons and suites of the Hotel Ritz Paris, and today this tourist-centric neighborhood in the 1st arrondissement has become the hot spot for the annual unveiling of jewels.
Haute couture and high jewelry share many traits, of course: Each is rooted in creating one-of-a-kind pieces for a global roster of private clients, designs that employ the ultimate in both craft and materials. Colombian emeralds, rubies from Mozambique, Paraiba tourmalines, and hefty diamonds in a rainbow of hues are de rigueur in high jewelry, while each house also takes immense pride in showing off its handcraft.
Of course, the two also share another common element: You'll never hear price openly discussed. That's for private conversations behind closed doors – though in high jewelry, more often than not, private clients will have seen pieces before editors, a fact revealed by subtle "Reserved" signs often discreetly positioned in glass vitrines.
Recommended: The Most Spectacular High Jewelry from Paris Haute Couture Week 2017
Here, we select 12 of the most incredible pieces that have just been presented.
1. Anna Hu
It's only appropriate that Anna Hu would show her latest high-jewelry collection in a private salon adjacent to the gardens of the Ritz Paris: The Taiwanese designer deftly mixes her elegant aesthetic with a love of nature, making the iconic hotel and its rose-filled courtyard a fitting locale for the 10 pieces she debuted. This Papillon ring felt right at home, showcasing a 1.62-carat triangular brilliant-cut fancy orange yellow diamond at its center, surrounded by more than 850 white and yellow diamonds totaling 10.25 carats.
2. Boucheron
Boucheron is celebrating the 160th anniversary this year by combining a tribute to its past with an exploration of new techniques in its "Nature Triomphante" collection. Nine rings – dubbed "Eternal Flowers"–were among the debuts in a special-events space opposite Boucheron's boutique on Place Vendôme, which has been in the same location since 1893 and is currently undergoing renovations. The house is seeking to patent its under-wraps process of creating lifelike petals that resemble anemones, hydrangeas, roses and other blossoms. This Pivoine Avis Varner ring features pink-orange petals that surround a rare Padparadscha sapphire, a salmon-toned stone that takes its name from the lotus blossom. The titanium pistils are studded with black spinels, while the underside of the petals are paved with yellow and violet sapphires.
3. Buccellati
The Milan-based jeweler's signature honeycomb technique, which takes its cue from lace and the neck ruffs women wore during the 16th and 17th centuries, became the focal point of "Tulle Creations," Buccellati's latest high-jewelry collection. To create the lace-like honeycomb, artisans hand-pierce each hole, then use a manual saw to create a hexagon shape; one mistake causes the piece to be scrapped and started anew. These Esmeralda earrings feature honeycomb in 18-karat white and yellow gold embellished with 312 white diamonds, all surrounding two matched pear-shaped emeralds totaling 6.41 carats.
4. Cartier
Vivid hues are showcased in "Coloratura," Cartier's latest high-jewelry collection, and few pieces showcase the theme better than this platinum chimera bracelet. Inspired by pieces from the house's archives—Cartier has been crafting chimeras, a Greek mythological creature that combines a lion, goat and snake, since the 1920s—this bracelet is embellished with melon-cut peridots totaling 160.14 carats, cabochon-cut sapphires totaling 4.63 carats, onyx totaling 6.82 carats, and coral totaling 1.92 carats, while the lion's head features brilliant-cut diamonds totaling 5.92 carats, sapphire eyes totaling .38 carats, and is topped with one 20.83-carat cabochon-cut opal.
Recommended: Cartier's Mystery Clocks: Artistry, Craftsmanship, and Magic
5. Chanel
From her astrological sign (Leo) to her love for the French seaside resort of Deauville, Coco Chanel left behind a seemingly endless well of resources. That extends to the house's latest high-jewelry collection, inspired by the Coromandel screens she loved to collect. Coated in black lacquer and decorated with gold leaf and mother of pearl, eight of the screens are still found in the apartment she occupied on the top floor of her Paris atelier at 31, rue Cambon. This "Horizon Lointain," or "Faraway Horizon," necklace evokes the imagery found in those screens: Crafted of 18-karat yellow gold and platinum, the necklace is embellished with 2,250 round-cut diamonds, 20 carved pieces of white mother of pearl and, at its center, one 6.52-carat oval-cut white diamond.
6. Chaumet
From graphic tribal patterns to animals found on the Serengeti Plain, Sub-Saharan Africa inspires Chaumet for its "Trésors d'Afrique" high-jewelry collection. The African treasures are highlighted by a set of six brooches designed by Kenyan artist Evans Mbugua, including this whimsical lion, crafted in 18-karat white and yellow gold and embellished with round blue, yellow and pink sapphires and, for the tip of its tail, a .80-carat brilliant-cut white diamond.
7. Chopard
Fun fact: Each year Chopard creates high-jewelry pieces equal to the number of years of the Cannes Film Festival; the jeweler is among the May event's major sponsors and debuts many of its one-of-a-kind stunners on the red carpet during the 12-day competition. For its 2018 Red Carpet Collection, a 71st-annual festival equals 71 pieces of high jewelry, including these earrings in 18-karat white gold and titanium (Chopard often employs titanium both for its light weight–allowing larger pieces to be worn with ease–and for its ability to take color well). Tanzanite cabochons totaling 40 carats are mixed with pear-shaped and brilliant-cut diamonds totaling 13.6 carats and brilliant-cut sapphires totaling 5.1 carats.
8. Cindy Chao
Splitting her time between Taipei and Hong Kong, Cindy Chao imbues a sculptural edge to the nature themes she loves to explore, as seen in the Peony brooch in her 2018 White Label Collection. Crafted of titanium and 18-karat yellow and white gold, the brooch is embellished with 2,485 rubies totaling 228.62 carats and 668 diamonds totaling 5.98 carats. The brooch's artistry captured the attention of the judges at Masterpiece London, where Chao's design was one of six winners in the "Outstanding Exhibit" category.
Recommended: Cross-Collecting Is in Full Swing at Masterpiece London
9. De Beers
"Diamond Legends" is the theme commemorating De Beers' 130th anniversary, with the legendary diamond house selecting four mythological themes – and how better to showcase yellow diamonds than a tribute to Ra, the Egyptian sun god? Set on a sautoir chain of 18-karat white gold and yellow and white diamonds, this pendant showcases a 3-carat fancy yellow diamond at its center, surrounded by yellow round brilliant-cut diamonds and white marquise- and princess-cut diamonds. The medallion also can be detached to be worn as a brooch.
10. Dior
Victoire de Castellane has been mining the DNA of Dior since signing on as the house's creative director of fine jewelry in 1998, employing everything from Christian Dior's love of flowers and gardens to the sculptural lines of his most iconic designs. Versailles also has served as a major source of inspiration, and for 2018 de Castellane combines the opulence of life in that palace with the delicacy of lace for a collection simply titled "Dior Dior Dior." Each necklace in the group was designed as a choker, with de Castellane envisioning high-jewelry versions of the lace ribbons women of the 18th-century French court would wear around their throats. This "Dentelle Velours," or "Velvet Lace," necklace features an emerald surrounded by diamonds and blue spinels, set in 18-karat white gold.
11. Van Cleef & Arpels
Extending its history of creating ballerina and fairy clips that have been an iconic element of the house since the 1940s, Van Cleef & Arpels debuted "Quatre Contes de Grimm," or "Four Tales of Grimm," as the theme of its latest high-jewelry collection. The house sourced a quartet of lesser-known stories by the brothers Grimm and designed groupings of jewels that highlighted subtle or overt references to each. For "The Twelve Dancing Princesses," a tale of a king's dozen daughters and their nightly quest to sneak out to a ball, Van Cleef & Arpels artisans created a different clip for each princess: Each ballgown, rendered in gold, diamonds and gemstones, is unique, while the position of each princess also may differ slightly. The one common element to each is the princess's face, crafted as a rose-cut diamond. Here, a trio of princess clips: Princesse Éos, in pink and mauve sapphires and diamonds; Princesse Danica, in yellow sapphires and diamonds; and Princesse Héméra, in blue and mauve sapphires, emeralds, tsavorite garnets, and diamonds.
Recommended: Robert Wilson Creates a Whimsical Noah's Ark for Van Cleef & Arpels
12. Messika
Paris-based jeweler Valerie Messika likewise looked to fairytales for her latest high-jewelry collection, dubbed "Once Upon a Time." Messika was inspired by a Russian folktale, "Finist the Bright Falcon," to create her Radiant Firebird ring, which features a 7.05-carat fancy yellow diamond surrounded by white marquise-cut diamonds meant to evoke the idea of feathers. The ring's asymmetrical styling also was a major trend at this year's high-jewelry presentations.
Next Post