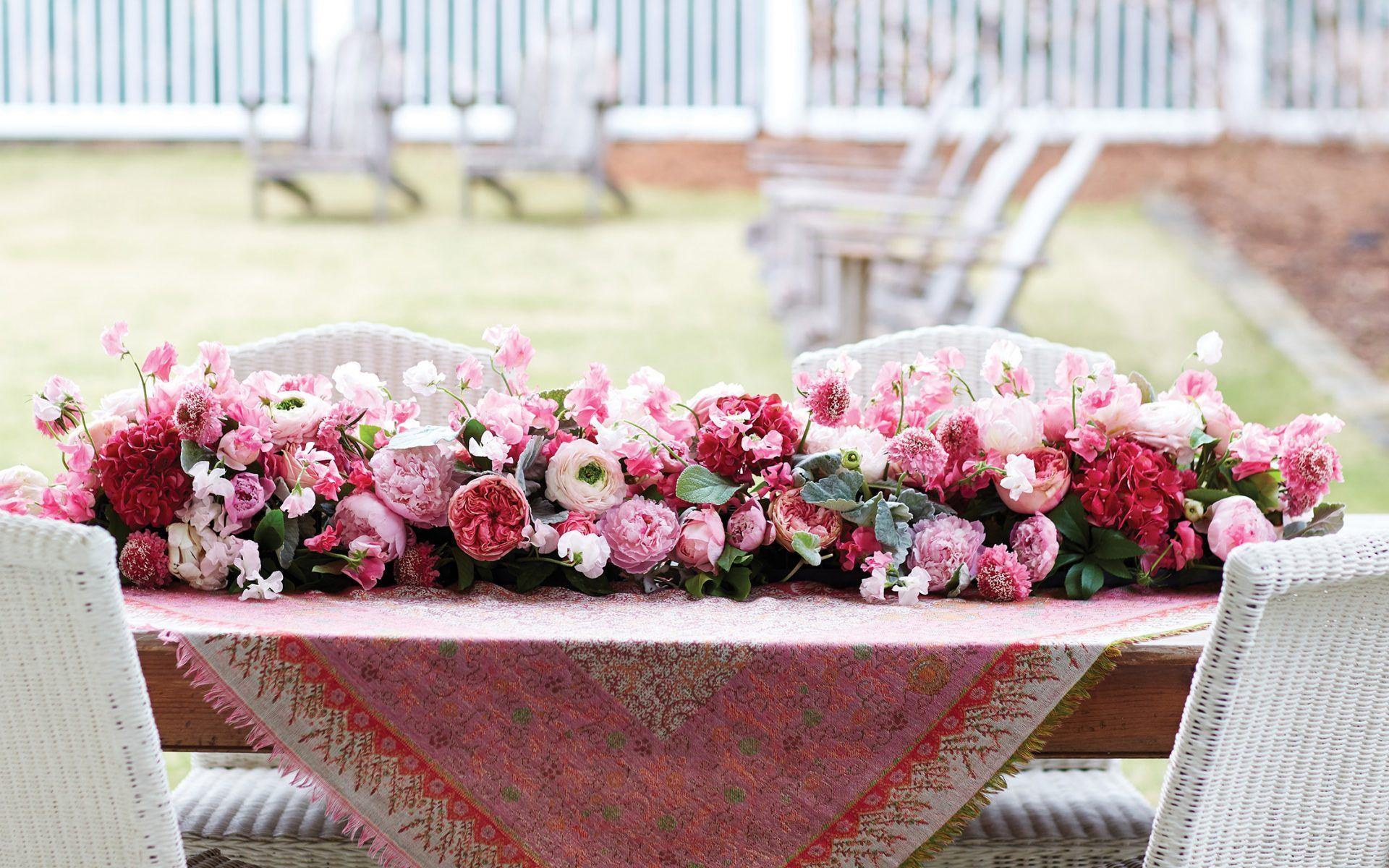 5 Design Experts Share Tips for Creating the Perfect Spring Tablescape
From fresh-cut blooms to family heirlooms, these experts share their secrets for a memorable table setting
Perhaps no season gives more opportunity to go all out on a vibrant, flower-filled tablescape than spring. When the first warm days of the year finally arrive and fresh blooms begin to blossom, there's no better time to break out vases and crisp table linens and create a special place to share a meal with loved ones. In her new book, Living Floral: Entertaining and Decorating with Flowers (Rizzoli, $45), floral expert Margot Shaw taps design luminaries to share their favorite ways to incorporate flowers into everyday home decor and present numerous ways to entertain with flair.
In excerpts from the book below, five fixtures of the design industry share their tips for memorable entertaining.
Elaine Griffin
Interior designer Elaine Griffin is known for her bold sense of color and creating rooms that are inviting, sophisticated, and detailed. For this luncheon at a resort on Sea Island, Georgia, Griffin chose a vibrant tablecloth in a Lilly Pulitzer fabric and decided to ignore her preference for smaller flower arrangements and go all out with a lavish, maximalist tabletop arrangement. Griffin recommends adding personal touches to any table setting and always starching table linens. "Starched linens are just one way Southerners say, 'I love you,'" she explained. "Entertaining is about sharing a bit of ourselves with people we care about."
Richard Keith Langham
On a warm day, interior designer Richard Keith Langham recommends dining alfresco and starting with "really refreshing but simple drinks" and light hors d'oeuvres. "I love an ambiance that wraps its arms around you, where everyone feels welcome, special, and just a bit spoiled," the designer said. A trademark of a meal at Langham's is a table dressed in one of his many exotic textiles or in a cheerful swath of fabric that's been repurposed as a tablecloth.
Recommended: Architect Lee Ledbetter Reimagines a New Orleans Landmark in the French Quarter
Chesie Breen
A longtime fixture of the New York design world, marketing guru Chesie Breen makes a point to weave family heirlooms into gatherings at her East Hampton home. She pulls out her Haviland wedding china, her great-great-grandmother's dessert plates and handwrites place cards. She strives for family traditions that will encourage her trio of daughters to appreciate the graciousness of entertaining.  "Hopefully, when they're on their own, they'll remember that things shouldn't just sit in a drawer but rather be used and loved."
Cornelia Guest
With design and gardening maven C. Z. Guest as her mother, Cornelia Guest knows a thing or two about hosting an elegant party, but her advice for entertaining is relatively simple: "Don't redecorate a room or put your pets elsewhere—your guests are coming to your house, and it's where you live. Sharing a glimpse into your life is part of entertaining and is as important as all the other aspects of your party." She also recommends looking at table linens like you would look at clothes, saying, "They're an opportunity to express one's taste and personality."
Charlotte Moss
When celebrated designer Charlotte Moss arrives at her house in East Hampton, she makes a beeline for a basket and a pair of clippers. "Before I even go upstairs to unpack my bag, I head straight for the garden," Moss said. The designer says that an abundance of homegrown flowers makes a house feel welcoming and gracious, adding, "If the flowers look spontaneous and relaxed, they make people relax."
"Living Floral: Entertaining and Decorating with Flowers" is available now.
Next Post