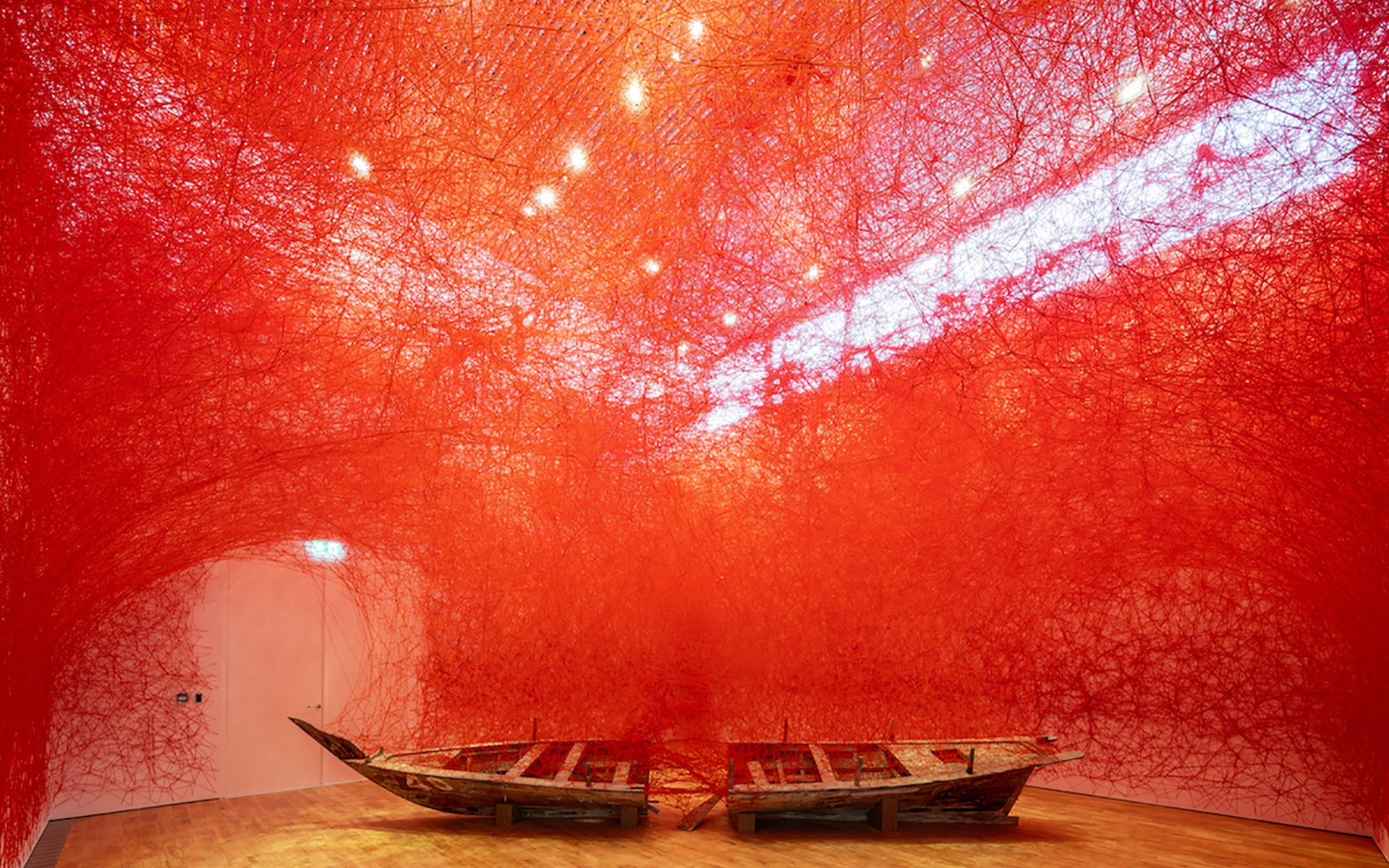 Jameel Arts Centre Spearheads a New Era of Critical Mindedness for Dubai
The new arts space, the city's first free, nongovernmental contemporary art institution, is worthy of international embrace
Already celebrated for its international art and design scene, Dubai now has yet another reason to be added to your culture map of meaningful destinations. With this week's launch of the Jameel Arts Centre, the city gained its first free, nongovernmental contemporary art institution, which—both from a design perspective and new art context—is worthy of international embrace.
A 100,000-square-foot, three-story cluster of smartly designed rectangular structures, the center boasts ten galleries, seven desert gardens, a rooftop terrace, a waterfront sculpture park, and the Gulf region's first open-access art library, along with the customary café and bookstore. The inaugural programming is equally as impressive, with four solo shows, a group exhibition examining the impact of oil on the region, and several site-specific installations and commissions.
"Over the past 15 years Dubai has established itself as an international art market with galleries, fairs, and auctions," Antonia Carver, director of Jameel, told Galerie on opening day. "Now we're going into a new era when it will become known for critically minded, thought-provoking exhibitions and the market will be balanced by an interest in arts education and institution building."
Designed by the U.K.-based Serie Architects, the plan for the building was inspired by the traditional architectural forms of Emirati housing, where a series of rooms are built around a courtyard to create shade and comfort. It's divided into two wings—the first for galleries and the second for offices—and wrapped by a shaded colonnade that defines the site. Primarily constructed from concrete, the building is clad in vertical, white-painted aluminum panels, which delineate the surface and add visual volume to the overall structure. Meanwhile, landscape architect Anouk Vogel's enchanting desert gardens, visible from indoors and out, magically mixes the viewing of art with a look at the indigenous nature.
Recommended: With Wildfires Raging in California, Here's Why the Getty's Collection Is as Safe as Ever
The Jaddaf Waterfront Sculpture Park, created by United Arab Emirates–based architecture studio ibda design, provides another 50,000 square feet of usable space, which features an amphitheater for programming and sites for a rotating display of public artworks. The art collective Slavs and Tatars' 2012 sculpture Molla Nasreddin: The Antimodern, which depicts the 13th Turkish philosopher riding backward into the future on a donkey, is a one of the standout works in the initial presentation, while Daan Roosegaarde's immersive light installation, Waterlicht, kicked off the first performance in the bayside park on opening night.
Two of the commissions are also outdoors. Shaikha Al Mazrou's Green House: Interior yet Exterior, Manmade yet Natural (2018), consisting of a segmented glass greenhouse with an absence of actual vegetation, occupies the site of a desert garden. And on the roof terrace, Alia Farid and Aseel AlYaqoub's installation Contrary Life: A Botanical Light Garden Devoted to Trees (2018) employs plastic light-covered trees, which the artists designed as hybrids and had fabricated in China, to comment on the Gulf region's trend of replacing the real with the artificial and making nightlife more seductive with bright lights.
In the galleries, the first solos in the Artist's Room series include Mounira Al Solh's embroidered fabric collages documenting the stories of refugees in Lebanon and Europe and Chiharu Shiota's installation of an old wooden boat. Sourced from the nearby Jaddaf boatyard, the vessel is immersed in a web of bloodred yarn that metaphorically connects Japanese and Middle Eastern cultures across time and space.
Recommended: Julian Schnabel on the Life of Vincent van Gogh and His Sweeping New Film
"Crude," the oil-themed group exhibition organized by independent curator Murtaza Vali, features work in a variety of media by 17 established and emerging artists, who explore oil as an agent of social, cultural, and economic change. Manal AlDowayan's photos of pioneering Saudi Arabian oil company employee's archives documented in their home offices are shown alongside video interviews relating the poverty and racial discrimination that they have had to overcome. Commenting on consumerism in the oil-rich countries, a seminal piece by Hassan Sharif offers a giant mound of petro-derivative, plastic flip-flops, which are cut, folded, and bound in copper wire, thus rendering them useless.
Monira Al Qadiri similarly uses appropriation in her work in the show. Enlarging industrially produced oil drill heads, she casts them in fiberglass and then spray-paints them (both petroleum-based products) to poetically turn these destructive tools of the planet into colorful giant blooms. An artist with a growing following, Al Qadiri was also commissioned to provide works for the 2018 visual campaign of this week's Abu Dhabi Art, making her work even more visible throughout the Gulf region.
Along with the venerable Sharjah Art Foundation and Alserkal Avenue's newer Concrete space (it opened in 2017), which was designed by Rem Koolhaas's Office for Metropolitan Architecture, the Jameel Arts Centre has much to offer by way of contemporary art.
Carver strongly summed up the mission when she told visitors on opening day, "We are here because we want to have a maximum impact in a global city with a global public and to contribute to a local scene." With this initial round of shows, it's surely on its way.
Next Post