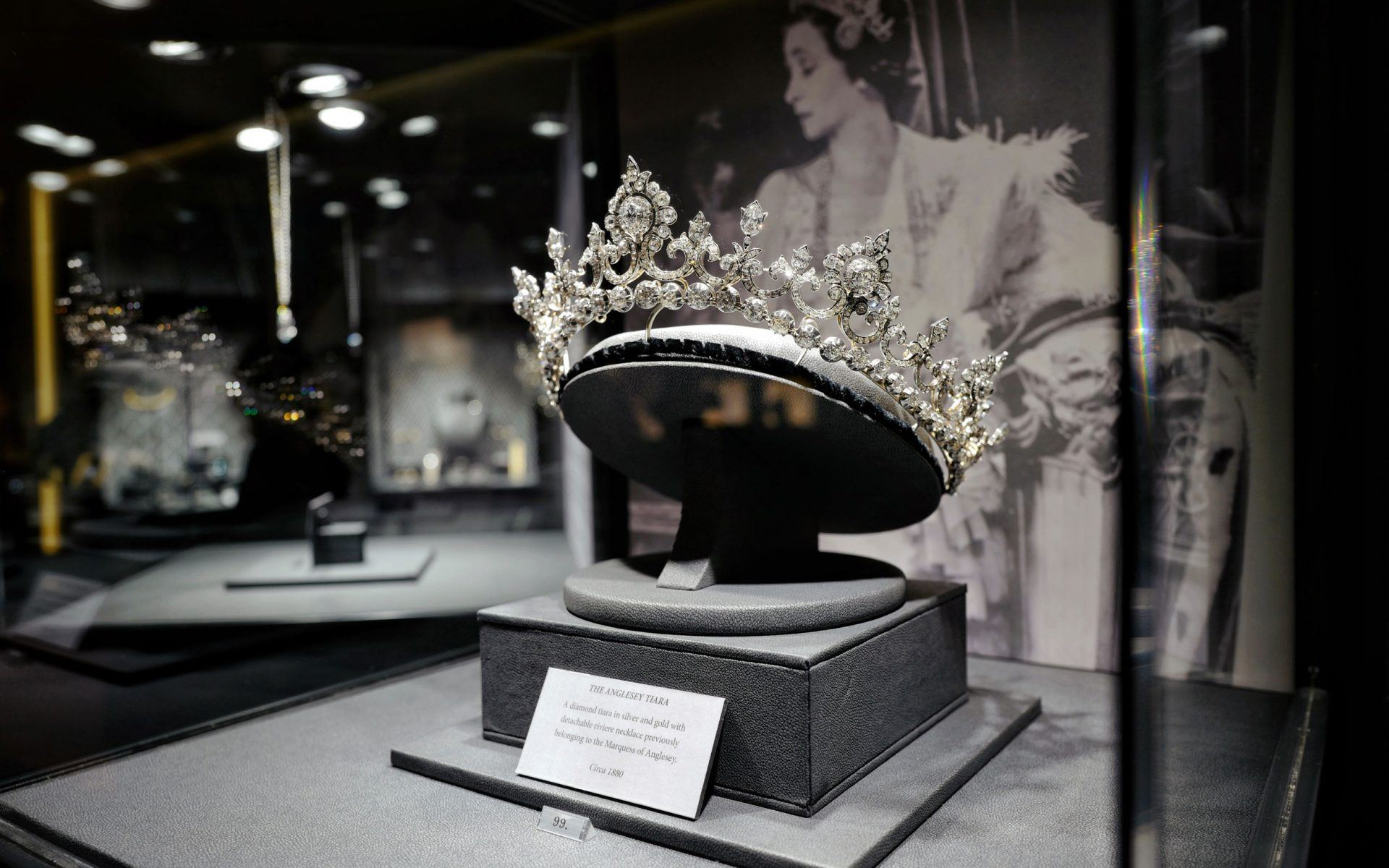 The Objects with the Most Intriguing Provenance at TEFAF Maastricht
From a Hellenistic sculpture owned by Andy Warhol to an astronomy book from Mary, Queen of Scots, these incredible works of art boast illustrious histories
In the world of collecting, objects that once belonged to someone famous are often infinitely more appealing. Take, for example, the blockbuster auctions of the estates of Mario Buatta, Elizabeth Taylor, and Hubert de Givenchy. Art and design aficionados sent prices soaring for paintings, jewels, and even a porcelain dinner set once held in the private cache of these highly regarded aesthetes.
Excellent provenance has become an increasingly important aspect of the art market, and nowhere is that more evident than at the European Fine Art Fair (TEFAF) in the small Dutch city of Maastricht in the Netherlands. This year's edition of the world's leading fine art and antiques fair brings together 275 prestigious dealers from 20 countries, who collectively displayed works that span 7,000 years of history—many of which have not surfaced on the market for decades.
Known for its rigorous vetting process, the fair bans exhibitors from entering the Maastricht Exhibition and Conference Centre (MECC) in the days leading up to the opening while a dedicated group of world-renowned historians, restorers, and academic examine each and every item on view. Documenting the object's past is essential for authentication, but it also serves to bring it to life and offers collectors a wonderful means to engage with history. "You are able to be part of that history and feel a strong connection with humankind," says Jorge Welsh, a dealer who specializes in Chinese export porcelain from the 15th to 18th century, and is offering a Qing dynasty pair of figures, which were once owned by Peggy and David Rockefeller. "There is also an added element of verification for collectors, knowing the piece was chosen and treasured by that important person."
On the opening day, while attendance was down due to coronavirus concerns, the mood was still buoyant and there were a number of discoveries to be made. Here, we scoured the fair to find the objects with the most fascinating backstories.
1. 1890 tiara owned by Henry Cyril Paget
Hancocks London (Booth 243)
The stunning circa-1890 tiara, on view at Hancocks London, includes a graduated row of more than 100 carats of diamonds, which can be detached to form a rivière necklace. It was thought to have been owned by Henry Cyril Paget, the fifth Marquess of Anglesey, an eccentric character known for his penchant for jewels; his flamboyant, costumed stage productions at his Welsh estate; and perhaps most famously, for squandering his inheritance on a lavish social life and accumulating massive debt. He died in 1905 at age 29. "There are so many stories about him," says Guy Burton, the gallery's bespoke director. "He had a poodle dyed pink, and he once spent the equivalent of €16 million on one outfit. You can just imagine how he would have worn this tiara."
2. Bartholomeus Spranger's Venus and Cupid with Mercury and Psyche (circa 1600), owned by Rudolf II, the Holy Roman Emperor
Weiss Gallery (Booth 348) 
Newly discovered in Italy, this Northern Mannerist allegorical painting was thought to have been commissioned by the Holy Roman Emperor Rudolf II, King of Hungary and Croatia, for his kunstkammer at Prague Castle. While a great and influential patron of Northern Mannerist art, he was also a passionate supporter of the occult arts, which played a role in the scientific revolution at the time. His private gallery, which was accessible to Rudolf by a staircase from his private quarters, displayed fine paintings, objets d'art, and natural wonders of the world. Not on the market since the 18th century, the magnificent work is on offer at the booth of London dealer Mark Weiss for $5.5 million.
3. Late-Hellenistic or early–Roman Imperial marble head owned by Andy Warhol
Galerie Chenel (Booth 431) 
While Andy Warhol was known for his cutting-edge forms of contemporary expression, the possessions he chose to surround himself with at home were grounded in the past. His traditional Upper East Side townhouse, decorated in a grand 19th-century style, was filled with fine Art Deco furniture and museum-quality antiques, like this beautiful marble head from either the first century B.C. or A.D. first century, now on offer at Paris's Galerie Chenel. The piece belonged to the New York collection of art expert and antiquarian Léon Medina before it was acquired by Warhol. "You don't need to be a serious collector of antiquities to appreciate an antique," says gallery owner Gladys Chenel, who likes to mix genres in her Paris abode. "Often it's the individual work you love." The unnaturally large head depicts a middle-aged man with a serene expression and represents the god Hermes, or Mercury in Roman mythology. It is on offer for €60,000.
4. A 17th-century Orpheus cup owned by Baron Lionel Nathan de Rothschild
Kugel Galerie (Booth 200) 
This magnificent Orpheus cup, made in Augsburg, Southern Germany, circa 1641–42, is crafted with enameled gold and rubies. From the prestigious collection of Baron Lionel Nathan de Rothschild, it was created over two different periods, with small jeweled pieces from the Renaissance period incorporated some 50 years later into the work. A seminal example of a schatzkammer, a treasure that is to be admired for its craftsmanship as well as its instructive meaning, it was thought to have been commissioned by Emperor Ferdinand III. When it was shown at the 1928 Exhibition of Art Treasures in London, the Yorkshire Post reported that it was "one of the things which Queen Mary asked specifically to see, and she inspected the rich enamel and jewel work with great attention." The cup was then inherited by the baron's second son, Alfred de Rothschild (1884–1918), and displayed in the Green Room at his magnificent Mayfair townhouse, 1 Seamore Place. "The Rothschilds had an incredibly eclectic taste," Laura Kugel tells Galerie. "They would mix and match many styles from Renaissance to 19th-century French, and this is a great example of their taste." It sold to a major museum on the first morning.
5. A first-edition astronomical book from the library of Mary, Queen of Scots
Daniel Crouch Rare Books (Booth 264) 
The worldly Mary, Queen of Scots, was known to have had a large library of some 480 titles that she brought from France in 1561 after the death of her first husband. This planetary compendium by Scottish astronomer James Bassantin (circa 1500–68) would have been a volume on her bookshelves in Scotland. Bound in Paris with her crowned initial, the stunning large-format work features hand-painted illustrations, as well as movable paper disks that form an astrolabe, simulating the orbit of planets and reckoning of time. "It would have been used by the queen as a learning tool with her tutor to better understand the celestial and terrestrial worlds," says Daniel Crouch. It is available at Daniel Crouch Rare Books for $720,000.
6. Fabergé clock owned by Princess Margaret 
Wartski (Booth 311) 
This charming rectangular clock, created by Carl Fabergé between 1908 and 1917, is carved in green chrysoprase set with a rose-diamond bezel. The piece was presented to Queen Mary, who then gave it to her great granddaughter Princess Margaret. "When there is a collision of an exceptional work of art with an exceptional provenance, that's the golden target," says Kieran McCarthy, a world-renowned Fabergé expert. "It's very rare when it happens."
7. A coffee table owned by Pierre Parat
François Laffanour – Galerie Downtown (Booth 612) 
The booth of François Laffanour of Galerie Downtown has been reconstructed as the Paris apartment of French architect Pierre Parat (1928–2019), who was well-known in the 1970s and '80s for his progressive architectural works. After some 30 years of collaboration with Michel Andrault through the ANPAR agency, Parat turned to furniture, where design retained a fundamental place within the creative process. This coffee table from his personal collection is a unique piece crafted from petrified wood and metal.
8. Pablo Picasso's Les Deux Saltimbanques (1905), owned by Guillaume Apollinaire 
David Tunick Inc. (Booth 386) 
The avant-garde poet Guillaume Apollinaire was also a devout member of Pablo Picasso's modernist entourage, la bande à Picasso—a group of artistic firebrands. Also known around town as the "Wild Men of Paris," the duo were even accused of stealing the Mona Lisa in 1911, when the work went missing from the Louvre. This striking drypoint, created by Picasso toward the end of his Blue Period, bears a handwritten note to his dear friend. "Knowing the story behind the work ratifies it," says David Tunick, a respected New York dealer of predominantly works on paper. "To think that this work was created by Picasso for his best friend—you can't get better than that!"
9. A pair of wall lamps by Oskar Kaufmann, owned by Leo Lewin
Galerie Eric Philippe (Booth 608) 
The son of a famous Jewish textile merchant, Leo Lewin was a wealthy merchant and prolific art collector in early-20th-century Poland. In 1917 he purchased a spacious villa in Akazienallee and decorated the walls with his collection of works by Corot, Cézanne, Pissarro, Renoir, Manet, Monet, and Van Gogh. This pair of sconces in wood gilded with leaf, surmounted by a double row of red glass set in an iron structure, were created for Lewin by designer and architect Oskar Kaufmann. "The whole style of the villa was expressive Rococo," says Eric Philippe, whose clients include such notable names as Christian Louboutin.
TEFAF is on view in Maastricht from March 7 to 15.
Next Post