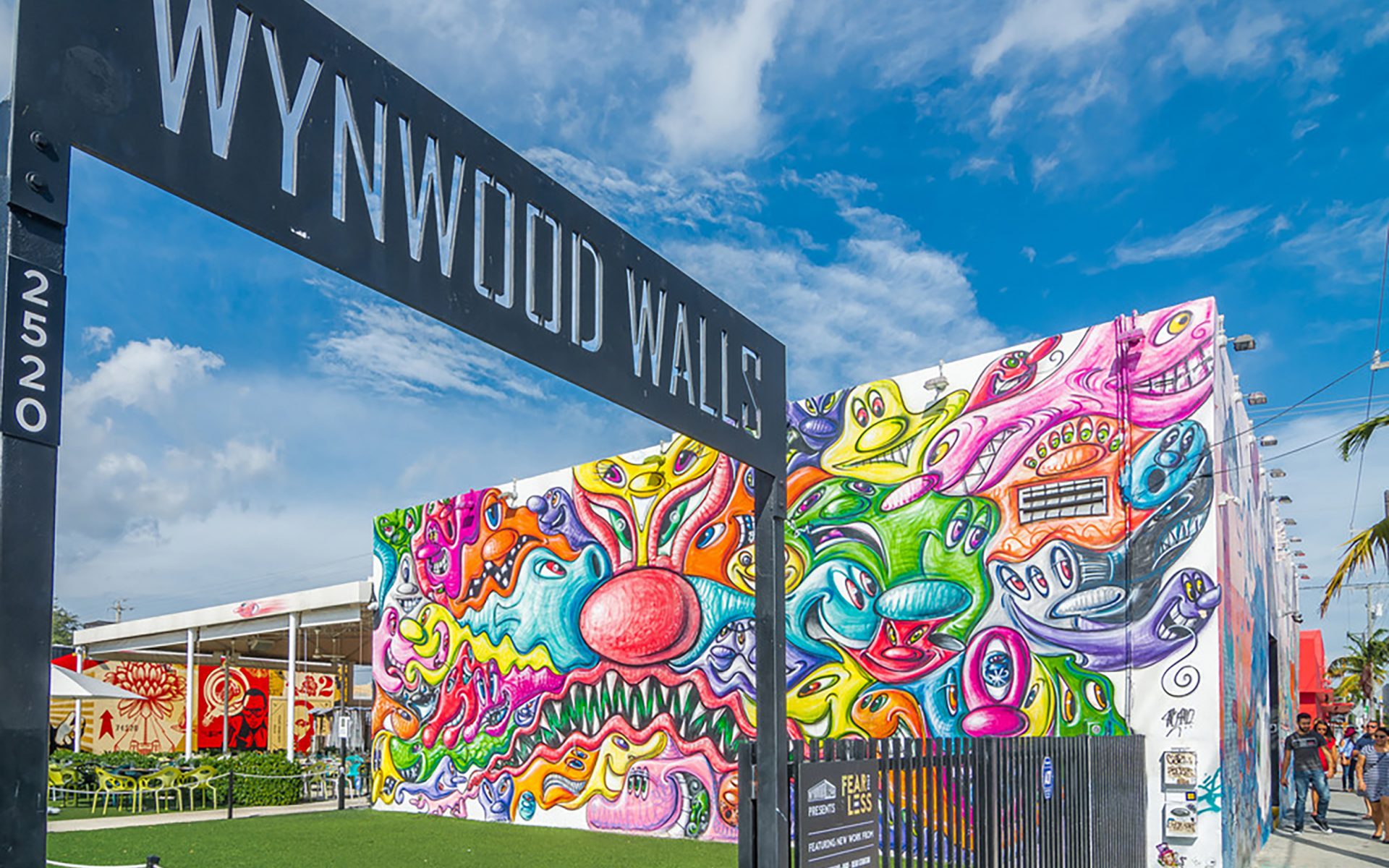 Discover the Global Street Art Taking Center Stage at Miami's Wynwood Walls
The international destination for street art will reveal nine new murals during Art Basel Miami Beach
While much of the work on display during Art Basel Miami Beach will be inside the convention center and neighboring museums and galleries, Wynwood Walls is presenting the talents of nine street artists from around the globe in this year's exhibition, "Beyond Words."
"Art has a way of communicating far beyond language," says Jessica Goldman Srebnick, CEO of Goldman Properties, which owns and oversees Wynwood Walls, as well as Wynwood Doors and Gardens. "This year's theme, 'Beyond Words,' is about what's happening in the greater world and what we can do as citizens of our planet to make it better, because I think that's what artists do with art. We're living in a time that's complex and in some ways angering and in other ways super hopeful. It's really critical for people to do what they can to make a positive influence in the world. When I look at these large-scale murals, it's always so hopeful. It changes a person's perspective. They're thought-provoking, they add beauty, texture, light, and color to the world."
The exhibition, which will open with a VIP preview on December 4 and then to the public the next day, will feature murals by American artists Queen Andrea, Ron English, and JonOne as well as work by international talents ASHOP Productions (Canada), Deih (Spain), Eduardo Kobra (Brazil), Martin Whatson (Norway), Tomokazu Matsuyama (Japan), and Vhils (Portugal).
"That's one of my favorite things that I get to do every year," says Goldman Srebnick of curating Wynwood Walls' Art Basel exhibition. "I'm always looking for work that hits me. Work that moves me. Work that looks like it's incredibly unique and original and has a point of view. And an artist that has confidence in their own hand. I am obsessed with finding great work around the world."
Recommended: The Ultimate Art Insiders' Guide to Miami
In addition, Goldman Global Arts, the company's art arm, will present its first-ever solo show at the on-site Goldman Global Arts Gallery. Vhils will present 24 unique pieces in his first solo show on the East Coast in the 4,000-square-foot gallery space. The multimedia artist is also creating a massive piece—approximately 88 feet long and 19 feet high—that will commandeer the whole gallery façade. Visitors will then pass through the work to enter the gallery space.
The site's annual group show will migrate to a neighboring pop-up space, Wynwood Walls Gallery, and feature works by some of the 99 current and former Wynwood Walls artists, including RISK, Pro 176, Joe Iurato, and Faith47.
One of this year's muralists, Queen Andrea, will also see her work moving around town in a project created in partnership with Goldman Global Arts and Citi Bike. The New York–based street artist is creating a special piece that will be integrated into 600 bikes and stations around Miami during Art Basel. "How beautiful to be able to see as someone is biking down the street, not just something that is simple and nondescript but a different canvas, a moving canvas," Goldman Srebnick tells Galerie.
Recommended: New Art Event Spotlights Palm Beach's Flourishing Creative Community
The Citi Bike partnership, which is now in its third year, is demonstrative of the work that GGA does, integrating art and "creating pedestrian energy on the streets," says Goldman Srebnick, who runs the division in partnership with artist Peter Tunney.
GGA was launched when Stephen Ross, chairman and founder of Related Companies and the owner of the Miami Dolphins, visited Wynwood Walls and approached Goldman Srebnick about creating a cultural, artistic feel at the NFL team's new Miami stadium. "We've really turned a passion into a business," says Goldman Srebnick. "I have a lot of amazing artists that I work with, and I want them to have the opportunity to put their work all over the world."
Next Post