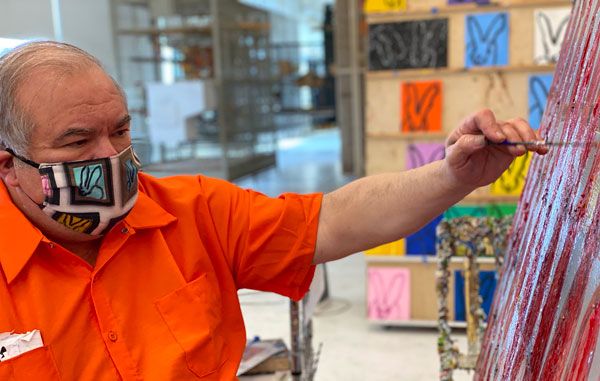 "Repetition used to be considered vapid, dumb, and brainless, but actually it's divine," says Hunt Slonem, whose four-decades-long career is at an all-time high. A believer in the meditative power of mantras, the American artist spends eight to ten hours a day painting and reinventing his beloved subjects, resulting in a Warholian prolificacy of birds, butterflies, ocelots, and portraits of Abraham Lincoln, whom he calls his Marilyn. The motif with which he has become most synonymous, however, is undeniably the bunny.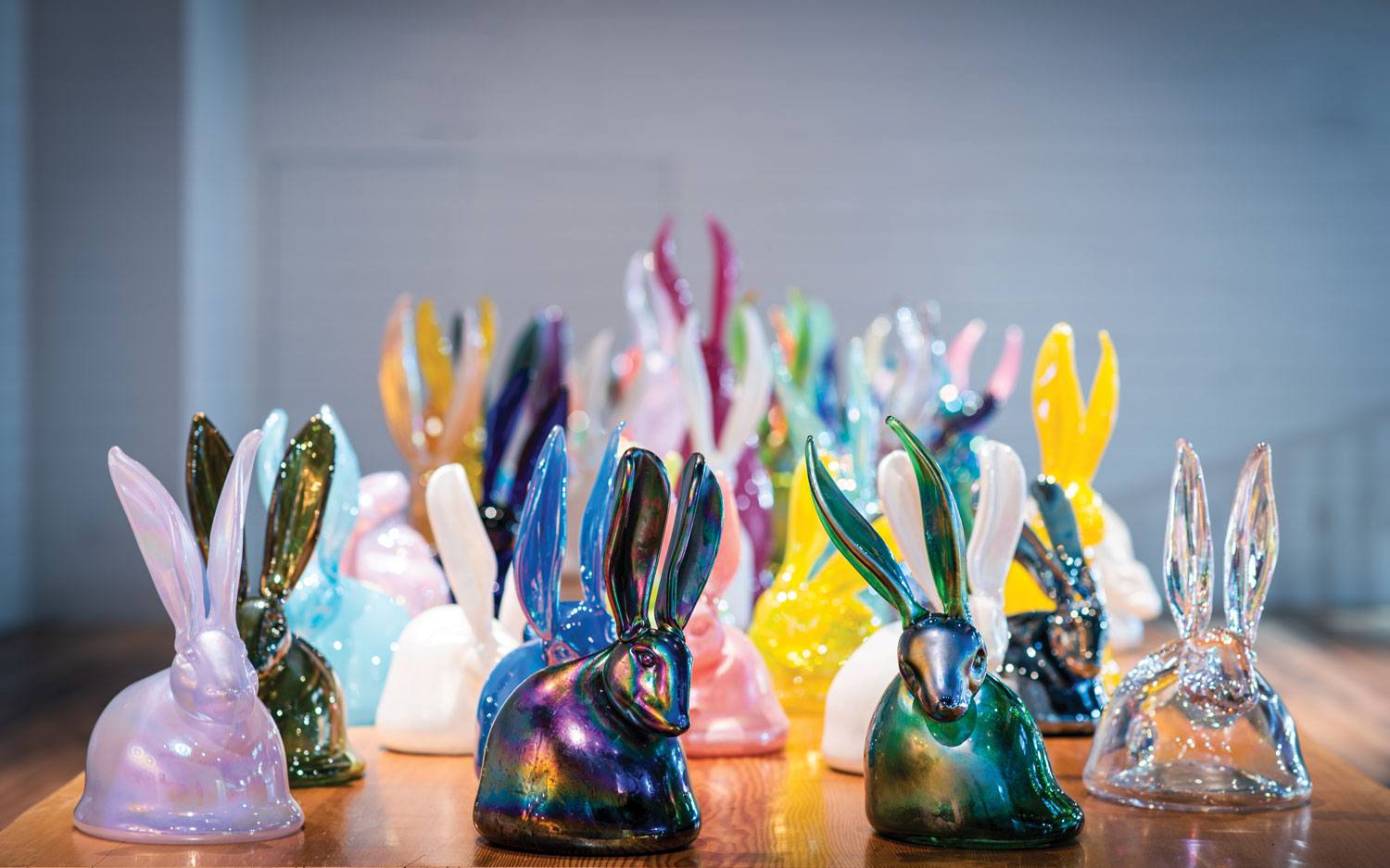 "The range of color—isn't it staggering? You just want to eat them. It's like jelly beans!"

Hunt Slonem
"I don't know how the rabbit thing took off," says Slonem, who considers himself "more of a bird person," as evidenced by the dozens of exotic varieties that inhabit his fantastical Red Hook, Brooklyn, studio. "I once read the book The Game of Life and How to Play It by Florence Scovel Shinn, who was married to the artist Everett Shinn. In it she talks about how the simplest thing you do is often the most successful. I used to paint saints with rabbits at their feet, and somehow I started isolating the animals in separate paintings. I put them in 19th-century frames, and I started hanging them to dry, and it became a bunny wall."
Whether in monumental canvases or individual studies, Slonem's whimsical, multicolored bunnies can be found in museums and galleries, as well as traditional and contemporary homes alike. And with reproductions of his big-eared creatures on everything from tableware and textiles to cashmere sweaters and of-the-moment face masks—all sold in his Hop Up Shop—Slonem's rabbit legacy gives Albrecht Dürer's a run for its money.
Endlessly imaginative, Slonem has increasingly experimented with three-dimensional rabbits, and his newest sculptural forms have provided a much-needed creative escape during COVID-19. Had it not been for the pandemic, Slonem could be in Los Angeles, where he recently crafted a 700-foot-long vellum bunny mural, entitled Transcendence; Latvia, where he currently has a major exhibition; or Louisiana, a state near and dear to his heart as it is not only the site of his alma mater, Tulane University, but also where three of the seven historic homes he has restored are located.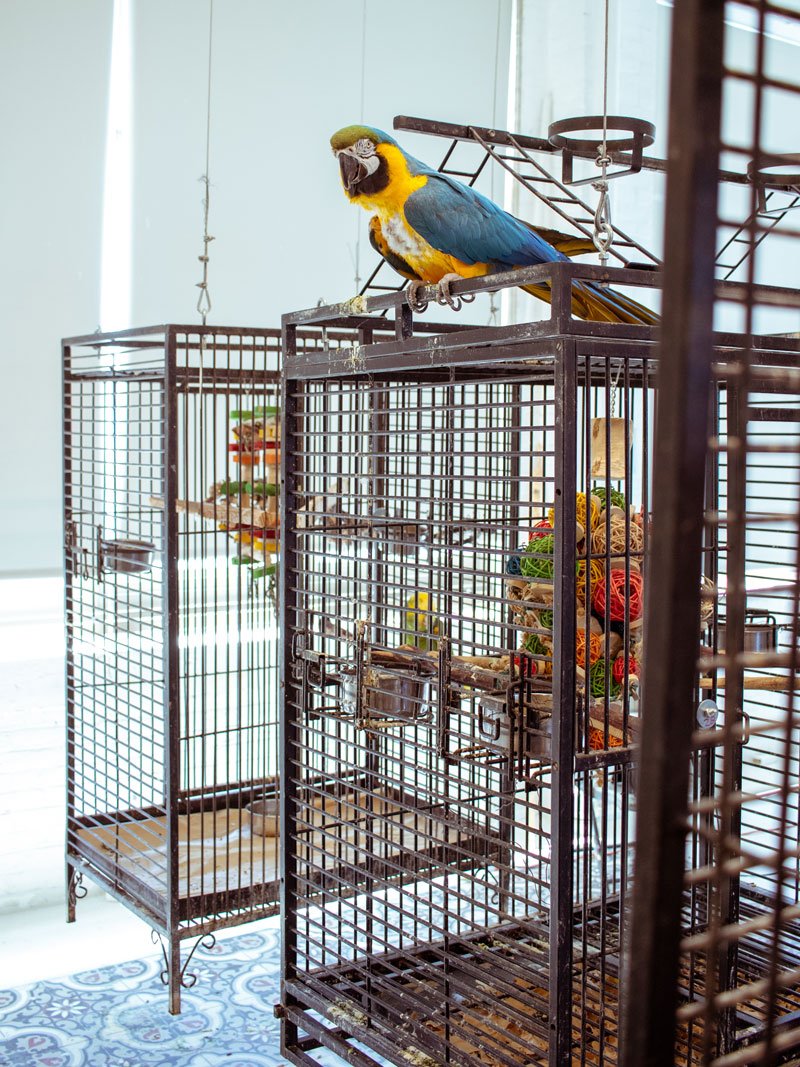 Despite having a 33,000-square-foot studio space (ensuring ample room for even canvases to be six feet apart), being confined to New York under these circumstance is anxiety inducing nonetheless. "During the worst of the pandemic, I don't know how I did it, and I have been through some sequestered times," says Slonem. After having a near-fatal seizure from a medication he was prescribed 12 years ago, the artist had to stay in a hospital for two weeks, followed by months of rehabilitation. "During the pandemic, I've felt pretty energized. You realize how fragile your world is—and thank God my bird keepers were able to come here every day."
Slonem has used his time in quarantine to further develop two new bodies of work: blown-glass and bronze bunnies. Working with artisanal glassblowers at Glass Eye Studio in Seattle, Slonem strives to interpret the personalities of the bunnies in his paintings, rather than merely copy them. "That's what's so wonderful about this project. It's like breaking through a veil of limitation," says Slonem. "Glass has this translucence and a vibratory quality that's just so much lighter and ethereal. It's a whole new world."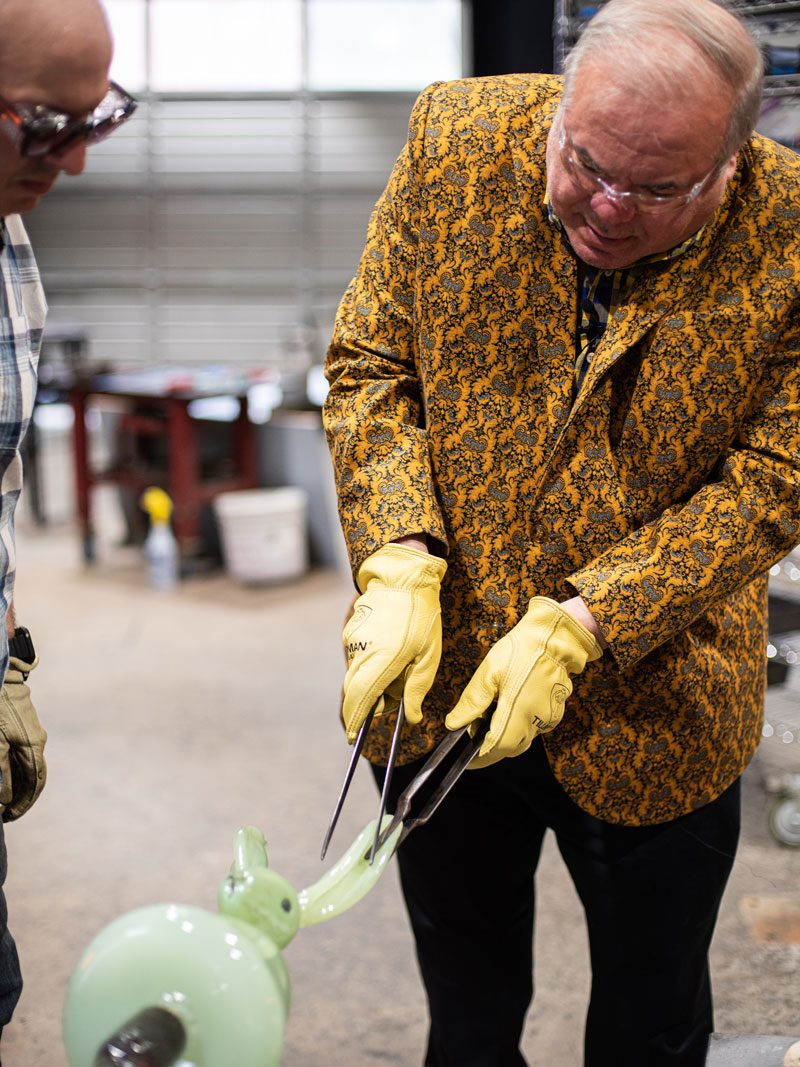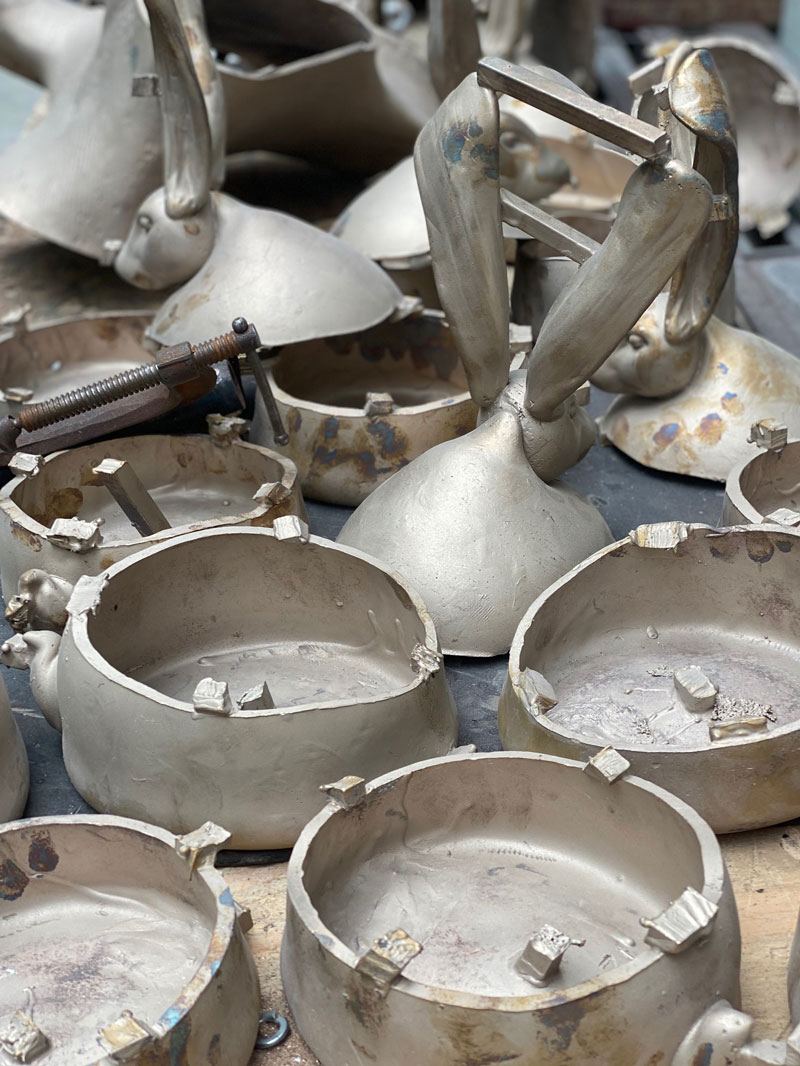 While he often incorporates diamond dust and metal powders in his oil paintings, three-dimensional media provides new possibilities to satiate his appetite for visual variety. "The range of color—isn't it staggering?" says Slonem upon seeing a full spectrum of sculptural rabbits and bunny busts as arresting and diverse as his paintings. "You just want to eat them. It's like jelly beans!"
Another point of pride for Slonem is contributing to America's rich legacy of glassmaking. He cites Dale Chihuly as inspiration and an instrumental artist in transforming the Seattle region into one of the world's premier glass capitals. Slonem is also an avid collector of porcelain and Blenko Glass, which has been produced in West Virginia since 1921. "I started collecting these pieces by finding them at flea markets, not knowing they were even American," he adds.
This July Slonem debuted his newest bronze bunnies, also made in collaboration with Idlewild Union and its foundry. While right now each style is virtually one of a kind, Slonem is actively experimenting with adornment, such as gilding, and scale. Planning for several outdoor exhibitions in 2021, he envisions large-scale public installations of 20-foot-tall bronze bunnies in botanical gardens and beyond. In regards to a medium he'd love to explore further, Slonem points to mosaics, as well as film and projection. Anything is possible for the artist who wears many hats—with even more rabbits to pull out of them.
Next Post