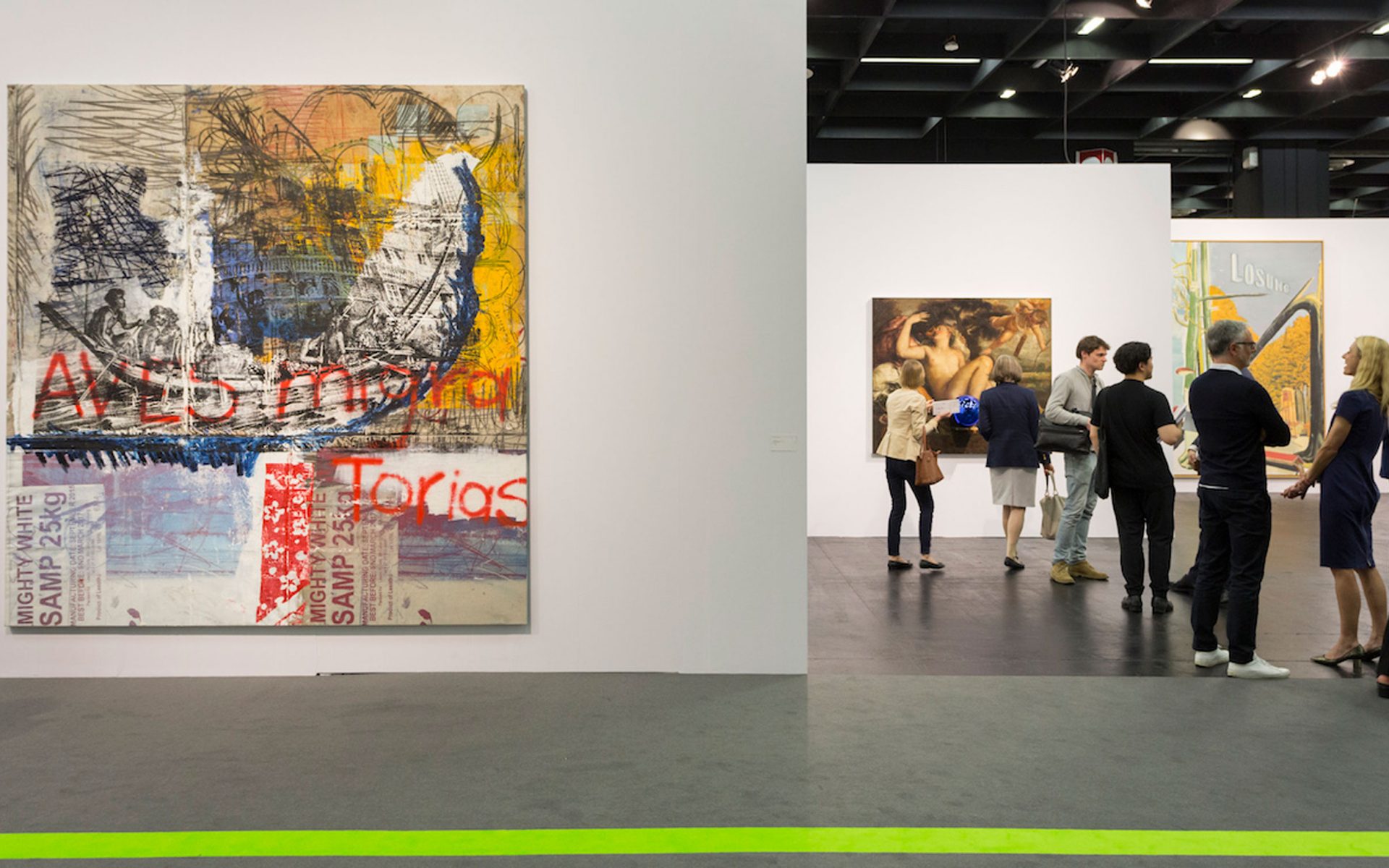 Highlights from Art Cologne 2018
See who made a splash at the the famed German fair, which included more than 200 galleries from 33 countries
Now in its 52nd year, Art Cologne still wants to appeal to young gallerists, artists, and collectors. Running from April 18–22 in Germany's fourth-largest city, the event featured more than 200 galleries from 33 countries, and offered a wide variety of modern and contemporary art in four different sectors: Contemporary, Modern/Postwar, Collaborations and Neumarkt.
Known as the first art fair to exhibit and sell contemporary art, Art Cologne was founded in 1967 by gallerists Hein Stünke and Rudolph Zwirner, the father of mega-art dealer David Zwirner, who has galleries in New York, London, and Hong Kong and participates in nearly 20 major fairs worldwide, including this one.
Starting out in the Modern/Postwar section, Tokyo's Whitestone Gallery displayed important paintings by Gutai artists, and Berlin's Aurel Scheibler showed powerful portraits by American painter Alice Neel and a minimalist sculpture by German artist Norbert Kricke, which was bought by Cologne's venerable Museum Ludwig.
Our first stop in the Contemporary sector was David Zwirner, where we found a "Gazing Ball" painting by Jeff Koons juxtaposed with masterful canvases by German painters Sigmar Polke and Neo Rauch. London's White Cube presented ceramics by Chicago conceptualist Theaster Gates and a dot painting by YBA Damien Hirst. Additionally, Gagosian presented hyperrealistic figure of a window washer by Duane Hanson, plus Swiss artist Urs Fischer's life-size figure of a businessman being embraced by an enlarged monk who's holding a dagger and a prayer book.
Nonetheless, it was the Neumarkt section, which featured 27 international galleries, that caught our eye. Focusing on a new generation of galleries, Neumarkt—"New Market" in English—offered solo and group presentations of new work by both established and emerging artists, with most exhibitors choosing to highlight the latter.
"The Neumarkt is for galleries under ten years old," Art Cologne director Daniel Hug told Galerie on opening day. "Historically there's always been a sector where we have sponsored booths for young galleries at a reduced rate. The booths are small—either 20 square meters for solo shows or 30 square meters for three artists—with about a 30 percent reduction in price, which means these galleries can bring affordable work for young collectors. A number of galleries in the Contemporary sector this year started out in the Newmarkt sector in previous years."
On the lookout for where contemporary art practice is headed, we discovered a number of young galleries exhibiting emerging artists who are marrying an interest in technology with an analog, hands-on approach to making art. Berlin's Future Gallery, for instance, blurred the boundary between abstraction and our image-infested world by showcasing lenticular screen collages mounted on cut-up sections of car radiators created by Marseille duo Estrid Lutz and Emile Mold.
London gallerist Rob Tufnell, meanwhile, exhibited paintings by British artist Edward Kay that prodded the notions of vice and virtue via appropriated pornography and a cartoon worm possessing a childlike innocence. Working with the idea that his pop-up show would be seen by a savvy art-world audience, Kay meticulously hand-painted his canvases to simulate the style of Sigmar Polke's coveted silkscreen works.
Cologne gallery Natalia Hug also featured playfully smart art, by way of Romanian artist Alwin Lay's photography and video works. A former student of American Conceptualist Christopher Williams, Lay creates surreal still life photographs with tricky scenarios, such as a roll of gaffers tape standing on end or a cable tie casting the shadow of a fork. He also puts together videos that make the impossible—like a stream of poured detergent forming a solid cube atop a pedestal—look perfectly real.
Likewise, at Berlin gallery xavierlaboulbenne, Bulgarian artist Anton Stoianov casts everyday objects in a new light through his clever construction of paintings without paint. Employing an industrial textile used to customize cars, Stoianov makes 3-D impressions of actual objects, including an exploded leather biking suit and the sleek fender of a BMW automobile, which end up looking like monochromatic wall works from a science fiction film. Renaud Jerez further exploited the sci-fi scenario at Galerie Crèvecoeur, which has branches in Paris and Marseille, with his funky assemblages of robotic figures made from PVC pipes, fabric, fasteners, found objects, and paint.
A trio of Czech artists at Prague's Polansky Gallery worked with discarded and appropriated materials in similar yet distinctive ways. Kristof Kintera makes post-apocalyptic plant life that grows out of a slab of asphalt, using old technical cables for stems and resin-cast cauliflowers for blooms, and Jakub Chroma creates postmodernist assemblages from found objects and materials that have Internet imagery laser printed on the surface. Martin Kohout printed a 3-D scan of a London street scene on artificial silk to simulate a storefront.
Highlights from the Collaborations included Berlin's Barbara Wein, which showcased colorful assemblages made by Korean superstar Haegue Yang, who is currently the subject of a retrospective at the Museum Ludwig. Other standout presentations were the group exhibitions at the Kunsthochschule für Medien Köln (Academy of Media Arts Cologne) and Bundesverband Deutscher Galerien und Kunsthändler (Federal Association of German Galleries and Art Dealers), which honored Düsseldorf collector Julia Stoschek, a trustee at New York's MoMA PS1 and Berlin's KW Institute for Contemporary Art, with this year's Art Cologne Prize—a surefire strategy for keeping the best young collectors coming back to the fair.
SaveSave
SaveSave
SaveSave
SaveSave
SaveSave
SaveSave
SaveSave
SaveSaveSaveSave
SaveSave
SaveSave
Next Post