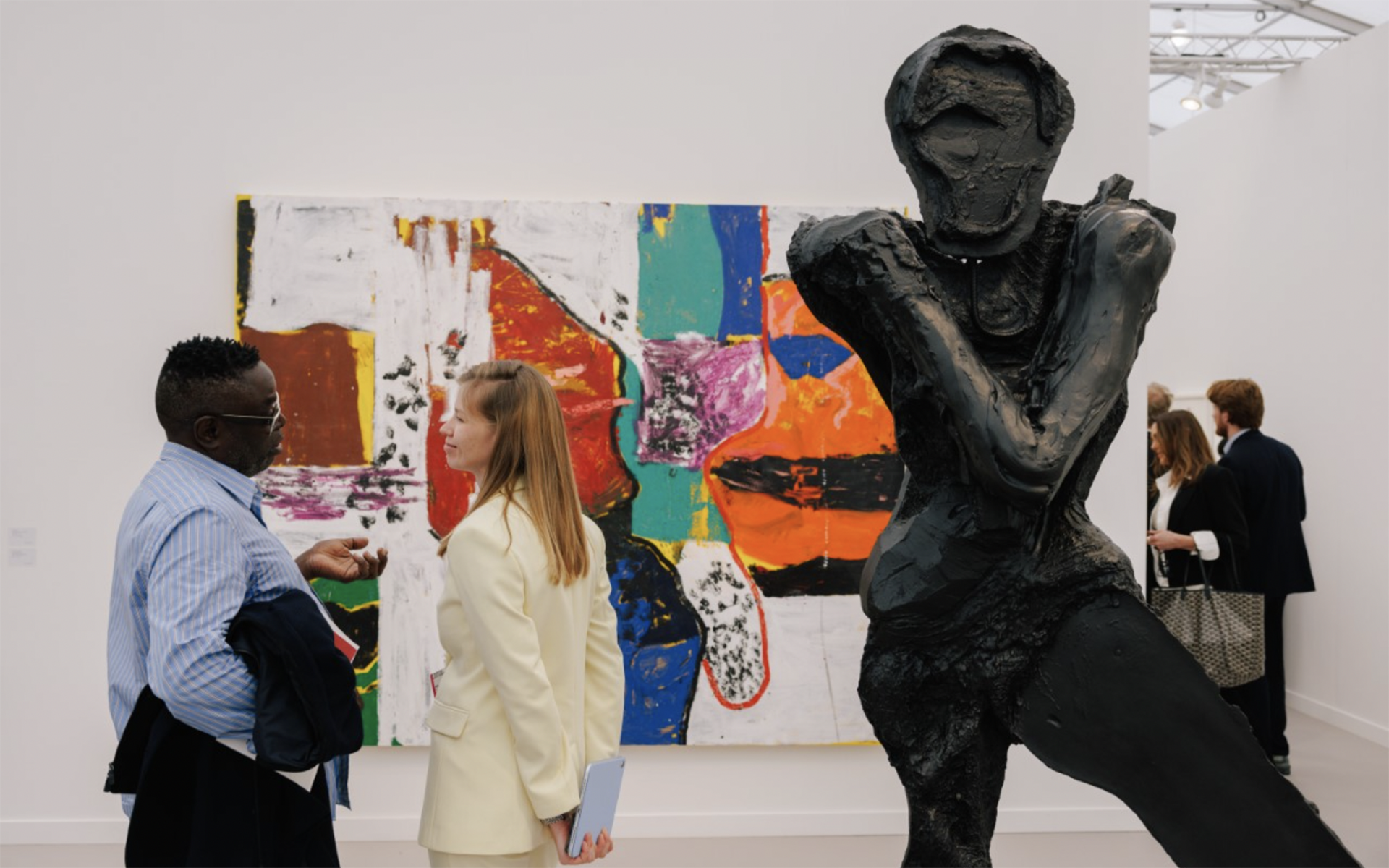 Discover the Artists and Galleries Making a Splash at Frieze LA
Featuring 120 galleries from 22 countries, this year's iteration is the largest since the art fair launched in 2019
Frieze LA is back and this year, it's bigger than ever. The largest iteration of the fair since it launched in 2019, Frieze opened to VIPs on Thursday, February 16, with more than 120 galleries from 22 countries exhibiting. On a sunny but chilly, blustery morning in Los Angeles, throngs of art collectors from around the world made their way to the new location at the Santa Monica Airport (previous editions took place at the Paramount Studios and in Beverly Hills), where artworks were presented in two venues on the site. The barker airplane hanger to the east focused on 20th-century art, particularly works by talents previously overlooked, and housed the Focus section, which spotlights galleries that have been in practice for 12 years or less. The massive white main tent on the west side, designed by L.A. architecture firm wHY, featured the main sector of the galleries. Guests were shuttled between the two with golf buggies.
Led by Christine Messineo, Frieze's director of Americas, this year's edition allowed for a much larger footprint and a wider selection of galleries and collaborations with non-profit organizations.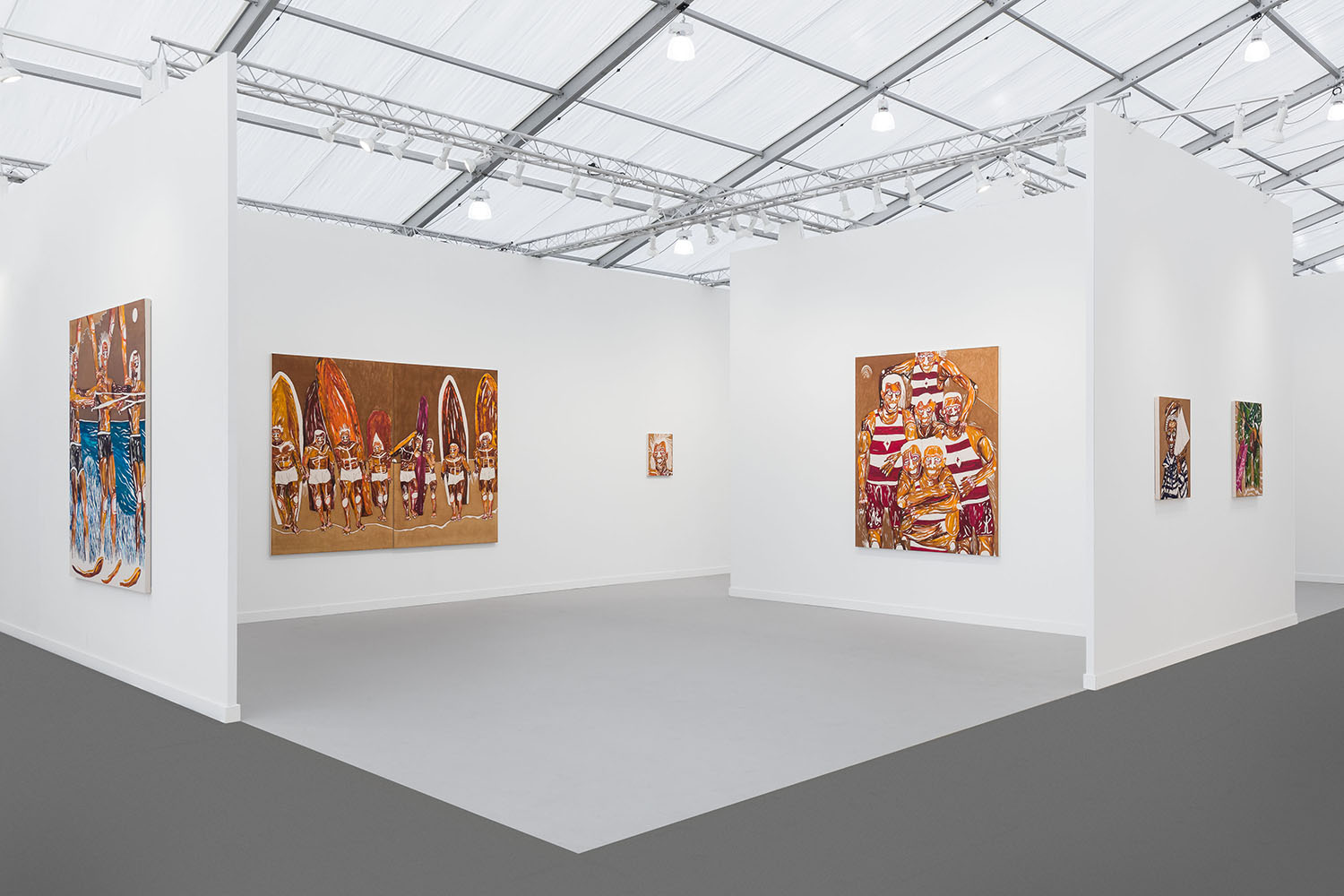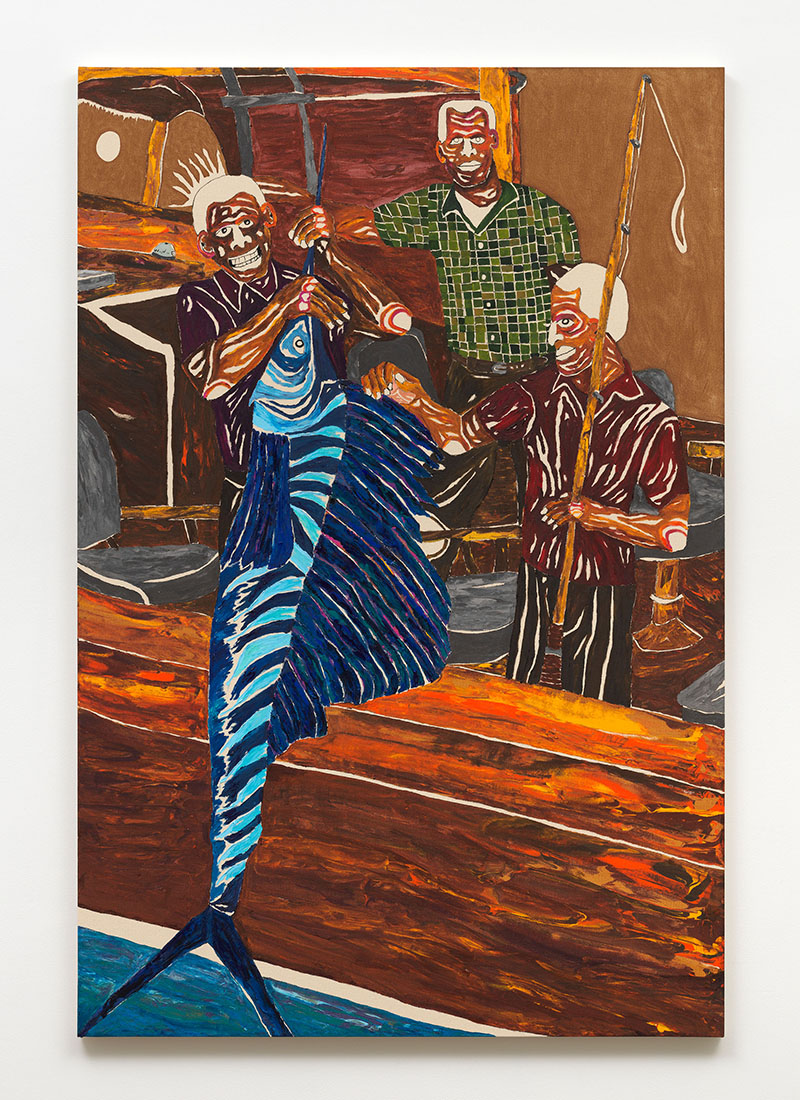 "Frieze Los Angeles is more than just a fair, it's the calendar moment where the vibrancy of our city's art community is spotlit for everyone," local heavyweight David Kordansky shares with Galerie on the opening day. "By inspiring a city-wide week focused on contemporary art, the fair galvanizes audiences within L.A. and well beyond, furthering our city's evolution as a cultural epicenter—a place where leading art is not only made, but also a place where it is seen and experienced."
The opening morning was filled with a buzzy energy, as long lines formed around the entrance, eager to get a first look at the booths. Of course, it wouldn't be Frieze L.A without a bevy of celebrities spotted meandering the aisles, including Gwyneth Paltrow who headed straight for the Deutsche Bank lounge; Owen Wilson who was seen inquiring about a series of paintings by African American artist Bob Thompson at Michael Rosenfeld Gallery; Jared Leto; and Heidi Klum among others. Art-world power players making there way through included Hans Ulrich Obrist, Melissa Chiu, Beth Rudin de Woody, Thelma Golden, and and Hilde Lynn Helphenstein, the gallerist and curator behind the art world Instagram meme account @jerrygogosian.
Making a grand statement at the entrance of the tent, it's hard to walk past David Kordansky's booth which is dedicated to a series of vibrant paintings by Chase Hall, a young, self-taught artist that seems to have almost emerged overnight. His striking, gestural paintings, which are mostly portraits, explore themes of racial inequity and access via the construct of the beach, a place that historically has been denied to low-income and people of color. The 13 works on offer all sold to major collectors and institutions within the first few hours of the VIP day, the gallery confirmed. "I couldn't be more excited to share the work of Chase Hall in this context, in our first solo presentation together," says Kordansky. "And in particular, this series of richly chromatic, powerfully empathetic, and pertinent canvases evoking the complexities of Black identity and the promise of Southern California."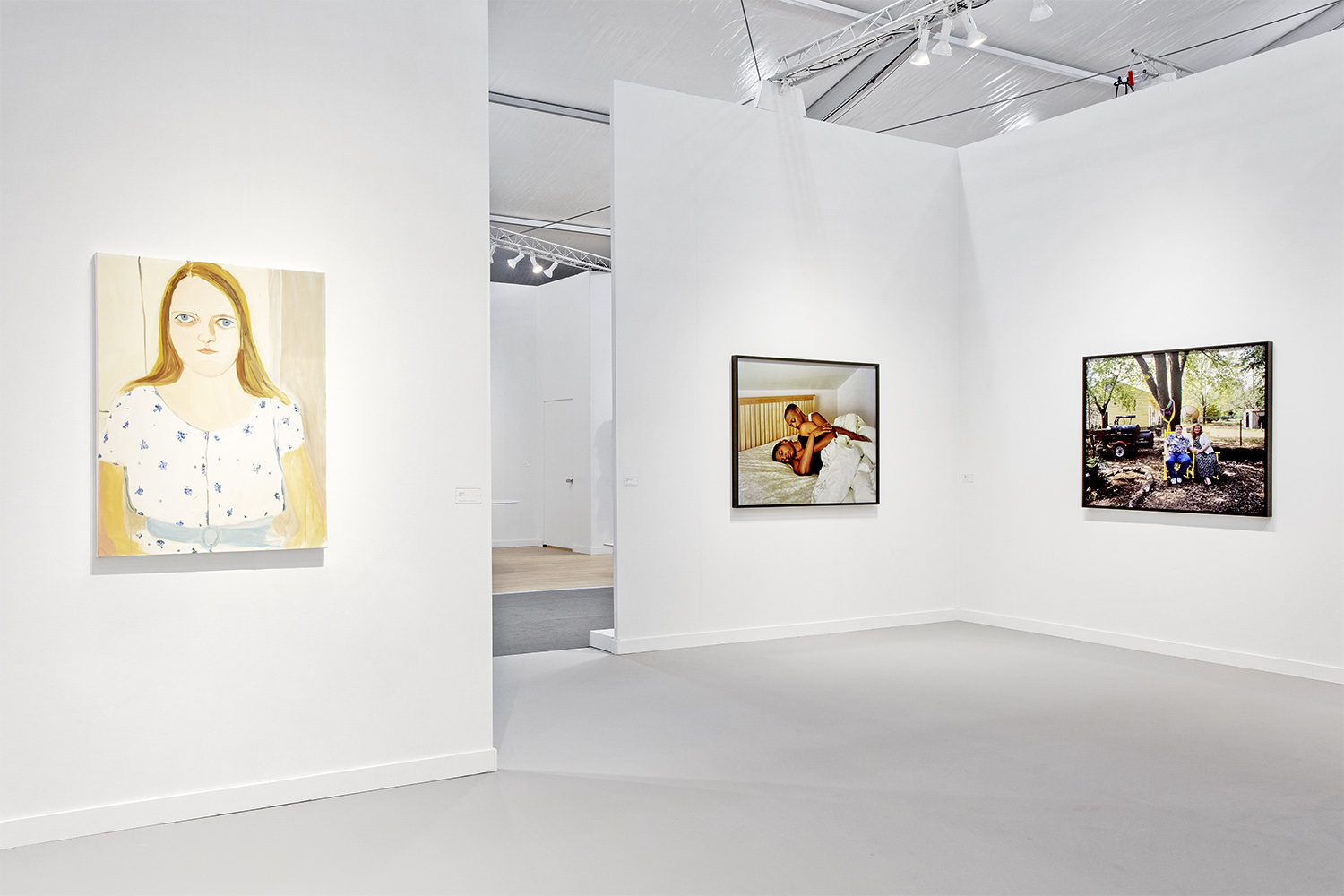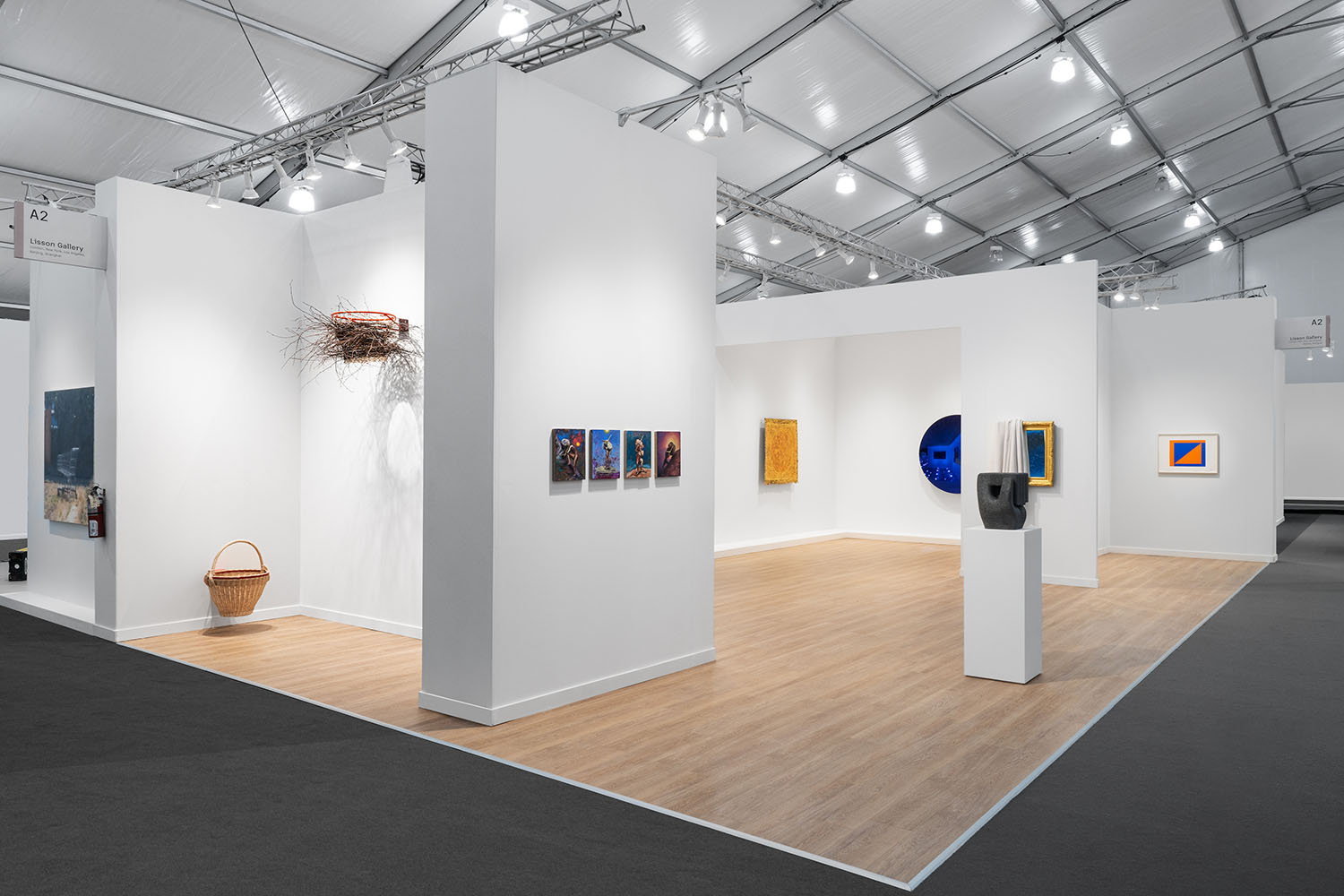 London and New York's Lisson Gallery, which is slated to open its first West Coast space designed by Ashe Leandro on April 15, presented a booth of works by various artists from their program. Sales highlights include the rare wall sculpture Untitled Estructura (Green) (2007/2016) by Carmen Herrera; a dazzling mirror sculpture by Ryan Gander, who has just opened a wonderful exhibition called "Feelin' everything, whilst doin' nothin'" at the Dries Van Noten Little House space in Beverly Hills; four new sculptures by Hugh Hayden; and six paintings by Van Hanos, among others. "It's great to be back in L.A. and it's a pretty momentous time for Lisson at the moment here in the city," says Alex Logsdail, the gallery's executive director. "I'm also happy to be showing a work by Carmen Herrera that honors the artist and her incredible life, while also previewing the new Lisson Gallery LA space, which will open with a presentation of her work."
Lehmann Maupin also saw quick sales on the opening morning, selling out of works by Chantal Joffe, Mr. and Loriel Beltrán, whose representation by the gallery was just announced this week. Also on view are works by Catherine Opie and Billie Zangewa. "The work of these three women artists challenge traditional depictions of the domestic sphere," says dealer David Maupin of Lehmann Maupin. "Each is radical in her own way." There's also an immersive room dedicated to Mr., who is the subject of a major solo museum exhibition at the Phoenix Art Museum. "His popular appeal highlights the link between Tokyo and L.A." Maupin says of the vibe in Los Angeles this week, "as a Californian myself, I love to see the city activate around art. With more and more galleries opening outposts here, it strengthens L.A.'s gravitational pull."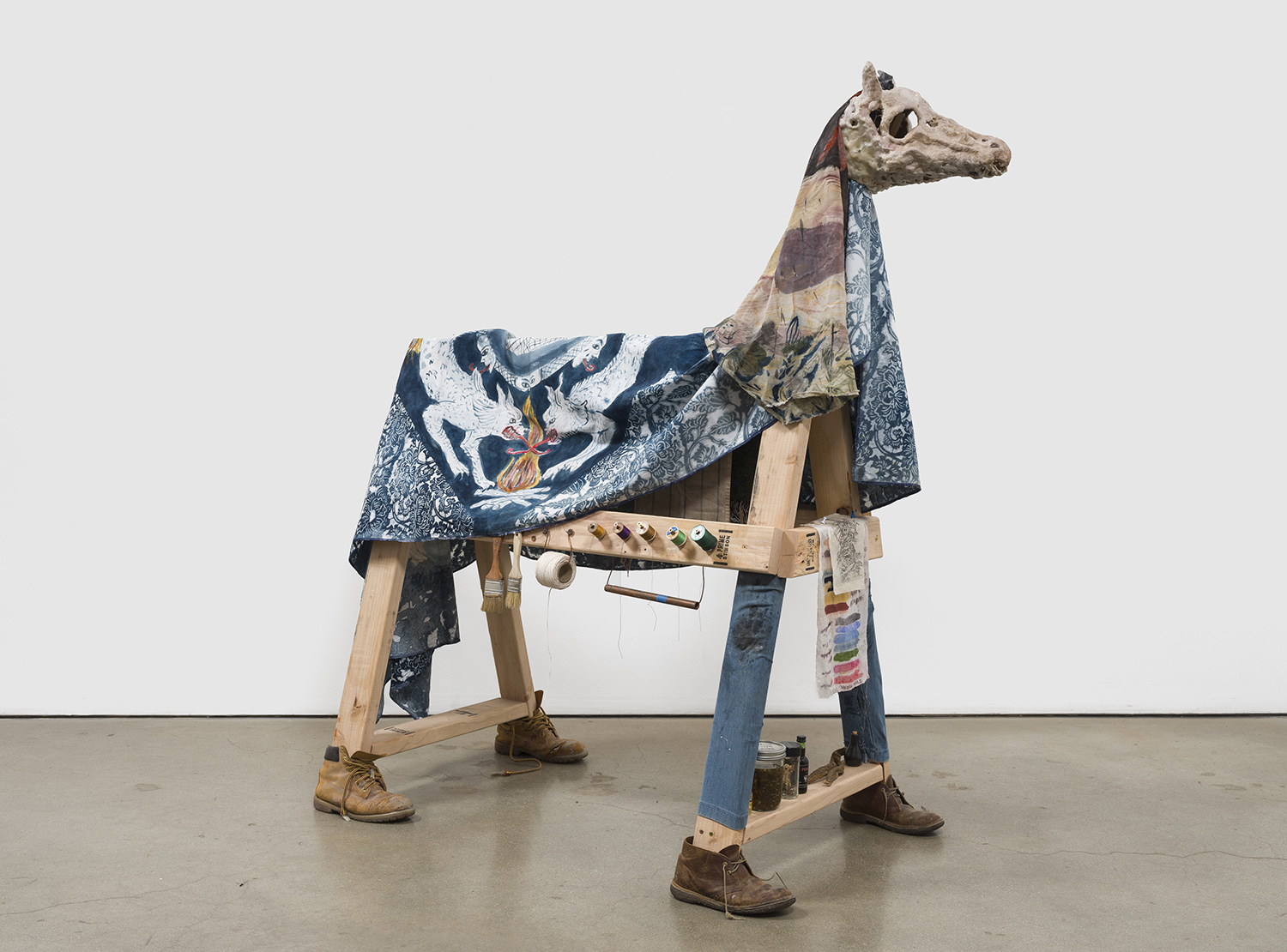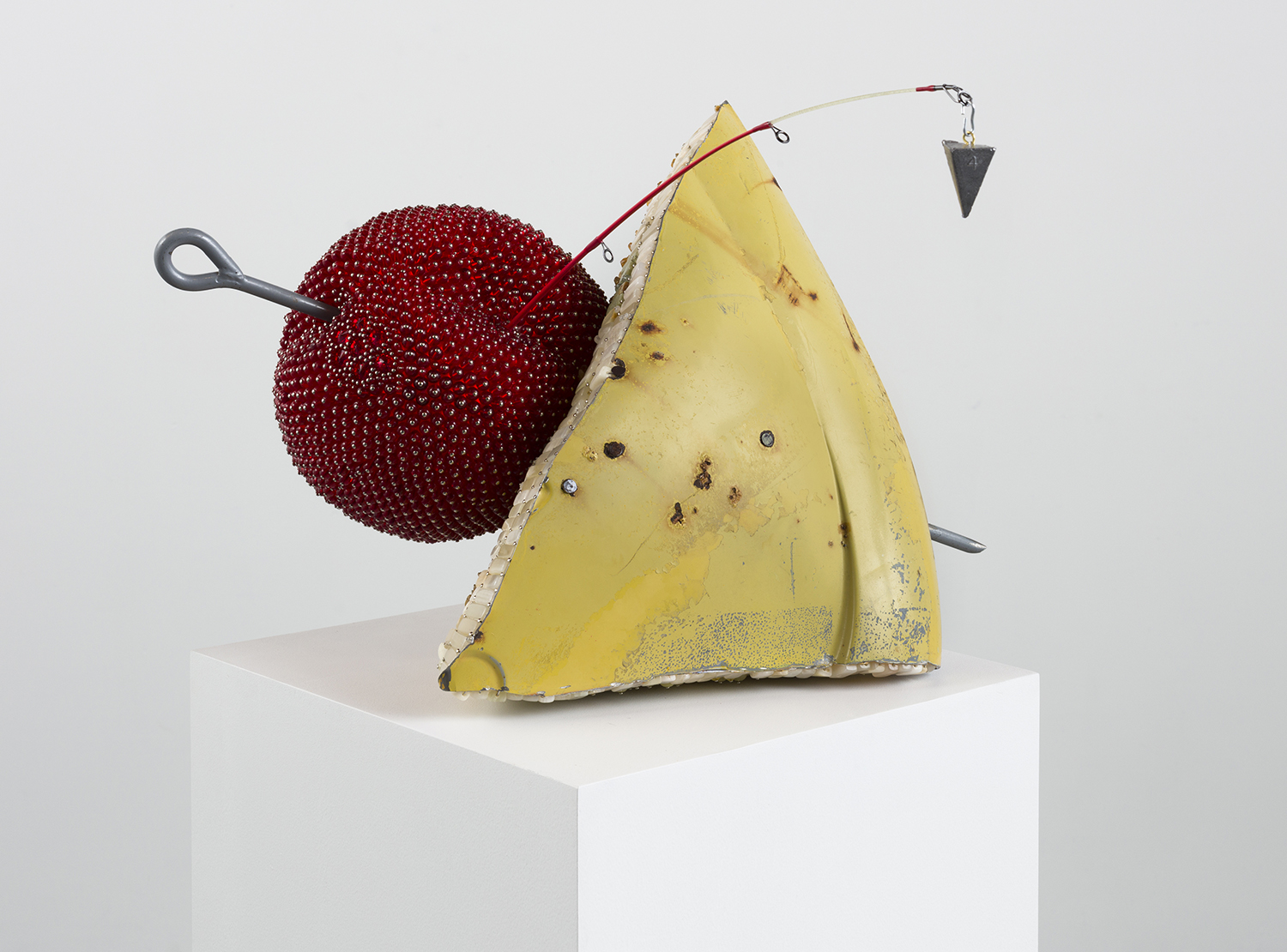 Local gallerist François Ghebaly dedicated their booth to sculpture. "Straight from the artists' studios, we have Candice Lin's dyed indigo creature The Tailor, Kathleen Ryan's cheeky oversized cocktail garnish Tom Collins, and Sayre Gomez's surveillant paintings from his series '8,760,000'," says Ghebaly."I am also excited to show a rare 1986 sculpture by Channa Horwitz, Cube Inside the Ball (or Ball Inside the Cube), in which a cube and a sphere are superimposed, recalling early virtual renderings." There is also an interesting work by Patrick Jackson, who is showing a solo exhibition the gallery's new Hollywood location.
One of the 20th century's most important figurative painters, Ernie Barnes is experiencing a revival. Dealers Andrew Kreps and Ales Ortuzar, who both manage his estate, presented a solo booth of his work, spanning five decades from the 1960s to 2000s, some of which are on loan. Don't miss the UTA retrospective of his work that just opened this week, too.
Capturing a distinct spirit of California craft and design, Jeffrey Dietch went all out with his showstopping booth dedicated to the whimsical, playful works of Los Angeles artist Peter Shire, the only American member and a co-founder of Memphis, the influential Milan design collective. On view is a kaleidoscopic mash up of sculpture, furniture, drawings and ceramics. "Sunny days and illusions of beaches and fun with occasional rain. Broken planes and flying shapes intersecting and chattering. Constructive, enthusiastic, optimistic… after all, once we say things they have a chance of becoming real," the artist said of the works on view at the booth.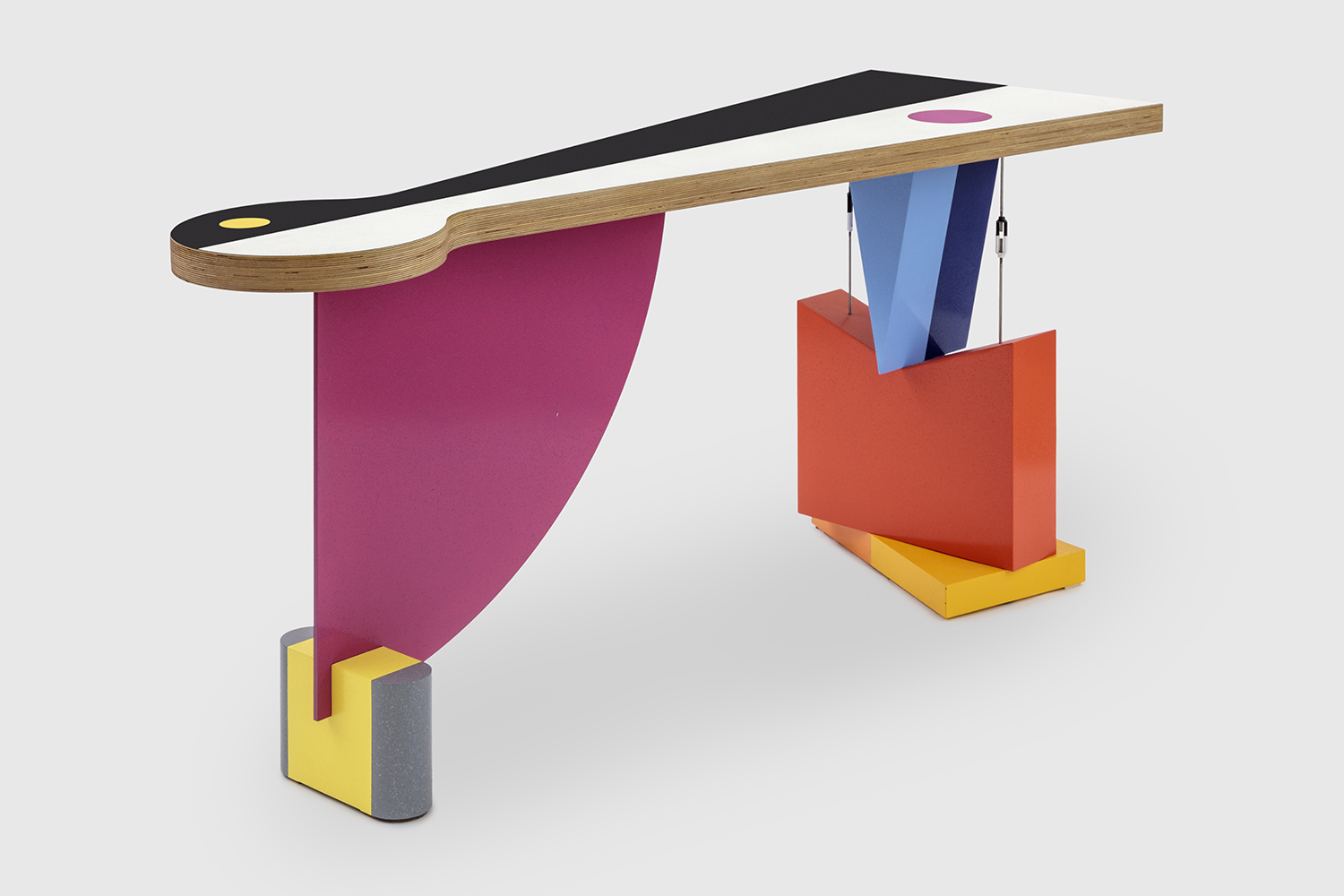 With its focus on the historic and 20th century art, the airplane hanger offered an entirely different vibe and there were some fascinating discoveries to be made. A standout was Hannah Traore's booth, who was presenting at the fair for the first time, with a series of work by  Galerie 2023 Emerging Artist Camila Falquez. Born in Mexico and raised in Spain, the Colombian photographer creates photographs that celebrate social and gender diversity with a nod to the traditions of fashion and portrait photography. The beautiful tableaus are all framed with raw silk. "It has been such an amazing experience showing at Frieze for the first time," says Traore, who was also featured in Galerie's Fall 2022 Issue. "There's been such a collaborative spirit here with the other Focus galleries."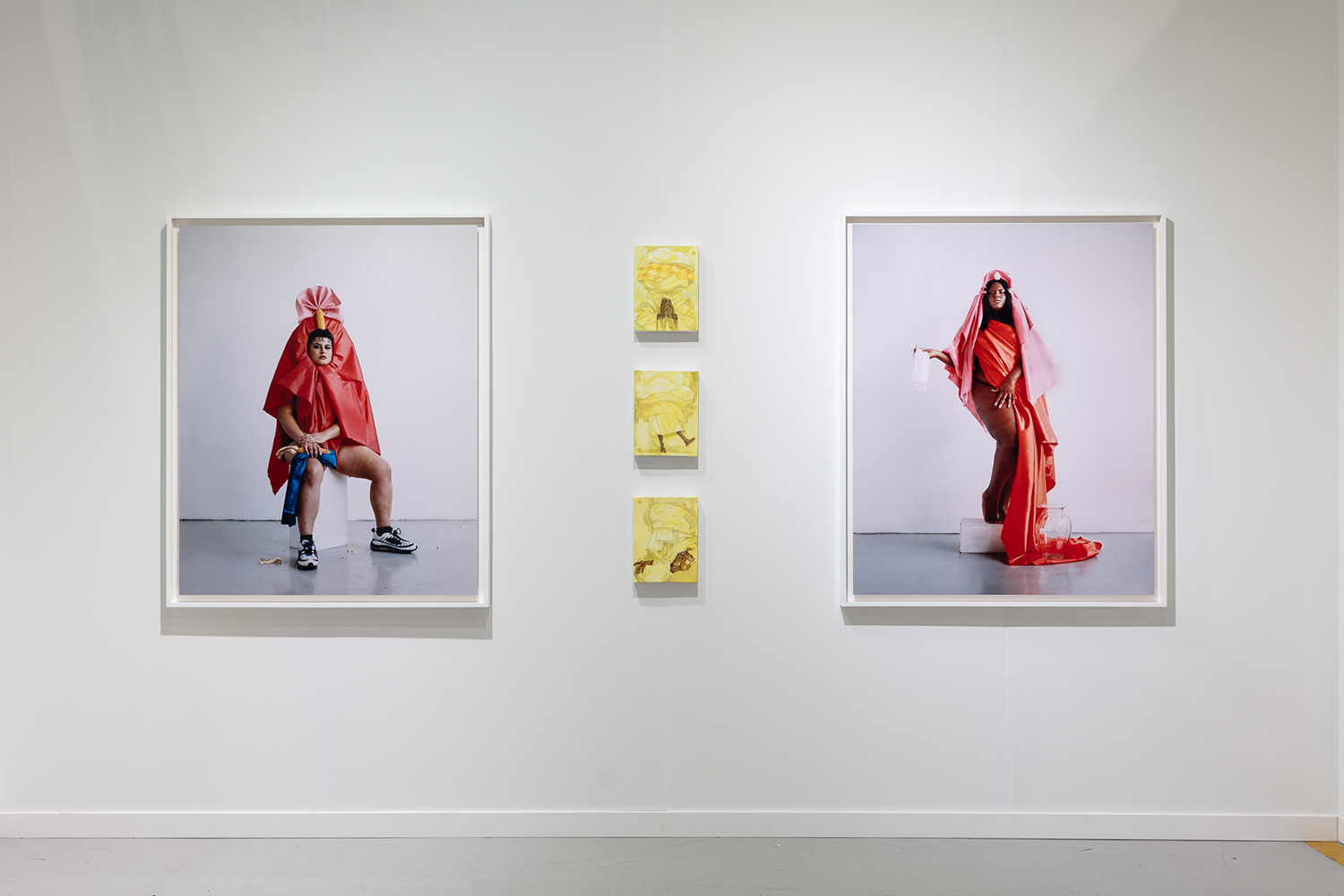 Art spills outside the fair booths, too. Frieze Projects this year features a special project by Art Production Fund titled "Now Playing," which brought together a series of artworks that shine a light on the often-overlooked elements of everyday life in Los Angeles. Visitors will see Chris Burden's awe-inspiring forty-foot skyscraper that mimics the skyline of downtown's architecture or Ruben Ochoa, who pays tribute to the street vendor community, with his art truck.
Next Post