The convergence of fashion and fine art has long shaped both disciplines, and virtually every day it seems a contemporary artist-designer collaboration is announced. But there is something to be said for creatives with a reverence for historic art forms—and especially those who marry aesthetics of decades and centuries past with modern-day principles.
In recent couture and ready-to-wear collections, many of which debuted virtually due to the COVID-19 pandemic, inspiration and references were more far reaching than ever, much to the contentment of interior design enthusiasts and museumgoers. Brands like Oscar de la Renta, Alexis Mabille, JW Anderson, Paco Rabanne, and more are mining the rich history of the decorative arts—an area that is relatively overlooked and underappreciated in comparison to the billion-dollar contemporary art market.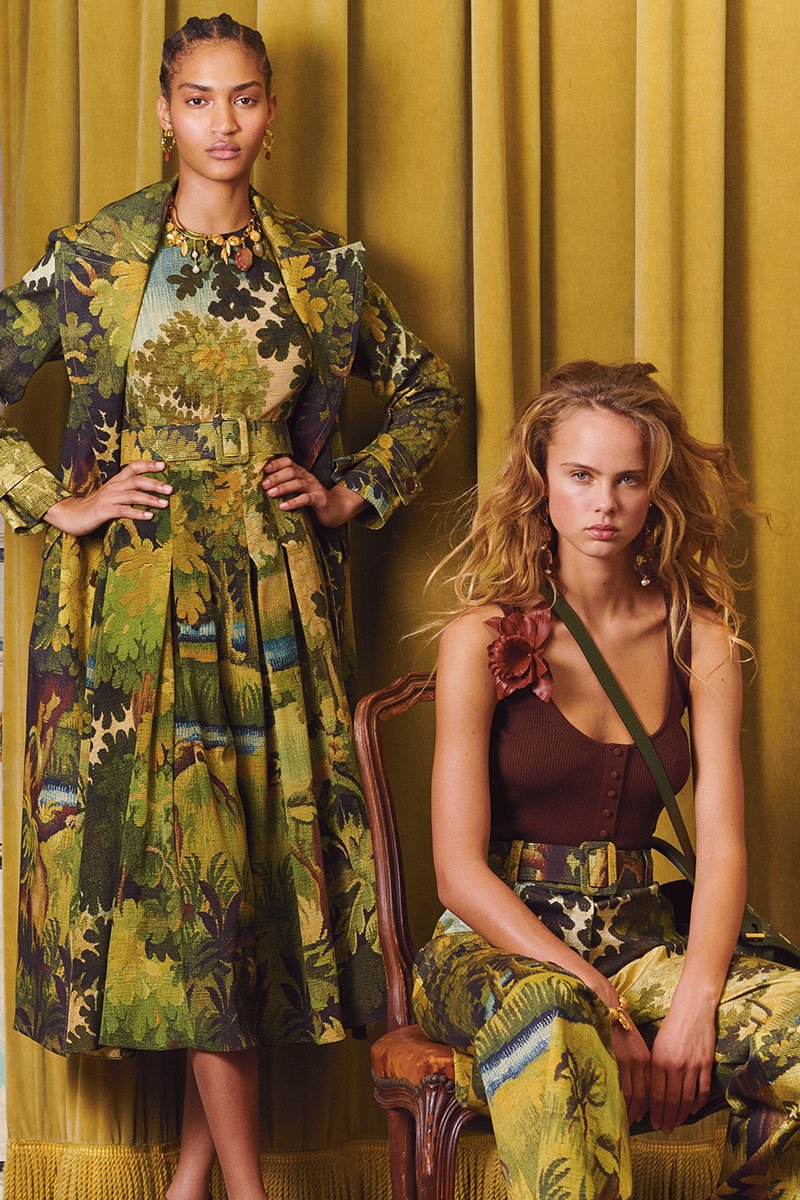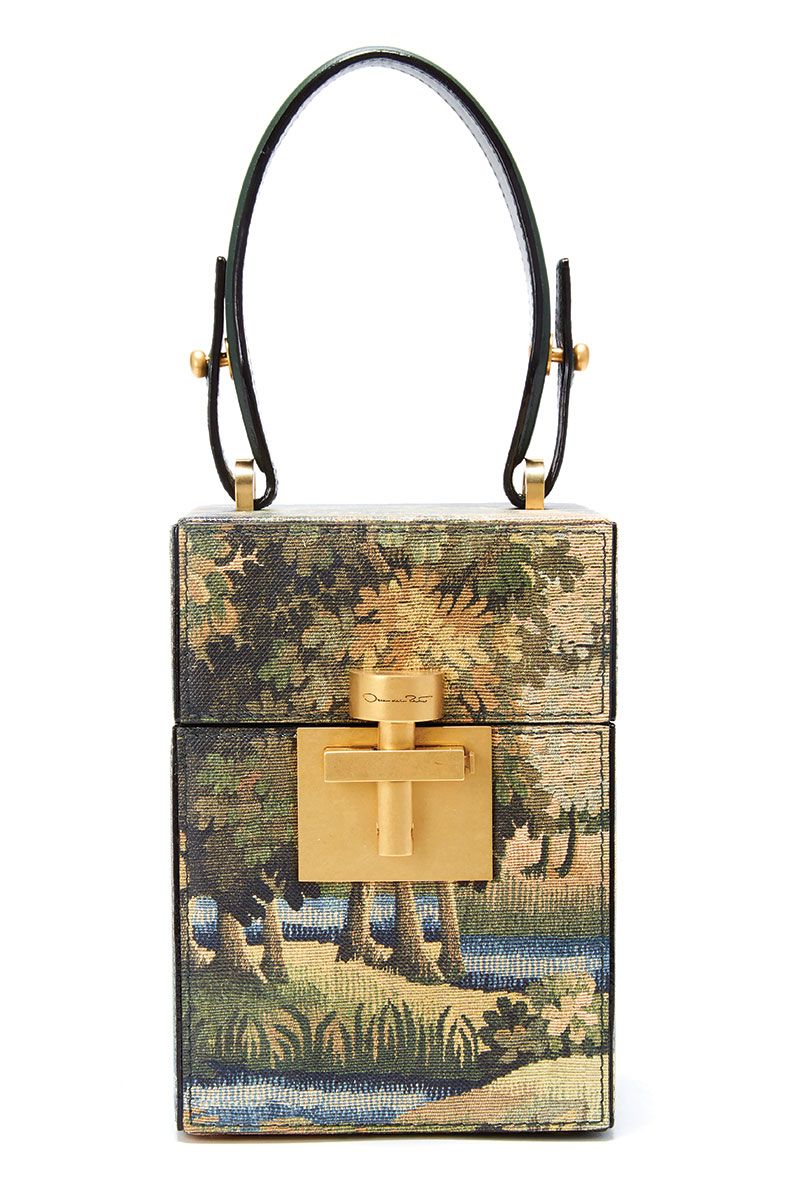 Conjuring textile-laden walls of grand manors, Oscar de la Renta's pre-fall 2020 collection reimagines Flemish verdure carpets. While creative directors Laura Kim and Fernando Garcia frequently reference the arts in their designs for the house, this season's influence is particularly unique and exquisitely rendered. Forming these pastoral landscapes are subtle gradations of greens, yellows, blues, and browns, all of which recall dyes once derived exclusively from nature. Visible woven structures give the lush vegetation a three-dimensional quality.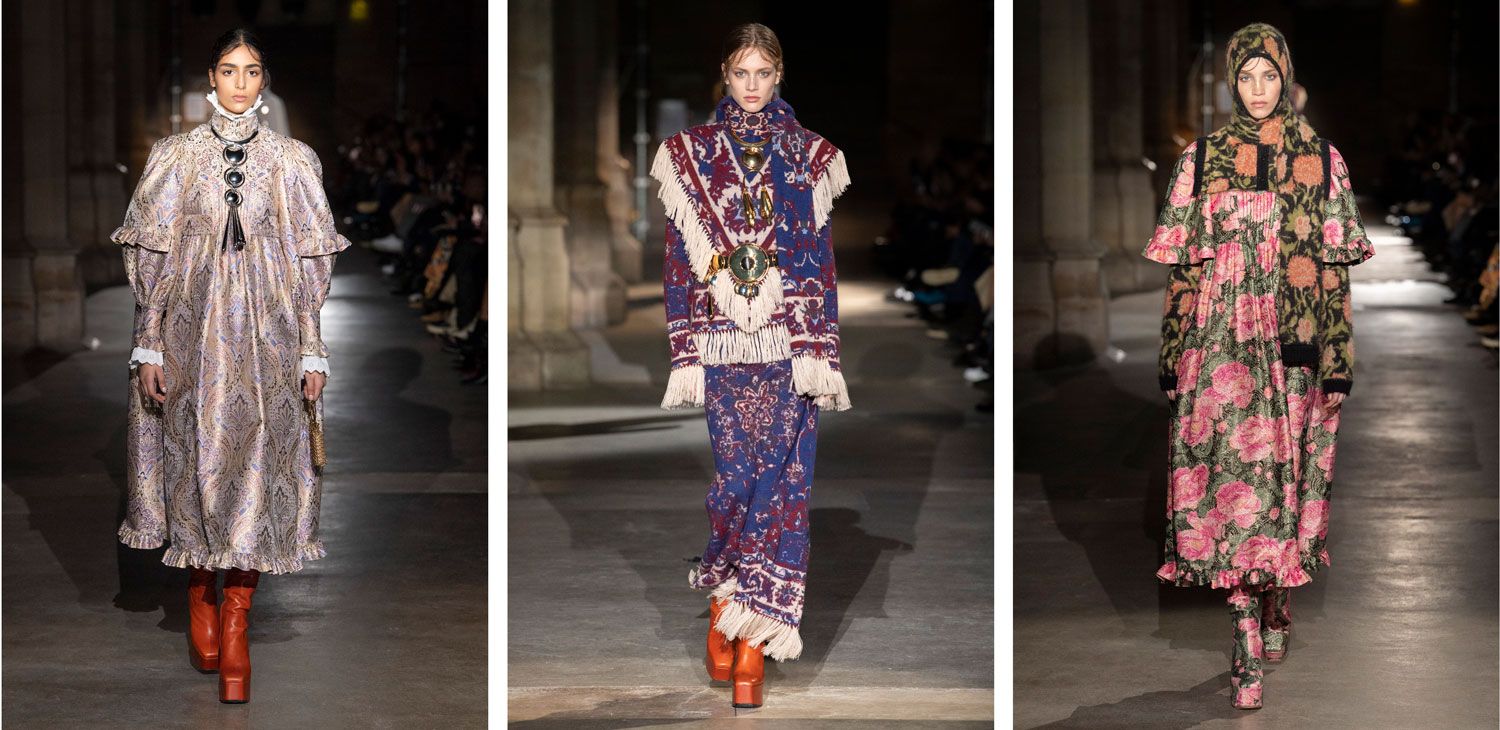 Paco Rabanne's fall 2020 ready-to-wear collection also channels carpets, though they appear of a more Eastern origin. This collection presents a softer side to the Spanish designer who is best known for his garments comprised of plastic and metal shapes, often linked with brass rings. There are fringed rugs and iridescent damasks, and floral flocks evoke the 1980s appeal for chintz and English gardens. Nigerian-born British fashion designer Duro Olowu also played with metallic brocades in his spring 2020 ready-to-wear collection, imbuing his signature bright patchwork and patterns with a chic, evening feel.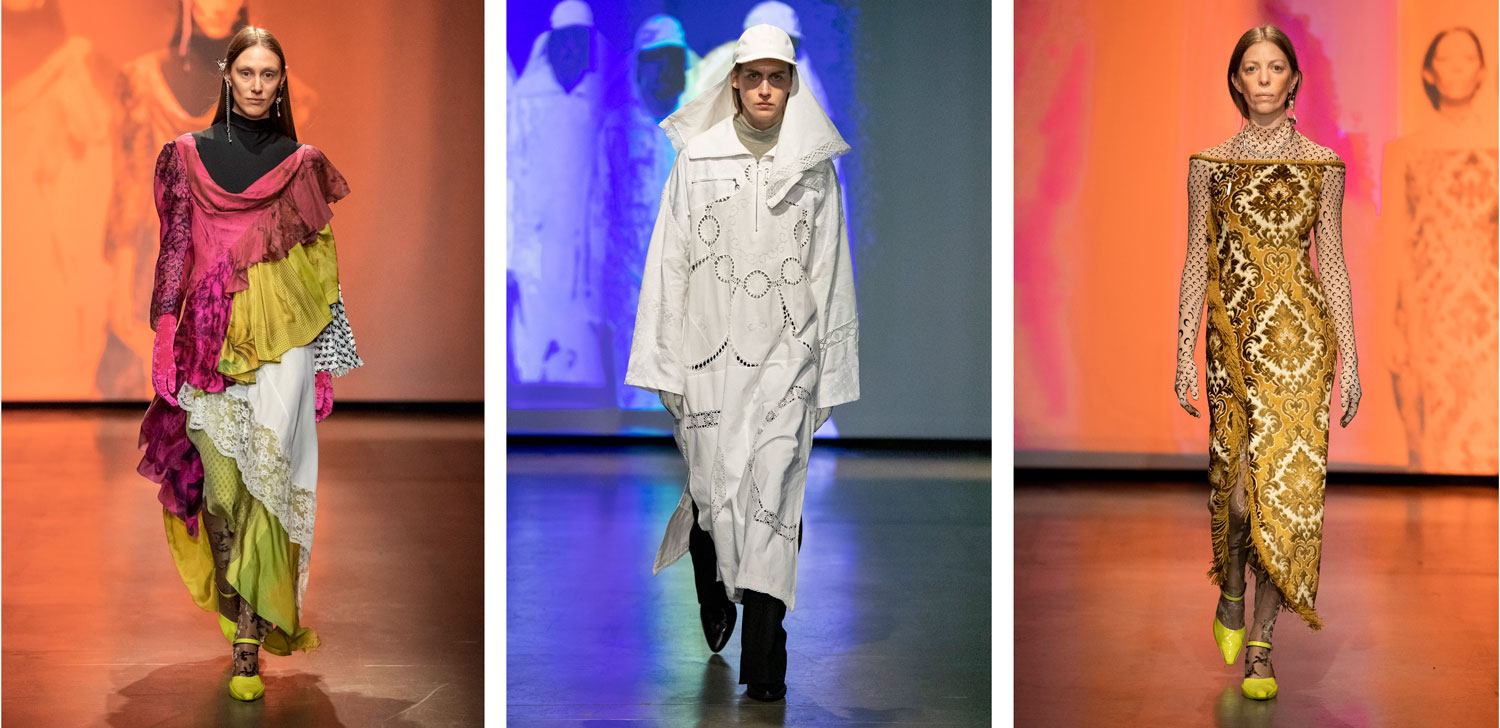 Many designers also consciously upcycled upholstery fabrics and decorative items. Rising French talent Marine Serre, who won the 2017 LVMH Prize for Young Fashion Designers, debuted a fall 2020 collection called Mind Mélange Motor. Imagining how people would dress on a different planet, she writes in the collection's press materials, "In this cosmos, creativity reigns. . . . Land on a white planet, at night, where reflective moons tremble amidst snowy embroidered tablecloths and cushion covers, assembled forming flare djellaba's and dresses."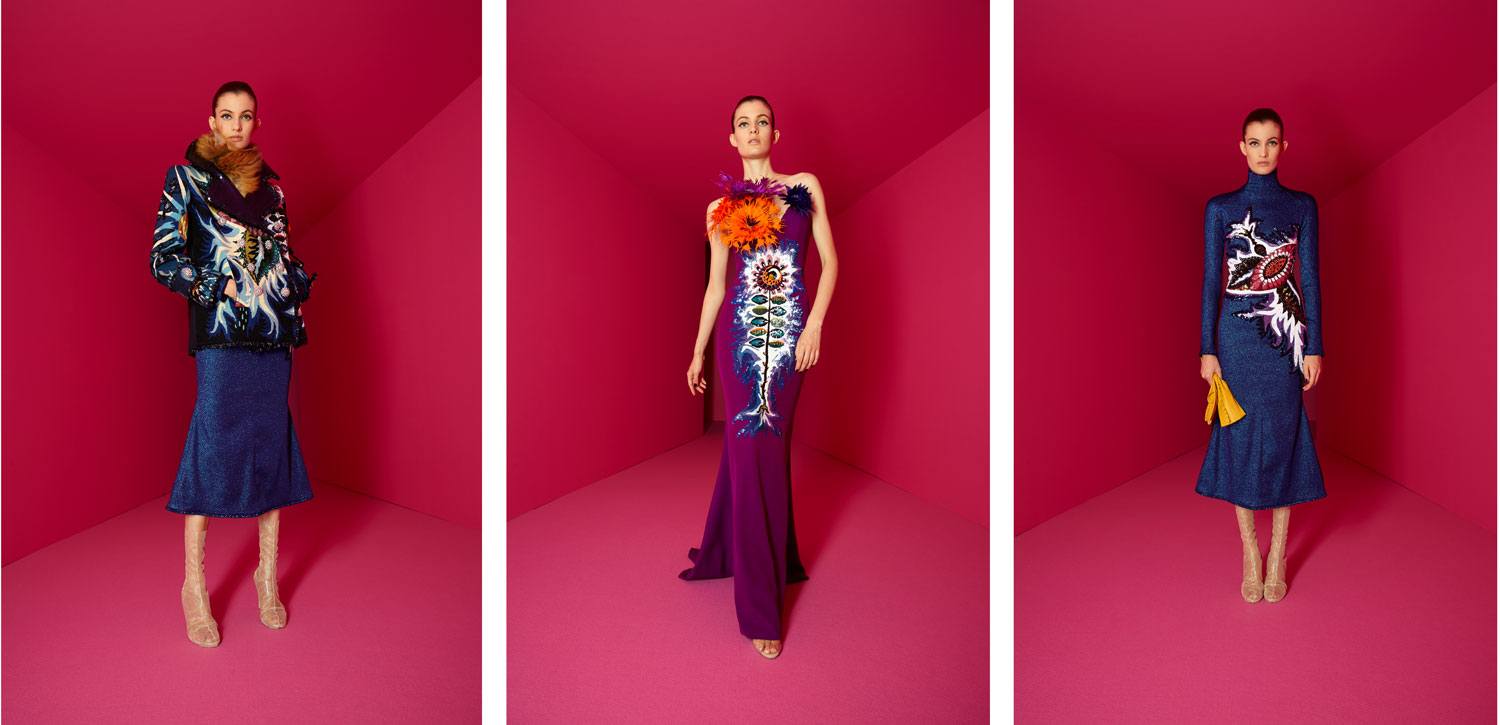 Alexis Mabille's haute couture fall-winter 2020/2021 resurrects the work of 20th-century tapestry artist Jean Lurçat, with a sustainable twist. The French figure's psychedelic abstractions are captured in glittering embroideries on deep, jewel-toned fabrics so striking one would never realize they were formed from materials already in Mabille's studio. Another glamorous collection, Zuhair Murad's fall 2020 ready-to-wear gives William Morris–esque botanical prints a contemporary update when paired with delicate black lace.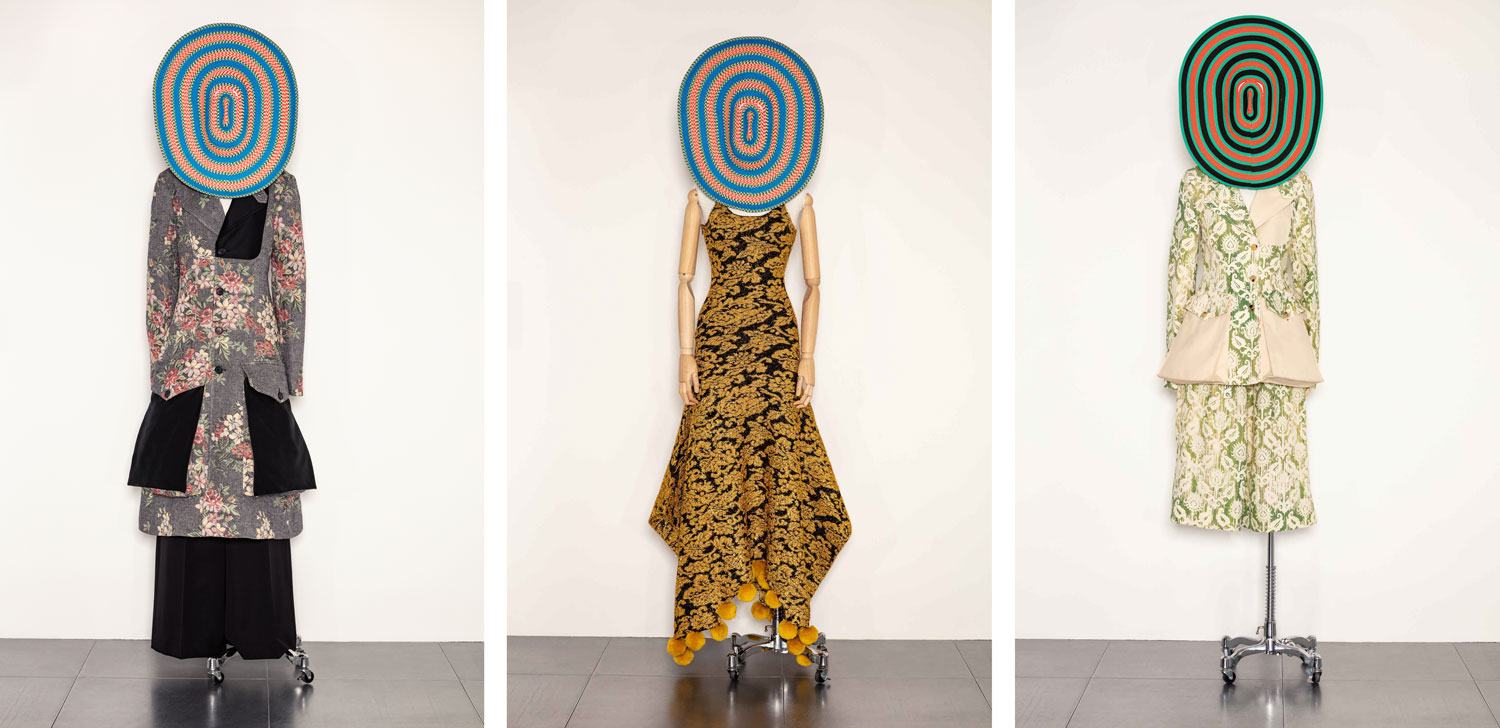 JW Anderson's resort 2021 collection is an artful assemblage also comprised of past fabrics. Interested in how people are reverting back to craft, the British designer incorporated needlepoint, oversize knits that hang like tapestries, and jacketing directly inspired by domestic fabrics and wallpapers "as if they were put through a photocopier over and over again," he shares in a video for the collection.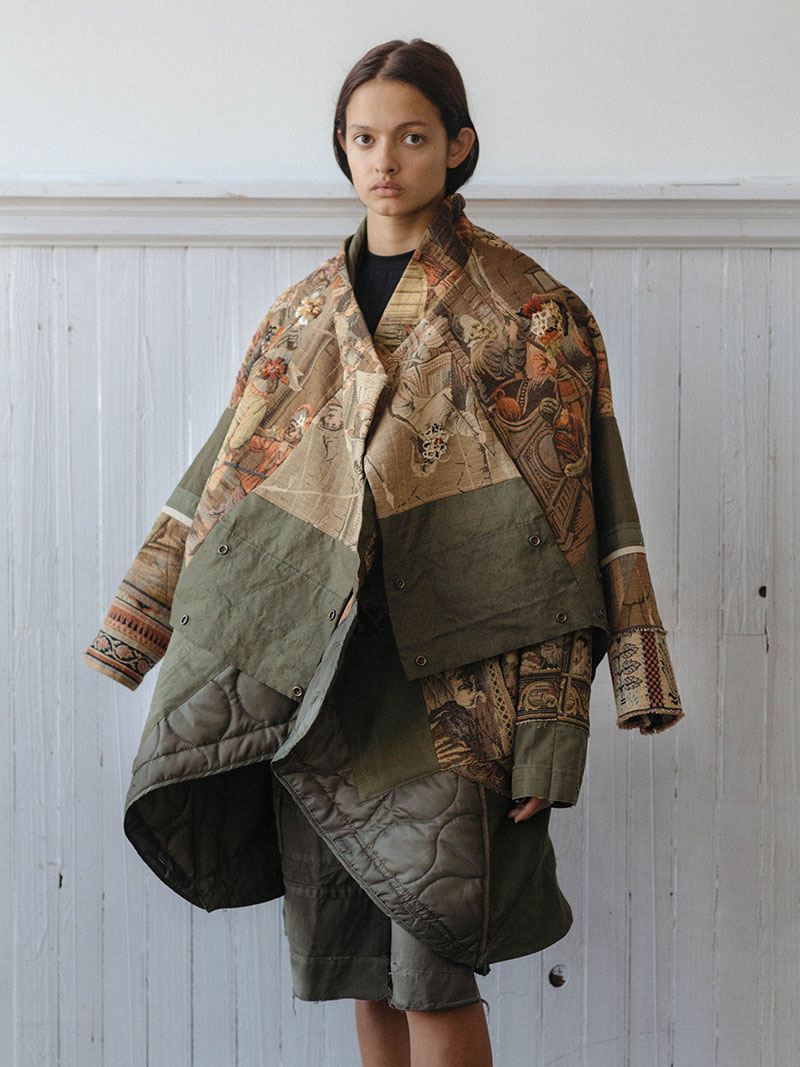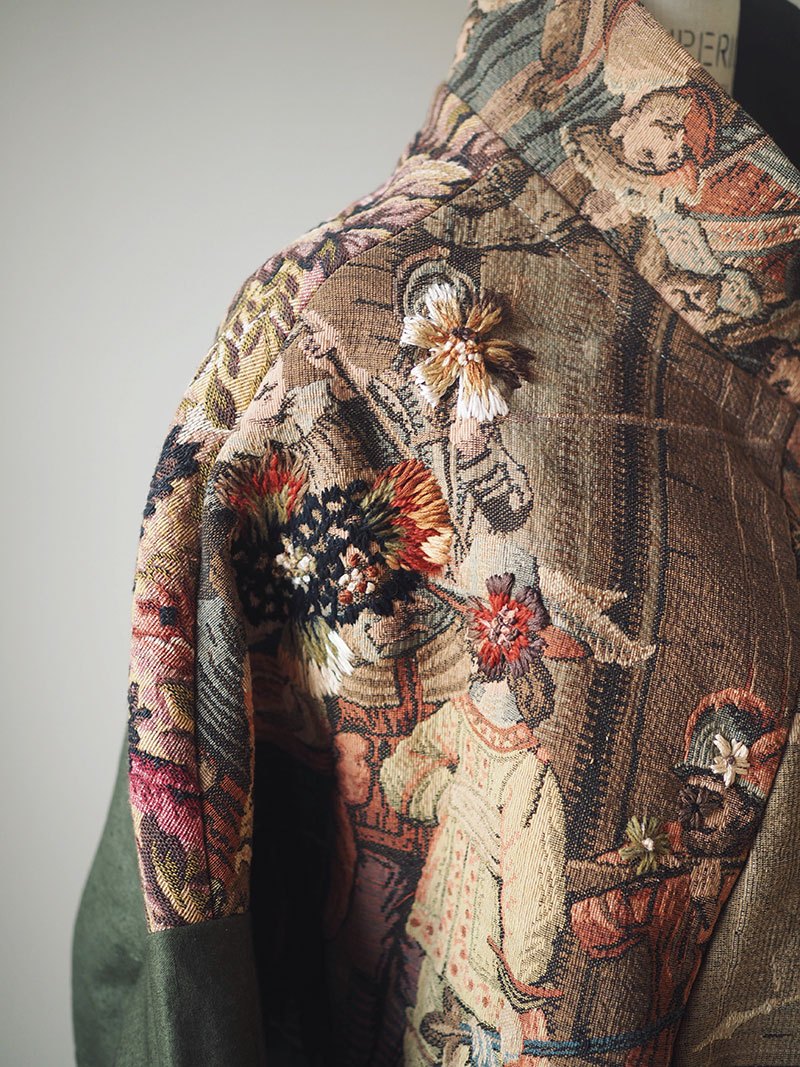 New York–based designer Gary Graham tells Galerie he has "always taken inspiration from interior spaces and the decorative arts, specifically tapestries and jacquards." Gary Graham 422, his recently launched capsule collection with Joyce boutique in Hong Kong, incorporates pieces from his personal collection of tapestries and 19th-century French jacquards into one-of-a-kind outerwear. Looking critically at the historical narratives featured on these fabrics, Graham embroidered over the faces of some of the figures to reflect a less patriarchal, more diverse, optimistic, and current social landscape.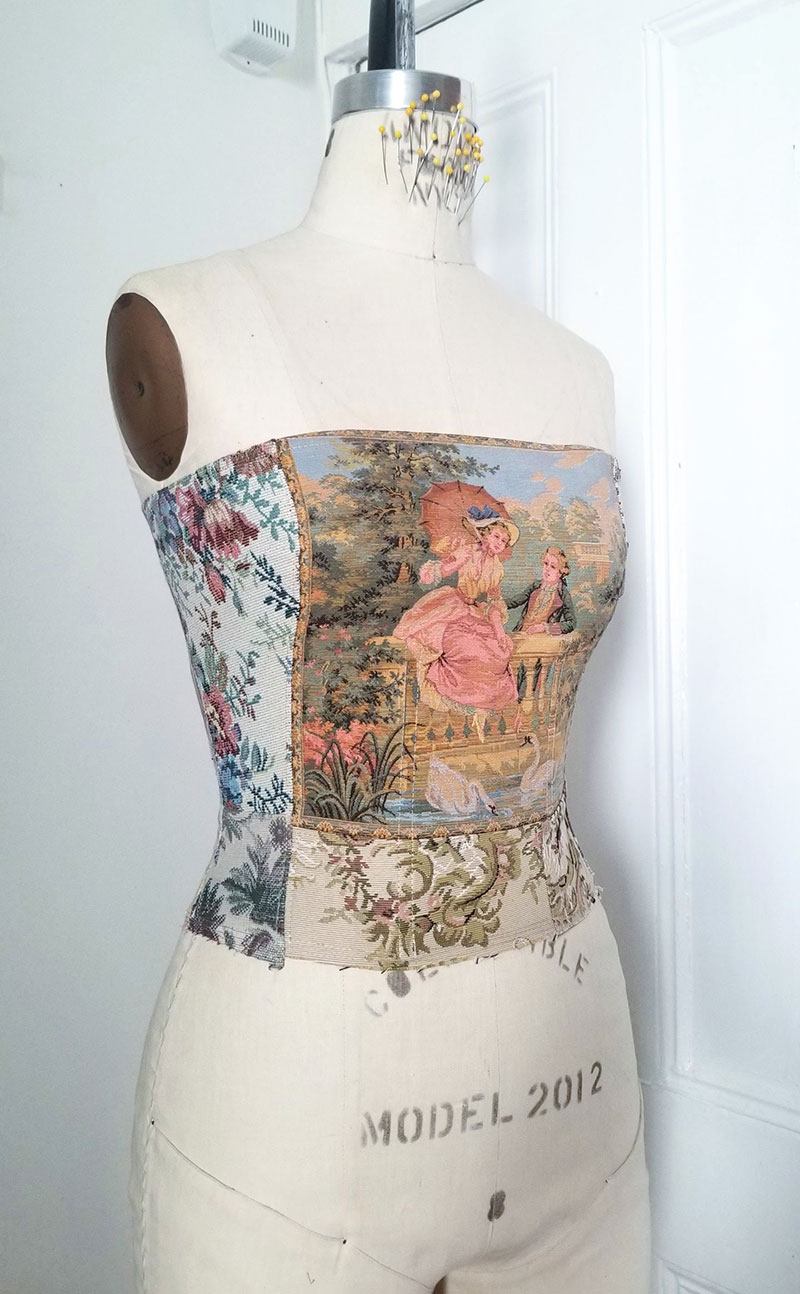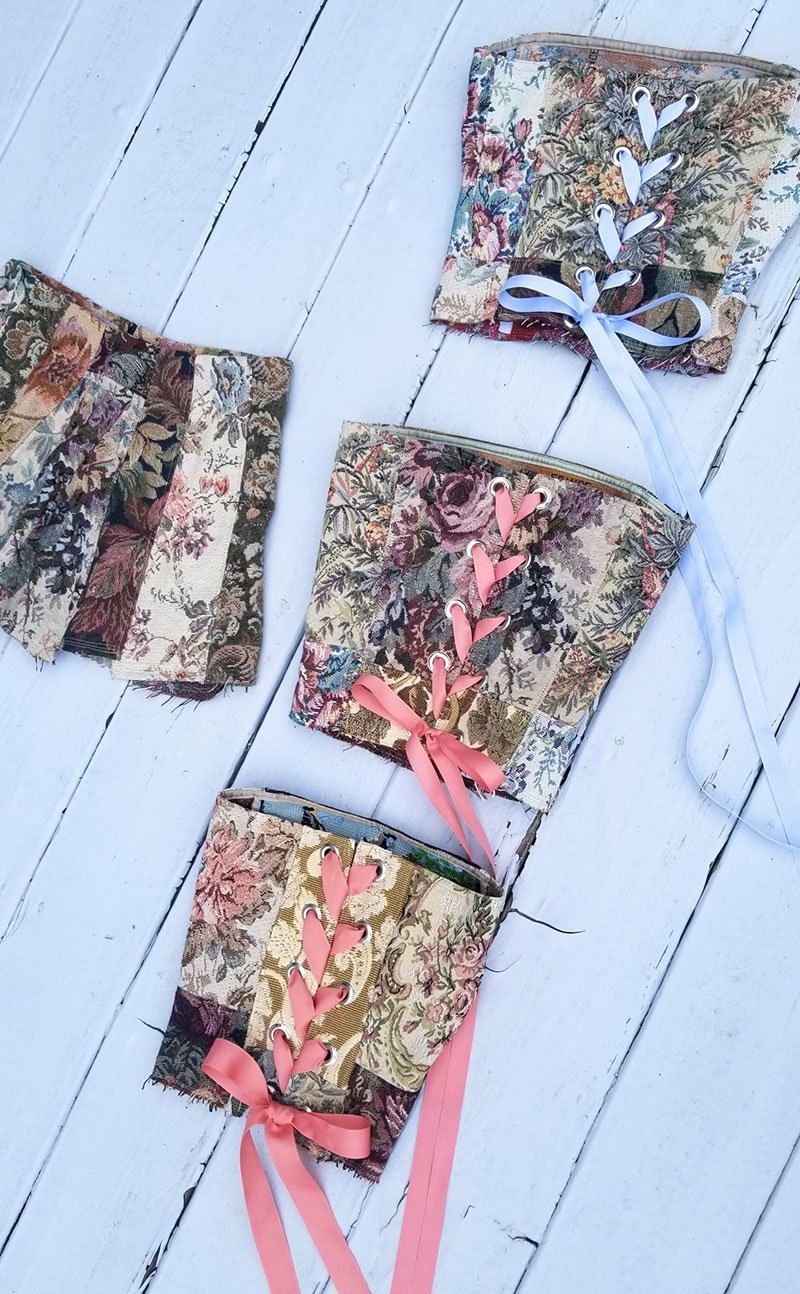 Independent designer Kristin Mallison works full time at a Brooklyn design studio, but on the weekends and evenings she creates interior-inspired clothing. Her corsets, made exclusively from antique and vintage tapestries and upholstery fabrics, went viral earlier in March. "I love fashion, but I hate how wasteful that industry is. So I asked myself, How can interior design lend itself to fashion?" she tells Galerie. Mallison's corsets typically feature images of courtship and revelry, which she views as hyperfeminine caricatures that juxtapose the fabric's strength and durability. The garments also nod to the punk aesthetic of Vivienne Westwood's iconic 1990s painterly corsets. "Furniture is made to last, not to be thrown out and replaced with each season's trends the way that fashion is. I want my clothing to be like furniture."
Next Post