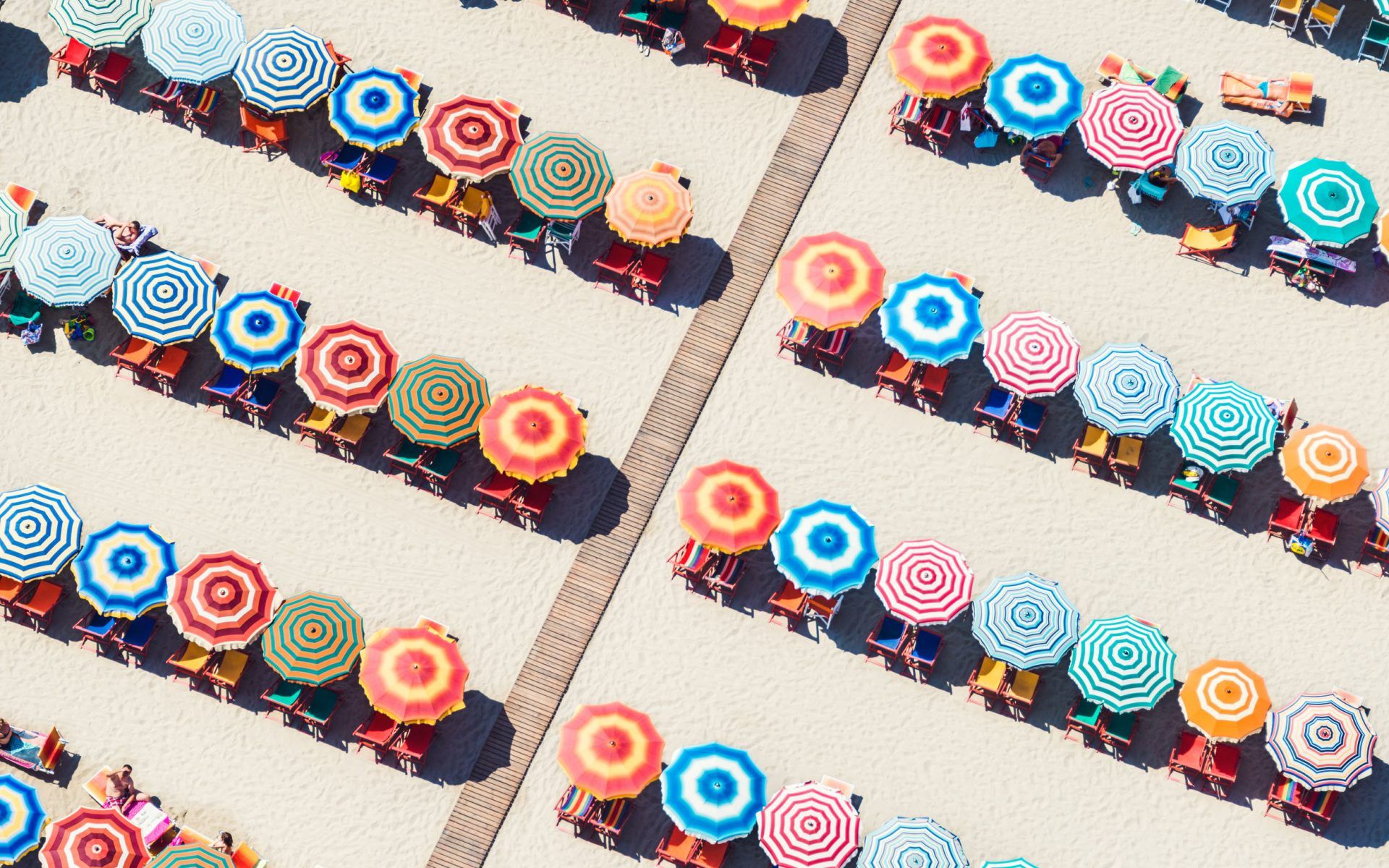 Gray Malin Captures Italy's Most Breathtaking Beaches
From Portofino to Capri, the photographer distills the essence of an Italian summer
Originally inspired by a fruitful semester abroad, renowned photographer Gray Malin returns to his eight favorite locations in Italy to capture the insatiable beauty and immutable charm of coastal cities from Capri to Positano. His new book, Italy (Abrams Books), which was inspired by his best-selling series, "La Dolce Vita," features never-before-seen images of sun-kissed beachgoers and eye-popping arrays of patterned umbrellas along the dazzling Mediterranean Sea.
Recommended: 7 Fashion Notables Share Their Summer Plans
Having begun his career with a booth at a local market in West Hollywood, Malin traveled the world in search of exclusive locales to capture exotic and memorable scenes. From the Caribbean islands and the Hamptons to Paris, Dubai, and Antartica, Malin's images inspire the desire to book the next flight to some remote destination you've always wanted to visit.
Malin's work has been published in Elle, Details, House Beautiful, and Domino magazine, and has unsurprisingly made fans of designers Tory Burch and Rebecca Minkoff. Malin became a two-time New York Times best-selling author with his previous collector's books, Beaches and Escape.
"Little did I know this was just the beginning of a larger journey to document many timeless moments of luxurious landscapes across the country," Malin reflects in Italy. "For me, Italy is like an ice cream cone on a hot day in July—nearly impossible to resist, and when finished, you're still craving more."
Recommended: Here's Where Art World Insiders Are Headed This Summer
Here, Galerie offers a glimpse into the eight wondrous sights of Malin's new book with insights in his own words.
Cetara Amalfi diptych.
1. Amalfi Coast
"The towns of the Amalfi Coast, including Positano and Ravello, are some of the most quintessential Italian vacation destinations, and for good reason. The beauty of the coastline, with high green mountains tumbling into dreamy beaches below, speckled with yellow, pink, and orange old-world buildings, is a spectacular sight you simply can't find anywhere else in the world."
2. Capri
"Though overflowing with tourists by day, I always tell people staying overnight in Capri as part of any Italian vacation is a must. As if the natural beauty of the views from Capri town to the sea below were not enough, at night it comes alive with walking streets filled with chic Europeans adorned with some of the most eclectic and glamorous outfits you'll find anywhere."
Recommended: 8 Art-Filled Day Trips to the Country This Spring
3. Cinque Terre
"One of the first places I visited in Italy was one of the five towns, Riomaggiore. Sitting seaside with wine and pesto, I was immediately enamored with this dreamy seaside village. The area has since become one of my favorites, particularly the beautiful Eden Rock, located in Monterosso al Mare."
4. Lake Como
"Taking an evening boat ride in Lake Como—with the sun setting on the Dolomites, turning them a gorgeous pink hue, along with a glass of prosecco, is a memory I will never forget. Do yourself a favor and book a Riva boat ride with Como Classic Boats; it will be a memory you will never forget."
5. Puglia
"The heel of the boot of Italy, this region looks unlike anywhere else in the country. It has whitewashed walls and aqua waters. It feels like you are in Greece. The food in Puglia is also not to be missed."
Recommended: 7 Design Tastemakers Reveal Their Favorite Summer Destinations
6. Sicily
"I will never forget climbing, nervously, up the slippery side of the beautiful Turkish Steps in Sicily to capture some of my first and favorite shots of Italy. This region is a great add-on to escape the American tourist crowd and get a taste of being among the Italians, as this is one of their favorite vacation destinations."
7. Tuscany
"Another destination that is off the beaten path for American tourists, the beaches of Tuscany sprawl endlessly for miles, dotted with more colors of umbrellas than in the rainbow. Don't miss the town of Forte dei Marmi, as it has the most high-end beach clubs in all of Tuscany."
8. Portofino
"Hold your breath as you drive along the tiny (somehow two-way) road into Portofino! Though it's a tight squeeze, once you arrive, you will marvel at the pinks and greens of the beautiful old seaside village. Make sure to find the short hike to Castello Brown for sweeping views of this jewel on the Mediterranean."
Autographed copies of Italy, adorned in an exclusive rose gold foil cover, are available on Gray Malin's website.
Next Post