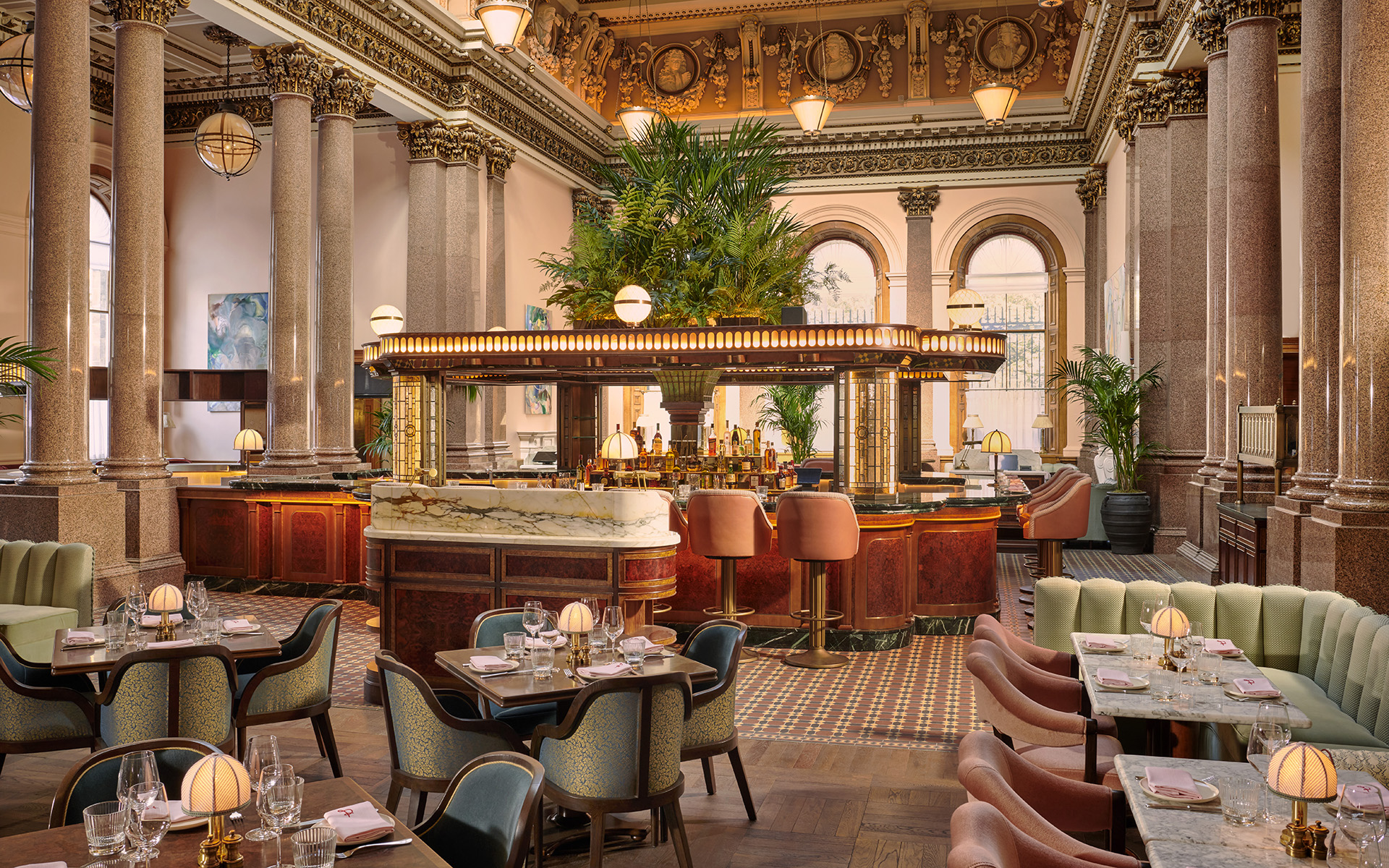 Discover Gleneagles Townhouse, Edinburgh's Newest Luxury Hotel and Private Club
The lavish 33-room property is the metropolitan counterpart to Scotland's famed countryside retreat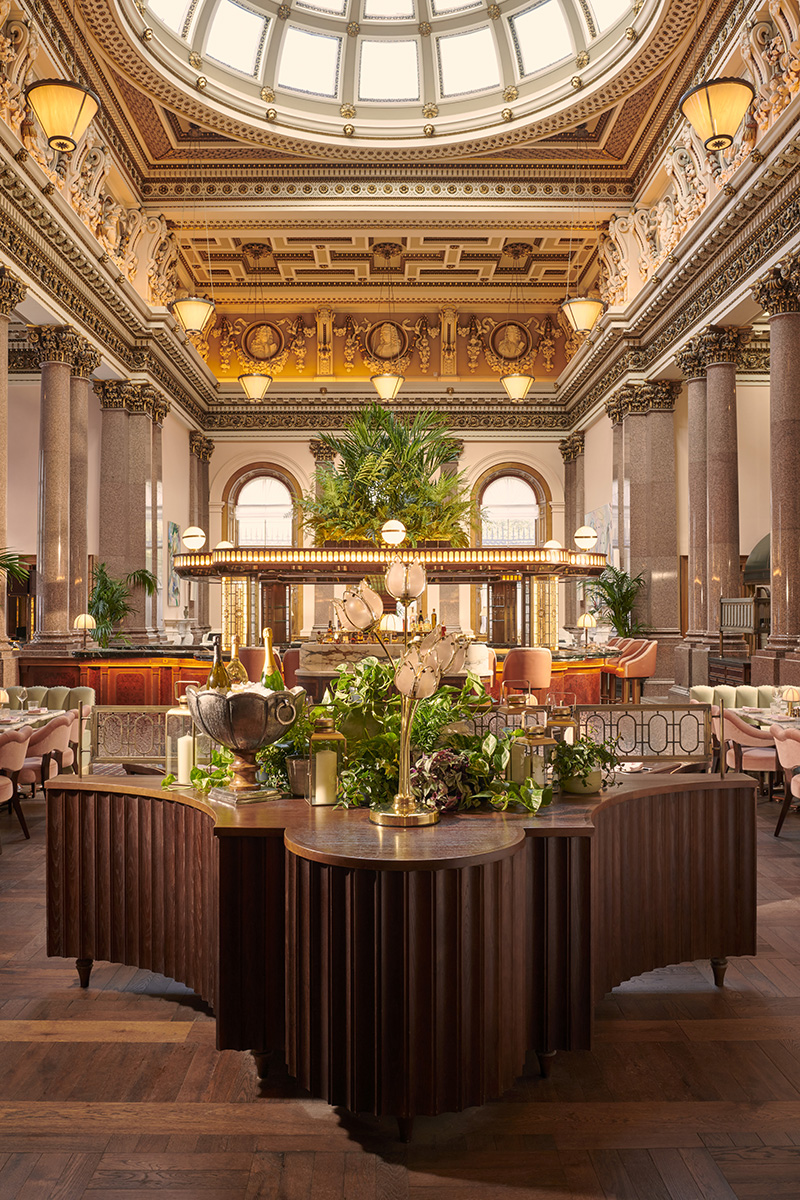 Edinburgh has a fashionable new address—attracting both visitors and locals alike. With a prime location overlooking the heart of St. Andrew Square, Gleneagles Townhouse is the Scottish capital's stylish hospitality standout of the year, having opened its newly renovated doors as a private members' club and 33-room boutique hotel.
As the metropolitan counterpart to Gleneagles, the famous countryside escape just 40 miles northwest of the city, Gleneagles Townhouse is making its debut in the legendary footsteps of an iconic name. When the original Gleneagles opened almost a century ago, in 1924, it was hailed as a "Riviera in the Highlands" and eighth wonder of the world. Golf and leisure were all the rage, and the luxurious resort was designed for guests with an affection for the outdoors and an appreciation for the finer things.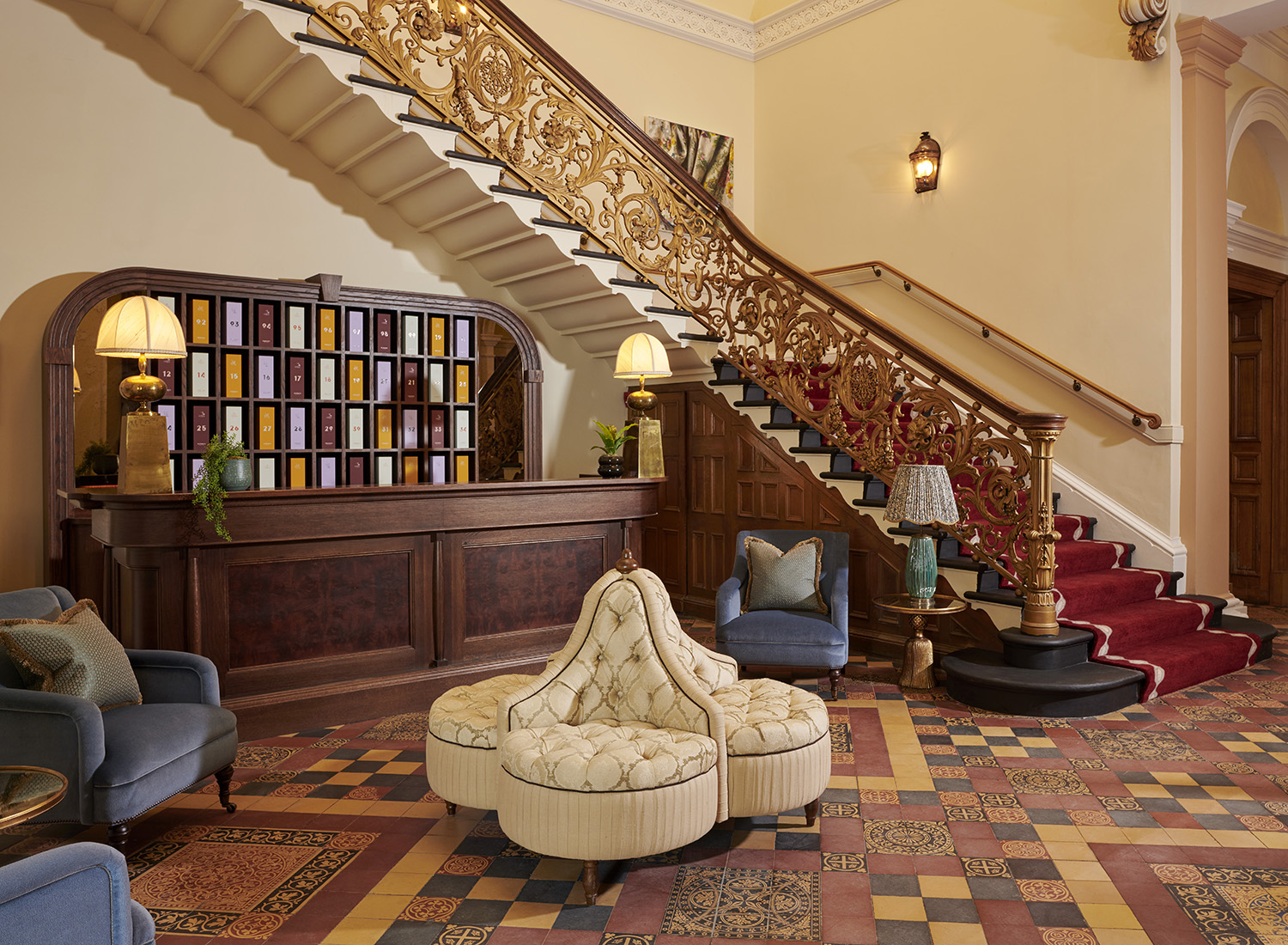 Today, the four-story, 232-room estate set on 850 acres in the Perthshire countryside continues to entertain travelers on its "glorious playground," a moniker that has come to define it, down to a hashtag. With rolling verdant courses, golf is still a major draw (the Ryder Cup can trace its roots to Gleneagles), but guests can also experience falconry, fly-fishing, horse riding, archery, off-roading, and clay shooting, among other outdoor endeavors. Bespoke experiences can be curated by the in-house adventurer Yuri Janssen, a Scottish native raised in South Africa who can steer groups on anything from a rigorous trek through steep glens to a Champagne-capped luncheon in an enclosed glass pod in the Highland hills. In addition to cozy fireside nooks and refined rural charm, the main estate houses an expansive spa, an arcade of high-end shops, and multiple dining options, including the romantic Strathearn.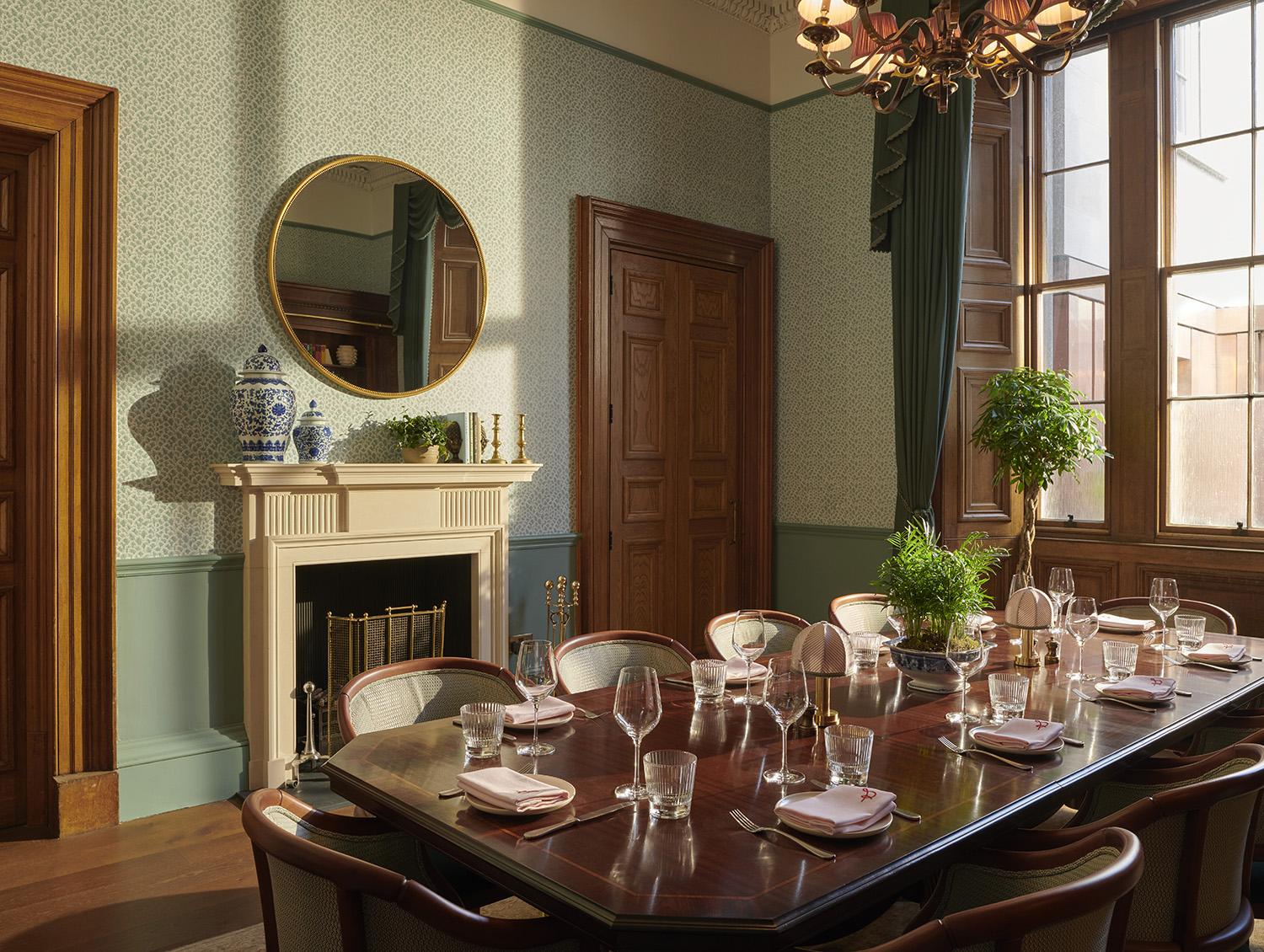 Atmosphere is everything at Gleneagles, and the same holds true at its urbane new destination in Edinburgh. Housed in a historic building by the 19th-century baronial architect David Bryce, Gleneagles Townhouse occupies what was once the British Linen Bank (later the Bank of Scotland). Like much of the neoclassical detailing throughout, the dramatic staircase descending into the lobby has been preserved, showing off its original balustrade with ornamental timber rails embellished in gold paint. The majestic stairs land on a remarkably preserved tiled floor in shades of matte black, burnt red, and faded mustard, mixing Celtic-like patterns and heraldic forms in a wonderfully intriguing arrangement. An existing fireplace and stained-glass windows are other aspects of the reception area that have been kept pristinely intact.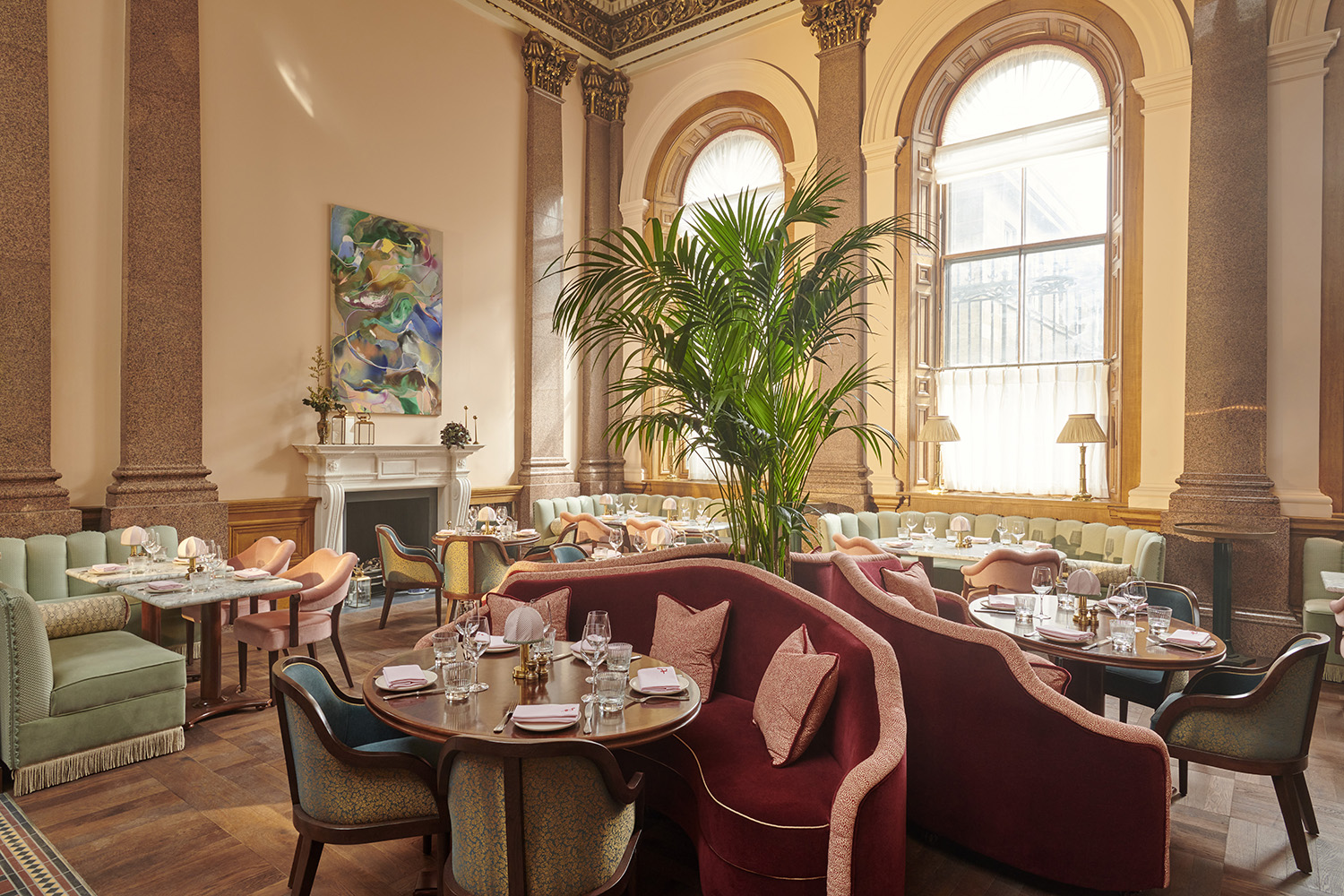 Just beyond the lobby, a preserved soaring glass dome surmounts the all-day restaurant, the Spence. The airy, upward space is embellished with elaborate plasterwork, gilt edges, and colorful Corinthian columns carved from stone. A high-level frieze is lined with busts of important historical Scotsmen, from the economist Adam Smith to General Sir Ralph Abercromby, historian George Buchanan, mathematician John Napier, and artist Sir David Wilkie. Lighting has been calibrated to work in conjunction with the natural source that filters down from above throughout the day and includes giant custom-made pendants by Northern Lights, sculptural bar lamps by Art et Floritude, and globe pendants sourced from Jamb.
Another hard-to-miss showpiece is the tremendous central bar—a handsome, curving assembly of burl timber, Verde Tinos marble, frosted glass paneling, and globe lighting (inspired by the bank's original telling desk, which sat in roughly the same position). Cushion-cupped barstools in a desert rose were custom-designed by IJL Brown, as was the rest of the Spence's seating, including the upholstered seafoam green banquettes and pale pink chairs with backs shaped in the silhouette of soft lips.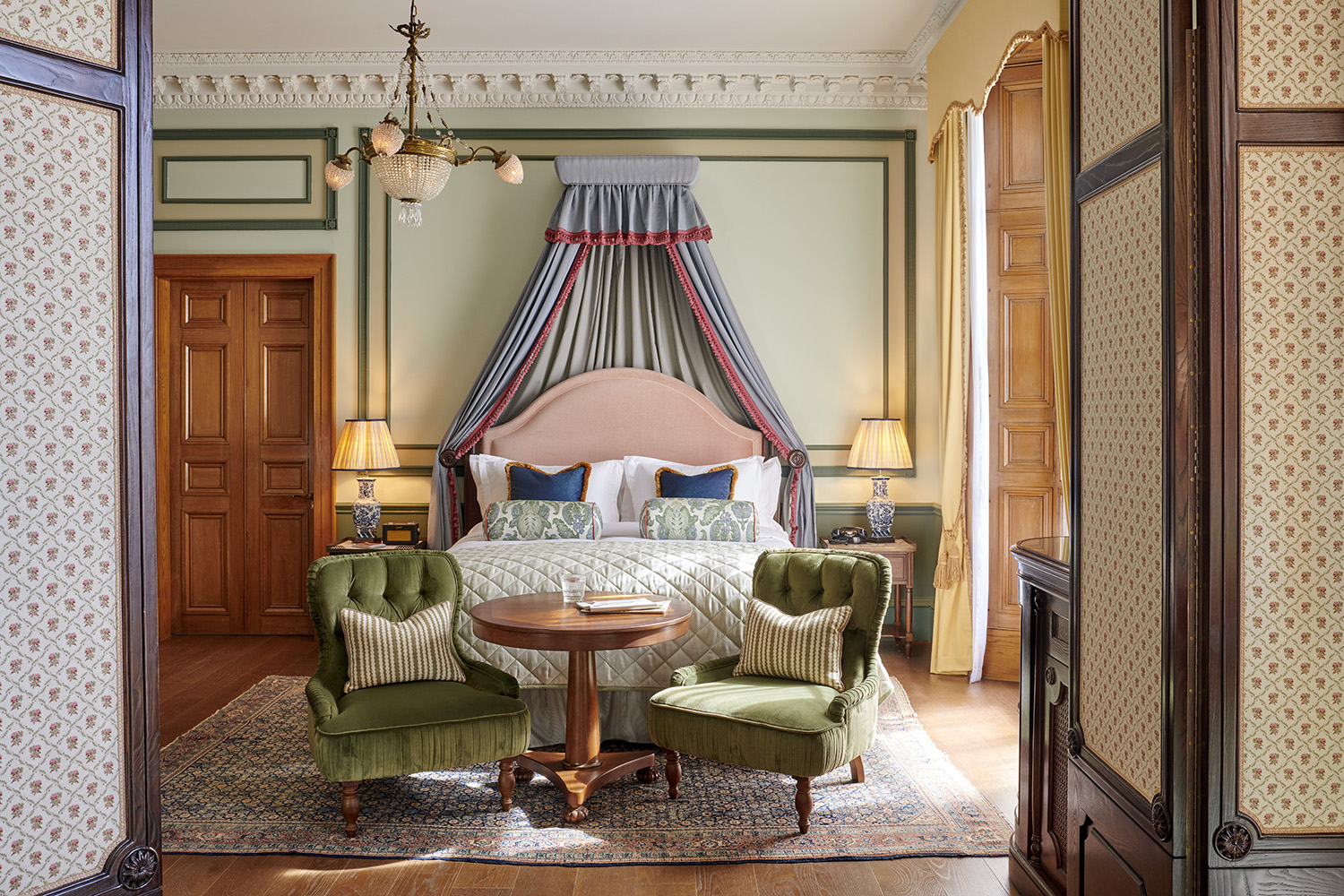 Looking to give the guest rooms a sense of "timeless charm," Aime Studios, the firm behind the restoration, installed canopy crown headboards draped with weighty textiles from Marvic and Bi Tekstil. Hardwood floors are covered by antique rugs, the heavy-footed wooden furniture reassuringly knows its place, and sturdy chairs and sofas are decked in fabrics from the likes of Reynaldo and Turnell & Gigon. That glass chandelier dangling from an impressively high ceiling might be a period original sourced from Norfolk Decorative Antiques, or perhaps a custom reproduction by Vaughan. The baths, complete with heated floors, are a serious design statement in themselves, with Perrin & Rowe fixtures, glossy tiles mixed with fanciful wall coverings (some feature a scenic Brunschwig & Fils toile in green), and sink-side views of neighboring Georgian-style brick structures.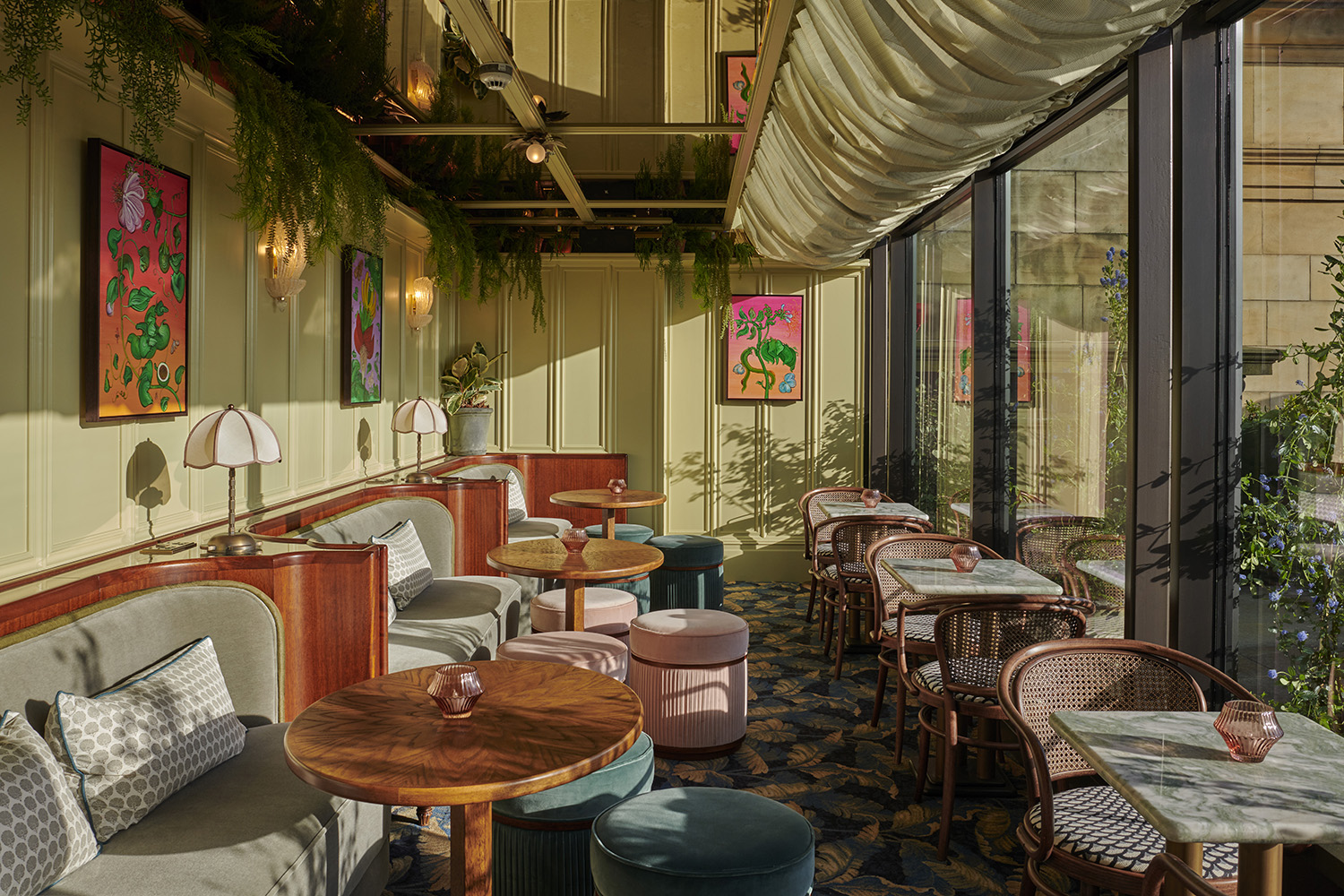 Several paneled spaces have been carved out for members only, including the Members' Lounge and Members' Snug, a sort of office-away-from-the-office with treats like a help-yourself pantry; however, the rooftop bar is popular common ground where hotel guests can join as well. With an outdoor terrace that boasts panoramic views of Old Town to the left and New Town to the right, Lamplighters is a soignée spot to snag inventive cocktails and watch the sunset. Glass walls lend a solarium-like feel and help carry the outdoor vibe inside, where live fronds co-mingle with the custom floral-print carpet. Designed for day and night, the mirrored ceiling bounces light during the afternoon while adding a touch of glamour come evening. The curved timber bar is set with a smoked-glass inset mirror top and dotted with custom petal-shaped barstools by IJL Brown in a pale green leather from Article London. The lounge's central sofa—another custom IJL piece in faint peach mohair by Vescom with macaron fringe—is probably the most inviting seat.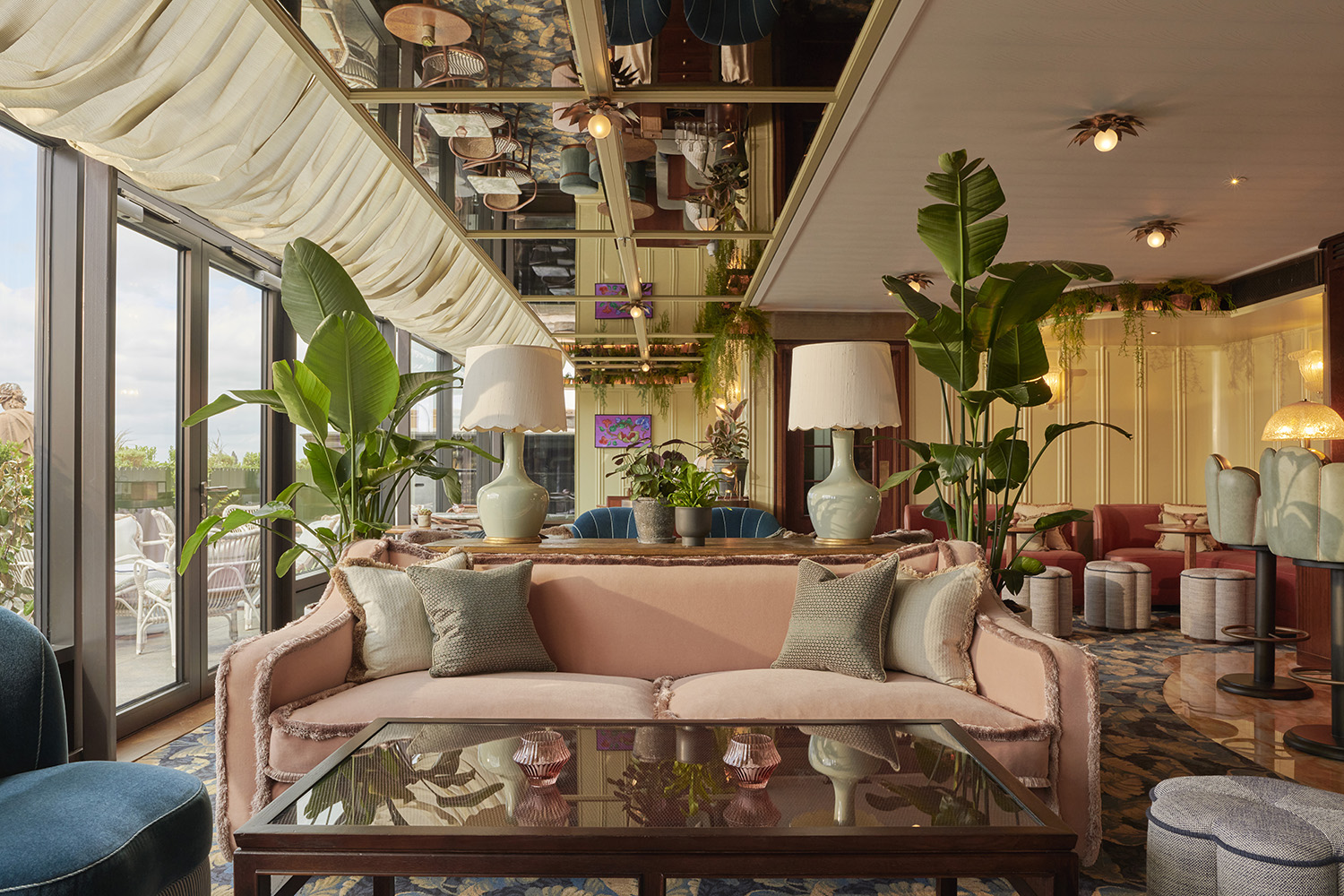 On top of its exceptionally central location in a very walkable city—with major attractions like the esteemed Scottish National Portrait Gallery, formidable Edinburgh Castle, royal Palace of Holyroodhouse, and luxury shopping stretch of Multrees Walk all within reach—Gleneagles Townhouse bridges the traditions of Edinburgh's past with its flavors of modern flair. Spend an afternoon commissioning a bespoke tweed from the likes of Walker Slater, the tailoring house that customized the hotel's uniforms. Or take a morning to summit the natural trails leading to the peak of Arthur's Seat, on the city's outer edge. Either way, recover back at the property's Strong Rooms, a subterranean gym and wellness complex for spinning, stretching, and soothing muscles in the infrared saunas. Tucked behind the massive steel vaults left in place from the original bank, a cryotherapy chamber also awaits. Now that's cool.
Next Post