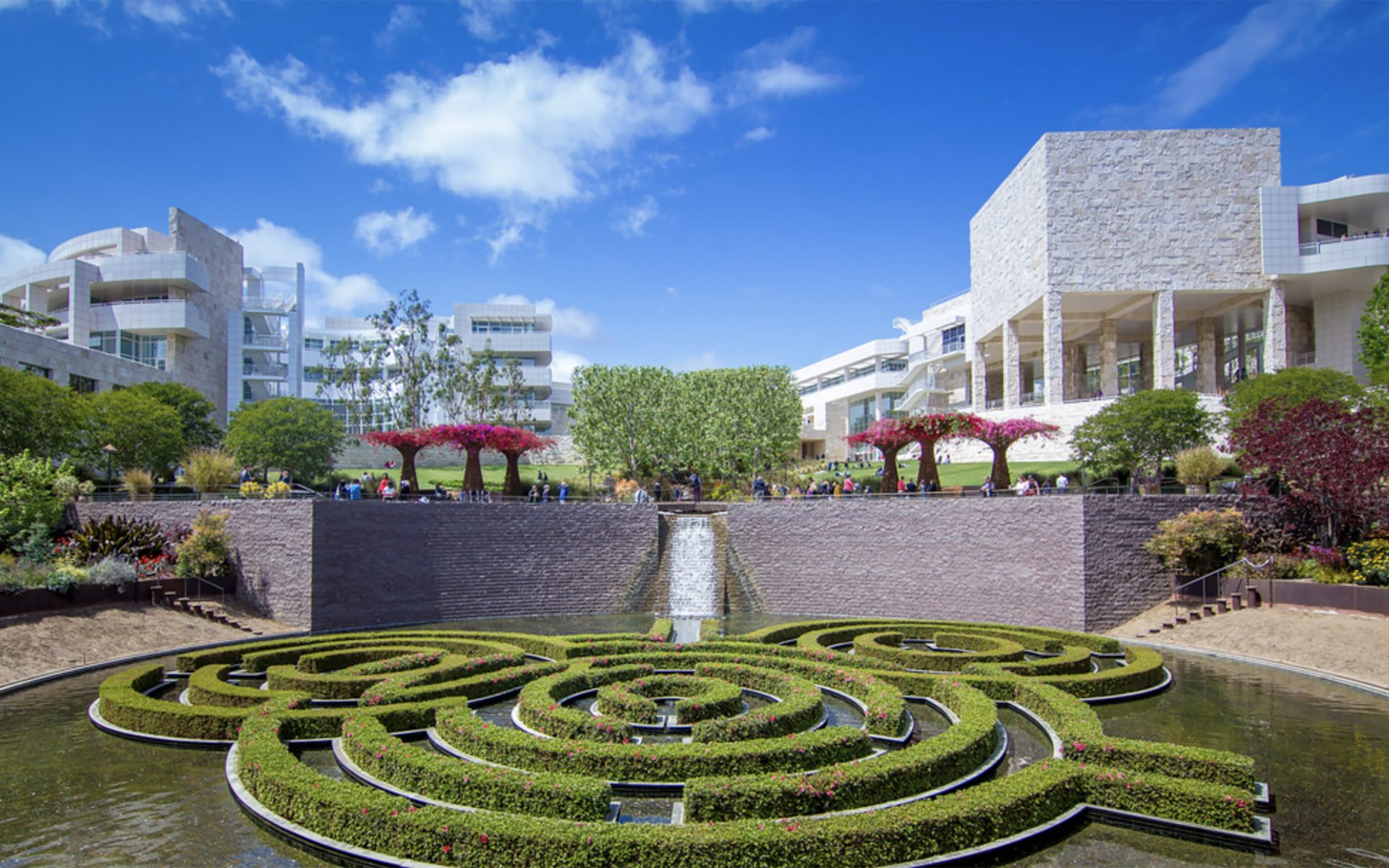 With Wildfires Raging in California, Here's Why the Getty's Collection Is as Safe as Ever
The Getty Museum, despite its precarious location on a Los Angeles hilltop, is virtually fireproof
With the deadliest wildfires in California's history still blazing, it's unclear what impact the fires will have on the state's cultural institutions.
The Woolsey Fire, which is burning west of Los Angeles and has ravaged parts of Malibu, has destroyed an estimated 435 structures already. Despite the threat the fire poses to the region, one museum was built to face the flames. The sprawling Getty Center, constructed from 1984 to 1997 by Richard Meier & Partners Architects, was made to be fire resistant. "The safest place for the artwork to be is right here in the Getty Center," Meier told the New York Times during the 2017 Skirball Fire, which came within thousands of feet of the property.
The building's fire-resistant materials, fire-suppression system, and immaculate landscaping may well keep the museum's collection of art, photography, and antiquities safe from the blaze. The exterior of the museum is made of 1.2 million square feet of travertine stone, while the interior walls are made of concrete. Even the roof is composed of a flame-resistant stone.
Recommended: Julian Schnabel on the Life of Vincent Van Gogh and His Sweeping New Film
But Meier didn't stop there. The museum is equipped with automatic fire doors that can trap flames and seal off rooms, a carbon-filtered air-conditioning system that can push smoke out, and internal sprinklers, the pipes of which stay dry until they're needed, to avoid damaging the art.
View this post on Instagram
The efforts to protect the priceless collection continue outside the museum's walls. Michael Rogers, the facilities manager at the Getty, told Popular Science that the plants and foliage on the property are carefully maintained—trees are trimmed regularly and the grass is kept well watered to lessen flammability. Additionally, an extensive network of pipes snakes beneath the garden, connecting to a one-million-gallon water tank that sits under a parking garage. If wildfire flames should reach the property, sprinklers are activated, drenching the soil and grass, which should stop the fire's progress.
With the fire only 35 percent contained and more than 150 square miles left scorched, it's a small comfort to know that the Getty and the priceless pieces within its walls are protected.
Next Post