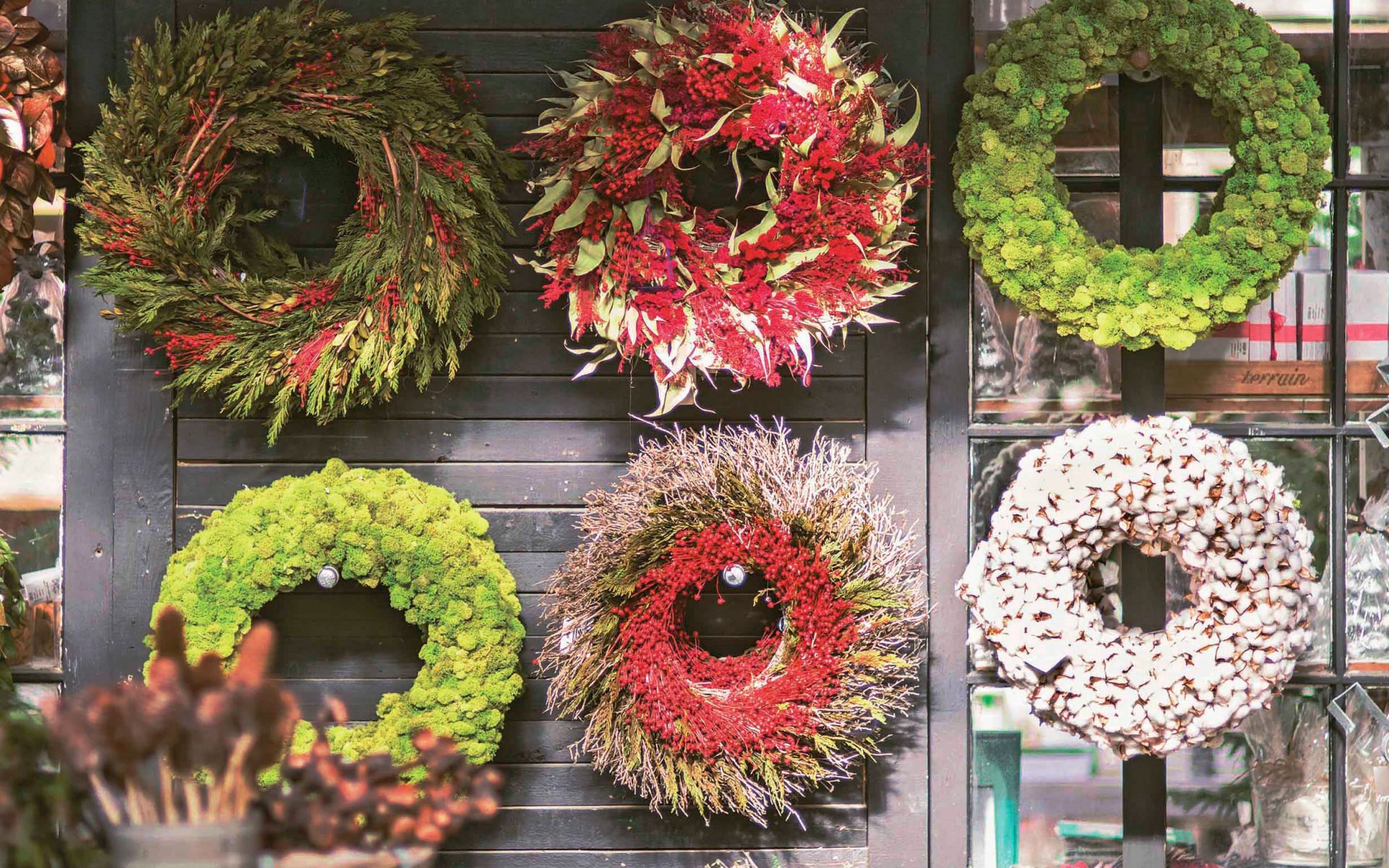 7 Artful Holiday Wreaths That Make a Statement
Just in time for the holiday season, Terrain's creative director, Greg Lehmkuhl, gives tips on how to create these chic decorations
This year marks a decade since the founding of Terrain, the superchic garden and lifestyle emporium known for its refreshing take on all things green. Born in a historic nursery just west of Philadelphia, the brand can now also be found within select Anthropologie & Co. locations around the country, as well as at a stand-alone location in Westport, Connecticut. A third outpost recently debuted in Devon, Pennsylvania, forming the centerpiece of a six-acre retail campus that includes a special-event space, café, and nursery.
To celebrate the success of the past decade, the brand's creative director, Greg Lehmkuhl, has edited a book—simply titled Terrain—that contains 450 photographs as well as a multitude of beautiful projects and scores of helpful tips. Ranging from flower arrangement to seasonal garden design and everything in between, the tome also features historical tidbits discovered during the world travels of Terrain staff, as well as a plenty of holiday-specific decorations. We were particularly taken with a section on wreaths, so we asked Lehmkuhl to give Galerie his top tips for making them as artful and unique as possible.
Recommended: Tour L.A.'s Most Exclusive Homes and Gardens
Lehmkul shares five tips to help you create your own unique, festive wreath.
1. Forage for seasonal materials. Look at what's around you in nature as the foundation for your wreath. Give yourself a creative challenge to find elements while walking around your neighborhood or even in the brambles of an abandoned parking lot.
2. Think about where your wreath will be viewed from. If it's from a distance—maybe on your door from the road—choose bright, contrasting colors or add clusters of lights for high impact. If it's closer in, you can consider smaller details that will be appreciated up close. This is where you might weave in a found treasure—almost like a bird incorporates a bit of something shiny into their nest. Metal garland can be used this way.
3. Consider unexpected solutions for hanging your wreath. Often, we see a wreath smashed between a storm door and the front door, but there are so many other options. One possibility is hanging it on the storm door itself or above the door. Or think about getting a pair and placing one on each side. Planning for a crowded holiday table and have no room for an arrangement? Try a wreath hook to float a simple twist of lit grapevine above the table.
4. Play with scale and shape. A wreath doesn't have to be round or symmetrical. Consider an oval shape or a design that is bottom-heavy or weighted to one side. A lot of great wreaths use an off-center moment as a focal point in place of a bow. And speaking of bows…
5. Think outside the bow. The materials of your wreath should be the focus, not a bow. While I love ribbon, I'm excited by the challenge of finding an alternative focal point that's not a traditional bow. The gesture of a simple strip of velvet looped over a wreath can be a beautiful alternative.
Need more inspiration? See below for seven chic examples straight from the pages of Terrain. 
Next Post