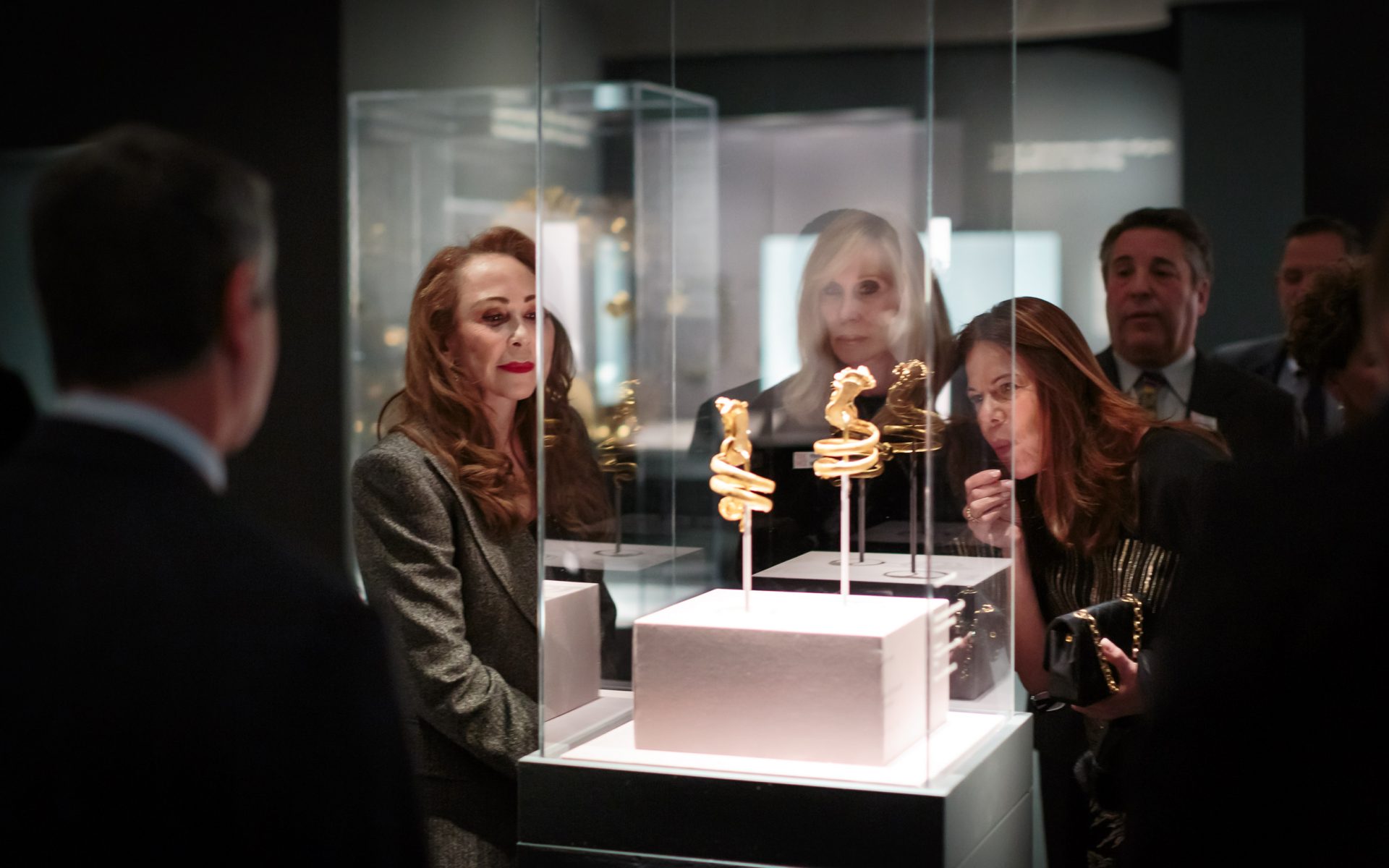 Galerie Hosts a Private Viewing of the Metropolitan Museum of Art's Blockbuster Jewelry Exhibition
Art and design luminaries get a first look at "Jewelry: The Body Transformed" and share their favorite pieces
What does Alexander McQueen have in common with an 18th Dynasty Egyptian pharaoh? A love of bling. To discover the fascinating and varied ways in which humans have adorned themselves throughout history, a group of VIP art and design luminaries were invited on behalf of Galerie for an exclusive viewing of "Jewelry: The Body Transformed" at the Metropolitan Museum of Art in New York.
The highly anticipated exhibition, which opens to the public on November 12, gathers an astonishing 230 objects and 8,000 pieces of jewelry spanning 2,600 B.C. to the present. The blockbuster show examines the purpose and power of jewelry, drawing from all 17 museum departments and taking six curators to organize.
Recommended: Preview the Metropolitan Museum's Blockbuster Fall Jewelry Exhibition
"Jewelry is the world's oldest art form, predating cave painting by tens of thousands of years," says head curator Melanie Holcomb. "It is as much about aesthetics as it is about meaning."
The show opens in a large central room where the "head-to-toe approach" is quite literally on view. Visitors are greeted with a series of dramatic illuminated glass columns showcasing jewelry in ascension from the ankles to the waist, neck, and chest and arriving at the head and hair in respective vitrines. A pair of glittering gold toe coverings from Egypt's 18th Dynasty, circa 1479–25 B.C., made as funerary jewelry for a royal wife, for example, is displayed near the so-called Crown of the Andes, which is inlaid with a staggering 443 emeralds (17th to 18th century).
Guests at the Galerie preview were escorted on a private tour through the rest of the exhibit to explore its other themes like "The Divine Body," "The Regal Body," and "The Transcendent Body," in which a dazzling array of pieces are interspersed with photographs, paintings, and sculptures.
The evening concluded with a cocktail dinatoire at Bar Pleiades, chef Daniel Boulud's elegant black-and-white lounge on the Upper East Side. Guests enjoyed hors d'oeuvres and the rare privilege of a Hennessy Paradis Impérial cognac tasting. The cognac, a contemporary creation by seventh-generation master blender Yann Fillioux, is considered the jewel in Hennessy's crown. Here, guests share what caught their eye.
Lisa Cohen, founder and editorial director Galerie  
"It's hard to choose, but this dazzling Art Nouveau enamel-and-opal necklace by René Lalique shows such a mastery of the art. His unique vision remains iconic today."
Andrea Glimcher, Hyphen 
"I was drawn to the jewelry from the Bronze Age. The expert handling of the copper alloy combined with such a simple and effective design is a great and appealing marriage of material and skill. There is something so beautiful about what people choose to adorn themselves with—for some it's decoration, for others it's ritual. It's fascinating to read these signs and symbols throughout history."
Recommended: Tour Andrea Glimcher's Art-Packed Family Home in Manhattan
George Ledes, The Beauty Influencers
"Most fascinating were the golden sandals and toe stalls, which were a burial luxury for status and royalty."
Laurie Tritsch, architect
"I was most taken by this stunning carved emerald. It was originally from the 17th-century Mughal period but was set into a brooch by Cartier in the 1920s with the addition of platinum and sapphires. The carving work is exquisite."
Susan Magrino, Magrino PR
"It may no longer be in vogue to wear matching jewelry pieces, but in the 19th-century courts, it was all the rage. I just love the decadence and extravagance of this. In my opinion, too much is never enough!"
Christine Schott Ledes, American Influencer Association
"Alexander Calder's writhing 1940 necklace, crafted in brass wire, is the perfect marriage of art and design. Bonus points for the shoulder spikes and its name, the Jealous Husband."
Natasha Schlesinger, ArtMuse
"My favorite was a pair of Hellenistic gold armbands with Tritons wrapping their bodies around the wearer. They are so elegant and elaborate at the same time. Although they were made over 2,000 years ago, I could still see a modern-day woman wearing them to an event."
William T. Georgis, architect
"The necklace featuring five glass vials of human semen with pendant Baroque pearls touches on the AIDS crisis in the 1980s. It's so transgressive and personal."
Next Post