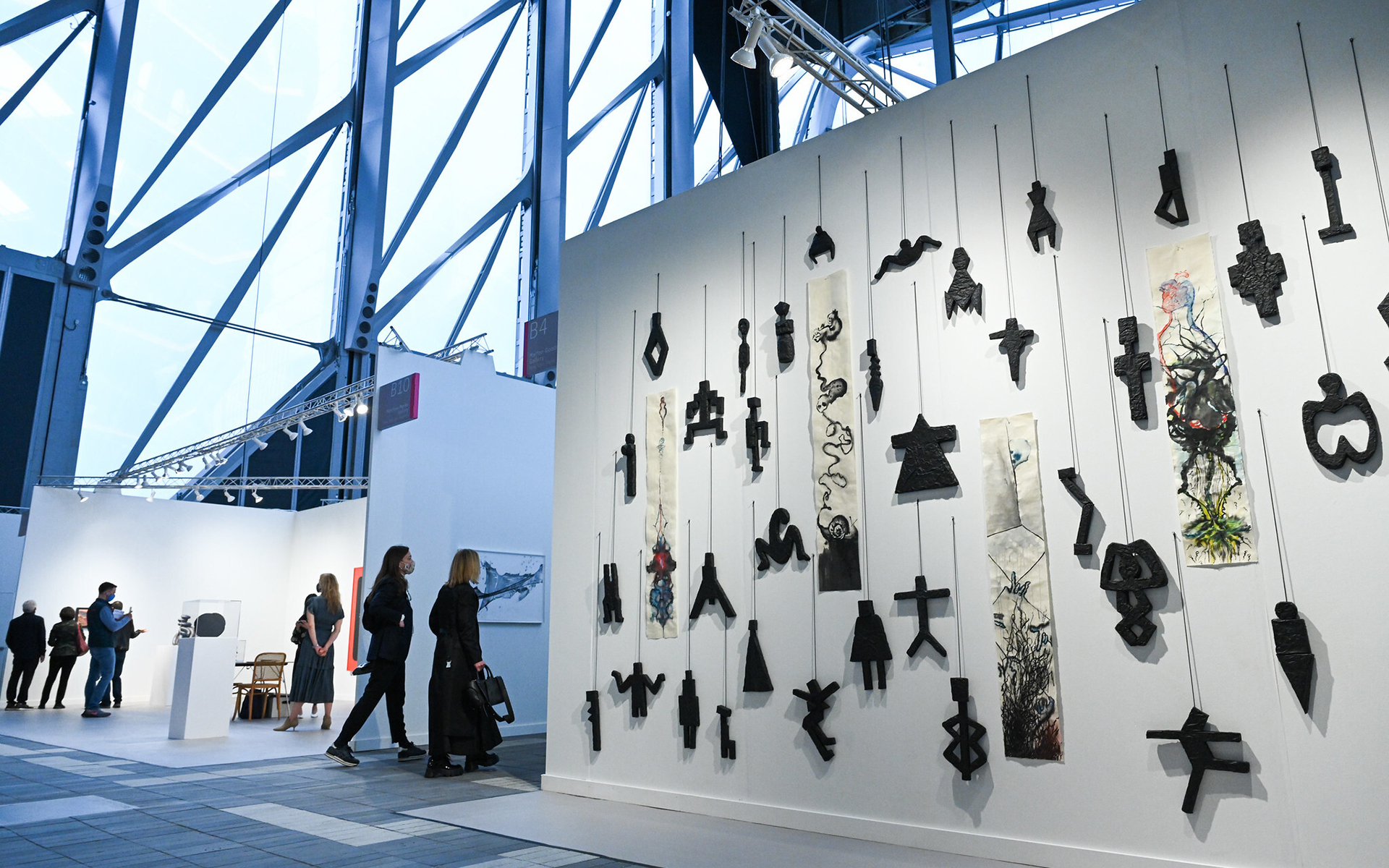 Discover the Highlights at Frieze 2021, New York's First In-Person Art Fair Since the Pandemic
The hybrid fair features 60 gallery booths at The Shed in Hudson Yards alongside an online viewing platform, signaling what the future might look like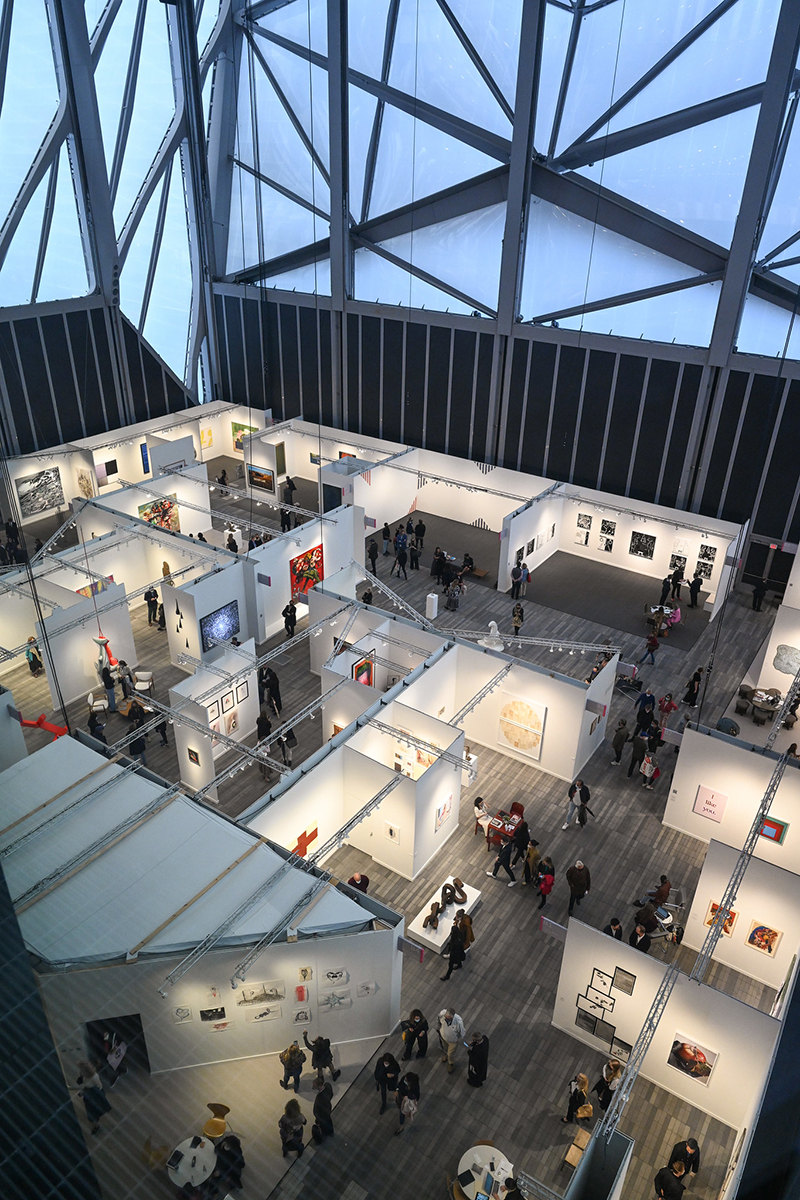 Every May, swarms of art aficionados usually spill off the Randall's Island ferry and make their way into the iconic white tent of Frieze New York in search of the next big thing. The highly anticipated event heralds the start of the spring art season and is always met with much fanfare. After more than a year of shuttered art fairs and a rapid transition to online viewing rooms and digital experiences, Frieze is now back in the city, marking the first in-person fair to return to New York since the COVID-19 pandemic began.
This edition looks a little different, however, as the London transplant sets up shop for the first time in a sleek new Manhattan location—and on a much smaller scale—at The Shed, the culture and performing arts center designed by Diller Scofidio + Renfro in Hudson Yards. Taking place across three distinct levels, it includes just 60 commercial galleries, as opposed to the almost 200 in 2019, and while the representation is mostly American, there are some international exhibitors are taking part, from Brazil, London, and Buenos Aires.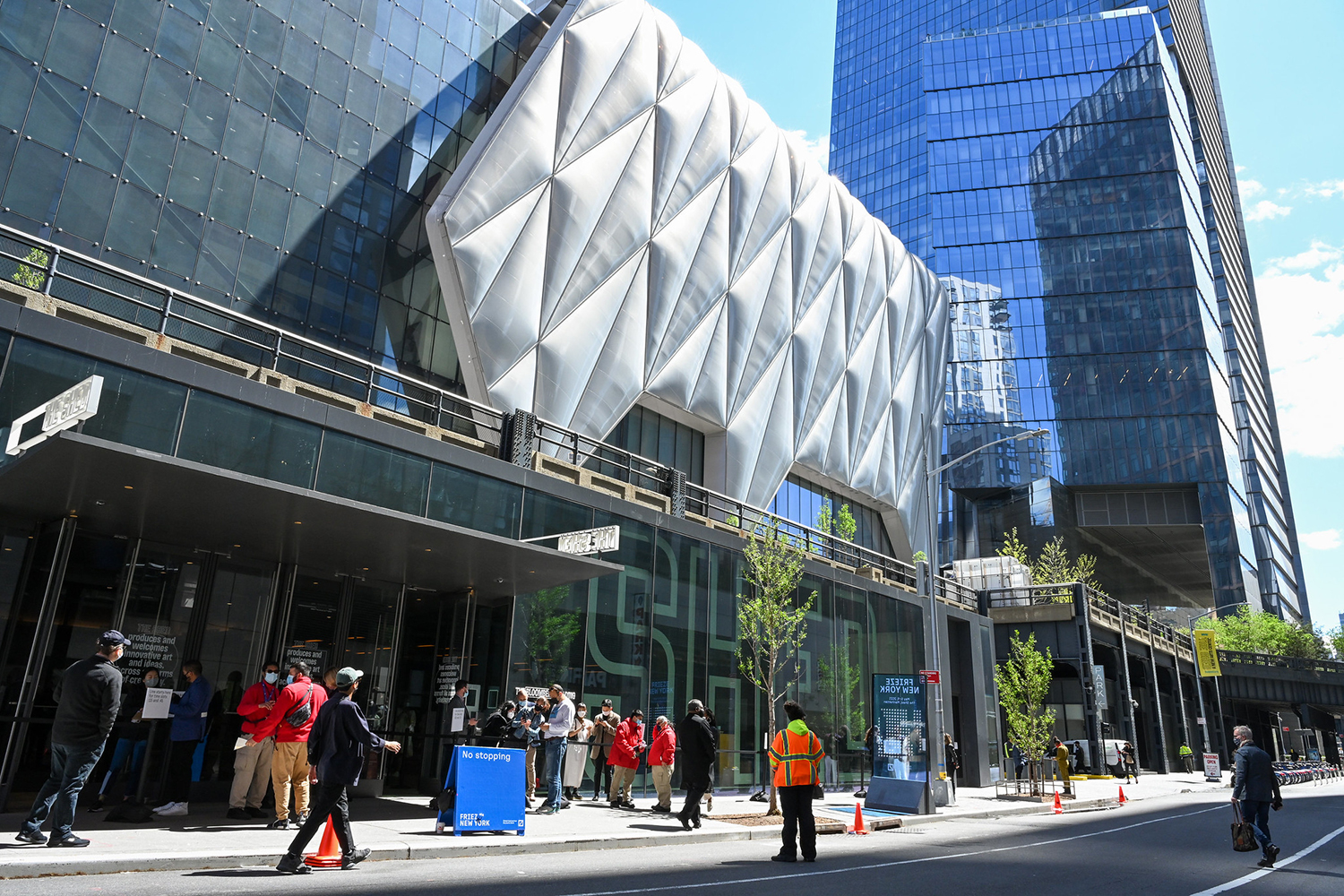 "I'm very proud of our partnership with The Shed—we share a deep commitment to emerging artists and the wider cultural community," Rebecca Ann Siegel, director of Americas and Content, tells Galerie. "And while this is a new neighborhood for the fair, it's familiar territory for so many of New York's art lovers."
On a rainy Wednesday morning, the VIP day kicked off seamlessly with all the necessary health and safety protocols—guests required to present a negative COVID-19 test or proof of full vaccination. The mood inside was jubilant as masked friends and colleagues reunited after months apart; and thanks to the limited, timed entries, there was plenty of space to roam around and peruse the booths at leisure, without the usual crowds and frenzy.
Below, Galerie shares some of the highlights.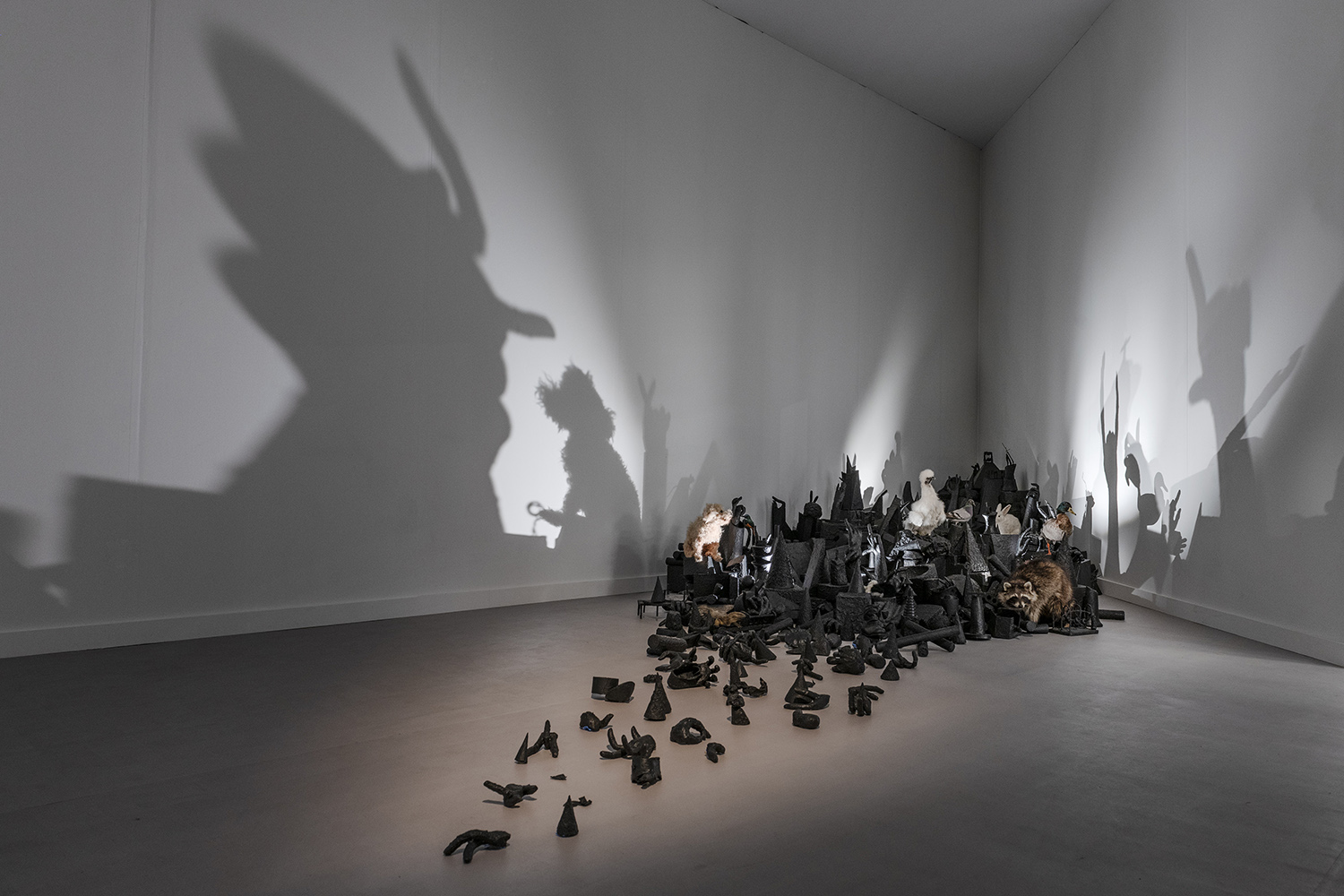 1. Annette Messager at Marian Goodman Gallery
Marian Goodman Gallery brings a museum-quality solo presentation of work by celebrated French contemporary artist Annette Messager that masterfully hovers between the playful and the macabre. In a standalone room, Petite Babylone, 2019, is made up of dozens of black abstract shapes and stuffed animals grouped on the floor. A slow-moving light display creates a ballet of shadows, adding a haunting, apocalyptic sensation. "I like to play with the negative and positive connotations of things, the beautiful and sinister," Messager revealed in a 2014 interview. Meanwhile, the more recent En même temps, 2021, is a startling, fragmented piece that—like all Messager's work—resists easy interpretation. Hanging on the wall with black string, five drawings are interspersed between 42 of her signature effigy sculptures. A series of  watercolor drawings rounds out the impressive booth.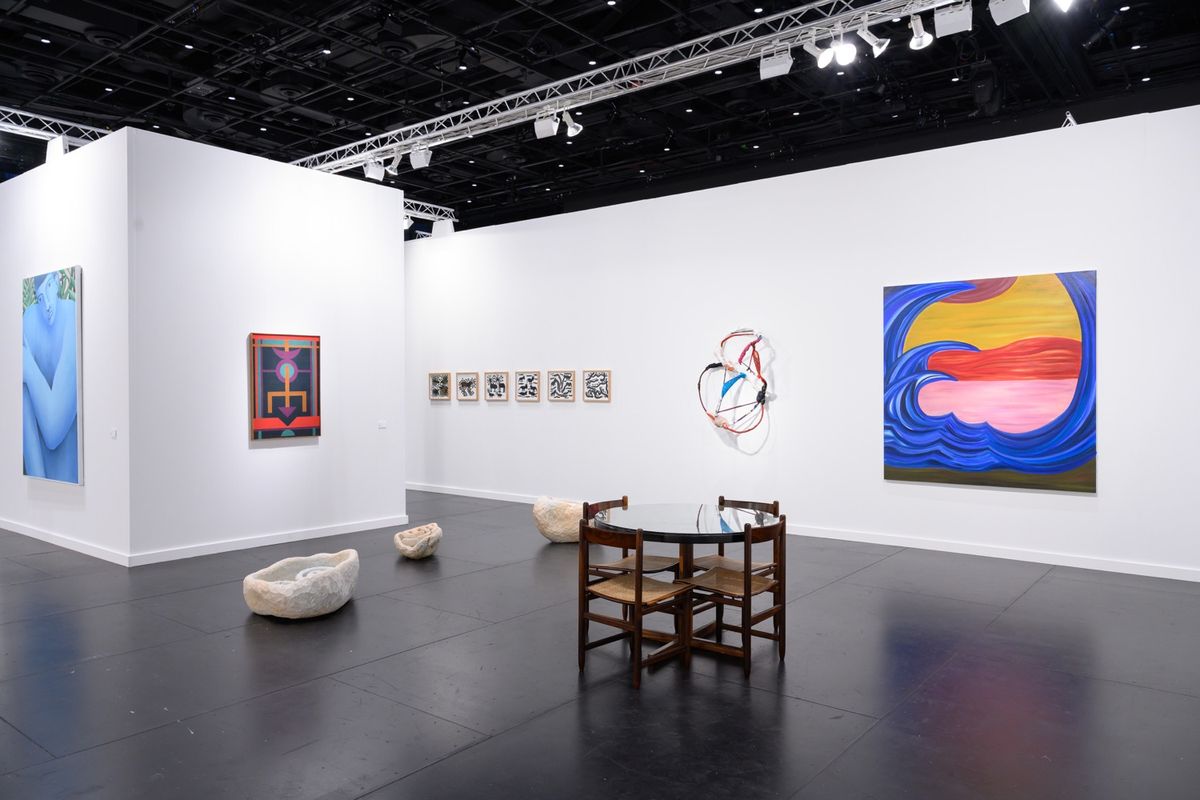 2. Brazilian Art at Mendes Wood DM
The booth of Mendes Wood, a cutting-edge gallery that maintains outposts in São Paulo and New York, is a celebration of Brazilian creativity. A striking, large-scale abstraction by emerging star Marina Perez Simão, who the gallery discovered while she was studying at art school in Paris and has since been picked up by Pace, hints at the rich landscape of her native country. Among the other highlights is a wall sculpture by Sonia Gomes, who beautifully combines secondhand textiles with everyday materials, and Solange Pessoa's strange, organic floor sculptures.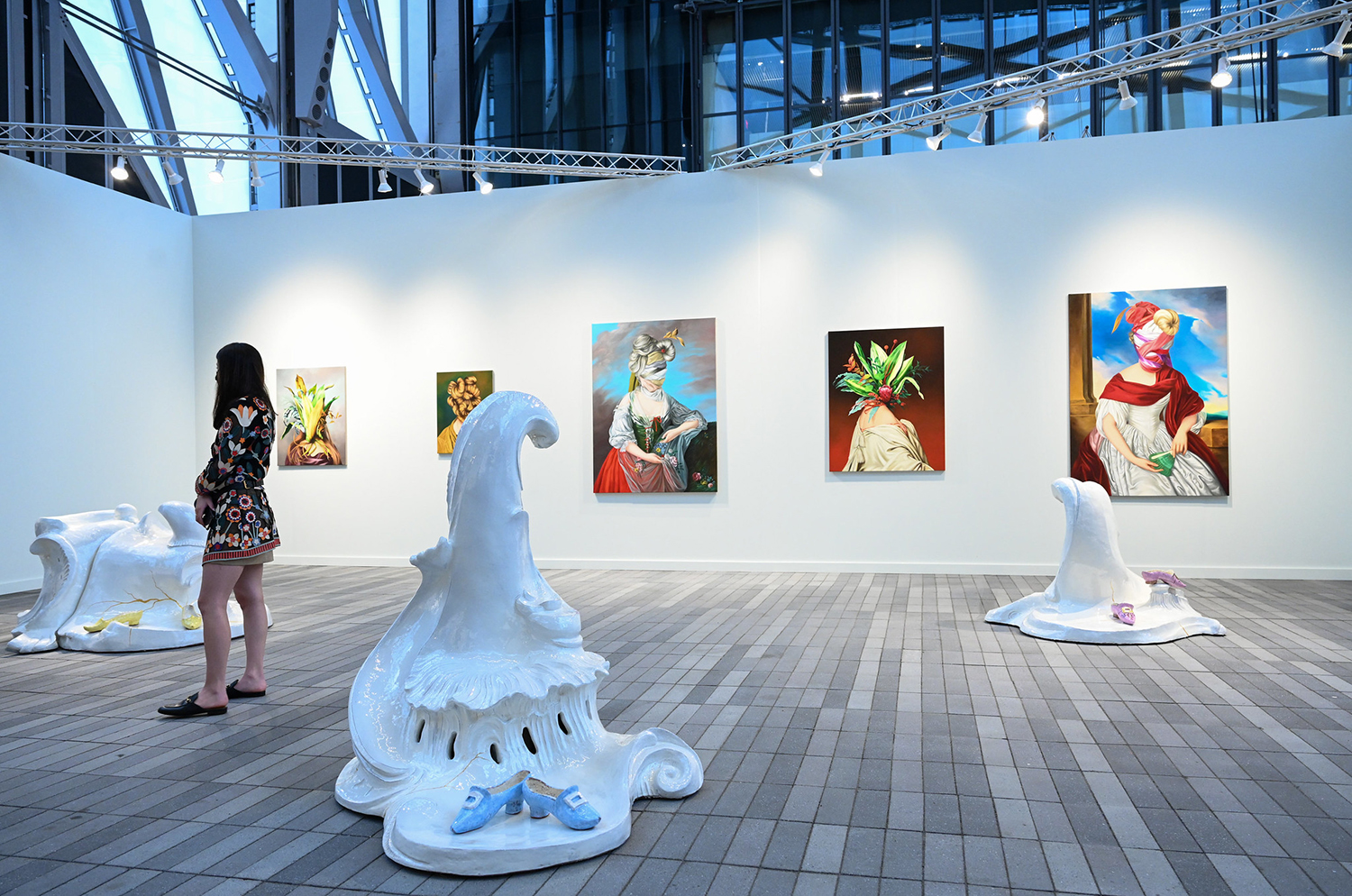 3. Ewa Juszkiewicz and Rachel Feinstein at Gagosian
Gagosian dedicated its large space to a pair of buzzworthy female artists that subvert and challenge the male-dominated realm of art history in their practices: the Polish painter Ewa Juszkiewicz, whom the gallery started representing last year, and the sculptor Rachel Feinstein, known for her darkly humorous aesthetic. In the paintings on view, Ewa reimagines well-known 18th- and 19th-century masterpieces depicting fashionably dressed women, disturbing the veneer by concealing their faces with wrapped fabric or elaborate hairstyles. Feinstein, meanwhile, displays a group of large-scale majolica sculptures, inspired by Franz Anton Bustelli's Rococo commedia dell'arte figurines, which were previously on view at Frieze Sculpture 2018 in London.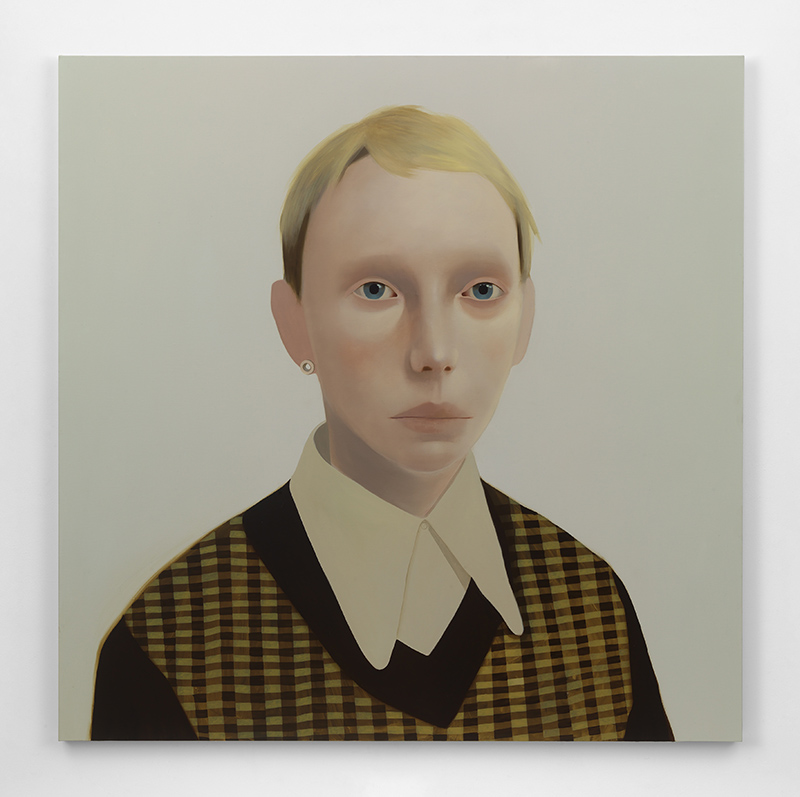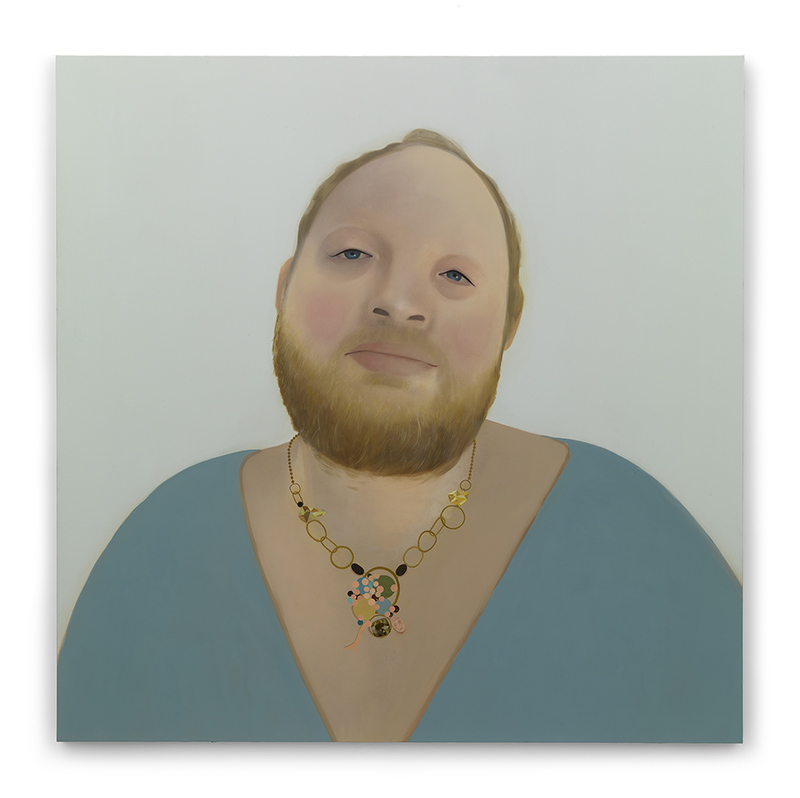 4. Sarah Ball at Stephen Friedman Gallery
At the London-based Stephen Friedman Gallery, a group of mesmerizing paintings depict nonbinary people by Cornwall artist Sarah Ball, who the gallery started representing in November 2020. Filled with emotion and deep sensitivity, the hauntingly beautiful faces gaze straight out of the frame at the viewer and firmly hold our attention. Despite their contemporary outfits and haircuts, the characters are meticulously rendered with a sense of flatness that hints at the tradition of 17th- and 18th-century Flemish portraiture, adding a sense of timelessness.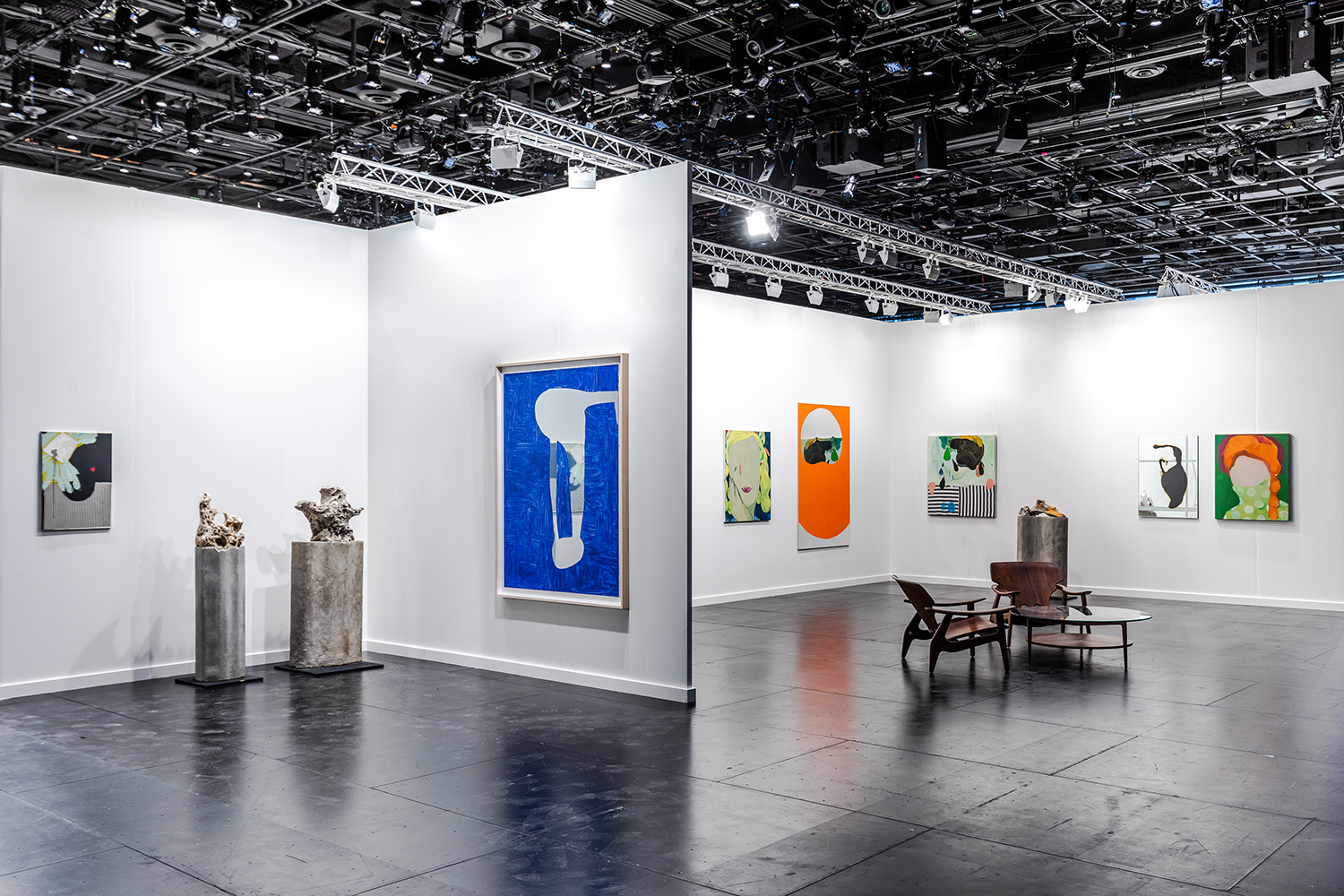 5. Galeria Nara Roesler
Galeria Nara Roesler, which opened its first gallery location in New York's Chelsea gallery district earlier this year, presents a thoughtfully curated group of three important Brazilian artists whose practice each explores the notion of self. The central focus is Carlito Carvalhosa, whose vibrant colorful works on mirror form an interesting dialogue with Cristina Canale's gestural portraits. Rounding out the booth are sculptures made of perforated sound stone sitting atop concrete columns by the trailblazing modern artist Amelia Toledo, whose oeuvre combines the history of concrete art in Brazil with a personal fascination with nature. Don't miss the exhibition of steel sculptures by Raul Mourão at the 21st street location.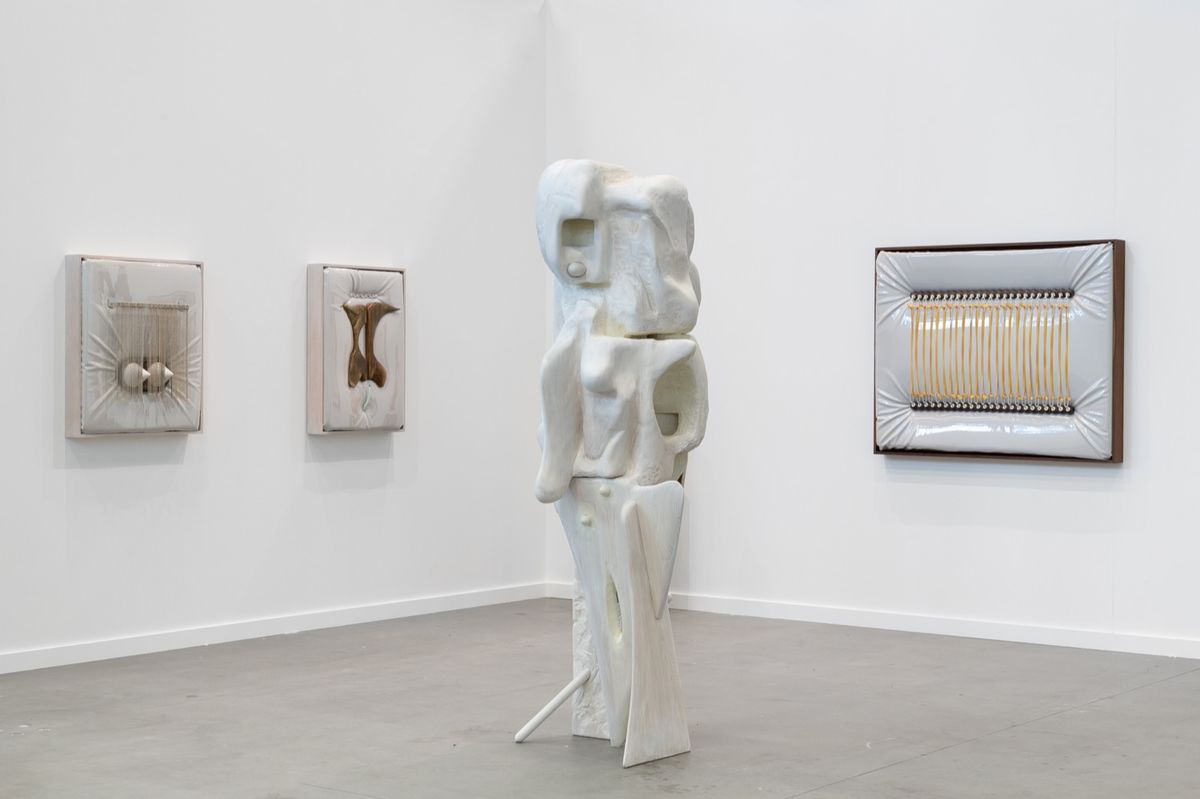 6. Douglas Rieger at Helena Anrather and Capsule Shanghai
In the Frame section, which is devoted to galleries ten years and younger, a joint booth by New York gallery Helena Anrather and Capsule Shanghai showcases new work by the emerging Pittsburgh artist Douglas Rieger. With an evocative quality that borders on fetishistic, the anthropomorphic sculptures are masterfully crafted with wood, silicone, steel, and vinyl, to reveal opposing sensations of soft and hard, rough and smooth.
For those who didn't get tickets or are unable to travel, a dedicated edition of Frieze Viewing Room will run parallel to the fair, through May 14, and will feature an expanded list of over 160 exhibitors. 
Frieze New York runs through Sunday, May 9, at the Shed and online.
Next Post