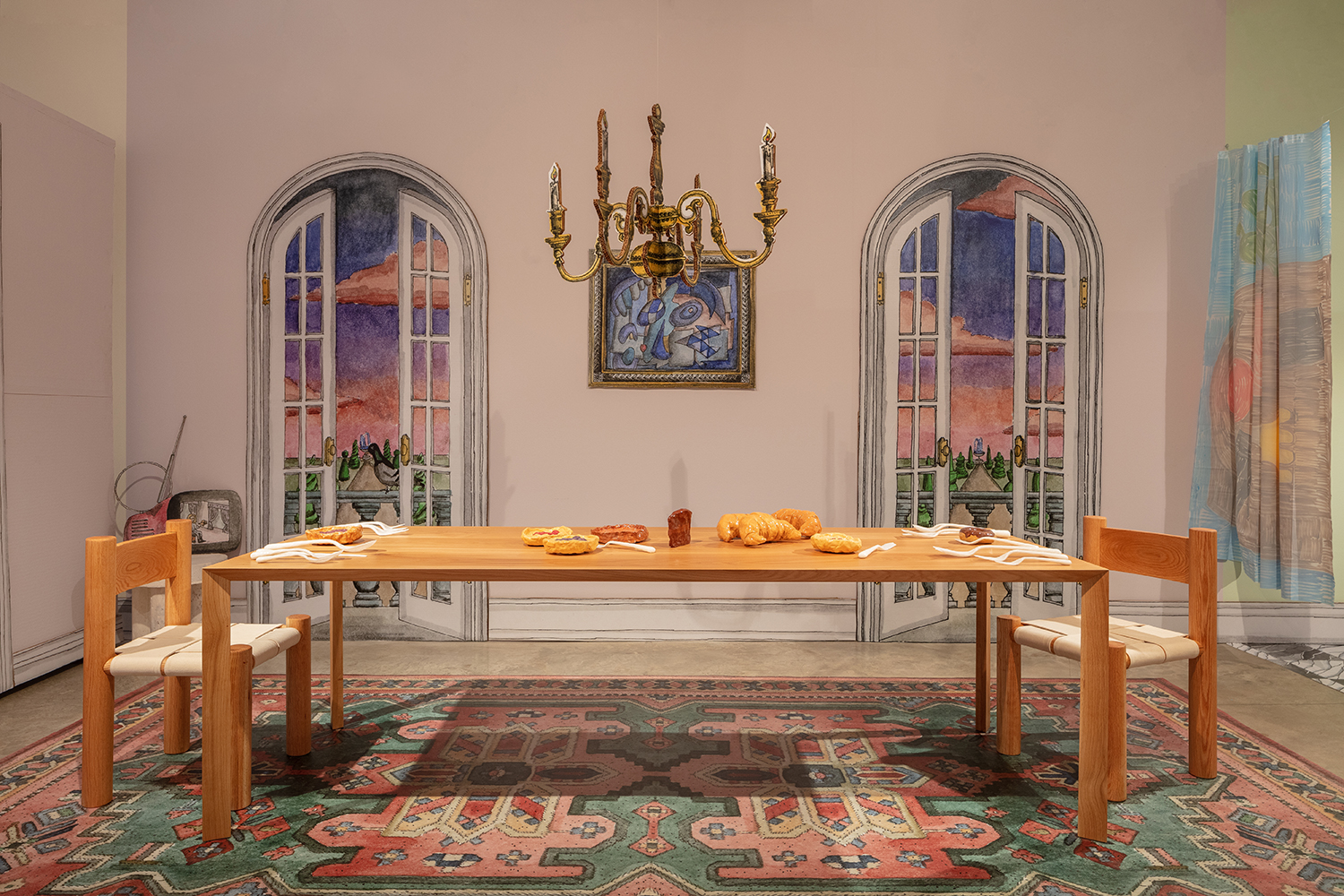 Step Inside the Incredible Life-Size Dollhouse at Friedman Benda
Galerie talks to Adam Charlap Hyman, whose firm collaborated on the buzzy exhibition
Top talents have come together at New York gallery Friedman Benda for an unusual project: a life-size dollhouse. Called "Blow Up," the group show is guest curated by PIN-UP magazine founder and editor, Felix Burrichter, with the help of design firm Charlap Hyman & Herrero.
With a portfolio that includes a recent revamp of 56 Henry gallery for Cynthia Talmadge's "1076 Madison," the firm is gaining a reputation for transforming exhibitions into experiences. This time around, its contribution included cardboard moldings, draperies, carpets, and more that both fool the eye and lend a sense of whimsy.
For the show—on view through February 16—the gallery's interior has been divided into a set of easily recognizable rooms, including a kitchen, bedroom, dining room, and nursery. Furnishings throughout come courtesy of designers like Camille Henrot, Katie Stout, Misha Kahn, the Campana Brothers, and Luca Cipelleti.
Initially, getting artists and designers to buy into the concept seemed a bit out of reach. "There was an element of concern about how the artists in the show would take it," Adam Charlap Hyman tells Galerie. "It crossed our minds that people might fear their work would be overshadowed by the exhibition."
Instead, he says, "the exhibition really brought something out in the pieces or at least helped to create an overarching dialogue. All of these pieces on their own don't really look like they go together."
One of the key challenges they faced was ensuring that the public would recognize the show as a serious art exhibition, Charlap Hyman explains. "There was concern on some level that it might be misconstrued as this silly, postmodern Museum of Ice Cream thing that was this vapid Instagram moment."
Recommended: The Museum of the Dog Finds a New Home in New York City
But reactions to the show have been overwhelmingly positive; the opening night was so packed that gallery visitors had to wait in line outside and were admitted only one at a time.
"That was really crazy," Charlap Hyman recalls. "I didn't expect that, but when you have a bunch of amazing artists and designers posting about it, it can become this crazy thing. I was trying to keep up with social media posts, but I can't anymore. That's been totally thrilling and pleasing."
"Blow Up" is on view through February 16 at Friedman Benda, 515 West 26th Street, New York.  
Additional reporting by Rozalia Jovanovic.
Next Post