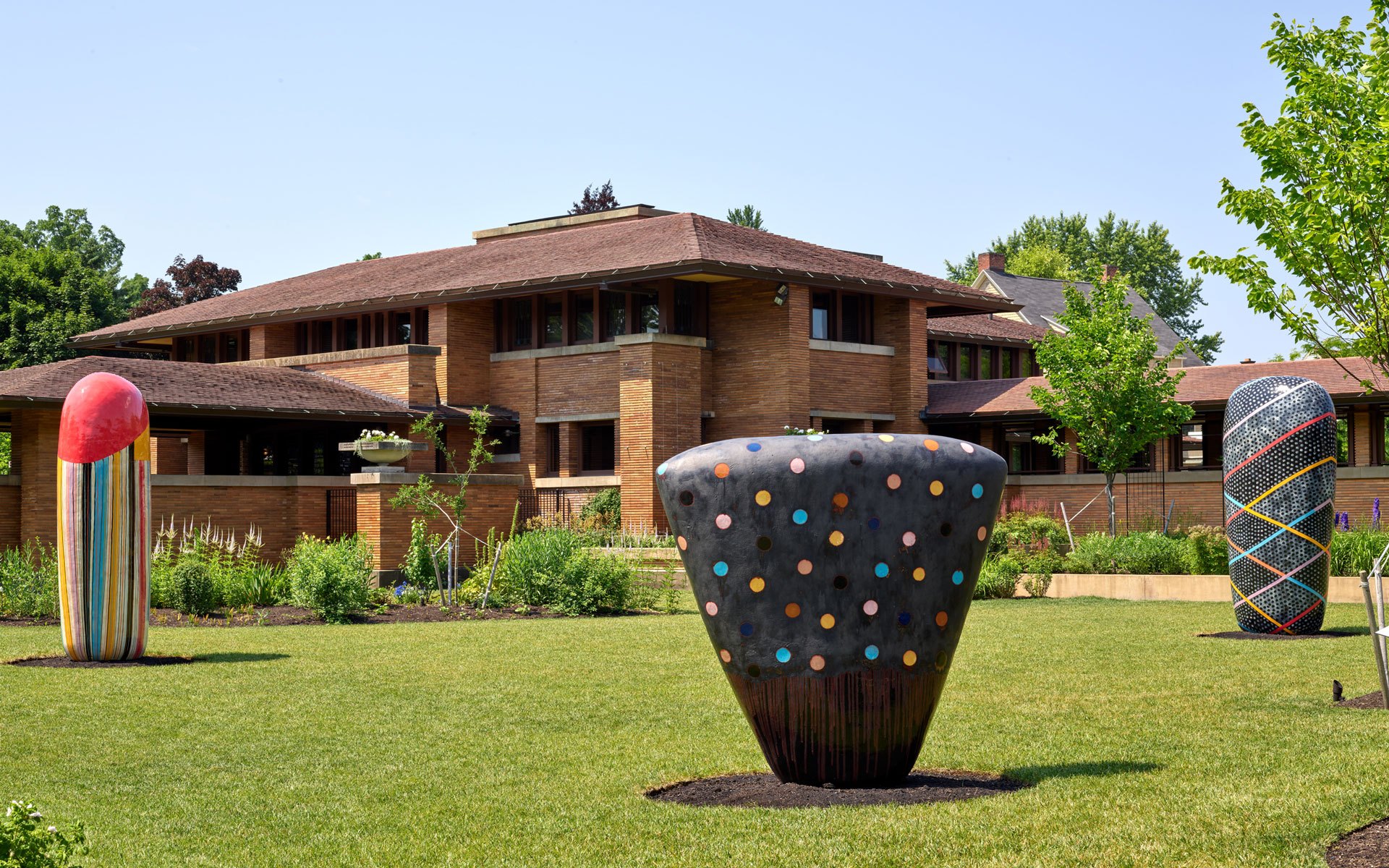 Japanese Sculpture Exhibition Breathes New Life into Frank Lloyd Wright's Martin House
Featuring Jun Kaneko's mammoth ceramic sculptures, the site's first public art initiative illuminates the architect's enduring interest in nature and Japanese culture
While Frank Lloyd Wright is regarded as one of the most influential architects in American history, a significant source of his inspiration stemmed from the East. Inscribed at Taliesin West—his home and studio in Scottsdale, Arizona—were words by Chinese philosopher Lao Tzu: "The reality of the building does not consist in roof and walls but in the space within to be lived in."
Each of Wright's designs conveys a deep understanding of how the inner workings of a space should communicate with not only its exterior but also its natural surroundings. Guided by this principle, the architect considered his Martin House, with its multiple structures, gardener's cottage, pergola, and conservatory, to be his "opus." Designed and built from 1903 to 1905 in Buffalo, New York, the 32,000-square-foot estate completed a 25-year, multimillion-dollar renovation in 2019. Designated a National Historic Landmark, the Prairie house has reopened for public tours and events, and with this summer bringing its first public art exhibition, visitors will find distinct cultural experiences both inside and out.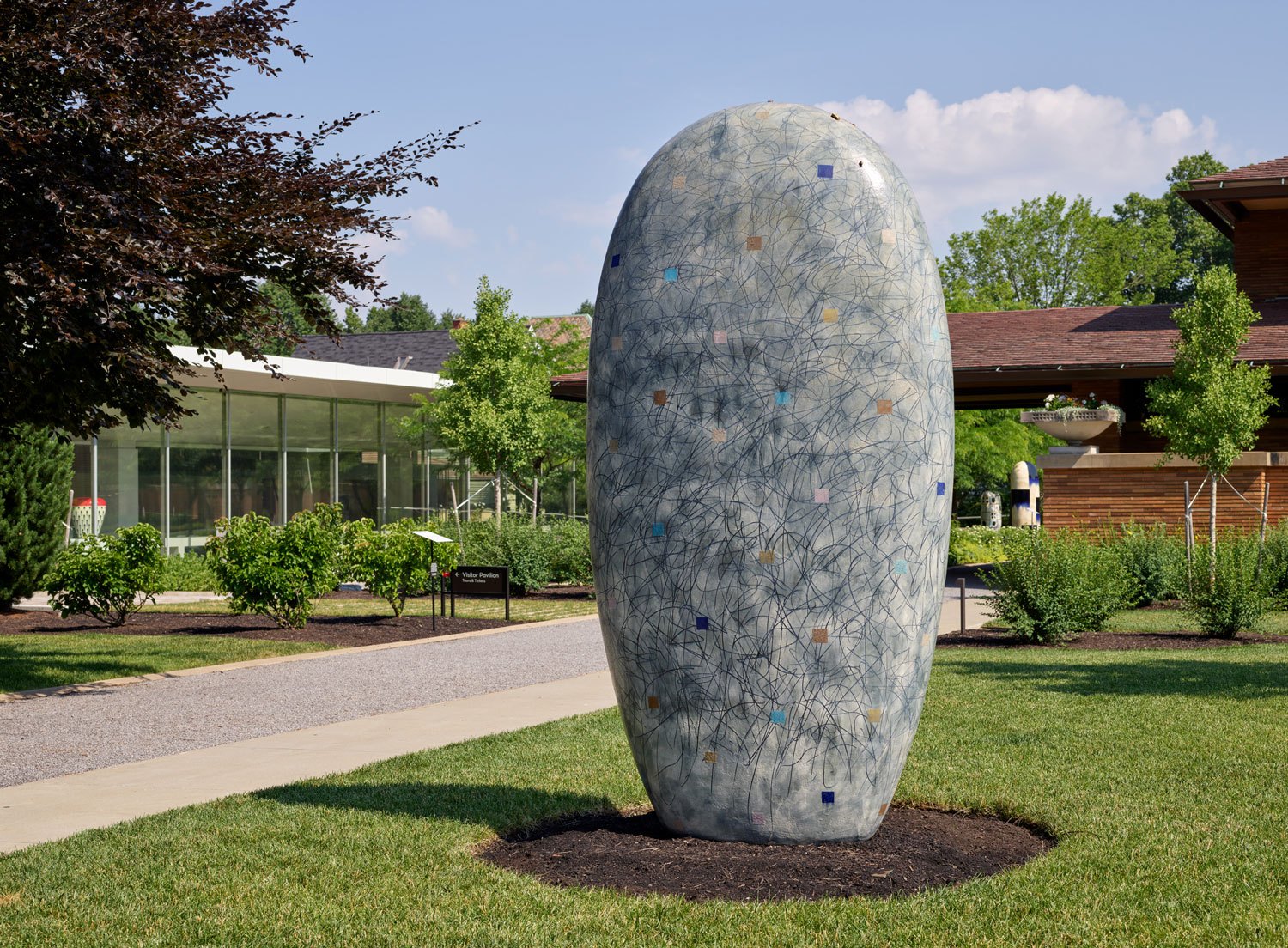 The Albright-Knox's Public Art Initiative has partnered with the house for "The Space Between: Frank Lloyd Wright | Jun Kaneko," an outdoor installation of seven of the Japanese artist's ceramic works, as well as a series of smaller works on view inside the visitor center. On display through October 3, 2021, the show draws fascinating parallels between the seemingly disparate creators.
"The Albright-Knox Art Gallery and the Martin House have been working for a long time to identify a partnered project that enhanced the relationship between art and architecture," Martin House executive director Mary Roberts tells Galerie. "The placement of Kaneko's sculptures among the Wright-designed landscape and buildings is the perfect pairing, effortlessly complementing each other while retaining their powerful individual presence."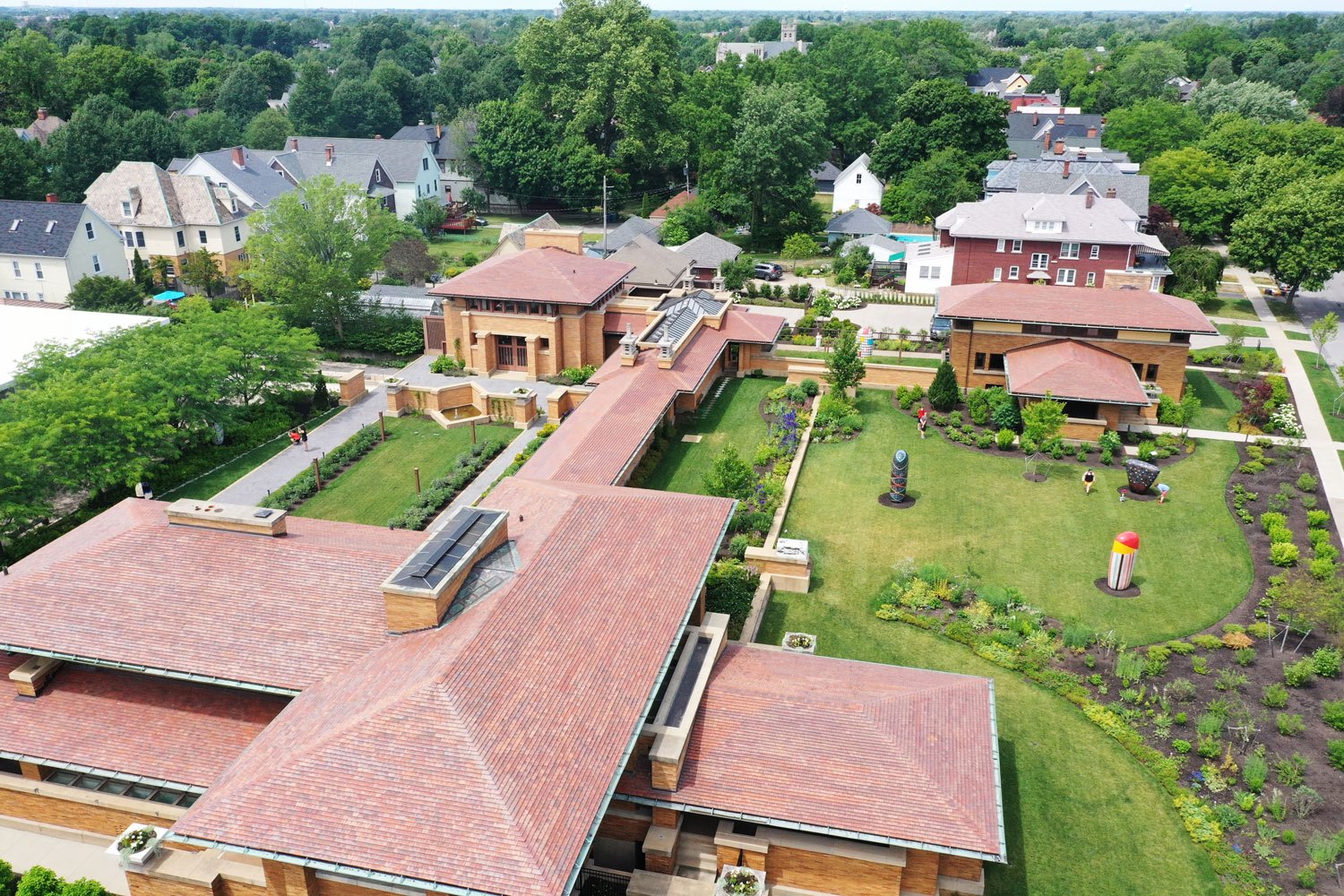 Born in 1942 in Nagoya, Japan, Kaneko arrived in America in 1963 and spent periods in California and Nebraska, where he further honed his craft and grew his ceramics to monumental proportions. Since 1986 the artist has been based in Omaha, and his experimental works range from painting to costume design. Kaneko has become best known for his dangos, rounded, vibrant sculptures resulting from traditional Japanese raku firing and glazing processes, which often lead to unpredictable designs.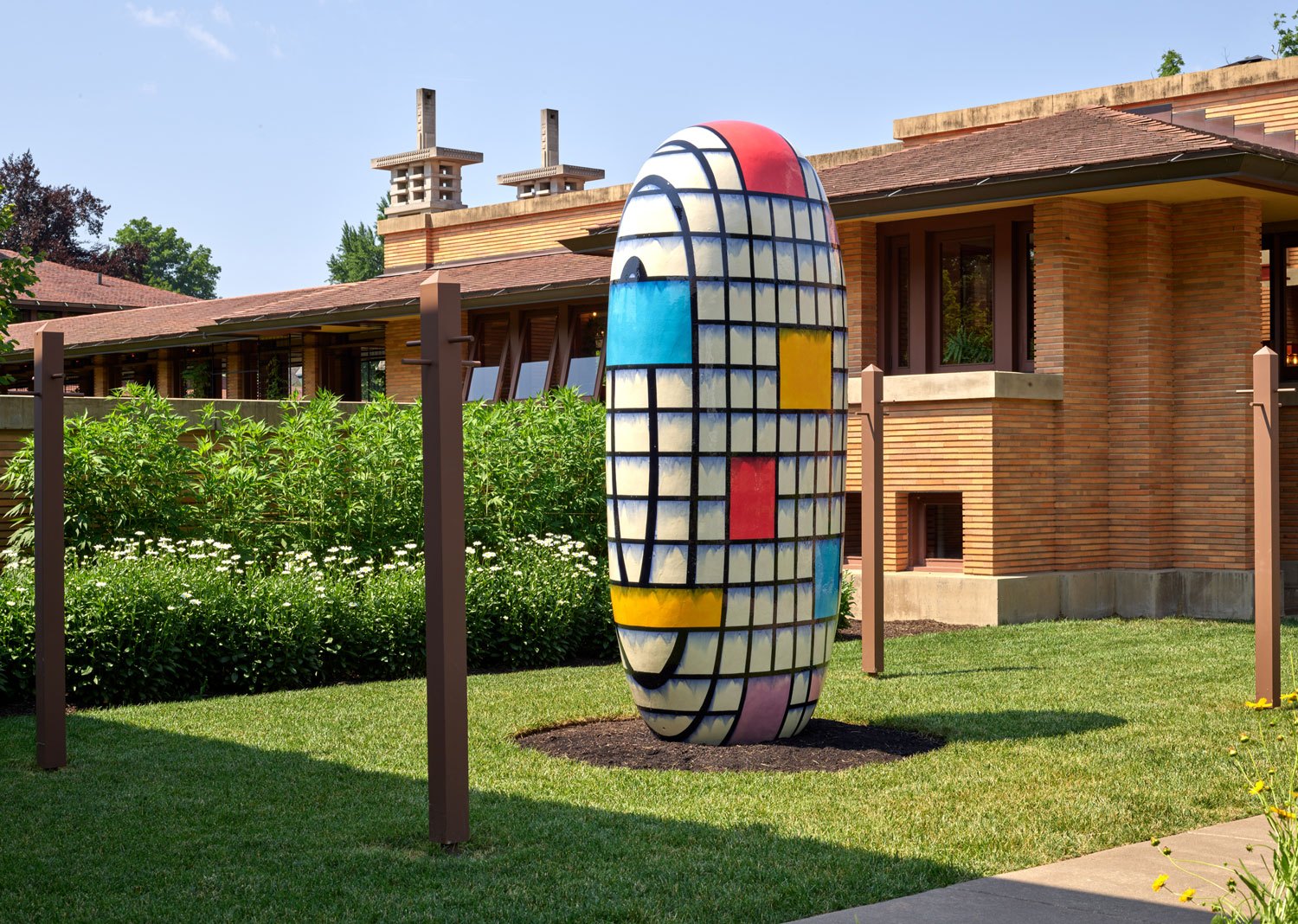 With walls three inches thick and heights ascending beyond ten feet, these dangos can weigh 3,000-plus pounds and, therefore, take months to construct to prevent them from crushing under their own weight. Spanning 25 years of the artist's career, the imposing structures on view at the Martin House command attention, even when placed around Wright's architectural feats. Color and pattern variations range from a more traditional Japanese palette of white or ivory with an indigo-dyed effect to a Mondrian-like grid of rectangles in unusual hues of pea green, mustard yellow, and bright aqua.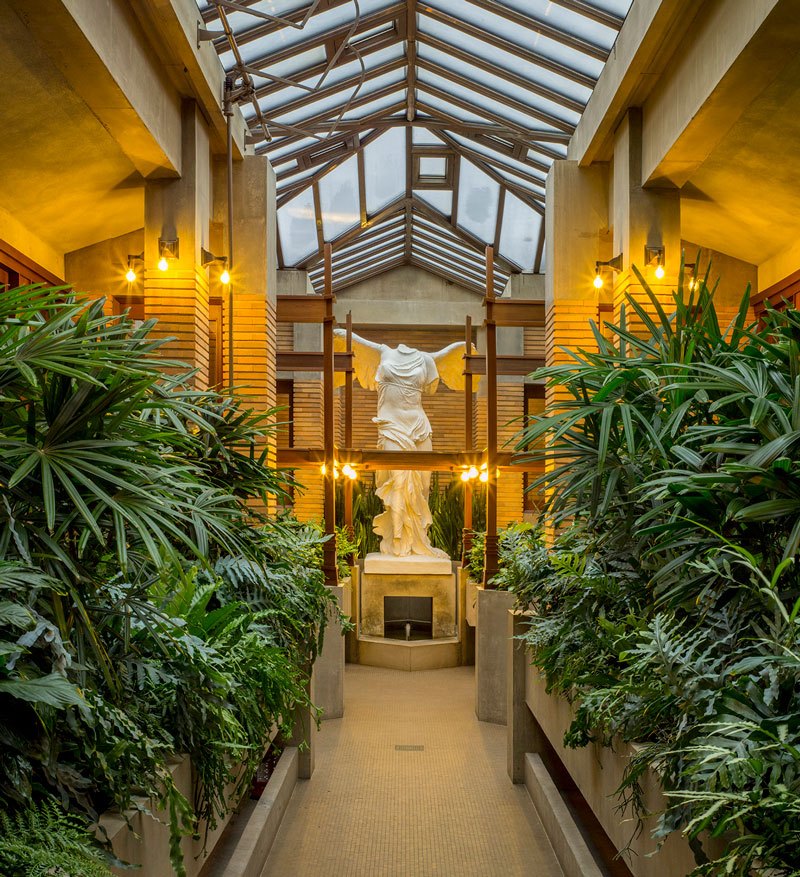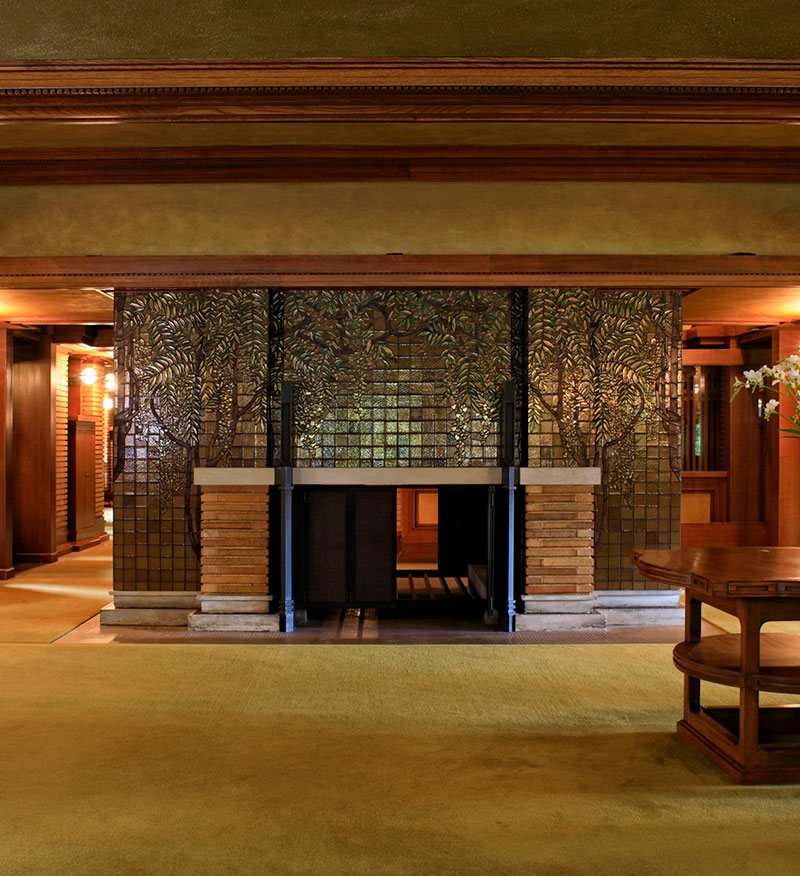 Both pioneers in their fields, Wright and Kaneko combined traditional techniques and modern technology and shared interests in Japanese aesthetic principles, such as ma, which inspired the public art show's title. The exhibition materials describe ma as "between, or the space between two things, not as an absence that separates but rather as a relationship. Wright's adoption of ma is realized beautifully at the Martin House through the removal of all unnecessary internal walls and the opening up of space between the interior and the exterior." Further illustrating his admiration for Japanese visual arts, Wright collected, sold, and traded ukiyo-e woodblock prints throughout his life. The Martin House also has a small collection of traditional Japanese ceramics owned by the Darwin D. Martin family.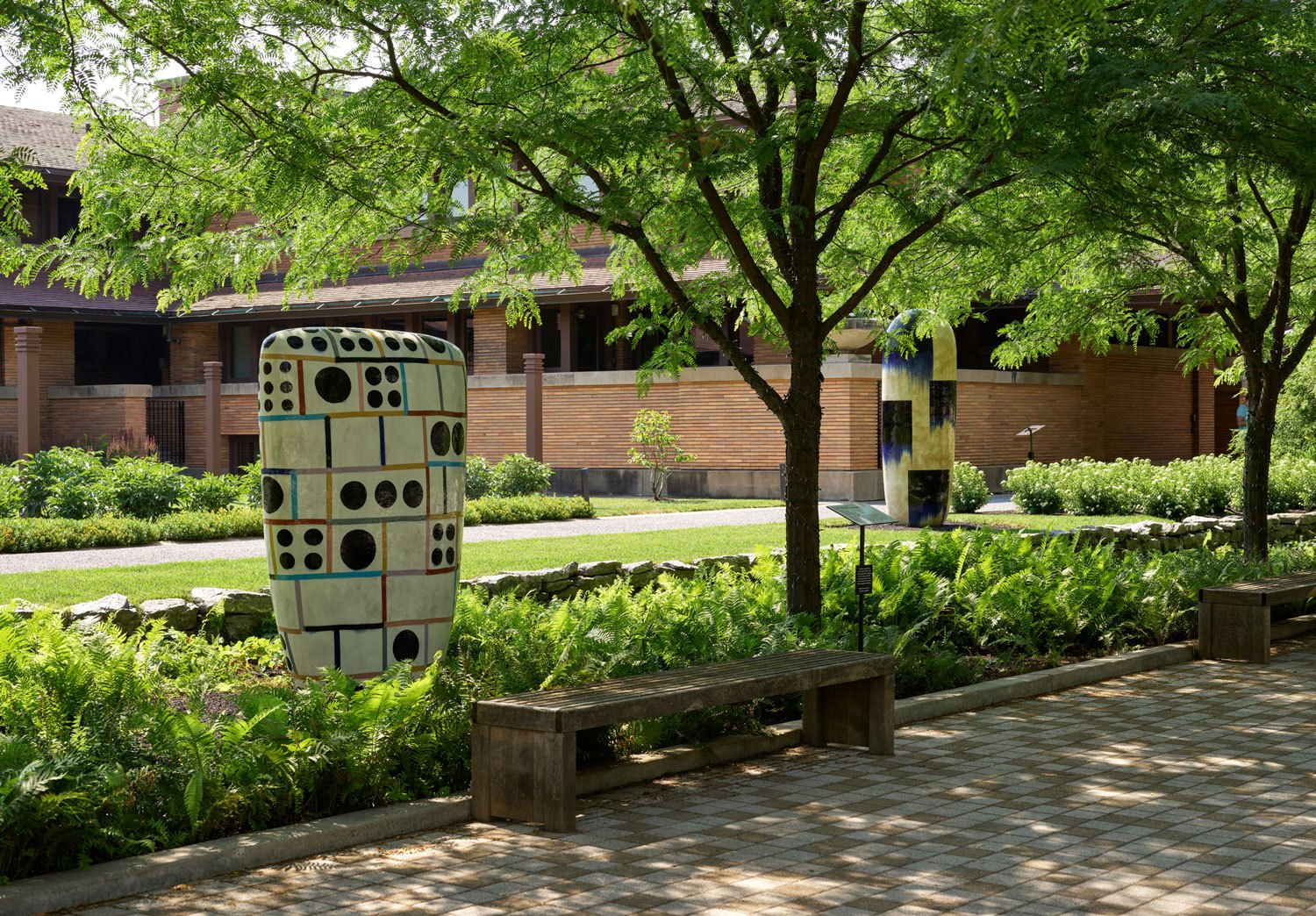 Wright and Kaneko also strove for their man-made creations to be as awe-inspiring as those formed by nature, and for the conversation between both to flow organically. "Wright's body of work, as exemplified at the Martin House, is remarkable for its bold exploration of space and scale, as well as the thoughtful use of materials, so as to create an environment designed to exist in harmony with nature," Martin House curator Susana Tejada, who selected Kaneko's works with Albright-Knox Public Art curator Aaron Ott, tells Galerie. "Through this installation, the experience is heightened by the integration of Kaneko's monumental ceramic sculptures, which temporarily reshapes the site and allows us to interact with the Martin House in dynamic new ways."
"The Space Between: Frank Lloyd Wright | Jun Kaneko" is on view at the Martin House through October 3, 2021.
Next Post