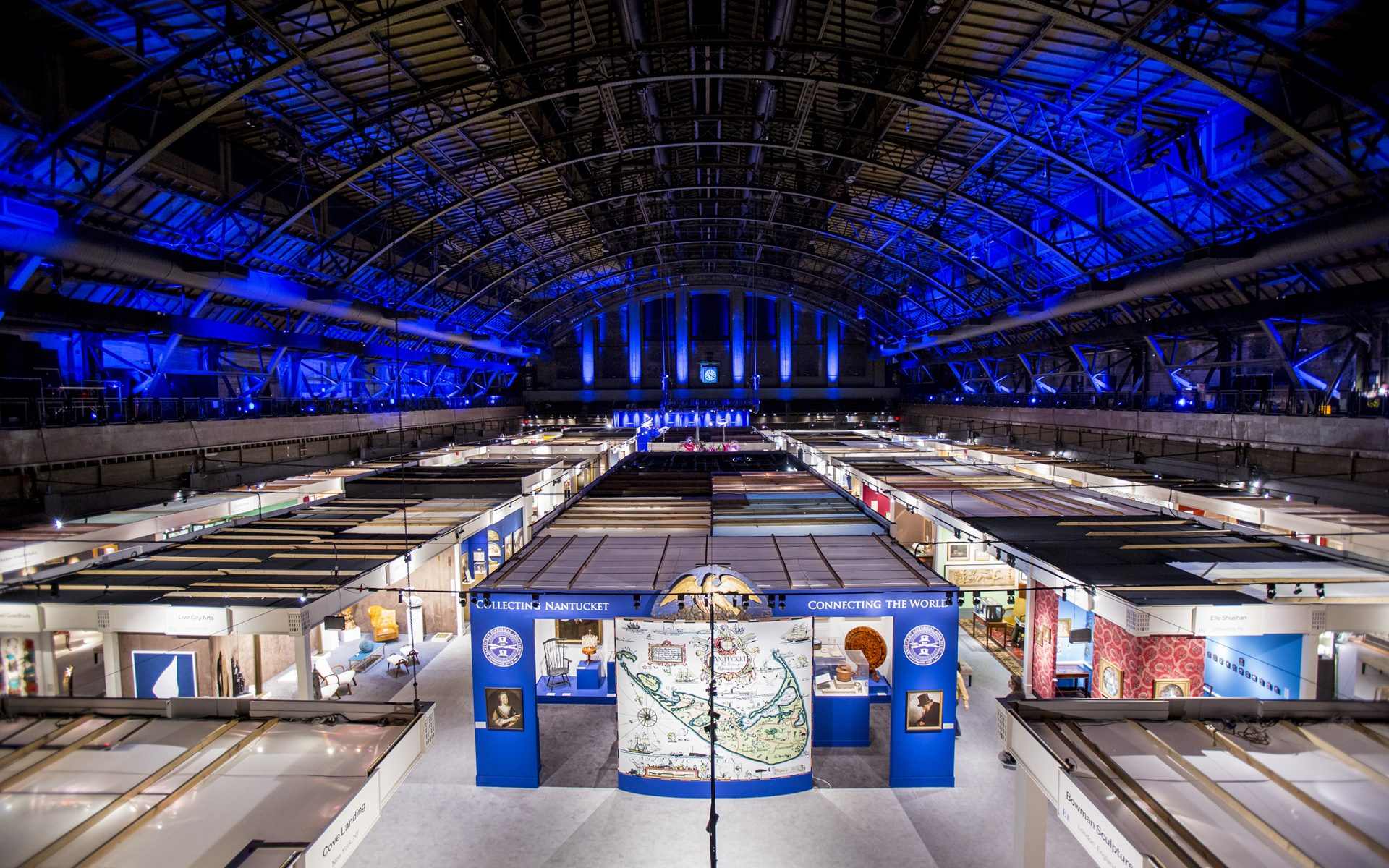 Frank de Biasi and John B. Murray Share Their Highlights from The Winter Show
The designer and architect take us through this year's fair to pinpoint several not-to-be-missed treasures
Every January, The Winter Show, one of the most prestigious antiques fairs in the world, takes over New York's historic Park Avenue Armory. During the ten-day event, the nearly 70 exhibitors feature everything from Asian antiquities to contemporary photography, but what truly sets the fine and decorative arts fair apart from its fellow events, says the show's cochair, interior designer Frank de Biasi, is the space it dedicates to Americana.
"The way this fair has Americana juxtaposed next to the French antiques and the modern pieces, the English aesthetic movement and the booths full of carpets. It's all so interesting," De Biasi tells Galerie. "And intellectually, I think it piques your curiosity in a way which I really like. Other fairs are often very specific about what they show, and this fair covers so many different fields, which makes you think about it all in a different way."
Architect John B. Murray, one of the fair's other cochairs, agrees. "To have such a strong range of exhibitors under one roof is really exciting," he says.
With this exceptional variety in mind, Murray and De Biasi walked through the fair with Galerie editors, highlighting their favorite pieces from this year's show.
Hirschl & Adler Modern
"I found this piece shockingly beautiful," Murray says of Colin Brown's 2019 work Invisible Crown. "This is done on a panel showing a view from Rockefeller Center looking east." Brown, using many different photographs for reference, has scraped away a top layer of carbonized nickel powder to reveal white paint underneath. (The paint is built up in layers under the nickel.) Then, using acrylic paint, the artist adds gray values. "Each of the areas where there's any light was done by hand," says Murray. "And it's 32 inches by 64 inches, so it's quite a significant piece. The clarity and the focus are so sharp. I found it inspiring."
Carolle Thibaut-Pomerantz
A panel entitled Le Jardin d'Hiver was one of the finest and costliest decors done under the French Second Empire, and the first realistic depiction of elaborate flowers in a wallpaper design. The panel, which exhibitor Carolle Thibaut-Pomerantz called her "star piece," caught De Biasi's eye. "It's so beautiful," he says. His only complaint was that there wasn't more of it.
Recommended: What to See at New York's Outsider Art Fair
Donzella
"I'm building a new residence for myself, and so I'm constantly looking for things that might work for it," Murray says. "I saw these side tables and thought they were really beautiful. They are rather contemporary, but the casting and the organic shape of the centerpiece are great. And the coloration of the glass is so attractive."
Ronald Phillips Ltd.
"I'm looking for a chimney piece for a client, and I thought this was exceptionally beautiful," De Biasi comments. "It's so delicately carved." Made for the third Earl of Aylesford's townhouse in London's Grosvenor Square in 1775, the piece features Sienna marble.
Peter Fetterman Gallery
"I have a keen interest in photography, so each year I like to visit this booth and see what they've brought to display," Murray says. "This young artist from Hungary, Noell Oszvald, put together this series of photographs featuring herself. I found them intriguing."
H. Blairman & Sons
"This panel came from an ocean liner in the late 1800s," De Biasi says. "What I love about this is that the exhibitor has a book that shows the tiles as they were used on the boat originally. I love knowing where a piece came from and hearing its whole story."
Lost City Arts
This Murano glass coffee table was another item that Murray had his eye on for his own home. "The mosaic top is really handsome," he says. "Lost City Arts had really compelling pieces that are kind of in that midcentury vein, but they have such a sculptural element."
The Winter Show runs January 18–27 at the Park Avenue Armory in New York. 
Next Post