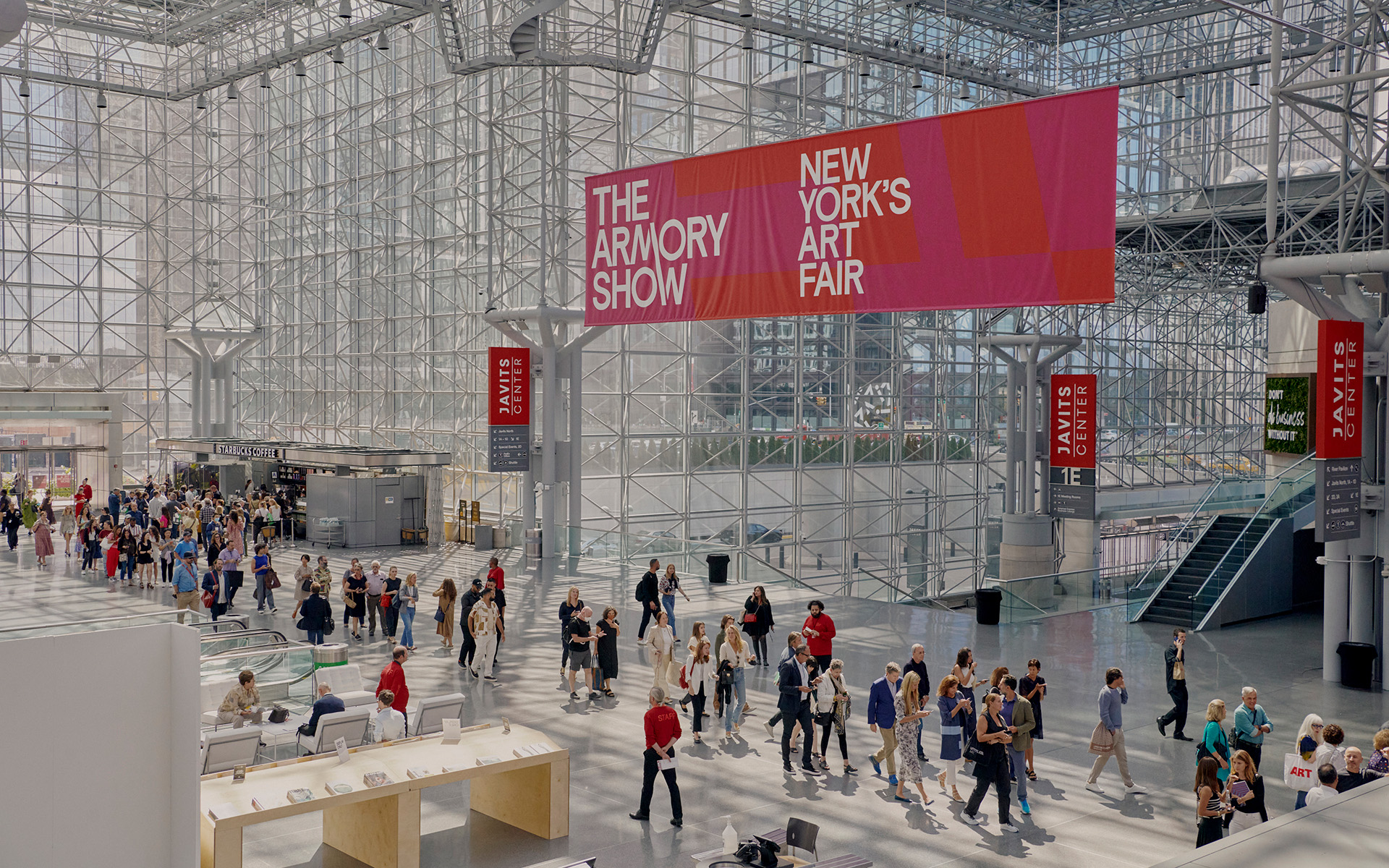 Five Art-World Luminaries Share Their Top Picks from This Year's Armory Show
New York's renewed creative energy is on full display at the fair's second iteration at the Javits Center
New York is back (if it even ever left). The sentiment was proven yesterday during the vernissage of the Armory Show's latest edition, installed for the second time inside the city's spacious Javits Center—a welcome venue offering room to roam the spread of approximately 250 exhibitors from 30 countries. After last year's cautious edition with an occupancy limit, this iteration boasts a relaxed engagement with many international galleries returning and communal spaces for catching up with friends and colleagues.
New for 2022, the Armory Show reached beyond the convention center with presentations coinciding with New York Fashion Week, Broadway, and the U.S. Open, where a suite of large-scale pieces—from Jose Dávila's energetic concrete and boulder sculpture to Myles Nurse's sprayed steel figure of a tennis player—are currently on view at the USTA Billie Jean King National Tennis Center until September 11. "We are excited to be a part of such a special moment for the city," the Armory Show's executive director Nicole Berry told Galerie.
Kicking off with a VIP day on September 8, the Armory Show welcomed an enthusiastic audience who walked the aisles, taking in various installations of art, including the large-scale works filling the fair's entrance. Organized by Tate Museum curator Tobias Ostrander, this year's Platform section included Ebony G. Patterson's alluring beaded peacock sculpture …when the cry takes root… (2021) and Trenton Doyle Hancock's hut-formed installation, The Mound #1, The Color Crop Experience (2018) which invites viewers inside to experience a digital animation. Photos were snapped and carts of champagne rolled through the crowds.
Galerie toured the booths during the fair's first day and asked five art-world figures what caught their eye around the aisles.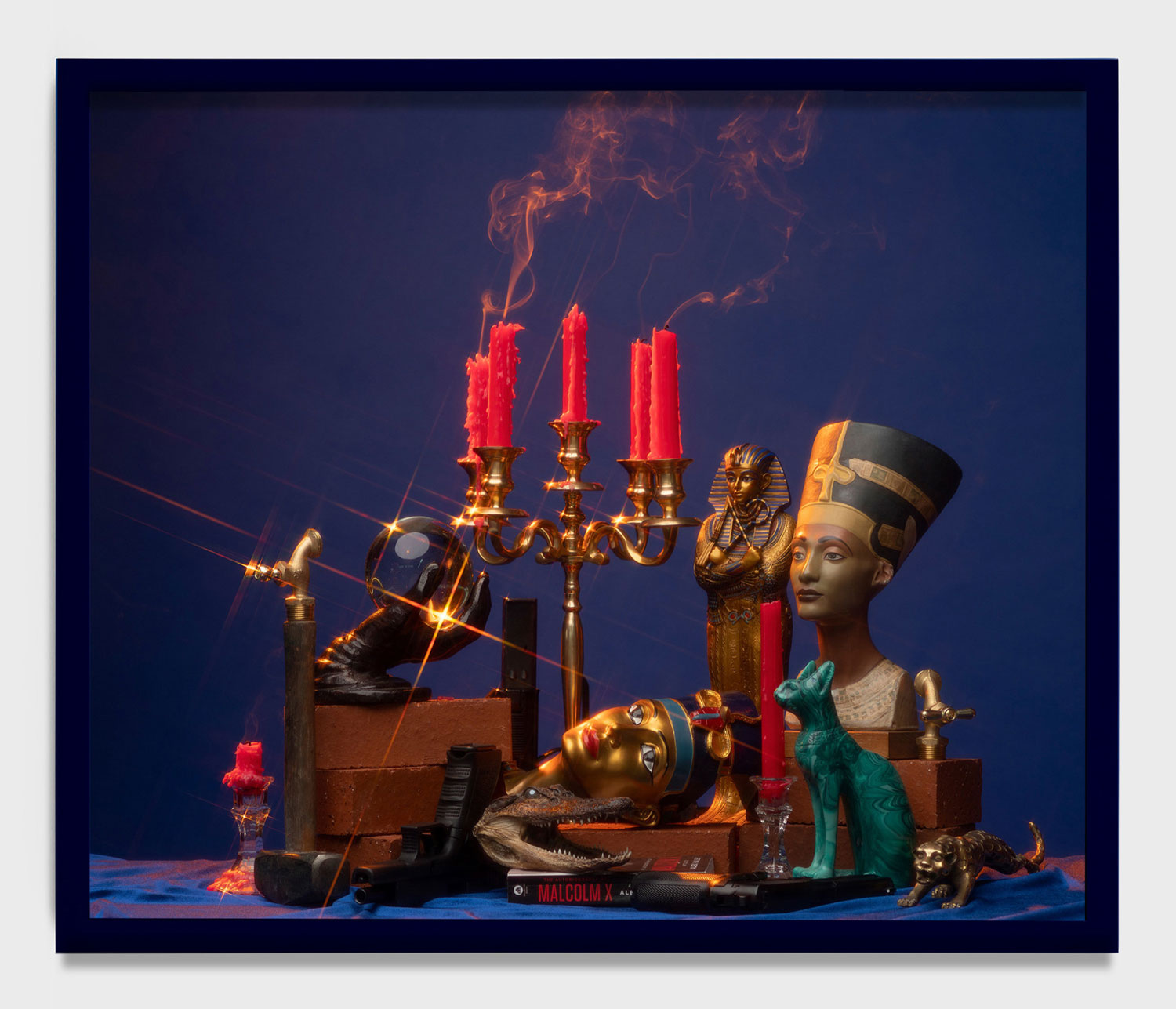 Isolde Brielmaier, Deputy Director, New Museum
Isolde Brielmaier was impressed by Awol Erizku's photograph Malcom X Freestyle (Pharaoh's Dance) (2019-20) at Sean Kelly gallery. Shot with a cinematic lighting, the sleek image of various objects, including a Pharaoh's bust and a crystal ball, shows the artist is "comfortable straddling between various spaces at the same time," says Brielmaier. "Awol has rounded himself in fine art but also in commercial and editorial spaces too," noting the artist's "synthesis" of different experiences behind the lens. She also thinks Erizku, a recent addition to Sean Kelly's roster, represents a group of artists of color who refuse limitations of medium or narrative and "think outside the box while resting on the shoulders of giants who came before them."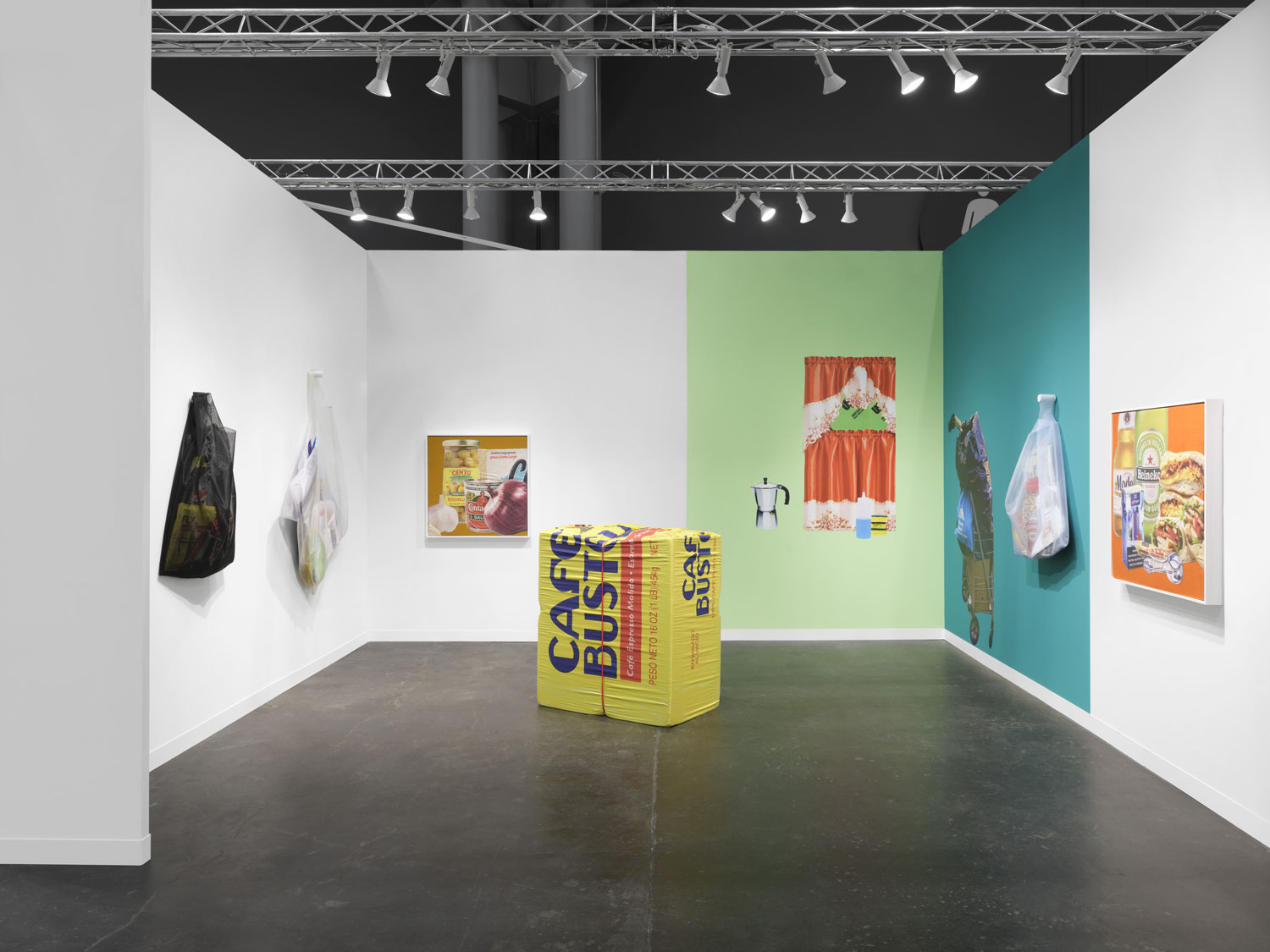 Cheech Marin, collector and founder of the Cheech Marin Center for Chicano Art & Culture
The installation of soft sculptures by Lucia Hierro at Los Angeles-based Charlie James Gallery caught the eye of collector and comedian Cheech Marin. Hierro, a New York artist, crafted exaggerated renditions of grocery items associated with her Dominican upbringing that  pair introspection with collective identity and familiarity. "The work cross genres and pops out among the crowd," Marin says. As a collector who champions Latinx and Chicano art, Marin noted this edition's emphasis on art from the region, which is particularly underlined in the Focus section, curated by Carla Acevedo-Yates of MCA Chicago.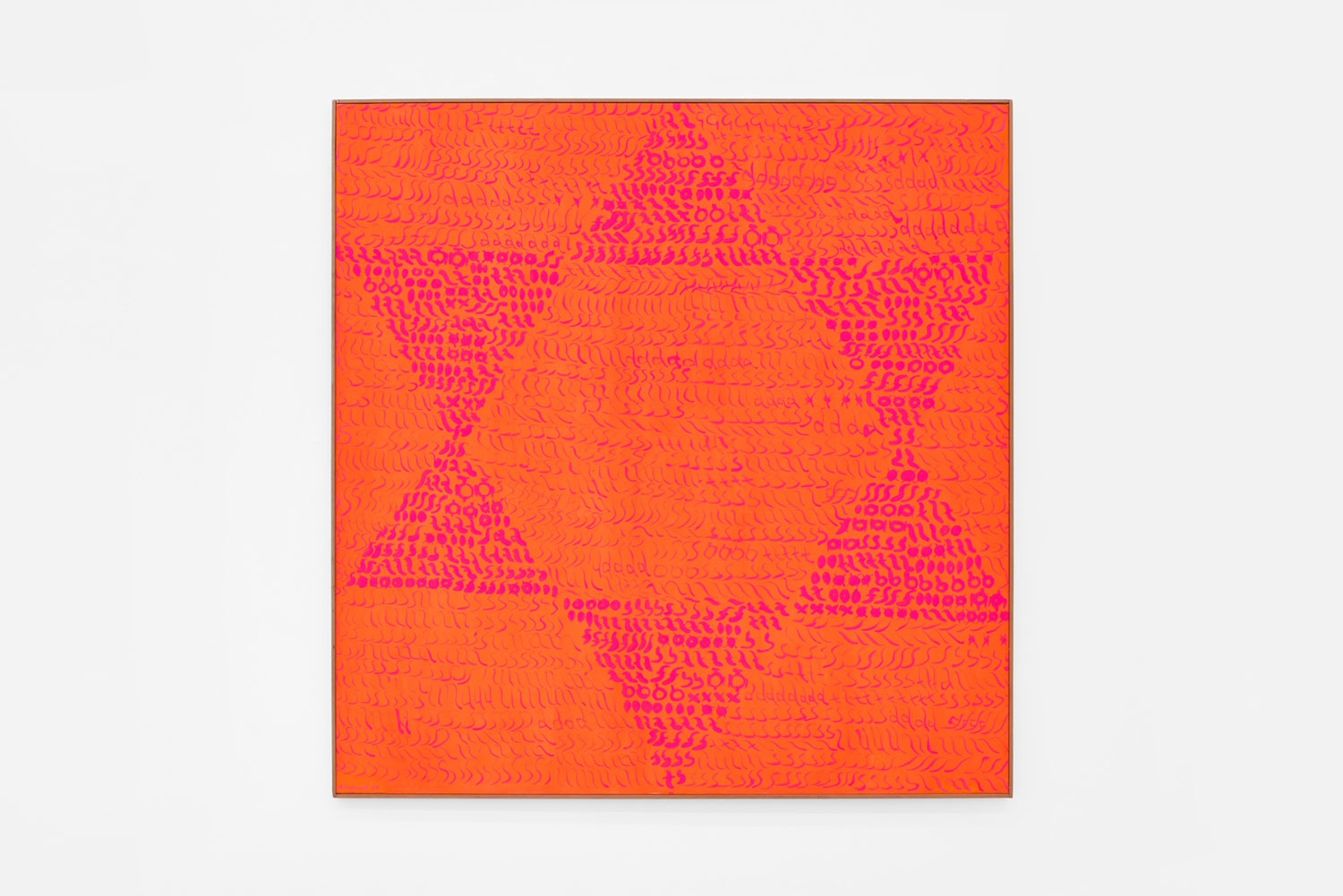 Vittorio Calabrese, Director, Magazzino
Vittorio Calabrese pinpointed late Italian artist Carla Accardi's circa 1964 fluorescent varnish painting of a star, I Stella, at the joint booth of father and daughter galleries Galleria Massimo Minini and Francesca Minini. "I am struck by this work by a painter who is one of the most important Italian female artists of the last century and a pioneer of abstraction," Calabrese says about the work which Accardi painted as an homage to Frank Stella after seeing one of his exhibitions the same year. "The painting grabs our attention as soon as we walk into the booth," says the director of the Arte Povera-focused museum in Upstate New York. The radiant effect, which the artist achieved through her choice of extremely bright paint, creates a wash of light on the canvas and turns heads at a fair filled with visual stimuli.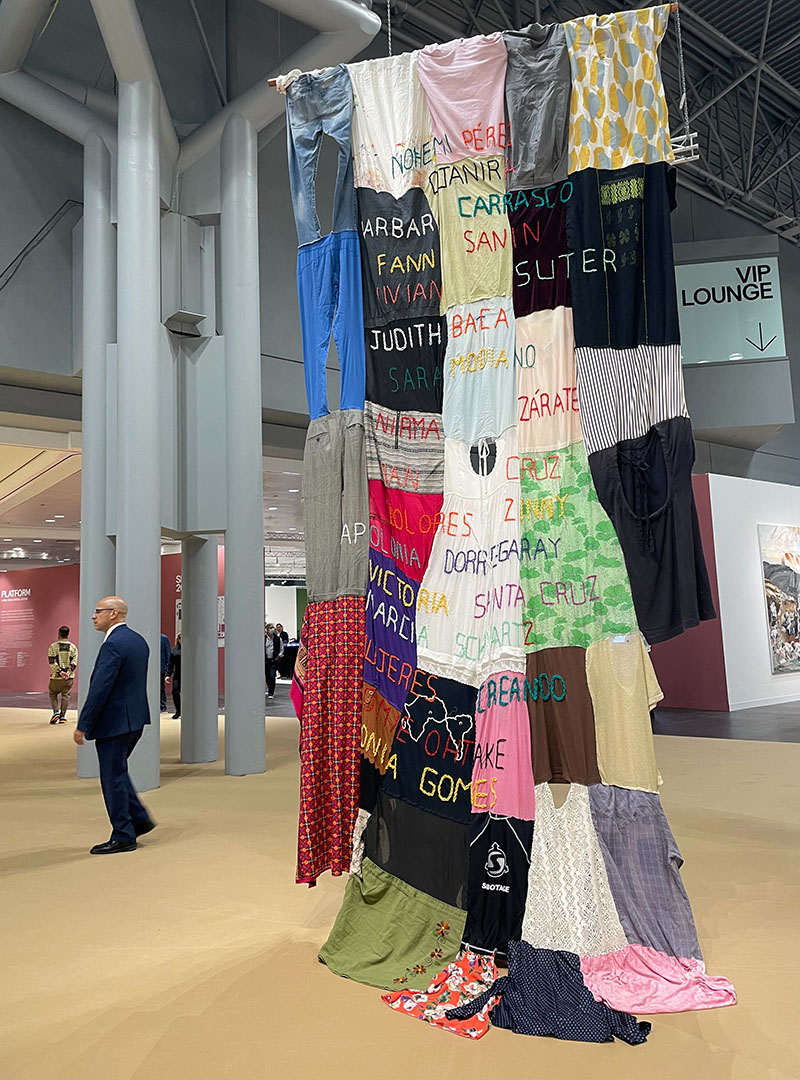 Jean Cooney, Director, Times Square Arts
As the head of art programming for one of the most densely-visited spots in the world, Jean Cooney is expectedly intrigued by public works, even at a robust art fair. Fittingly, her choice is Colombian British artist Carolina Caycedo's monumental fabric sculpture Muxeres en mi (2019) presented by Bogota and New York-based art space Instituto de Visión at the Platform section. Composed of clothing the artist collected from her relatives, the artwork reaches towards the ceiling, creating a compelling statement on migration, familial ties, and objects' ability to transport memory. Additionally, the Los Angeles-based artist wove into the work names of the Latinx artists that inspire her. "Carolina finds access points to difficult issues that are incredibly timely," Cooney say.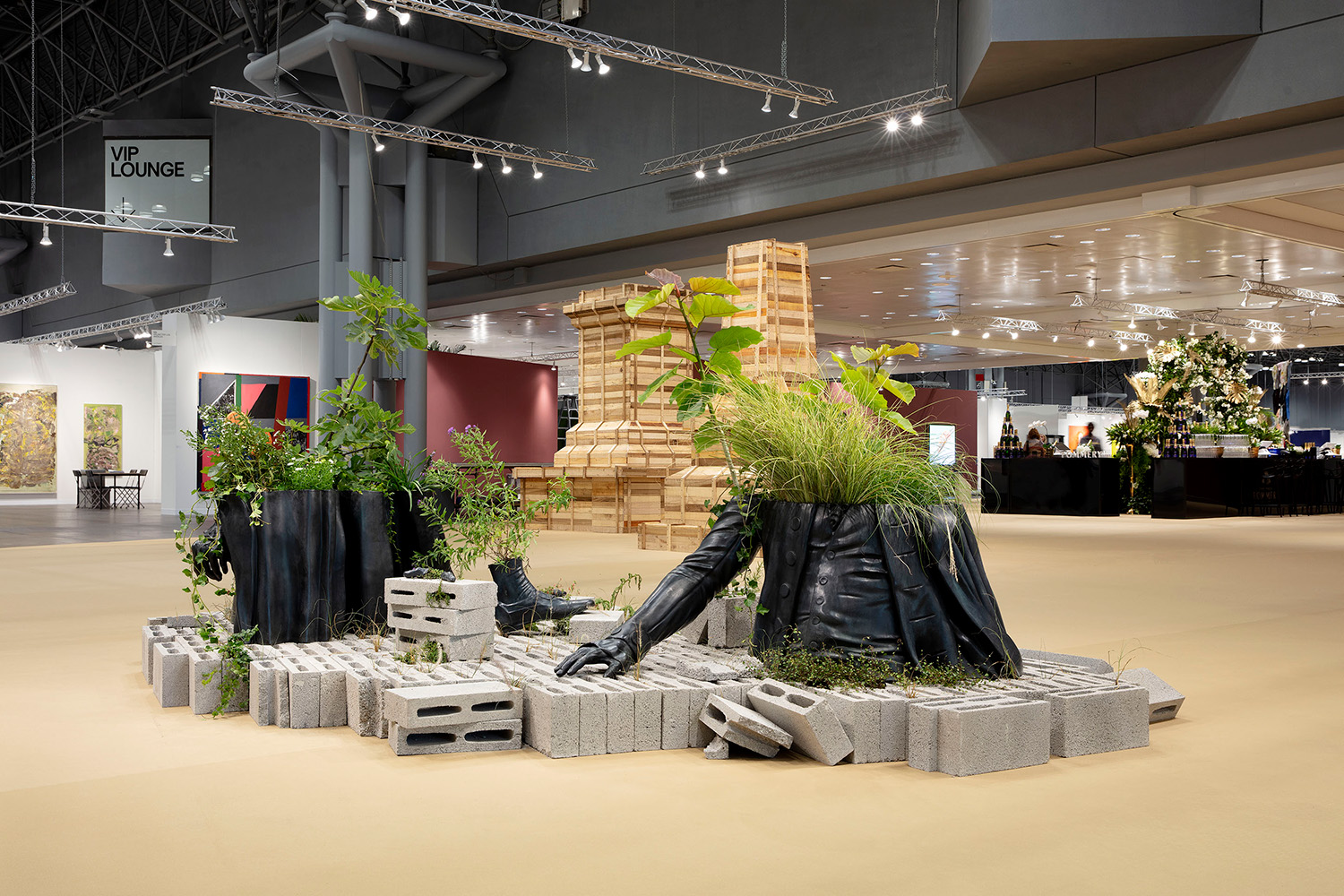 Patton Hindle, Head of Arts, Kickstarter
Patton Hindle also favors a Platform presentation and selected Ivan Argote's Wild Flowers (2020), presented by Perrotin. The Paris-based Colombian artist transformed the chopped parts of a George Washington monument into an installation of planters perched atop a pattern of bricks. The familiarity conjured through the figure's attire is juxtaposed with its new life as a vessel for live plants that are indigenous to New York. "This is a living and breathing monument with a new use for all of to take part in," Hindle says about Argote's installation, which the artist personally waters and cares for at the fair.
The Armory Show is opens at the Javits Center through September 11, 2022.
Next Post