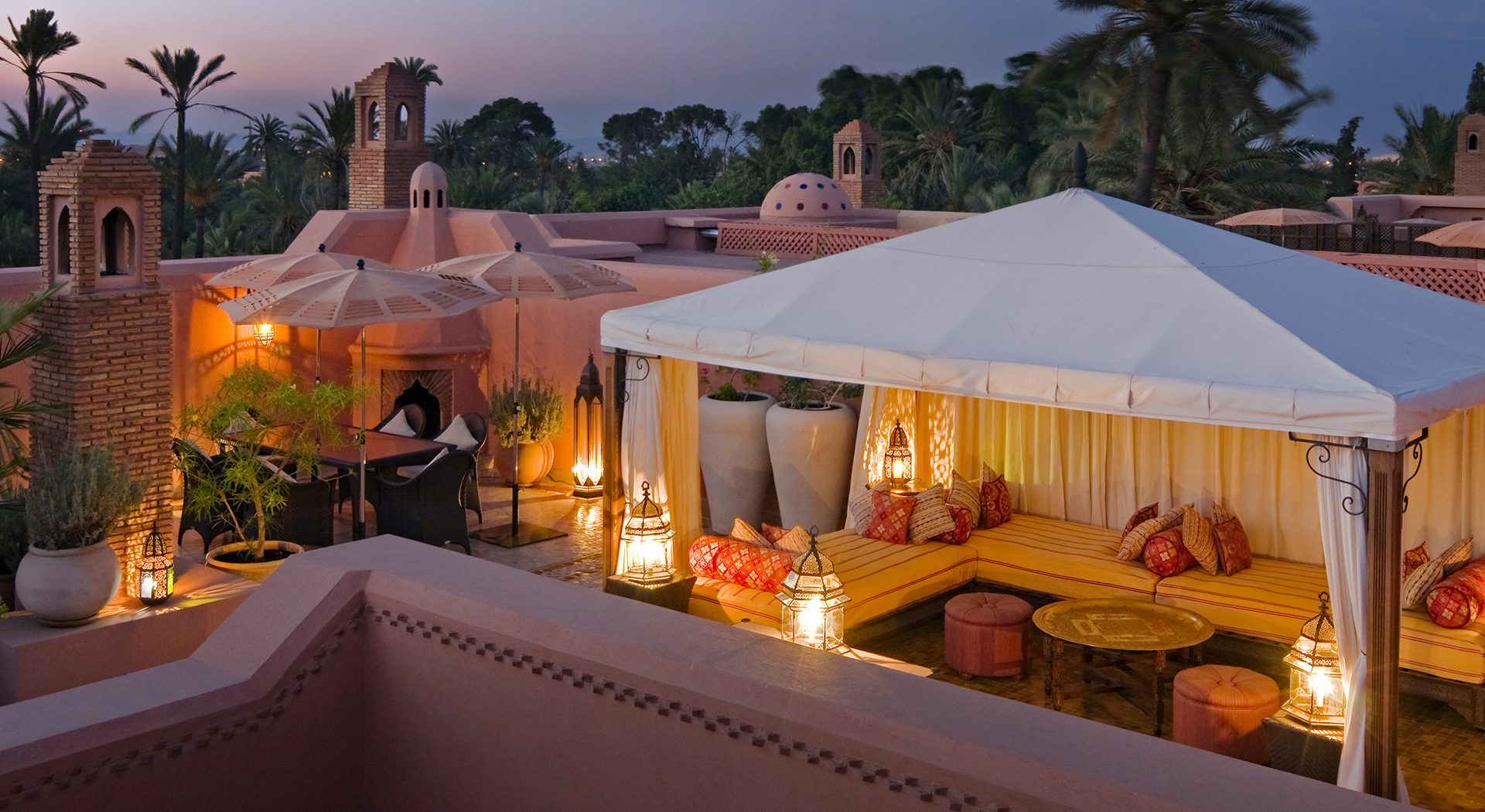 The Ultimate Art Lovers' Guide to Marrakech
Steeped in Moroccan history and culture, the city of Marrakech is quickly becoming an international destination for contemporary African art and culture
Framed by the snowy Atlas Mountains and awash with blush rose-red buildings styled in Hispano-Moorish architecture with Andalusian references, Marrakech has lured many to its seductive enclaves.
Winston Churchill, for instance, was known to paint from the balcony of the Mamounia Hotel, which he frequently visited between 1944 to the '50s, and Alfred Hitchcock filmed scenes for The Man Who Knew Too Much in the winding alleyways of the city's souks. The city also attracted the French painter Jacques Majorelle, who arrived in 1923 and stayed along the Palmeraie of Marrakech.
Now, a handful of cultural initiatives are transforming Marrakech into an international hub for art and design—and there's no better time to go. Contemporary galleries mingle with 16th-century palaces, and boutique concept stores and hotels are just as vital to the city's retail landscape as the honeycombed alleyways of the 11th-century souks.
With its earthen lace-like red façade that runs in a succession of delicate and bold forms, the newly opened YSL Museum in Marrakech appears to reflect the rich textures of Morocco's landscape as much as it does the patterns and cut of a YSL garment. This bold contemporary structure, designed by French firm Studio KO, opened last October just a short distance from Jardin Majorelle—the home acquired by Saint Laurent and Pierre Bergé in 1980.
From February 24–25, the city reinstates itself as a contemporary art hub when leading fair for contemporary African art, 1-54, stages its first edition there. With locations already in London, which launched in 2013 followed by a second edition in New York in 2015, founder Touria El Glaoui responded to the continent's urgent call for one major international art center and worked to give Marrakech the recognition it deserves. The city, she believes, will cement the African art scene's ever-growing network. Its strategic positioning serves as a bridge between North Africa, Europe, and the rest of Africa.
The event also provides a cover-up of sorts after the Marrakech Biennale 2018 was cancelled due to lack of funds. (It is scheduled to return in 2020.) Taking place at the enchanting La Mamounia, this edition of 1-54 will be smaller in size—just 17 galleries and 60 international artists. Participants include London's Blain|Southern, Art Twenty One from Lagos, Nigeria; Galerie Cécile Fakhoury from Abidjan; Galerie Mikael Andersen from Copenhagen; Parisian Galerie Vallois; L'Atelier 21 from Casablanca; Milan-based Officine Dell'Immagine; London-based Tiwani Contemporary; Vigo Gallery from London; and VOICE gallery from Marrakech.
The fair will coincide with another landmark event: the relaunch of the Museum of African Contemporary Art Al Maaden (MACAAL). The private family-run, not-for-profit institution, situated on the outskirts of the city, was originally christened in November 2016 during the United Nations climate change conference COP22. For its inaugural exhibition it will stage two shows: "Africa Is No Island" (through August 24), curated by photography association Afrique in Visu and featuring emerging and established photographers like Sammy Baloji and Leila Alaoui. The second show is semi-permanent and features highlights from the collection of MACAAL president Othman Lazraq and his father, Alami. Amassed over 40 years, the trove includes pieces by artists such as Abdoulaye Konaté, Chéri Samba, Moataz Nasr, Farid Belkahia, Meriem Bouderbala, and Serge Attukwei Clottey. The collection also includes a host of Modernist works offering a visual dialogue between emerging and established artists from Africa across a range of media.
While fair and museum-goers can eagerly drift in and out from the art decked halls of the lavish La Mamounia, the city's busy streets are filled with colorful peddlers and artistic havens waiting to be discovered. Don't miss Riad Yima, where prominent Moroccan contemporary artist Hassan Hajjaj lives. Step inside a courtyard decorated in colorful tiles and sip on mint tea while pursuing  Hajjaj's vibrant work, which ranges from furniture and shoes to portraits of Moroccan residents. Among the offerings in the hip industrial area of Sidi Ghanemis is the sleek Voice Gallery, a typical white-cube art space that stands in stark contrast to the chaotic pace of the city outside. Run by Italian Rocco Orlacchio, the gallery has launched the careers of many emerging North African artists. Nearby, Galerie 127 showcases African photography, while 6.4 Gallery features predominantly Moroccan artists.
Visitors can enjoy a dose of nature at the Al Maaden Sculpture Park, where monumental artaworks are set against the backdrop of the Atlas Mountains. Or there is the Jardin Anima, an enchanting botanical garden accentuated by large and vibrantly painted abstract works. There's also the Jardin Rouge, an artists' residency situated near to a typical Moroccan village on the outskirts of Marrakech, launched in 2007 by the private Montresso Art Foundation, where 1-54 will host its talks program.
For accommodation, there are a variety of options for a palatial retreat. One of the most famous is the Royal Mansour, the King Mohammed VI's regal hotel. Tucked away in the ancient walls of the Old City of Marrakech, it is within walking distance of the historical Djemaa el Fna Square. A masterpiece hotel steeped in history, art and the grandeur one expects from the city, the hotel is laid out in the form of the traditional medina with the large entrance inspired by the legendary gates of Morocco's imperial cities.
While less grand, the acclaimed El Fenn hotel certainly doesn't shimmy on elegance and bespoke design. Each room is dressed in a rich color palette that evokes the sensitivity and light of a Renaissance painting. A boutique hotel and shop owned by Vanessa Branson (sister of Richard Branson), well known for her contribution to the art scene as the founder of the Marrakech Biennale, the hotel was a crumbling majestic ruin when Branson and Howell James purchased it in 2002. It is made up of three traditional riads joined together, with each courtyard built like a fortress with three-foot-thick walls. It marries Moorish style with the best of modern interiors.
"There's a saying in Morocco, that you don't choose a house, a house chooses you," says Branson. "That certainly seemed to be the case when Howell James and I first stumbled across El Fenn over 15 years ago. At the time the front door was hanging half off its hinges, the derelict courtyard was overgrown and unloved, and tiles were crumbling around a long defunct fountain, but we fell in love with it immediately […] We named it El Fenn, meaning 'artful' in Arabic, for our love of contemporary art, and particularly for the burgeoning Moroccan art scene that we discovered on spending more and more time here."
Artful is certainly an apt description for the incredible cultural boom that is currently taking place in Marrakech—one that has been brewing over the last decade. And now with such a wealth of cultural institutions and events, the city offers more than ever a strategic reckoning between east and west and north and south. Marrakech is the cultural gateway to the magical continent of Africa.
Next Post