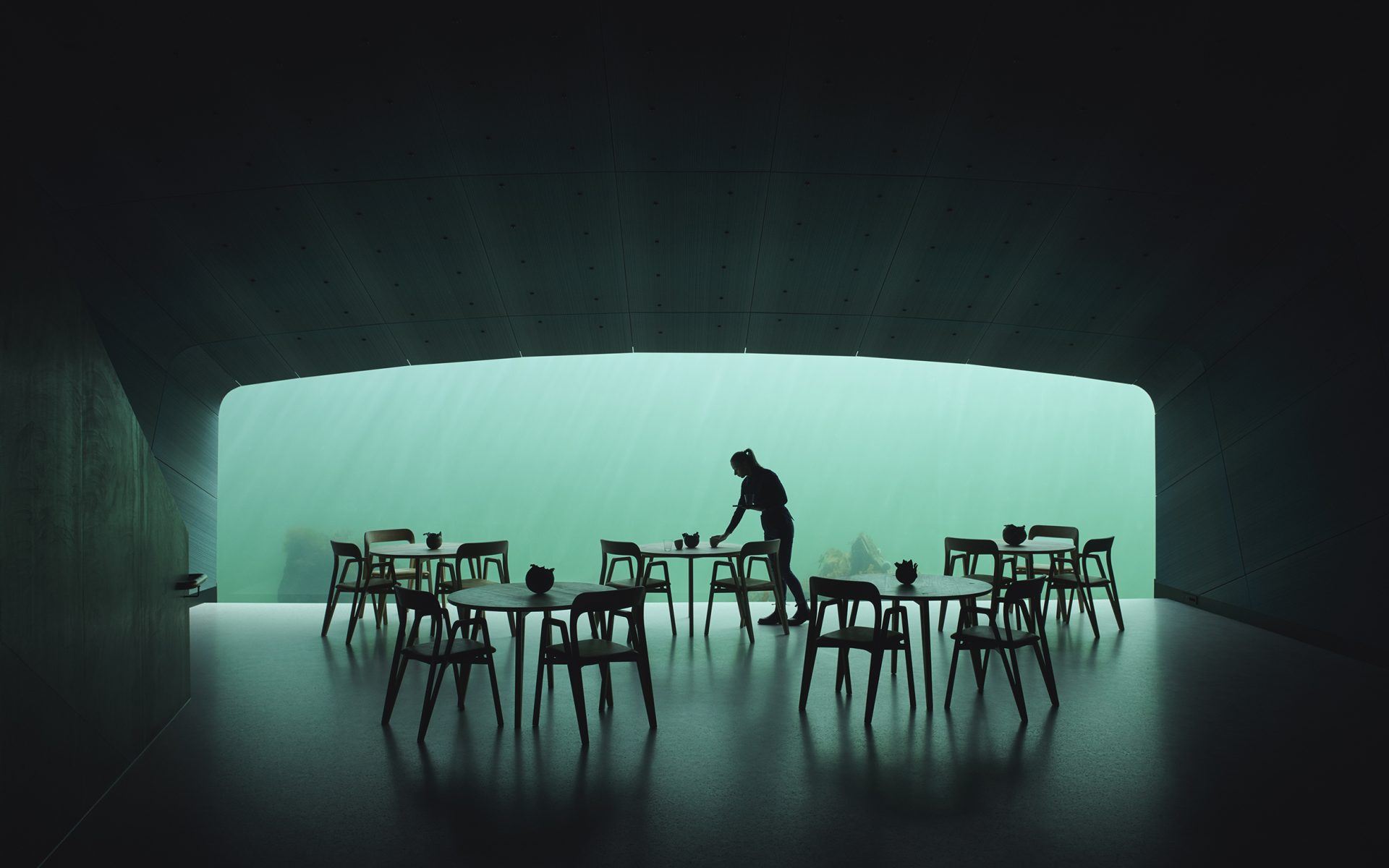 Europe's First Underwater Restaurant Debuts in Norway
Designed by Snøhetta, Under offers guests a view of the Norwegian seabed
Europe's first underwater restaurant, Under, began welcoming guests this week.
Located in Lindesnes, Norway, the Snøhetta-designed restaurant is half-sunken into the sea, with its 111-foot-long monolithic form breaking the surface of the water to rest directly on the seabed 16 feet below. With the thick concrete walls lying against the craggy shoreline, the structure is built to withstand pressure and shock from the rugged sea conditions and is designed to fully integrate into its watery environment over time, as the roughness of the concrete shell will function as an artificial reef.
"Under is a natural progression of our experimentation with boundaries," Snøhetta founder and architect Kjetil Trædal Thorsen said in a statement. "As a new landmark for southern Norway, Under proposes unexpected combinations of pronouns and prepositions, and challenges what determines a person's physical placement in their environment."
The restaurant will seat 35 to 40 dinner guests every night in a dining room protected by thick concrete walls. Its culinary focus, according to a release, is "to create a fine-dining experience based on high-quality, locally sourced produce, with a special emphasis on sustainable wildlife capture." Nicolai Ellitsgaard, previously of the acclaimed restaurant Måltid in Kristiansand in southern Norway, is the head chef, bringing an international, 16-person kitchen team with experience from top Michelin restaurants.
Recommended: Paris Unveils Champs-Élysées Fountains Adorned with 3,000 Swarovski Crystals
Under will also have a focus on facilitating marine research, welcoming interdisciplinary research teams studying marine biology and fish behavior through cameras and other measurement tools that are installed on and outside the façade of the restaurant. Ellitsgaard and his team are in regular dialogue with the marine biologists to understand how and when to harvest from the sea in the most sustainable way. They hope to be able to harvest ingredients from the building itself that can be put on the restaurant's menu. The kitchen staff and the researchers will also collaborate to attract fish to the window, allowing the marine biologists to study the species more closely while also providing an interesting view for restaurant guests.
"In this building, you may find yourself under water, over the seabed, between land and sea," Thorsen said. "This will offer you new perspectives and ways of seeing the world, both beyond and beneath the waterline."
Next Post