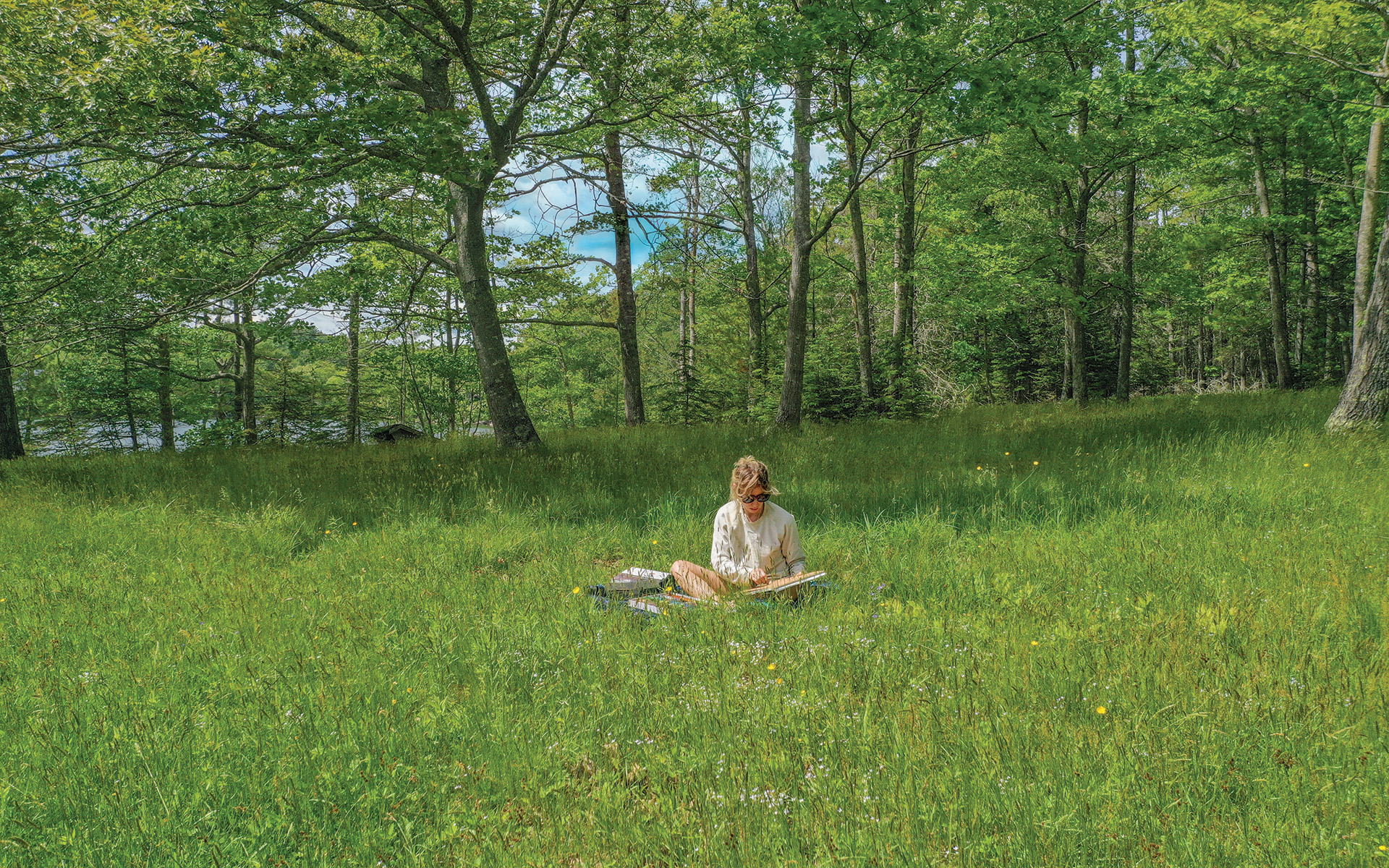 How a New Generation of Painters Are Working En Plein Air
The practice of working in the great outdoors is coming back with fervor in the hands of contemporary artists such as Doron Langberg, Nicole Wittenberg, and Hayal Pozanti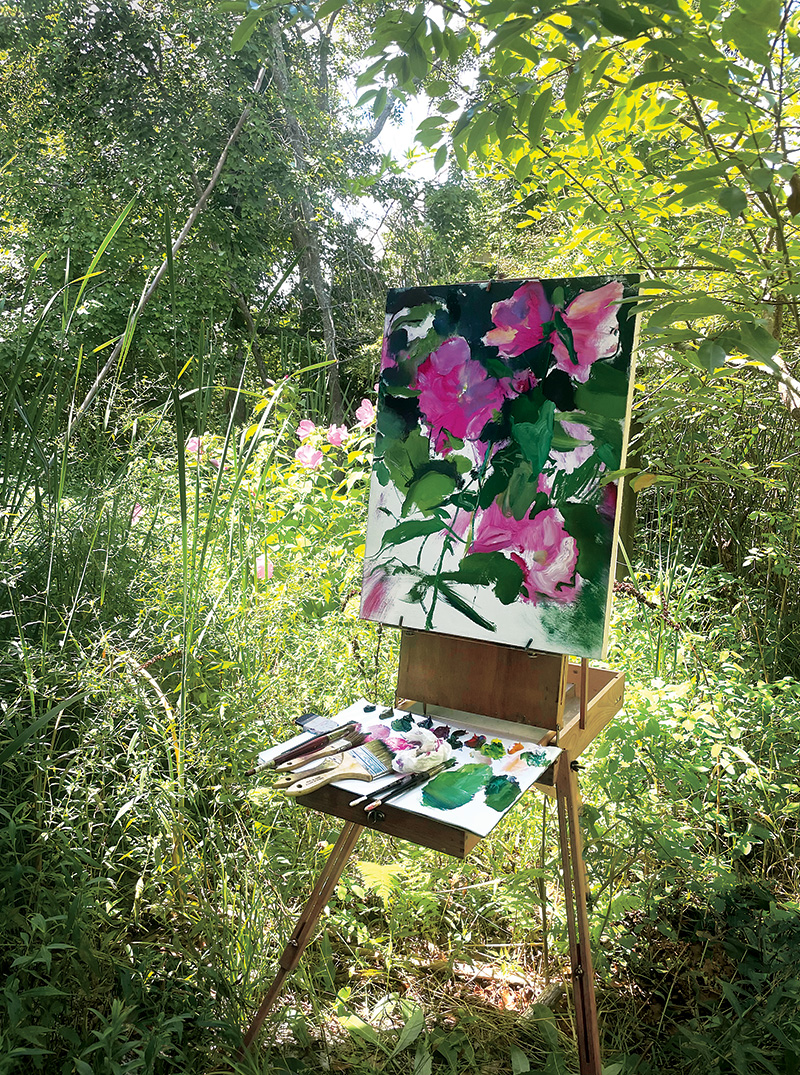 The phrase "plein air painting" evokes a sunny, breezy day in the French countryside; one can almost smell the wildflowers. Although making art outside is an old tradition, it's heavily associated with Impressionism, which became a beloved chapter of art history. Today, the practice is coming back with fervor and variety in the hands of contemporary artists such as Doron Langberg, Nicole Wittenberg, and Hayal Pozanti.
"My mom recently sent a picture of me at eight years old, making a drawing on a hilltop," says the New York–based Wittenberg, laughing because she had forgotten that she had begun her plein air work so early. "I'm from the Bay Area, and there are so many great landscapes to observe."
Conveying the essence of a beach she repeatedly visited in the Bahamas became something of an obsession, as it eluded her for years. "It's a pathway to the water, covered in palms and foliage," says Wittenberg, whose recent show at Nina Johnson gallery in Miami, "Distant Waters," featured brightly colored landscape paintings that were originally pastel studies done outdoors. "And I finally captured it—you can feel the darkness and heat in the shadows, and the intense chroma of the beach."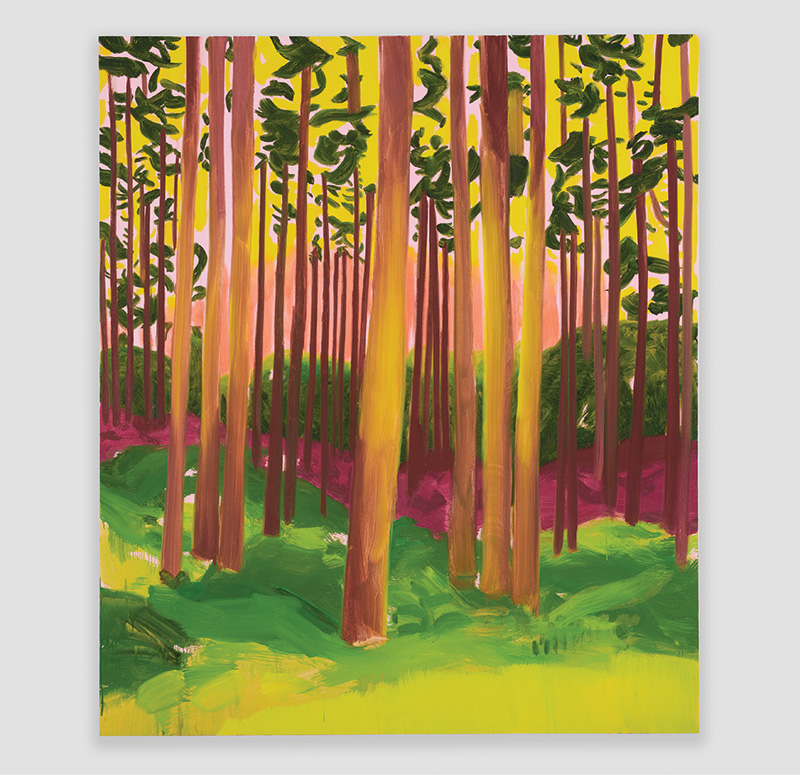 Wittenberg discovered that drawing with pastels outside was easier than working with other mediums. "When I started out, I was using watercolor and oil paint, and it's just way too much to carry around," she says. "In 2017, I started making pastels, and that's when it clicked for me." She adds, "You need to travel light. There should be no barrier to you experiencing the place."
"There should be no barrier to you experiencing the place"

Nicole Wittenberg
That's squarely in line with the French tradition— innovation and practicality are part of the story. "The advent of metal tubes in the 19th century allowed greater portability and storage of oil paints for artists wishing to work en plein air," says Katie Hanson, a curator of European painting at the Museum of Fine Arts, Boston.
None other than Pierre-Auguste Renoir himself said, "Without paints in tubes, there would have been no Cézanne, no Monet, no Sisley or Pissarro, nothing of what the journalists were later to call Impressionism."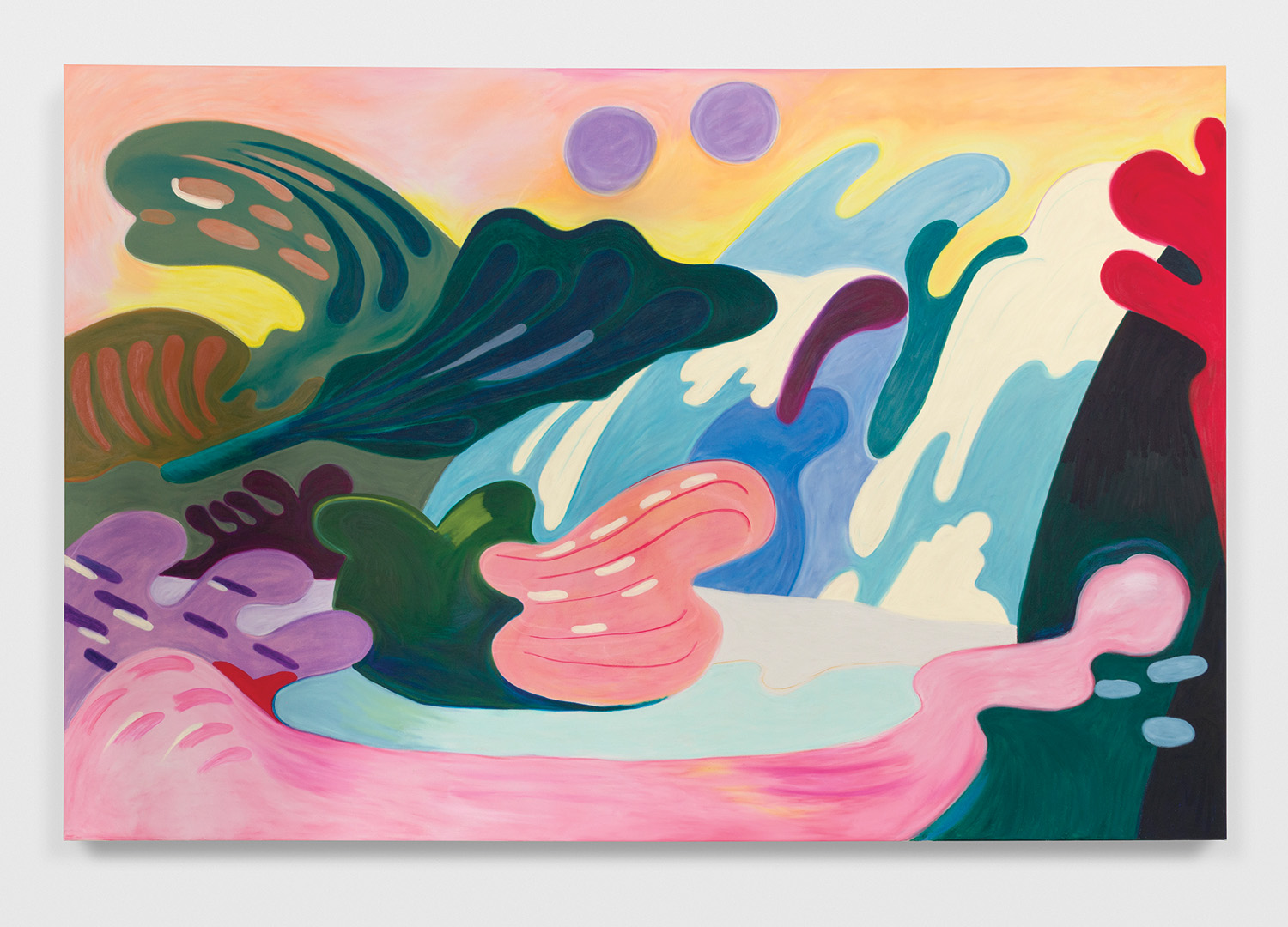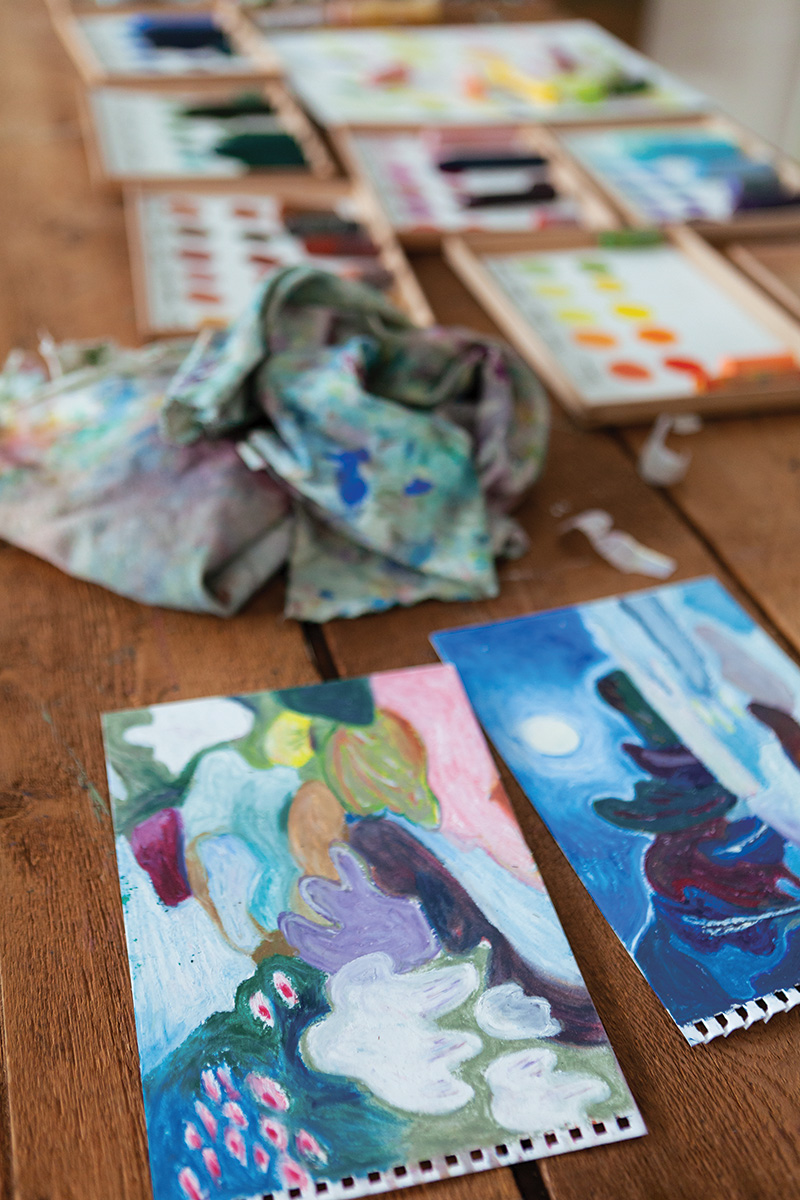 Pozanti is known for intensely colored abstractions inspired by landscapes. "They're of this world, but they could be of another world, too," she says. She is also a plein air pastel fan; the oil-stick works on view in her recent Timothy Taylor gallery show in New York all originated as outdoor pastels on a sketch pad made while Pozanti was in Sicily, Vermont, and South Carolina.
She has found a powerful connection between geography and her practice. Pozanti was born in Turkey—she's "a city girl from Istanbul," in her words—but it was a move from New York to California that got her working outside. "I had always wanted to do plein air, but in Los Angeles I had a garden with palm trees. My relationship to nature changed dramatically," says Pozanti, whose works now incorporate earthy tones as a result. "It was the most beautiful experience."
Then she moved to her current home in Vermont, where she has a garden for inspiration and hikes every day. A 2022 trip to Sicily only upped the ante. "I bought a pastel pad, and boy, was I inspired!" she says. "It started pouring out of me."
"Painting outside in a natural environment was a way to reconnect with home"

Doron Langberg
For the Israel-born, New York–based Langberg, the pandemic was a turning point that led toward plein air work, partly for COVID safety reasons, but the effects were unexpected and welcome. "It gave me so much freedom," he says. "It opened up experimentation and opportunities."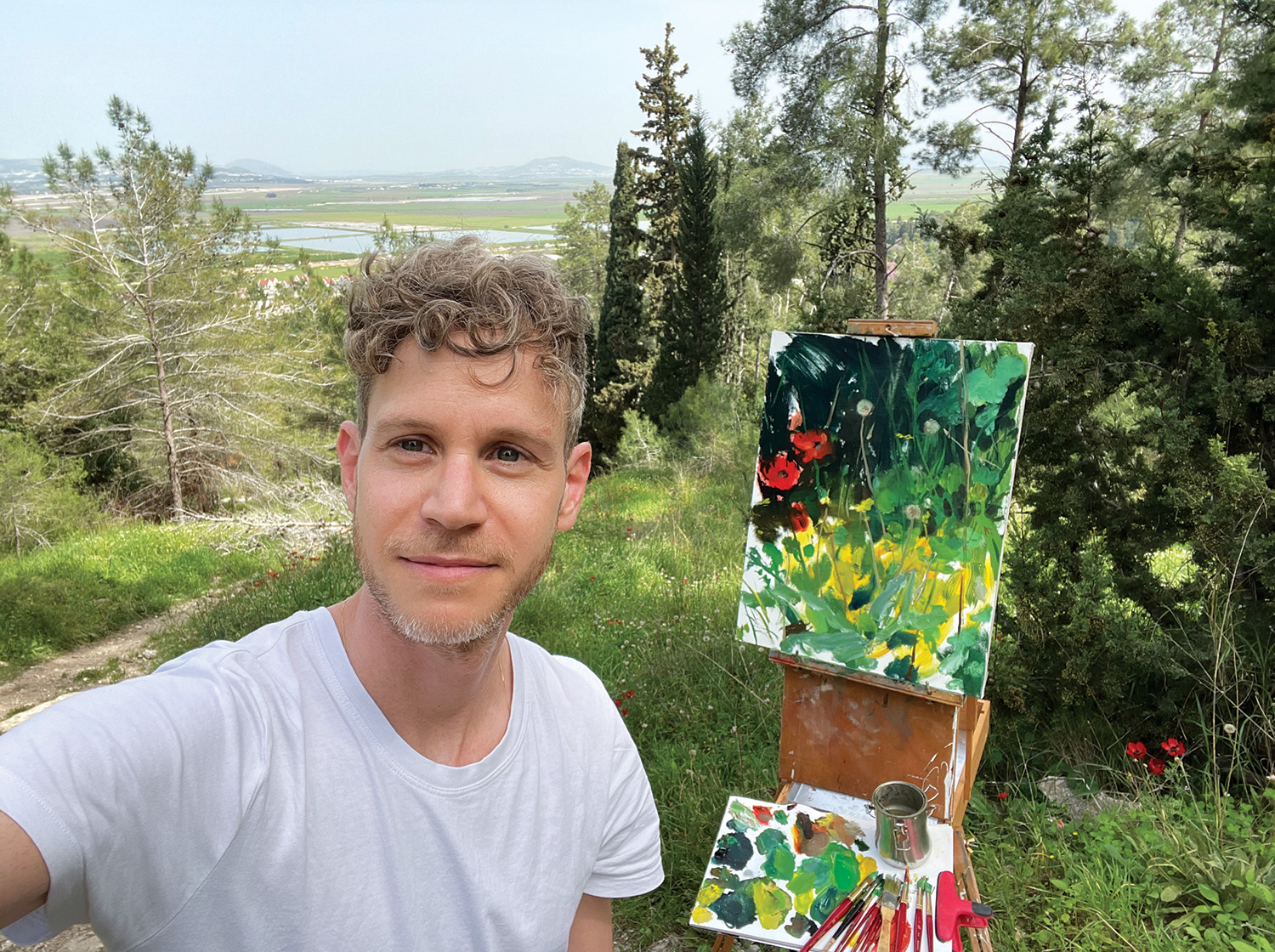 In 2020, Langberg made his first attempt, in the scenic dunes of the legendary gay getaway Fire Island Pines, New York, finding a sandy spot to put his French easel, paint tubes, brushes, and disposable palette. Sometimes he painted people, having his models sit for about 45 minutes, and other times, the local flora. "It was funny," says Langberg of pulling a Monet in an area famous for romantic trysts. "Everyone is doing their own thing regardless of what that might be. They look at me painting for a minute and then move on." He adds, "I have to have an emotional connection in my work, and there it's about being in a queer space with the potential for desire."
He returned to northern Israel to visit family in 2021 after the death of his sister. In a very different place—a valley surrounded by mountains—he found that working under the sun made sense for new reasons. "I had been so homesick," Langberg says. "Painting outside in a natural environment was a way to reconnect with home. I really needed that."
As a practical matter, he looks for simplicity. "I choose a place that's easy to paint in," he says. "I'm not interested in making it an adventure." And there's no doubt Langberg aligns with the general opinion Wittenberg sums up well. "Being outside is a beautiful experience," she says. "I think we all agree on that."
A version of this article first appeared in print in our 2023 Summer Issue under the headline "Fresh Air." Subscribe to the magazine.
Next Post