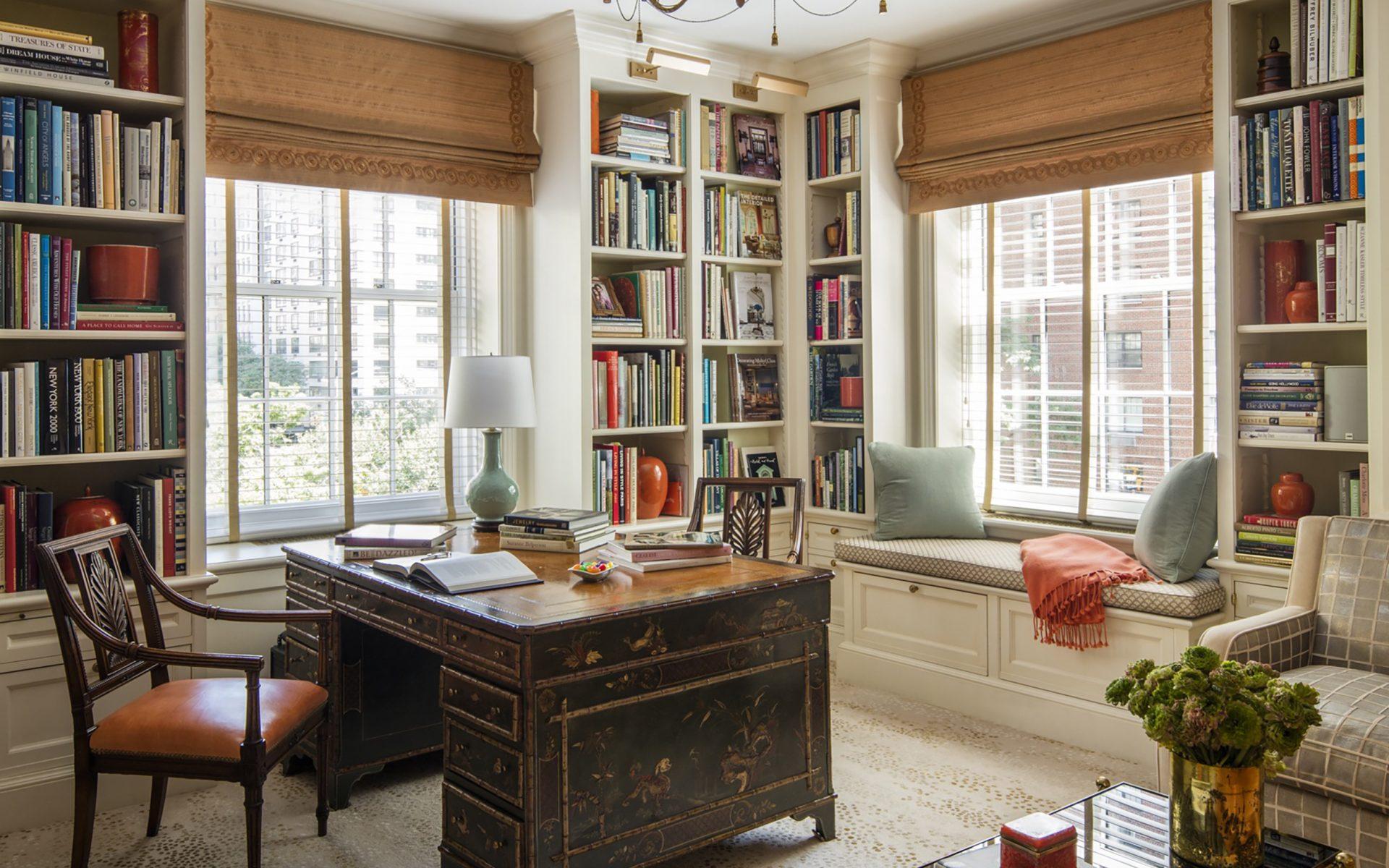 Office Hours: Inside Ellie Cullman's Home Work Space Above Park Avenue
The designer's private library boasts exceptional materials, a great mix of antiques, and an infusion of contemporary art
Design doyenne Ellie Cullman is revered for the precisely crafted, warm homes that she's dreamed up for clients at her firm, Cullman & Kravis, for over 35 years. Cullman's own person haven, a study nestled above Park Avenue in New York City, exhibits all the hallmarks of her distinct approach to decorating—exceptional materials, a great mix of antiques, and an infusion of contemporary art.
"The most important thing in any functional space is to make it beautiful," Cullman tells Galerie. "You spend a lot time in these functional spaces so they should refresh your soul." She understands that such private places aren't always where people spend the bulk of their interiors budget but promises, "there are a million things you can do."
Here's a look inside what makes her home work space so personal and attractive.
BOOK NOOK
"The computer is hidden, and all my books are here. I might have more than in the office, but all these bookshelves are highly edited and organized. There's something about having order around you that's rewarding and emotionally satisfying. I use them all the time for inspiration and for historical precedents. I love the window seat and have been hanging out there and looking onto Park Avenue to watch the traffic—or lack thereof."
Recommended: Former White House Designer Michael S. Smith's Home Work Space
TRADING DESK
"This fantastic Regency-style desk once belonged to Bunny Williams. I bought it about 20 years ago, when her husband, John Rosselli, had the store on 72nd Street. It's nice and big with so many drawers and cabinets. It's a partners desk, so I'm facing out and if someone comes to visit they can sit opposite."
SPACE PLAN
"It's very functional floor plan. The room isn't that crowded, so I can do stretches. I can sit at the desk and look at the television, sofa, and painting. I get such pleasure from the bright orange sofa."
ARTWORK
"The painting is by Monique van Genderen, who shows with Vielmetter in Los Angeles and Miles McEnery in New York. I'm crazy about the colors. My collection features a mix of works from the 19th century up to current times. I love it—all talking to each other. The only thing that hangs them together is that they're all American. So that's the one theme discipline."
LIGHT BRIGHT
"I started with the chandelier to keep the ceiling bright and cheerful, then I layered in table lamps. Now the bookcase lamps are outfitted with LEDs, so they light the whole elevation of books and not just top two shelves. Then the art light over the painting is really large and perfectly illuminates the entire way down the piece. Lighting has undergone such a transformation. If you get the lighting right the room glows. Plus, the natural light is so nice because of the double exposure."
GOLDEN TOUCH
"I love the chair because it's more transitional. It's straighter in line, and the velvet is hand painted in gold by Sabina Fay Braxton, with whom we do custom fabrics. The sprinkling of gold is painterly and uneven. I like the idea of the contrast velvet for a real crispness. Also, the walls of the study were handwoven by Claudio Chicco of Atelier Textiles de Prestige, who does couture clothing and has now branched out into interior design, and there's a subtle shimmer when the light catches the gold flecks."
Next Post