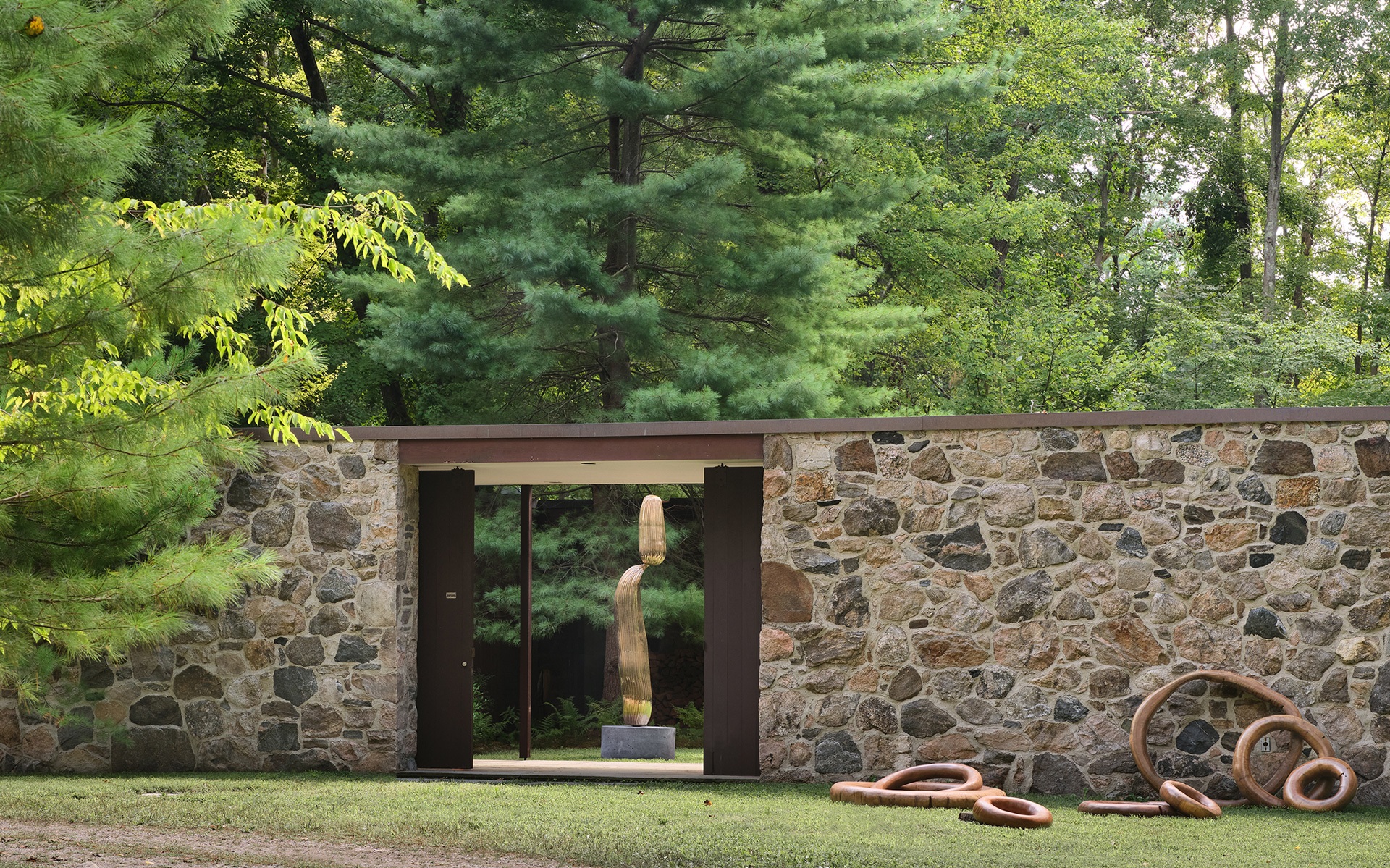 Eliot Noyes's Midcentury Modern Home Opens For the First Time with an Inspiring Exhibit
Presented by the art and design fair Object & Thing with galleries Blum & Poe and Mendes Wood, the show features contemporary works sprinkled throughout the iconic residence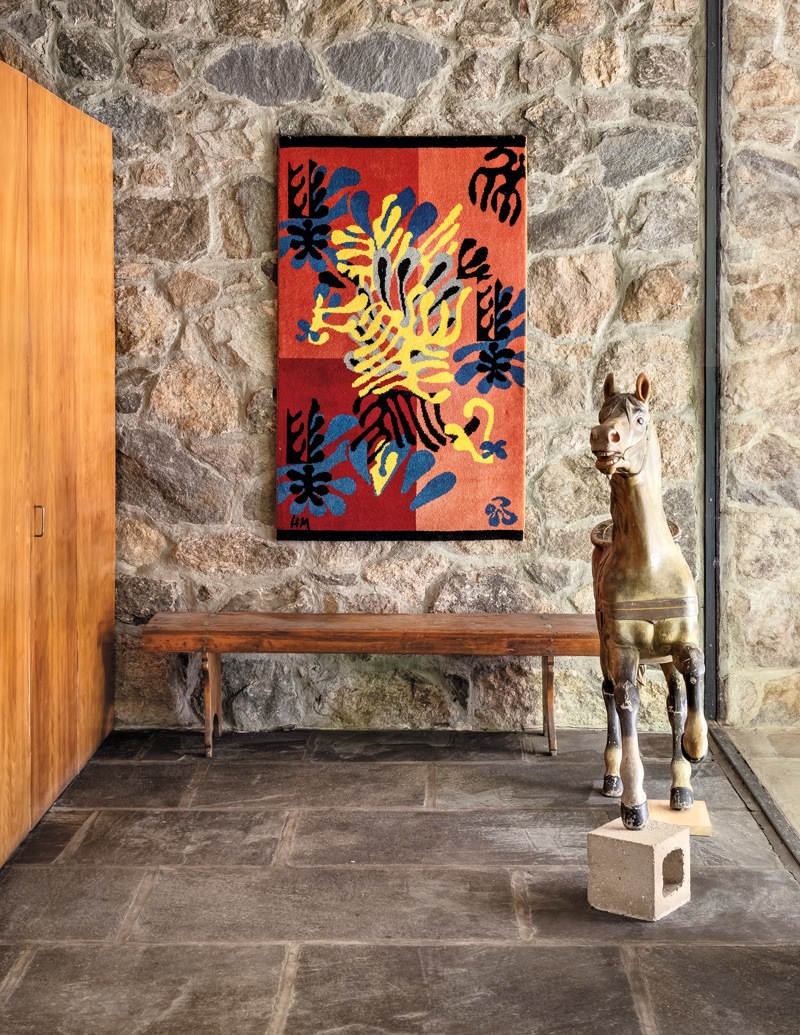 The picturesque town of New Canaan, Connecticut, is a hotbed of midcentury-modern masterpieces, thanks to the so-called Harvard Five, a group of innovative architects who settled there in the mid-1940s, spearheaded by Eliot Noyes. And while the most well-known architectural treasure is perhaps Philip Johnson's Glass House, it was actually Noyes who first settled in this serene part of New England and established the movement. Design aficionados now get the rare chance to go inside Noyes's visionary 1954 family home, which has just opened to the public for the first time with an ambitious new exhibition, on view through November 2020. 
Presented by the out-of-the-box design fair Object & Thing with art galleries Blum & Poe and Mendes Wood, the show includes works by 34 contemporary artists and designers which are sprinkled throughout the iconic residence that has been meticulously preserved with its original furniture.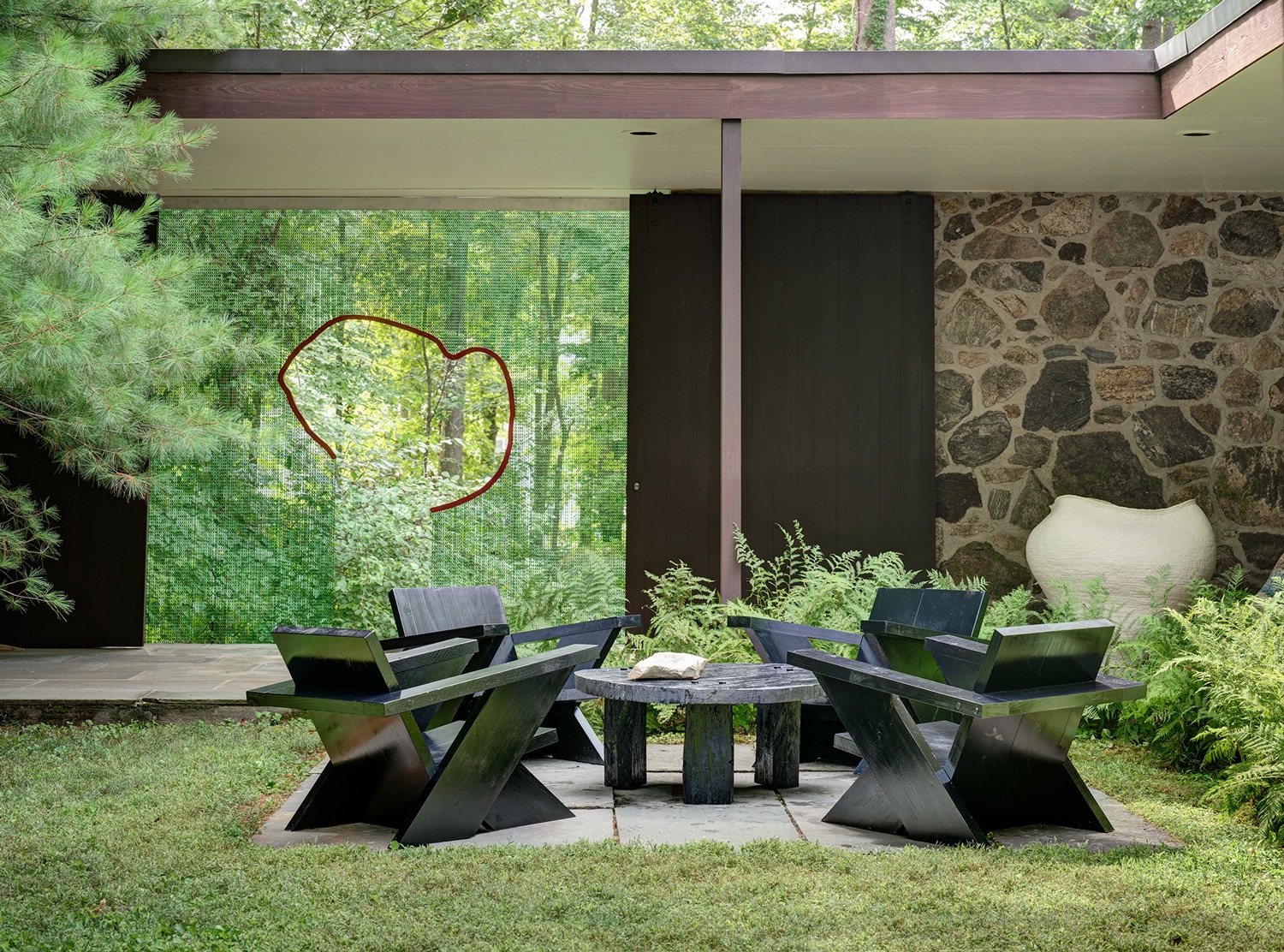 It all began earlier this year, when the art world came to a grinding halt due to COVID-19. New Canaan resident Abby Bangser, the founder and creative director of Object & Thing, had been going on hikes with her husband, a director at Blum & Poe, and discussing the creative possibilities of being able to physically show art during such an uncertain time. "I originally launched the fair in 2019 as a different model to the typical fair and this exhibition has the same spirit," Banger tells Galerie. "I wanted to make sure art and design would be mixed together again. And I felt it was important for people to be able to physically experience the space."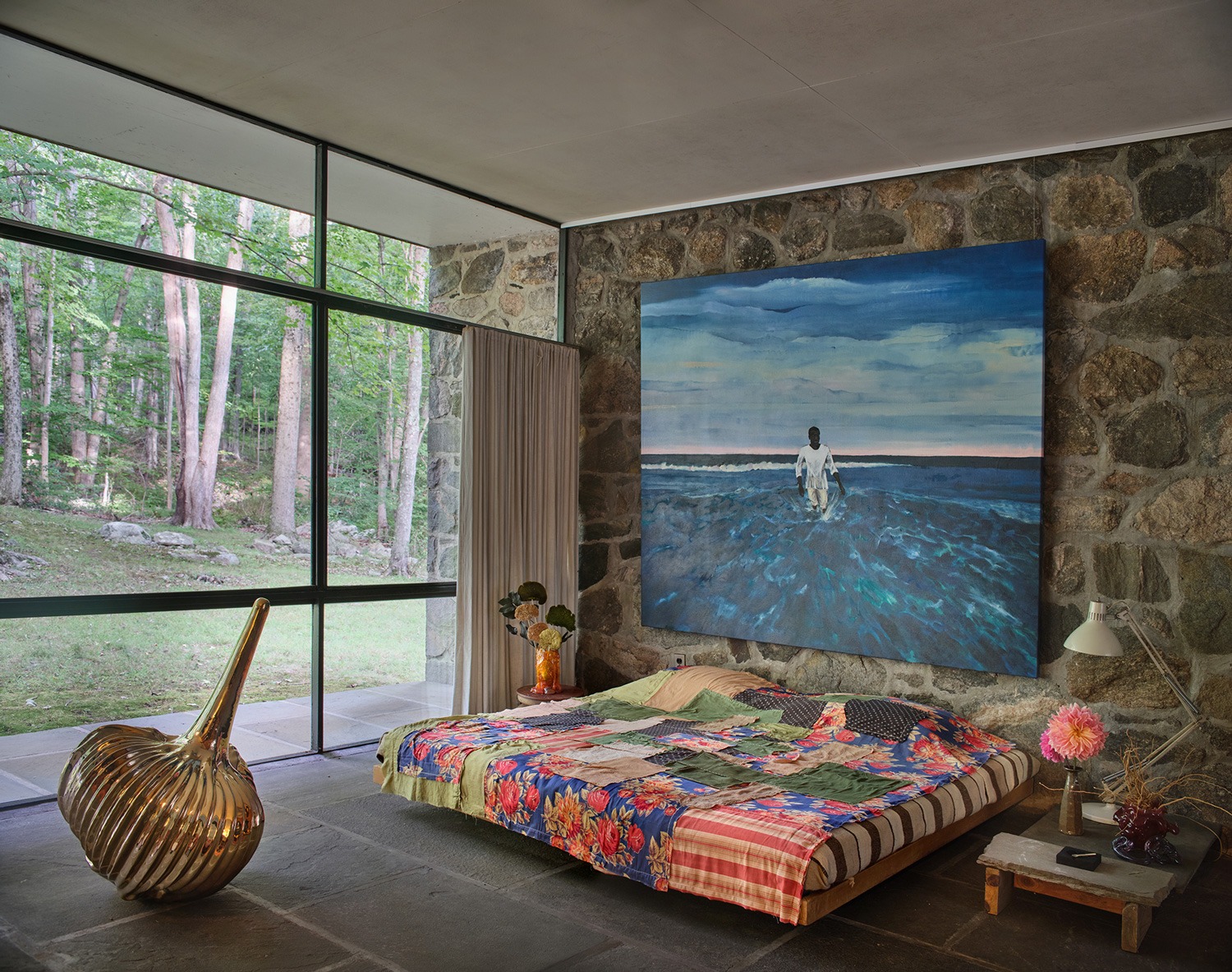 The pair were already familiar with the Noyes House, which they had helped become a part of the Connecticut Trust for Historic Preservation the year before. "The building codes up here were more relaxed than in New York so it became an absolute hot spot," explains Bangser, who lives in a midcentury home herself. "Eliot was the first to come here and was inspired by the landscape. He ended up moving his whole practice to New Canaan."
Noyes, who was formerly the head of the Museum of Modern Art's industrial design department and worked on projects for IBM and Mobil, was also an art collector and surrounded himself with treasured objects, which was a particular draw for the project. The Noyes family, for example, was friends with artists like Alexander Calder, whose sculpture Black Beast I—which has since been donated to MoMA—was made especially for the home's courtyard. There were also works by Isamu Noguchi and Pablo Picasso and an eclectic collection of tapestries, folk art, and even a cheerful vintage giraffe sculpture originating from a carousel. "The way Eliot lived with art is a huge inspiration," says Bangser.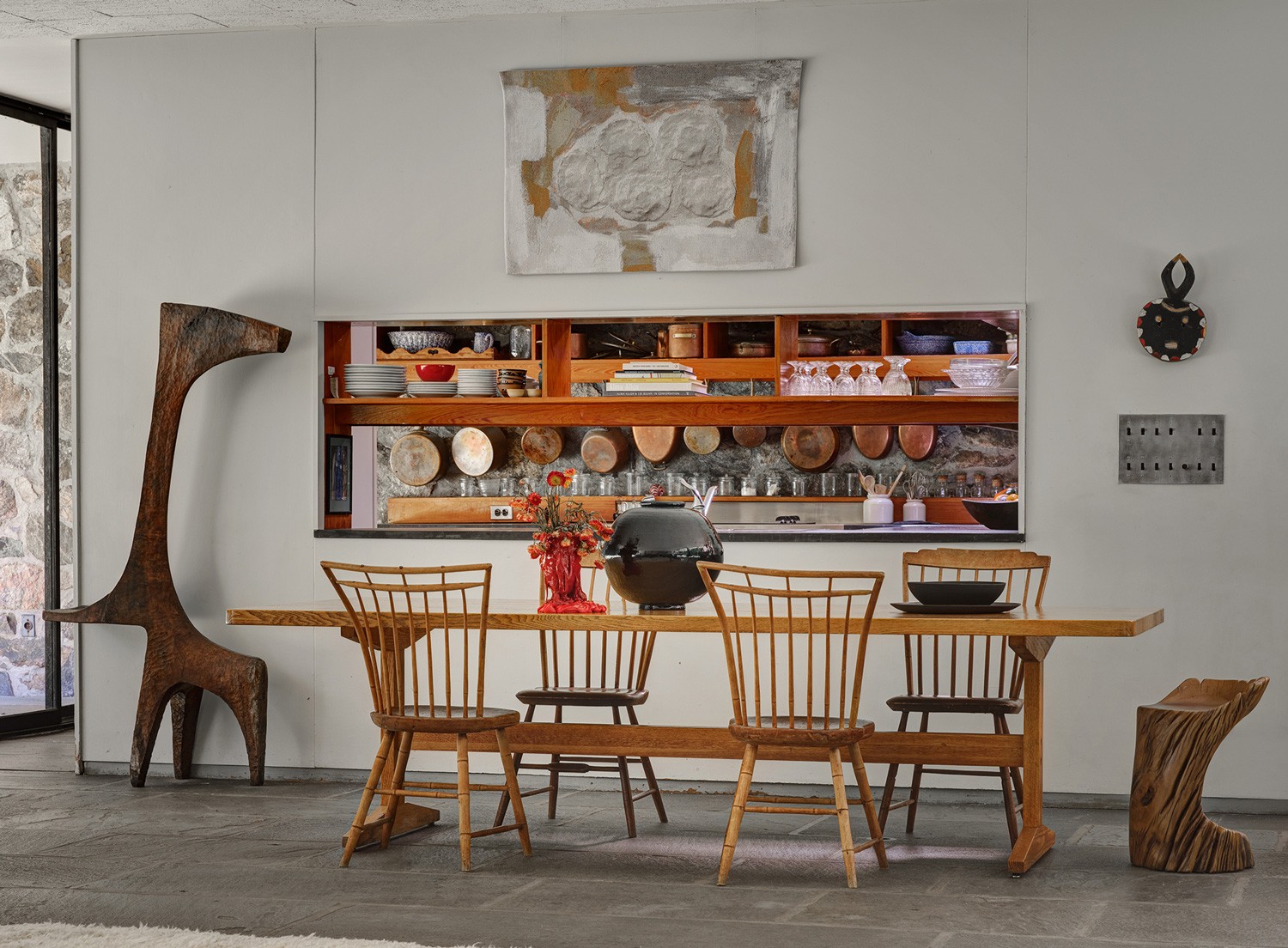 Visitors are greeted by a cluster of large-scale works in the interior courtyard, which sets the perfect stage for sculpture. A towering, nine-foot bronze-pleated sculpture by American sculptor Alma Allen makes a splash, while nearby, there are groupings of organic ceramic vessels by the lauded Japanese artist Kazunori Hamana, which nod to tsubo, an ancient jar once used to store food. New York's Green River Project LLC worked from original photos of the home to craft their modern, pine coffee table and pine-board deck chairs.
On a private tour, Bangser points out the daring nature of the home's indoor-outdoor design. "It was so unique and bold that someone would build a house like this for their family," she tells Galerie. "You have to walk outside through the courtyard to get to the bedrooms—so imagine the snow or the rain! For Eliot, the idea was you feel the weather, and you pause and engage with nature."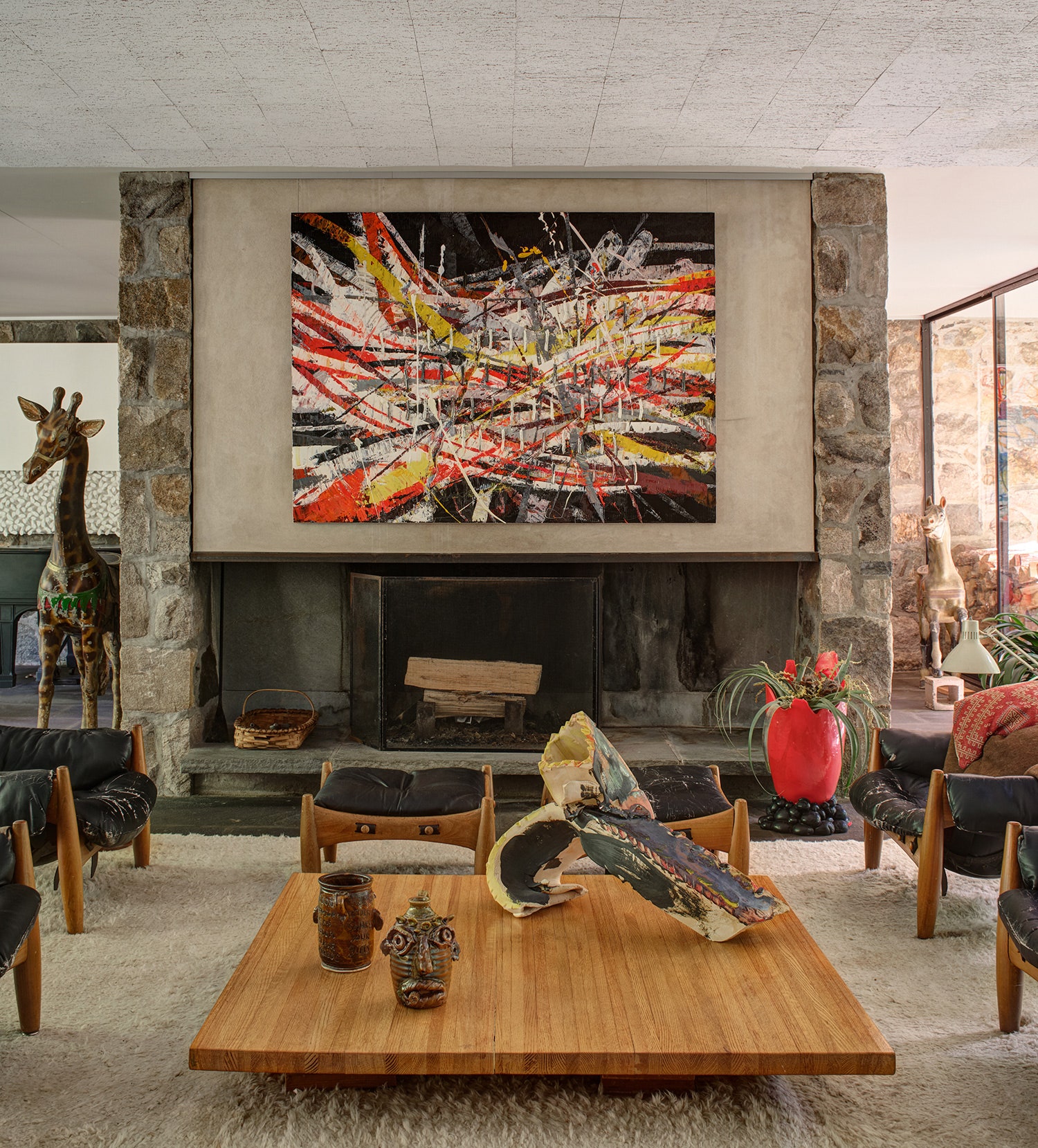 In the open-plan living room, Los Angeles artist Mark Grotjahn expanded his "Capri" series with a large-scale painting that was made specifically to hang horizontally over the fireplace. It's complemented by Large Red Pebble Vase, one of Gaetano Pesce's poured resin pieces, and on the coffee table (flanked by original Eames chairs, no less) there are expressionistic face jugs by American potter Jim McDowell and a striking sculpture by artist Lynda Benglis. Nearby, an original copy of Life magazine from 1963 with the Noyes home on the cover gives visitors a glimpse of the past. "We wanted people to see how they lived, and almost everything is still in its place," Bangser says, who worked closely with Object & Thing co-founder Rafael de Cárdenas and Eliot's son, Fred, in the placement.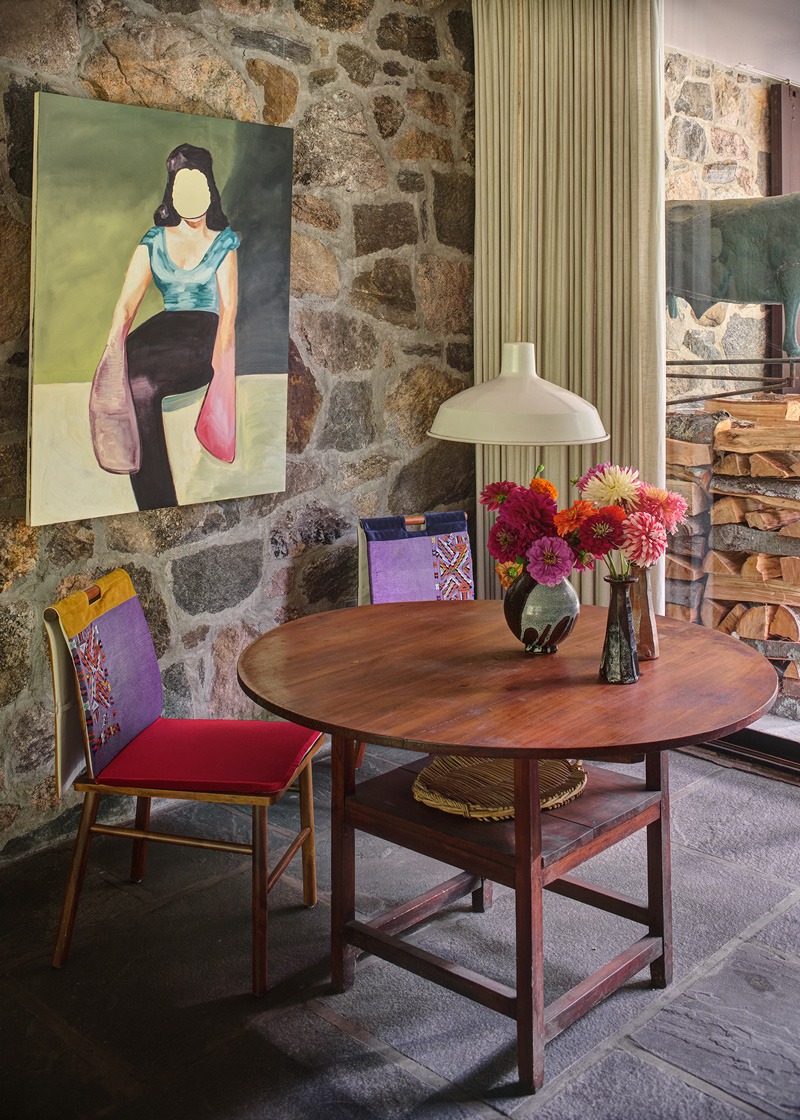 The master bedroom contains a mesmerizing painting by Brazilian artist Antonio Obá displayed against the original exposed-stone wall. The gestural work, titled Wade in the Water II, is an ode to George Floyd, depicting a young Black man pushing forward through rough, choppy seas. The buzzworthy young Japanese-American artist Megumi Shauna Arai crafted a colorful collage-style quilt for the bed. Vibrant floral touches add a warm sense of homeliness throughout, thanks to the local potter Frances Palmer, who is for the first time exhibiting her experiments with ash-fired pots, filled with arrangements brought from her Connecticut garden every few days. Similarly, the Gaetano Pesce melting resin pots are brought to life with Ikebana displays. "We want to show that the art and design should be lived with," Bangser says. "I really want people to know about Eliot Noyes and I love that we are able to continue his incredible legacy with contemporary voices."
The exhibition is on view through November 28, and appointments can be scheduled via blumandpoe.com, mendeswooddm.com, or object-thing.com. 
A version of this article first appeared in print in our 2020 Fall issue. Subscribe to the magazine.
Next Post