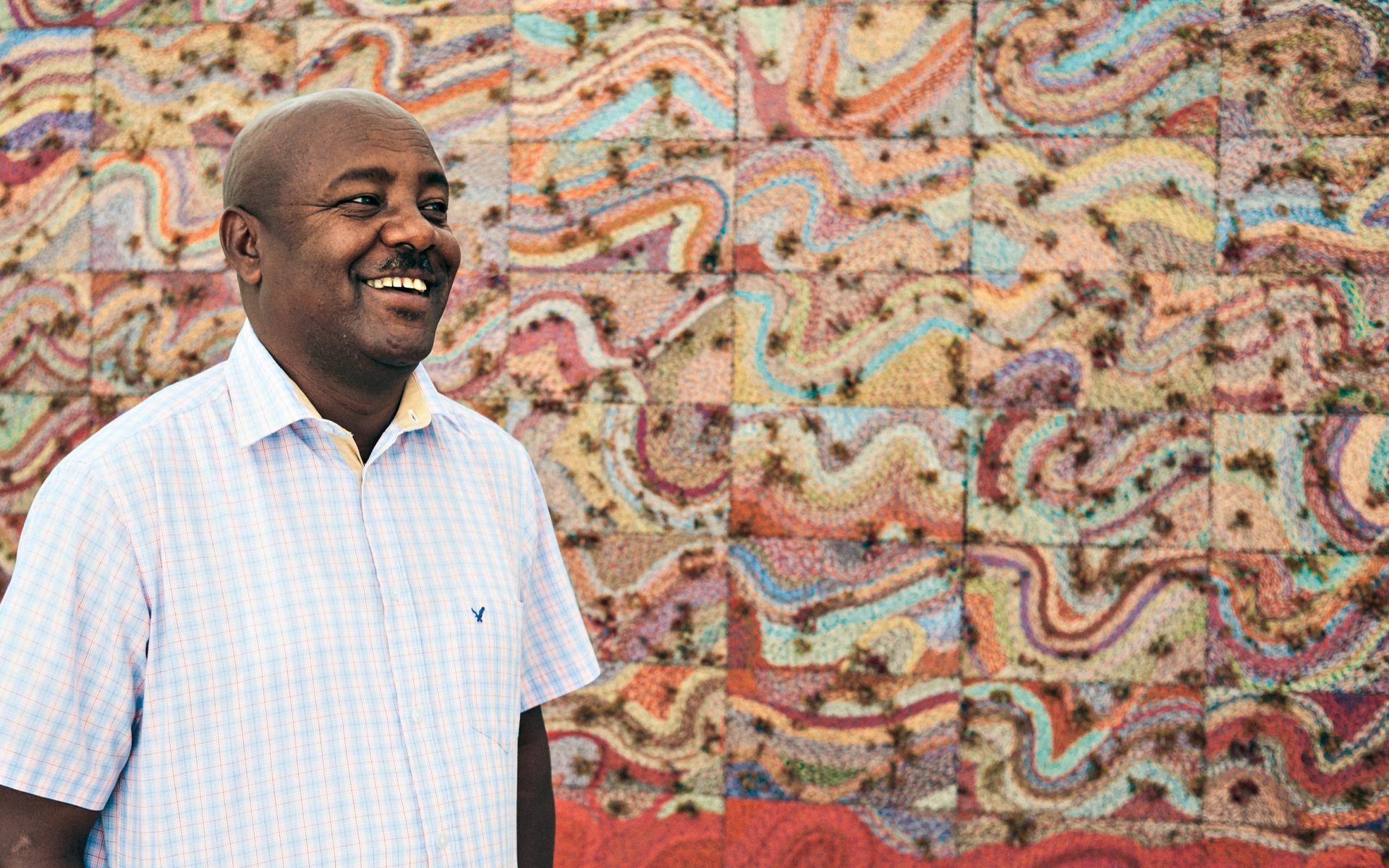 Ethiopian Artist Elias Sime's First Major Show Goes on View at the Wellin Museum
The wildly talented artist transforms discarded computer keys and wires into intricate abstract works of painstaking beauty
From a distance, Ethiopian artist Elias Sime's wall-mounted pieces look like abstract paintings, geometric patterns of beautiful colors ranging from neon shades to muted earth tones locked in a tight grid. But on closer inspection, you see that the large-scale works combine intricate arrangements of discarded items—finely braided electrical wires in a rainbow of pigments, mosaics of computer keys, or compilations made from electrical motherboards—in compositions that are at once mesmerizing and disquieting.
Sime's masterful assemblages are now on view in the exhibition "Elias Sime: Tightrope," the first major traveling survey of his work. Mounted at the Wellin Museum of Art at Hamilton College in Clinton, New York, through December 8, the show highlights Sime's output of the past decade alongside some important early pieces in a grouping that "explores what unites us as humans," says Tracy L. Adler, the museum's Johnson-Pote director, who curated the show. "Now is an important time to present Elias's work, when, as a society, we are seeking a sense of community, shared experiences, and human connection."
The exhibition's title—taken from Sime's "Tightrope" series of works, which date from 2009 to this year and are made from reclaimed electronic elements—refers to the contradiction inherent in both the progress technology has fostered and its negative impact on the environment. "His repurposing of materials made for other uses both draws our attention to their latent aesthetic value and complicates the dialogue around materiality in contemporary life," says Adler. "Elias is a humanist in his approach to art, in which the concept and the materials are arrived at simultaneously."
Recommended: How Touria El Glaoui Is Bringing African Art to the Forefront
The foundation for Sime's art was sparked during the artist's childhood in Addis Ababa, Ethiopia's sprawling capital. Sime grew up in a neighborhood with an open market and recalls that "when the merchants went home, they used to leave behind all kinds of interesting material," which he transformed into toys for his friends. After graduating from the Alle School of Fine Arts and Design at Addis Ababa University, he started making collages from plastic. "I was fascinated about how quickly the production and consumption of plastic has taken place over the whole country and in fact the whole world," says the artist, noting that he used the material for collages "about all kinds of issues that moved me."
In addition to the "Tightrope" pieces, the exhibition includes works from "Ants and Ceramicists," a series that Sime began in 2003, in which stitched yarn on dyed canvas often incorporates found objects—a commentary, the museum says, on "the resiliency and community of both ants and traditional artisans."
Also on view will be two new works, as well as Flowers & Roots, a large-scale, site-specific sculpture made of discarded computer parts, electrical wire, bronze, and cement that was built with the assistance of a group of students from Hamilton College.
Sime's interest in education and collaboration extends beyond the current installation—the artist founded and designed the Zoma Museum in Addis Ababa alongside curator and anthropologist Meskerem Assegued. Built with traditional techniques using mud, straw, stone, wood, and cement, the museum, which opened in March, is intended to "showcase all forms of innovative and cutting-edge art, vernacular architecture, and rare and extinct indigenous vegetation in an artistically designed landscape," says Sime. It incorporates two schools—one that teaches children through art, gardening, and cooking, and another where young architects learn the construction techniques of vernacular architecture.
Next up, "Tightrope" will travel to Ohio's Akron Art Museum in February 2020, followed by the Kemper Museum of Contemporary Art in Kansas City, Missouri, and the Royal Ontario Museum in Toronto. There's no doubt there will be many more objects and inspirations to discover along the way.
A version of this article first appeared in print in our 2019 Late Fall issue under the headline "Tightly Woven." Subscribe to the magazine.
Next Post