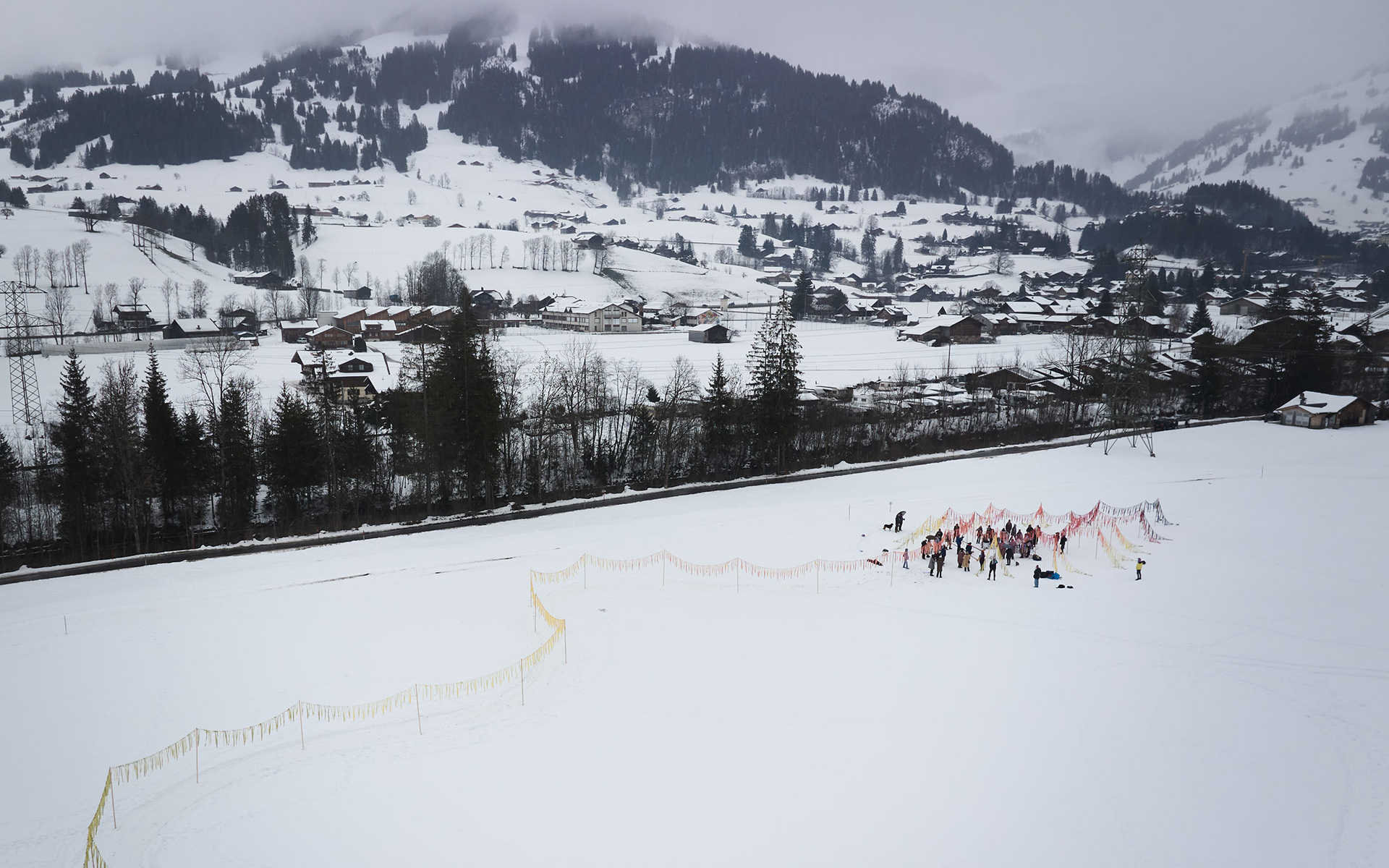 The Swiss Alps Provide a Dramatic Backdrop for Ethereal Works of Art
Elevation 1049, the biannual performance program in Gstaad, united the art world and ski lovers through cutting-edge performances and installations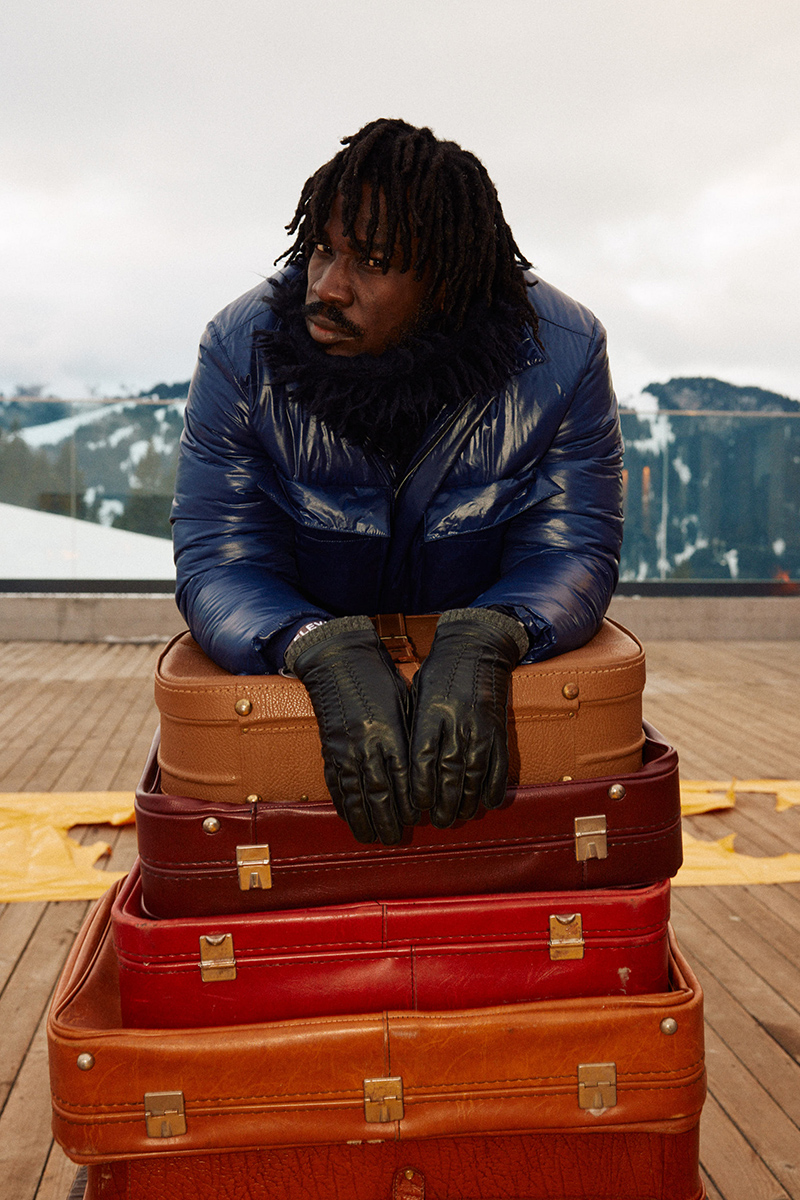 On the first Saturday of February, a group of curious onlookers in heavy coats and snow boots gathered around the "Eisbahn" in Gstaad's quaint downtown. In lieu of the usual skiers on the Swiss resort town's main ice rink was a stage dressed in electric cords, synthesizers, boom machines, and a few buckets, while the sound of ice being carved by sharp ski blades was replaced by howling electronic tunes. The audience was in for treat: sound artist Tarek Attoui's orchestration of synthesized beats and echoing rhythms with his equipments and some water on top of thick ice.
The Paris-based Lebanese artist's performance, The Ice Drifter, was one of 11 artist projects placed around the tiny yet popular winter sports hub as part of the biannual performance series Elevation 1049. Organized by Los Angeles curator Neville Wakefield and New York artist Olympia Scarry with support from Maja Hoffmann's LUMA Foundation, the three-day affair brought an interesting medley of crowds to the town renowned for its steep slopes, ritzy hotels, and legacy as an escape for Hollywood stars such as Elizabeth Taylor and Julie Andrews. During the weekend-long programming, the town's snow-covered streets, mountain peaks, church, airport hangar—and even the spa at HUUS Hotel—hosted a suite of performances by international artists, among them Ernesto Neto, Serge Attukwei Clottey, Mimosa Echard, Jon Rafman, Michele Rizzo, and Simon Beck.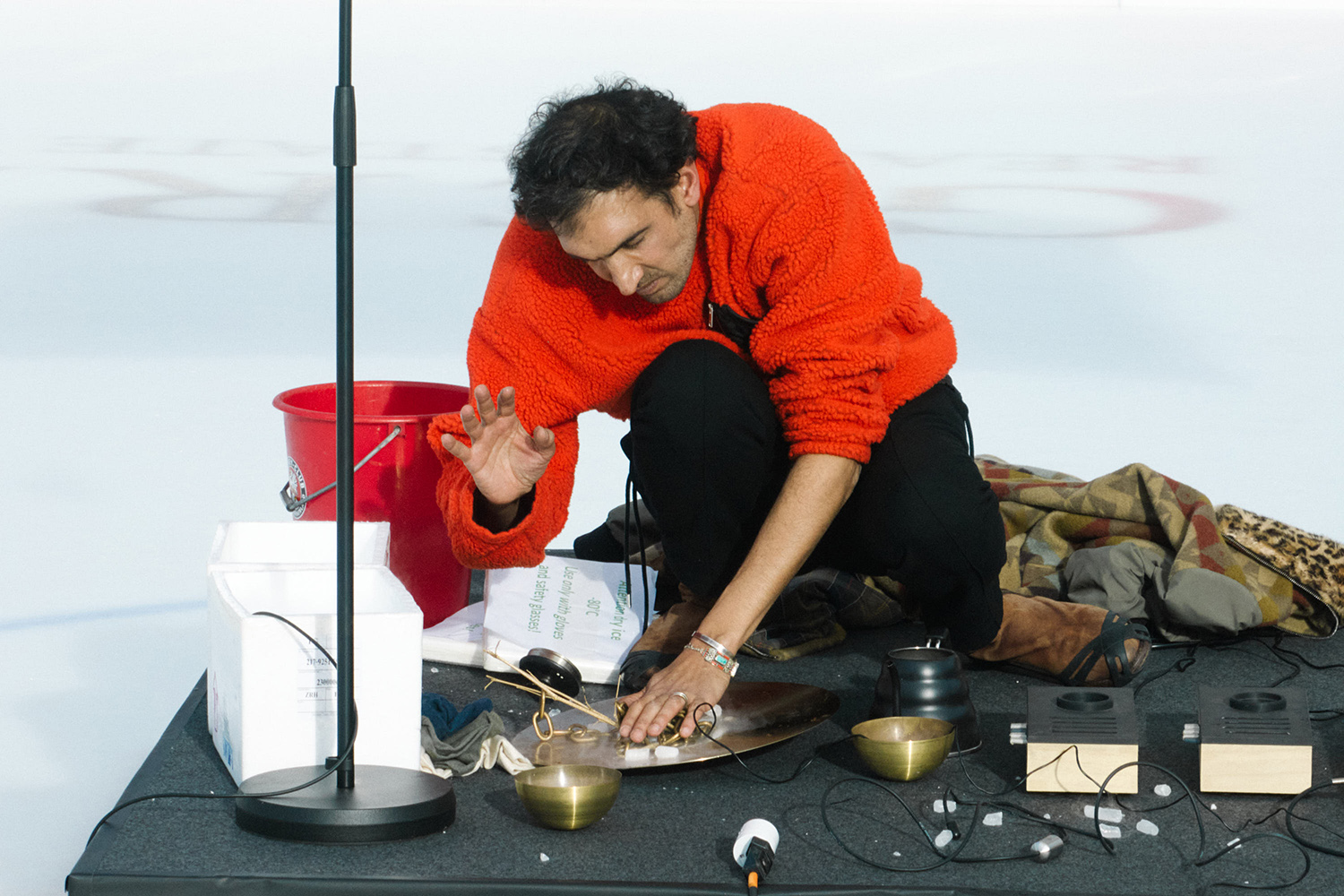 "A decade ago, there were no galleries in town while there is an incredible amount of wealth and art, all indoors," Wakefield told Galerie. Also serving as curator of Desert X, the public art exhibition series in the Coachella Valley and the historic desert city of AlUla in Saudi Arabia, Wakefield is invested in the idea of art interjecting into a particular landscape and climate. Snow and low temperatures, in this case, attract him to combine the notion of public sculpture with temporality. The notions of "performance and ritual" occupied his vision for this year's iteration, which was titled Interstices.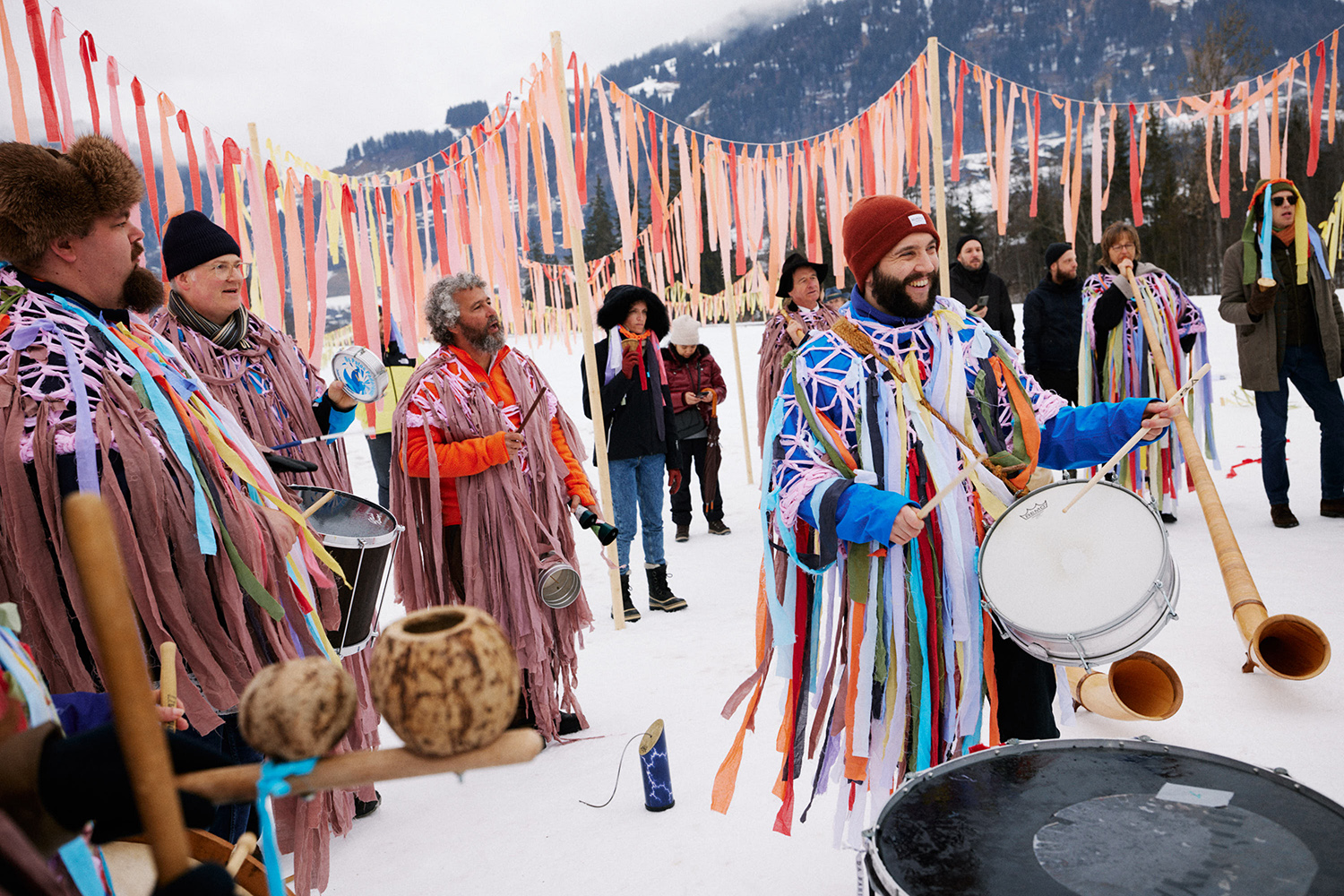 The program kicked off on Friday by Healing Bug Acupun Earth, a ritualistic performance by Neto and a group of Swiss and Brazilian musicians around the Brazilian artist's installation, located at the bottom of a busy ski slope. The sprawling installation of cuts of colorful clothes hung onto sticks, which is the project's only work to remain on view until April, contrasts with snow's blinding whiteness and cloudy texture.
Later, Italian multi-media artist Michele Rizzo's sexy dance performance, Higher XTN, featured multiple dancers and brought the energy of Berlin's notorious techno club Berghain to the town's airport hangar. With booming beats on repeat, the dancers in '90s-inspired über urban attires swayed around an imaginary dance floor while throwing occasional flirting looks at one another yet avoiding any touch.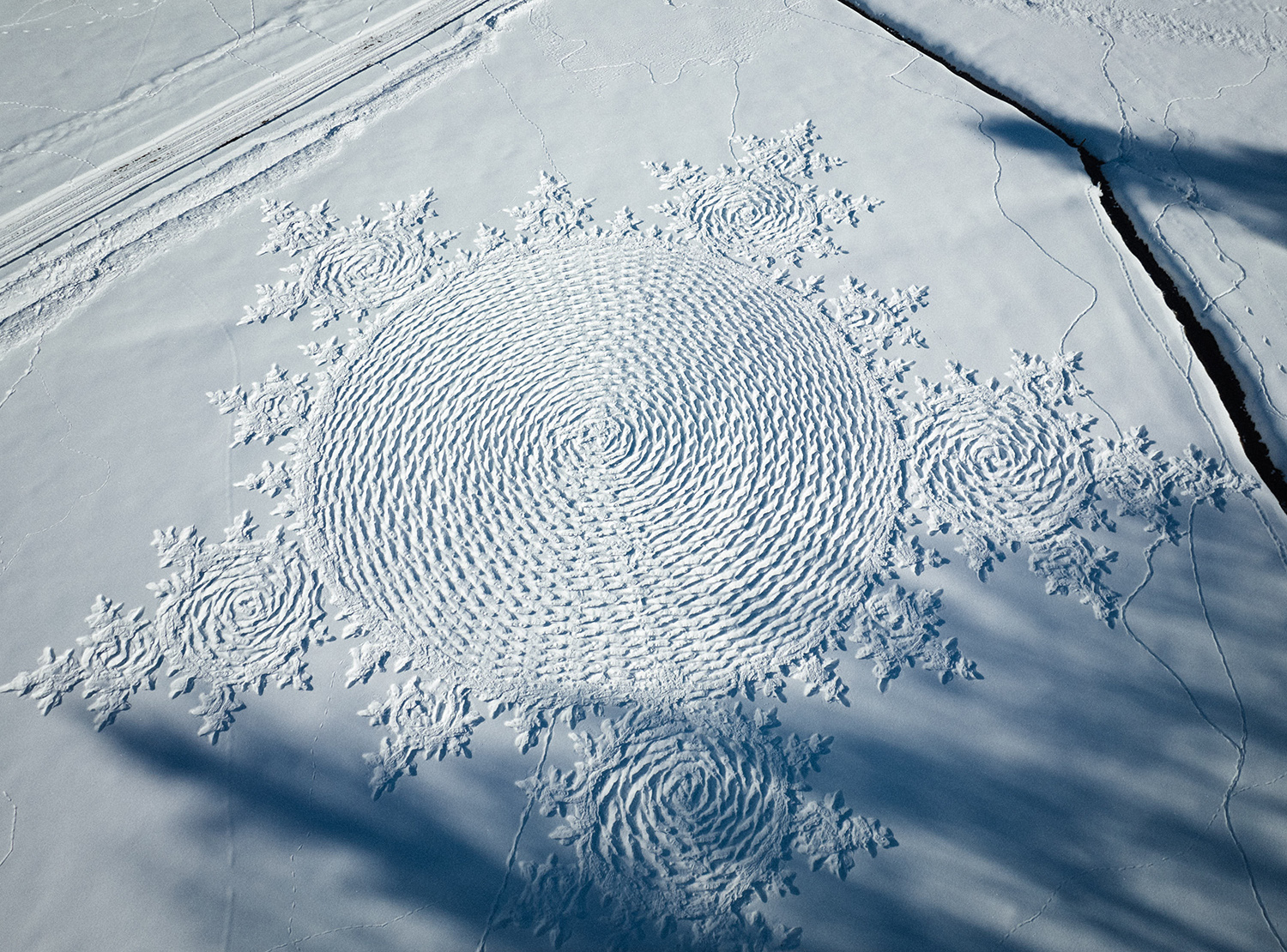 The slippery and ethereal nature of performances that took place around a town where the local population is less than 10,000 embodied the moment's very reality, especially when the art and the audience were surrounded by dramatic backdrops conjured by nature. Perhaps the most direct response to the show's theme was Simon Beck's massive mantra-like motifs, which he carved onto snow in various locations. The British artist's time-consuming yet short-lived "snow paintings," which beg for bird's eye viewing from hill tops, were testimonies to the curator's idea of art "that may disappear immediately or slowly over time but lives as a myth."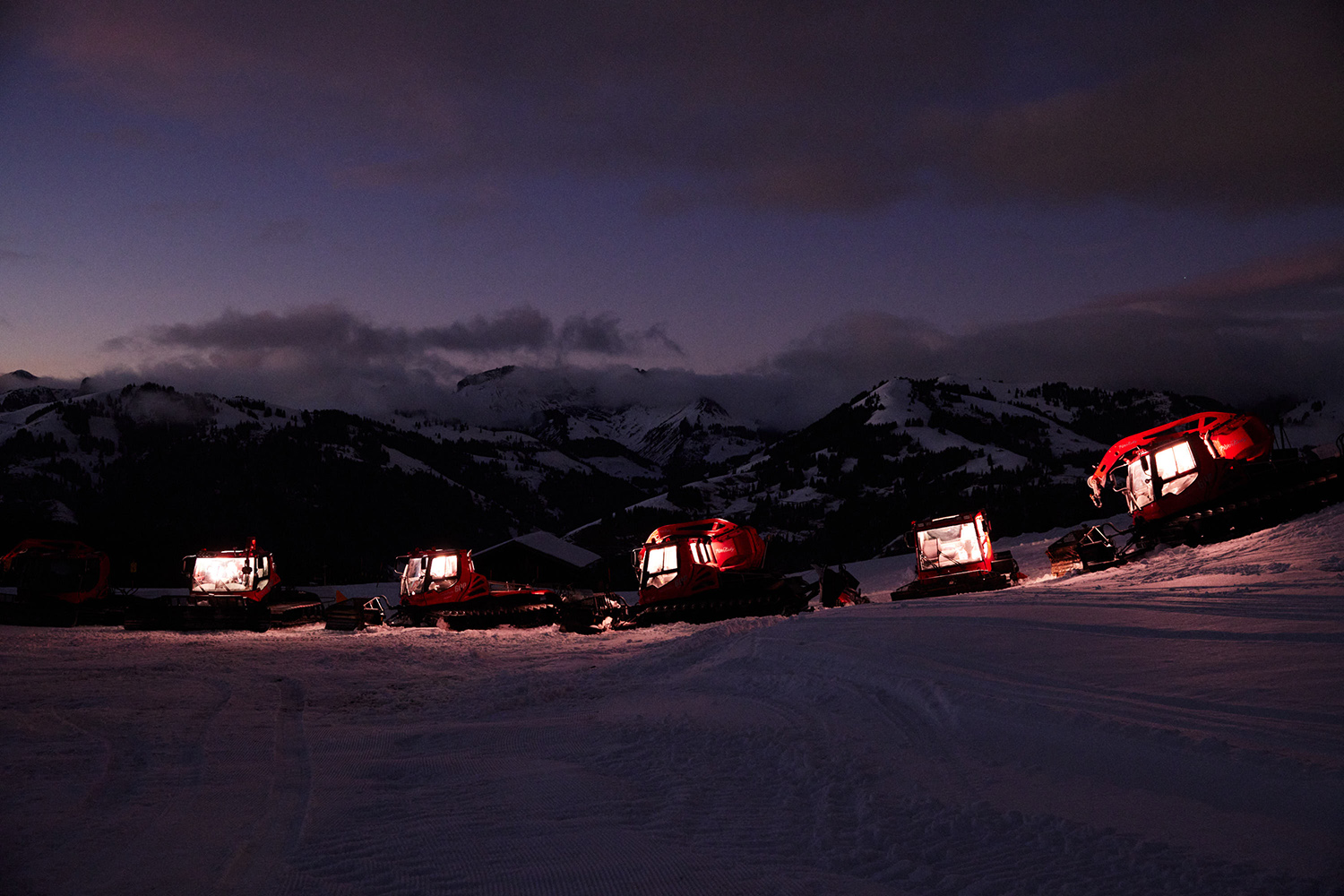 For Saturday evening's two performances on top of the Eggli Mountain, the guests—which included the artist Doug Aitken, who showed at the 2019 iteration—hopped on gondola lifts with spectacular Gstaad views. Berlin-based Albanian artist Silva Agostini's Music Requisites played excerpts from Richard Wagner's first opera, Die Feen from 1888, inside ten metal car chassis used for flattening the snow. Fluctuating between high notes and calmness, the concert started with the waning of the sun and snow's turn into a dark grey hue from light silver. With each car slowly being lit and playing loud music, Wagner's notes crescendoed at the tenth vehicle, illuminating the freezing peak with sonic warmth.
Later, the guests took a few steps up to the wooden patio with mulled wine in hand for Clottey's performance Lost and Found. The Accra-based mixed media artist had placed what he calls a "yellow brick road" made out of up-cycled plastic from water galloons which he commonly uses in massive scales in installations and performances. His ritualistic performance—a nod to drift, migration, and commerce—echoed the carved-out bodily gestures across the material's surface, echoing dancers' moves.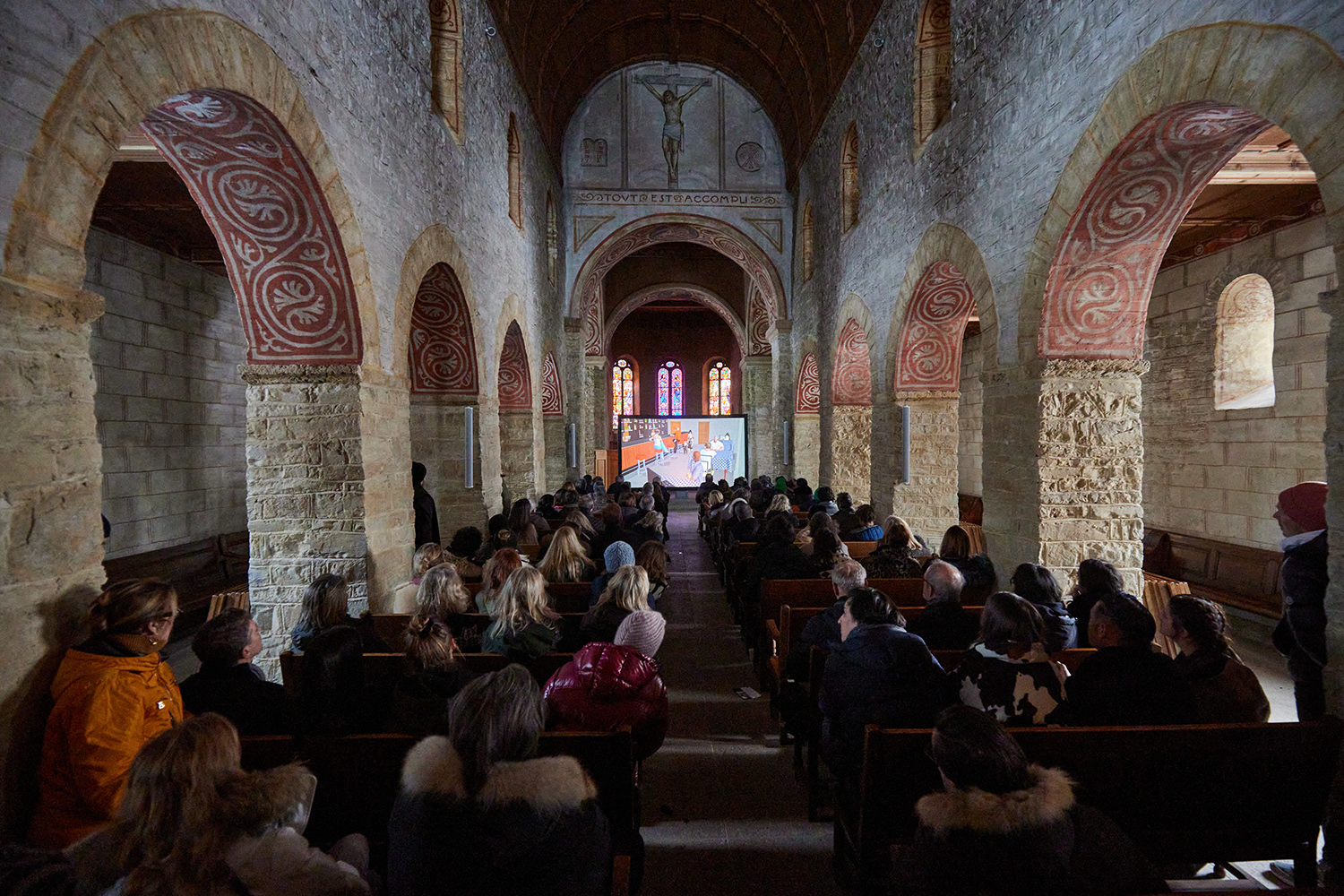 The evening was finalized with a dinner at Club de Luge hosted by the LUMA Foundation and Gagosian, which has recently opened a location in Gstaad. In her brief toast, the evening's host, the foundation's founder Swiss philanthropist and collector Maya Hoffman, talked about the unique atmosphere of the performances and the excitement of bringing new artists to town. The next morning, Wakefield gathered a few artists from the show at the village's historic Hotel Olden, including Neto, who expressed his admiration of the surrounding nature. "I never saw the moon as much as I did here—one thing you can always trust is the sun and the moon."
Next Post