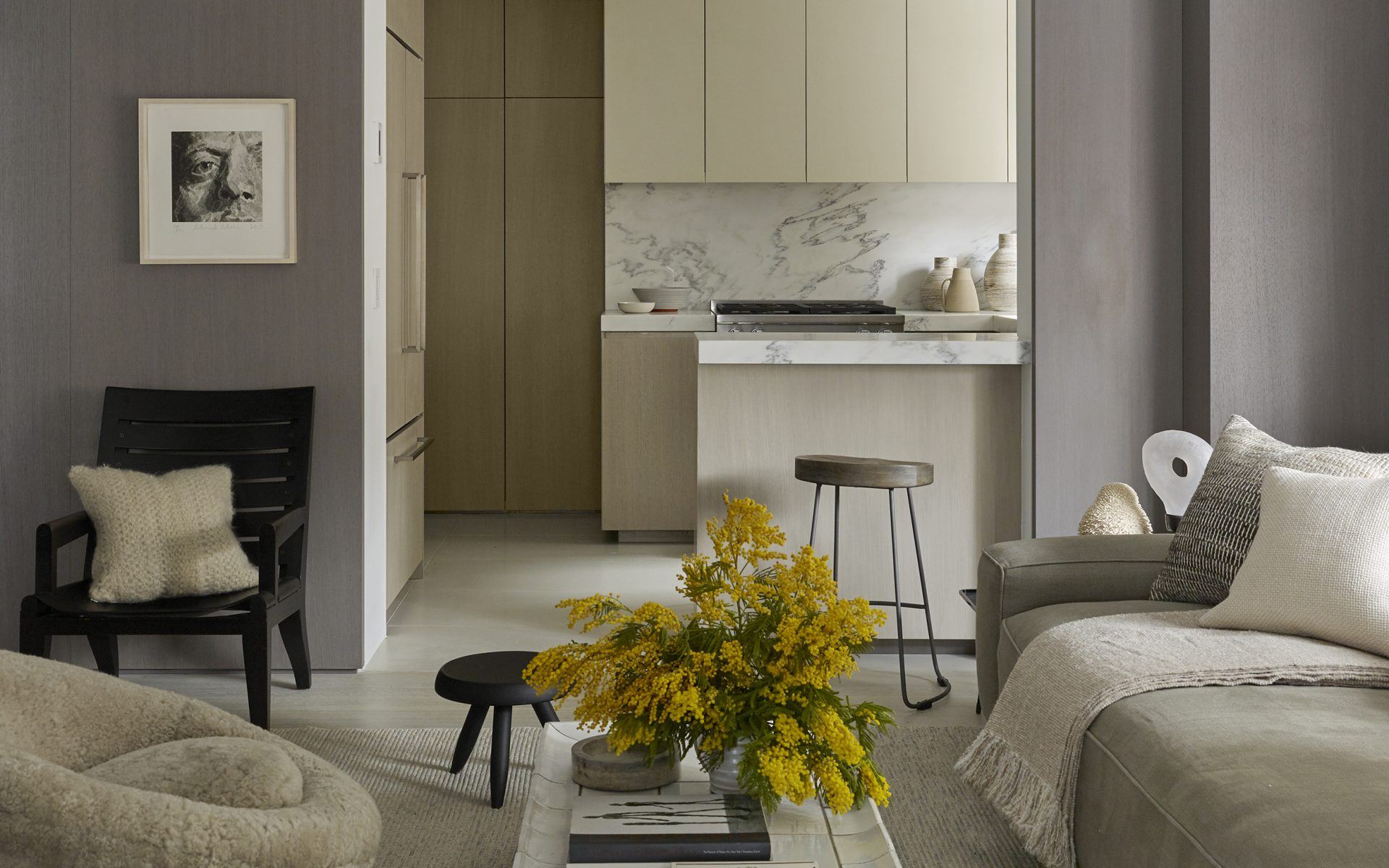 Office Hours: How Edward Yedid Works from Home in New York City
The Grade Architecture and Interior Design partner reveals the design details that allow him to be productive while spending time with his family
For Edward Yedid, who is a founder and partner in Grade Architecture and Interior Design, his New York duplex apartment is all about family. As a native of the Upper East Side, Yedid feels at home in this neighborhood but definitely wanted to give the apartment, which hadn't been touched since the 1960s, a refresh that reflects his contemporary style.
The revised layout allows for a gallery space off the stair hall entry with a sculpture by Bosco Sodi, which leads to a living and dining area as well as a family room and kitchen, which can be closed off with pocket doors.
Recommended: Jeweler and Artemest Founder Ippolita Rostagno's Home Work Space
This family room serves as both the hub of the home and Yedid's work space. "To have a home office is important to me. It's an extension of our main office," he tells Galerie. "It allows me to be home more with my family." Here, he shares how he designed the space to optimize working from home while staying connected to his wife, Sally, and baby.
FLOOR PLANS
"Typically, in a layout of this type of apartment, there's a closed kitchen. Instead, we moved the dining room off the family room. That way we could keep the kitchen open to the room so I could work and be around my family. The plan allows me to work while being surrounded by things I love. Since the kitchen is right there, I can work while my wife cooks. Then we can eat together, and I can get back to what I need to do. I'm someone who has a passion for what they do and thinks about it all day long but also wants to be with the family. It's the heart of the home."
HIDE-AND-SEEK
"Although the room is open, we can close off the doors. It's the perfect way to hide off anything from guests, especially baby toys. Plus, there are built-ins throughout that conceal printers, paper, all the things that need to be out of sight when not in use."
REFINED PALETTE
"I created the palette to give a feeling of comfort and safety. The gray tones of ash and cinder in the woodwork make this a warm, cozy room. The library and the desk are stained in a lighter shade to differentiate their function."
KEEP CALM
"There's a softness here, which makes it inspiring and calming. It's completely different from the feeling of Grade's office downtown. Since the room is centered inside the apartment, it's removed from the city and buffered from the noise and distractions of the city, especially with the doors that slide to close off the room. Since it's a duplex I can work at any time and not disturb the family. I can make a Nespresso at any hour of the day and get to work while they're still sleeping."
DESK MATE
"I had always wanted a Pierre Jeanneret chair, and it's the first piece we bought when we decided to design this apartment. The desk had to be designed around it so the arms would fit under, and there's a mitered corner with a drawer that comes out. It's covered in leather so it doesn't hurt my wrists, and then we used that same leather on the upper cabinets in the kitchen."
DESIGN DETAILS
"The room is filled with great design pieces. There's an egg chair for my baby. We designed it for her before she was born. In the corner, there's a Liaigre leather chair and there's also a Roger Capron table, which was always a dream to have. I also have a lamp from Pierre Yovanovitch and a Haas Brothers sculpture."
SHELVED MATTERS
"I surround myself with books about all the things I love. There are a lot of books of art I own—Sterling Ruby, KAWS, Ron Gorchov, George Condo, Richard Prince, and Bosco Sodi. And there are also the books on interiors by Pierre Yovanovitch, Joseph Dirand, and Axel Vervoordt. Also, some are architecture books by Louis Kahn, Annabelle Selldorf, and Jean Nouvel. And of course now my own book."
Next Post