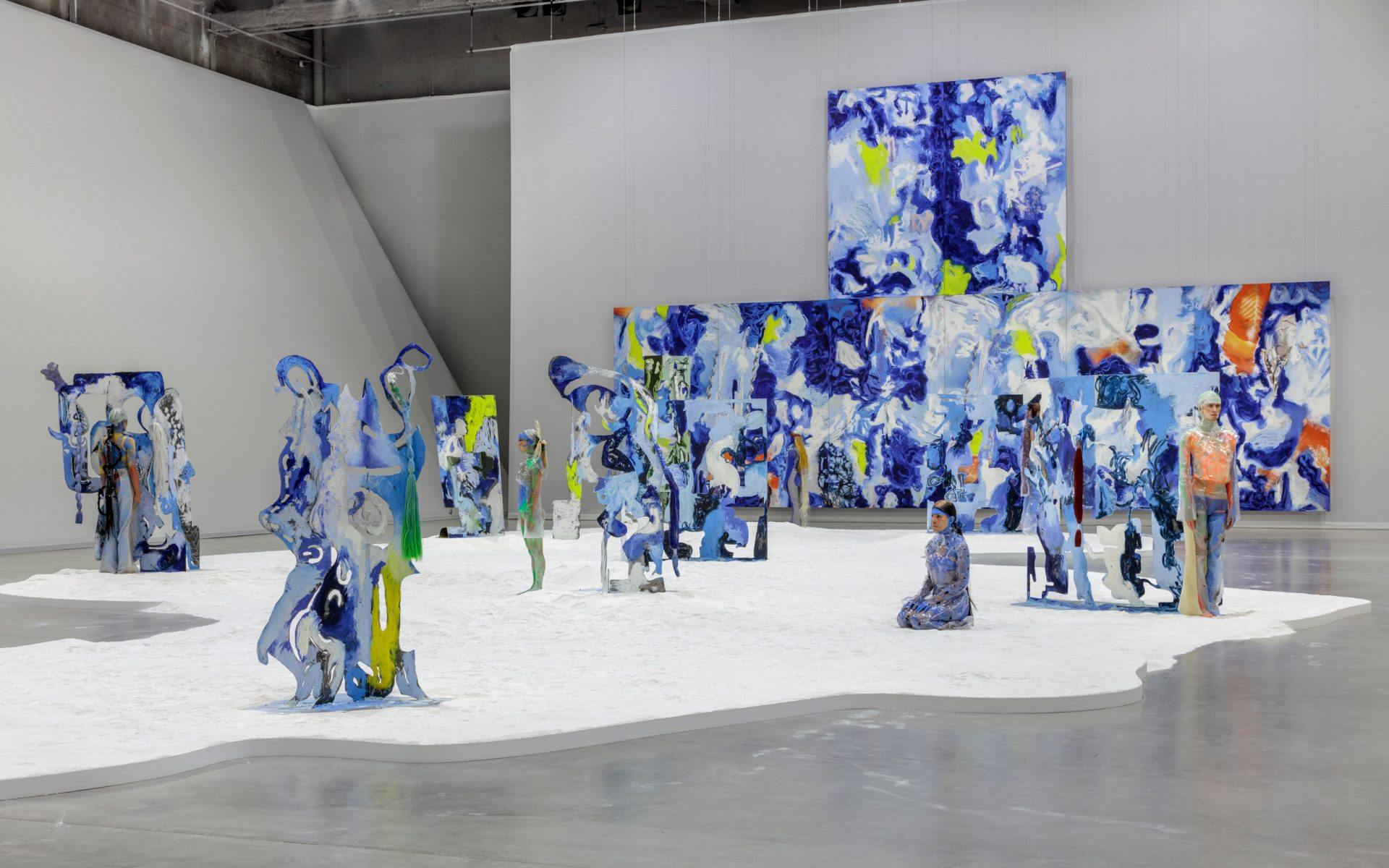 Donna Huanca Is Challenging Patriarchal Power with Her Art
The Berlin-based artist's groundbreaking show at the Marciano Art Foundation earlier this year presented a mix of nude models surrounded by her massive sculptures and canvases
Donna Huanca's multisensory art installations transport viewers to another world—one that is ruled by the feminine. For her first big U.S. museum show, at the Marciano Art Foundation in Los Angeles this year, Huanca transformed the former Masonic Temple with a mass of white sand, totemlike steel sculptures, and monumental oil-on-canvas works. Nine painted nude models—a mix of cisgender and trans persons of different ethnicities—slowly moved about. A bespoke scent and a nature soundtrack rounded out the experience. "With every exhibition, I respond to the architecture and history of the location," says the Berlin-based artist. "The temple was created to enforce patriarchal power. To hold a femme space was truly an epic feat."
Huanca, who grew up in Chicago with Bolivian parents, made a name in the underground music scene and studied painting at the University of Houston. "I never declared wanting to be an artist," she says. "I grew up in a working-class immigrant family where that was never an option. Becoming an artist was more of a process."
It was at 2017's Art Basel in Switzerland that she first caused a stir on the international art scene, presenting with her Berlin gallery, Peres Projects, a sculptural installation that featured two nude models in a durational eight-day performance. "I have found observing the textures, destruction, and cycles in nature to be very inspiring," she says.
Recommended: Celebrated Artist Zhang Huan Unveils Major New Commission for Hennessy
Since then, Huanca has had solo shows at the Belvedere museum in Vienna, the Yuz Museum in Shanghai, and Copenhagen Contemporary. Next spring will be her first solo exhibition with Simon Lee Gallery in London. "Donna's unique visual language is based in collaboration and innovation," says Simon Lee Gallery director Katherine Schaefer.
"Being an artist today is challenging and exciting," says Huanca. "I see my job as an urgent one and use a sensual, visual language for this communication." 
A version of this article first appeared in print in our 2019 Winter issue in the section On Our Radar. Subscribe to the magazine.
Next Post