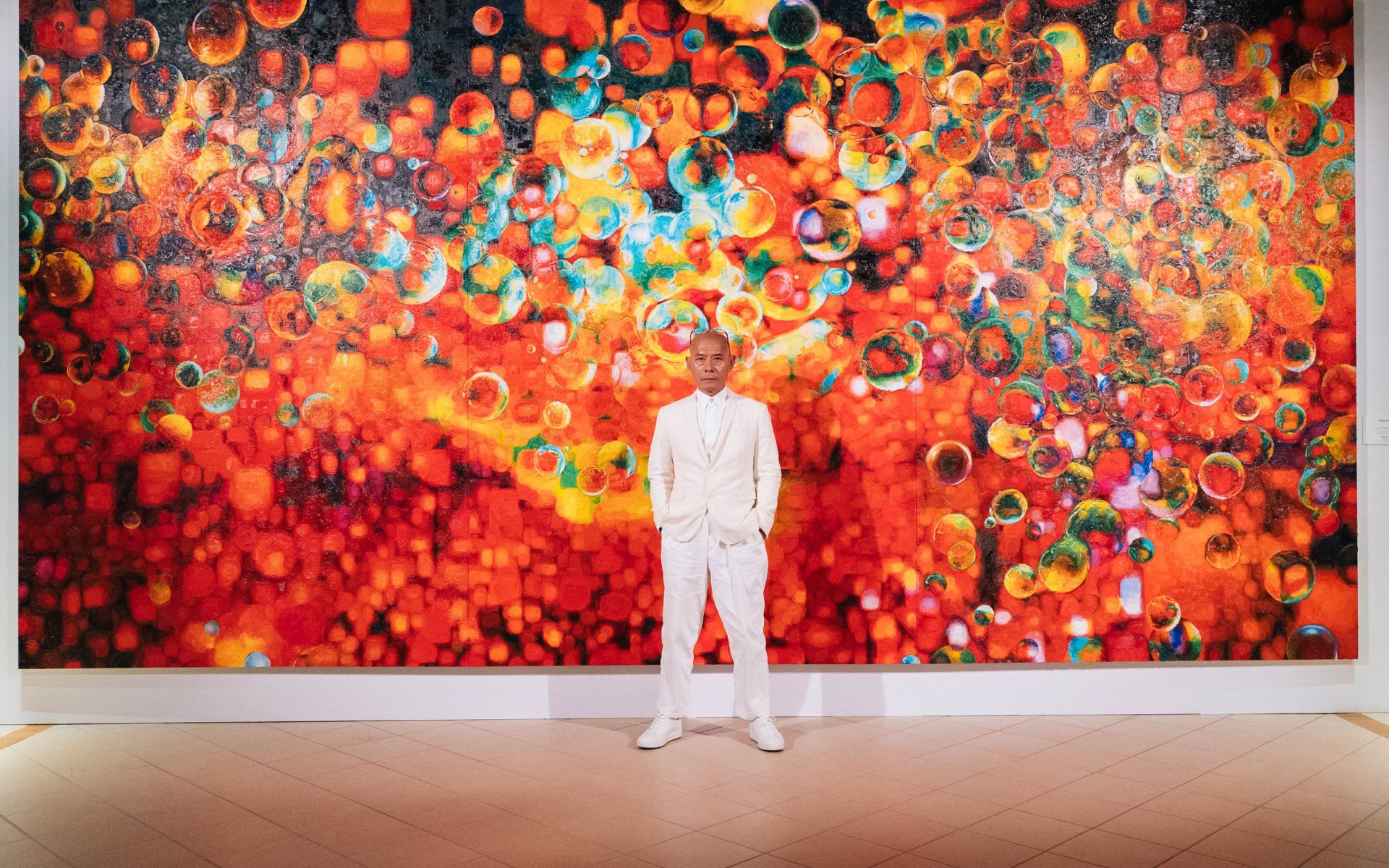 Celebrated Artist Zhang Huan Unveils Major New Commission for Hennessy
The visionary Chinese artist spent time at the Hennessy Maison in France to learn about the art of Cognac making
On a recent crisp, fall evening in Cognac, France, the wide doors of the Hennessy Le Peu distillery open and a rush of vapor envelops the room, rising from the rows of large barrels containing precious eaux-de-vie. Almost as delightful to pronounce as it is to drink, eaux-de-vie, French for "water of life," lies at the heart of Hennessy, which, for more than 250 years, has been producing, distilling, and blending it into the world's finest Cognacs.
In the distance, a striking 16-foot-wide painting hangs on the back wall, transforming the room. Vibrant, colorful spheres appear to float and fizz and pop across the canvas. The masterpiece, titled Eaux-De-Vie (2019), is by Zhang Huan, one of the world's leading Chinese contemporary artists, who was commissioned by Hennessy to create a new artwork in celebration of the 2020 Lunar New Year.
"I was so inspired by the eaux-de-vie," Zhang says through a translator at the unveiling, where a select group of international editors was present. "It is the water of life, and on the most basic, cellular level it represents freedom, hope, prosperity, and harvest. They can carry people's wishes and blessings, including mine."
Zhang was given carte blanche for the art commission, but before embarking on the special project, he was invited to spend time at Hennessy's historical terroir in Cognac, located on the lush banks of the Charente river, a two-hour flight from Paris. For a period of two weeks, he experienced firsthand the maison's unique tradition of savoir faire, got to know the Hennessy family, and learned the important role of the master blenders.
The trip included visits to the barrel-making workshop, where 200-year-oak panels are artfully crafted into casks; the vineyards that produce the distinct grapes for the eaux-de-vie; the historic Founder's Cellar, an underground cave where the oldest blends are left to age gracefully; the Château de Bagnolet, a glorious Louisiana-style mansion owned by the Hennessy family since 1841; and most important, the master blender's headquarters, which contains a historical archive of hundreds of eaux-de-vie samples collected from the past two centuries.
Recommended: Shanghai's Art and Design Scene Heats Up
"Zhang's painting is entirely his personal inspiration and vision," says Renaud Fillioux de Gironde, Hennessy's eighth-generation master blender, who recently took over from his uncle Yann Fillioux. "My role in the collaboration was simply to give him some background and to share why I am so passionate about what I do."
Zhang soon returned to his sprawling, factory-like studio in Shanghai, where he works with a team of assistants. "I spent around three months sketching and planning it out in five parts," Zhang tells Galerie. "Once we decided on the right direction, we began work." With eight assistants, it took one month to finish. "If I'd done it alone, it would have taken around five years!"
At the cocktail reception where the work was unveiled, guests mingled among the distilling machines, sipping on Cognac-infused drinks and enjoying Chinese-French hors d'oeuvres. "You can really feel the energy as the eaux-de-vie is being created around us," says Fillioux.
Zhang, looking dapper in an all-white ensemble, encouraged those around him to get close to the painting and to zoom in on the individual floating spheres. "I wanted to depict the cells as separate worlds," Zhang says. "They make up the fabric of the universal whole, and in this way, I felt that the metaphor between the eaux-de-vie and the individual was very apt. My message is that we can all live together in harmony."
This quest for harmony has been at the heart of Zhang's work since he first broke onto the international art scene in the late 1990s as a member of the avant-garde East Village Beijing Group. Zhang's early work consisted of "body experiments," which explored themes of existentialism and displacement. In one work in 1994, for example, he lay on a block of ice until his body temperature reached a dangerously low level. For Family Tree (2000), three calligraphers wrote a combination of names, personal stories, and memories on Zhang's face until it was completely black.
"Being abroad gave me a deeper understanding of my tradition, perhaps because I had to see myself from far away," says Zhang, who practices Buddhism. "I believe that Chinese and Western cultures are meant to integrate with each other. We never know where life may take us, but I do believe that everything that has gone before leads up to the present moment. That is what I want to celebrate in my creations.
"My hope is that when people experience this painting, they will see a future filled with possibility."
Zhang Huan's Eaux-de-Vie (2019) will be featured on a limited-edition number of celebratory Lunar New Year bottles, available starting January 2020.  
Next Post