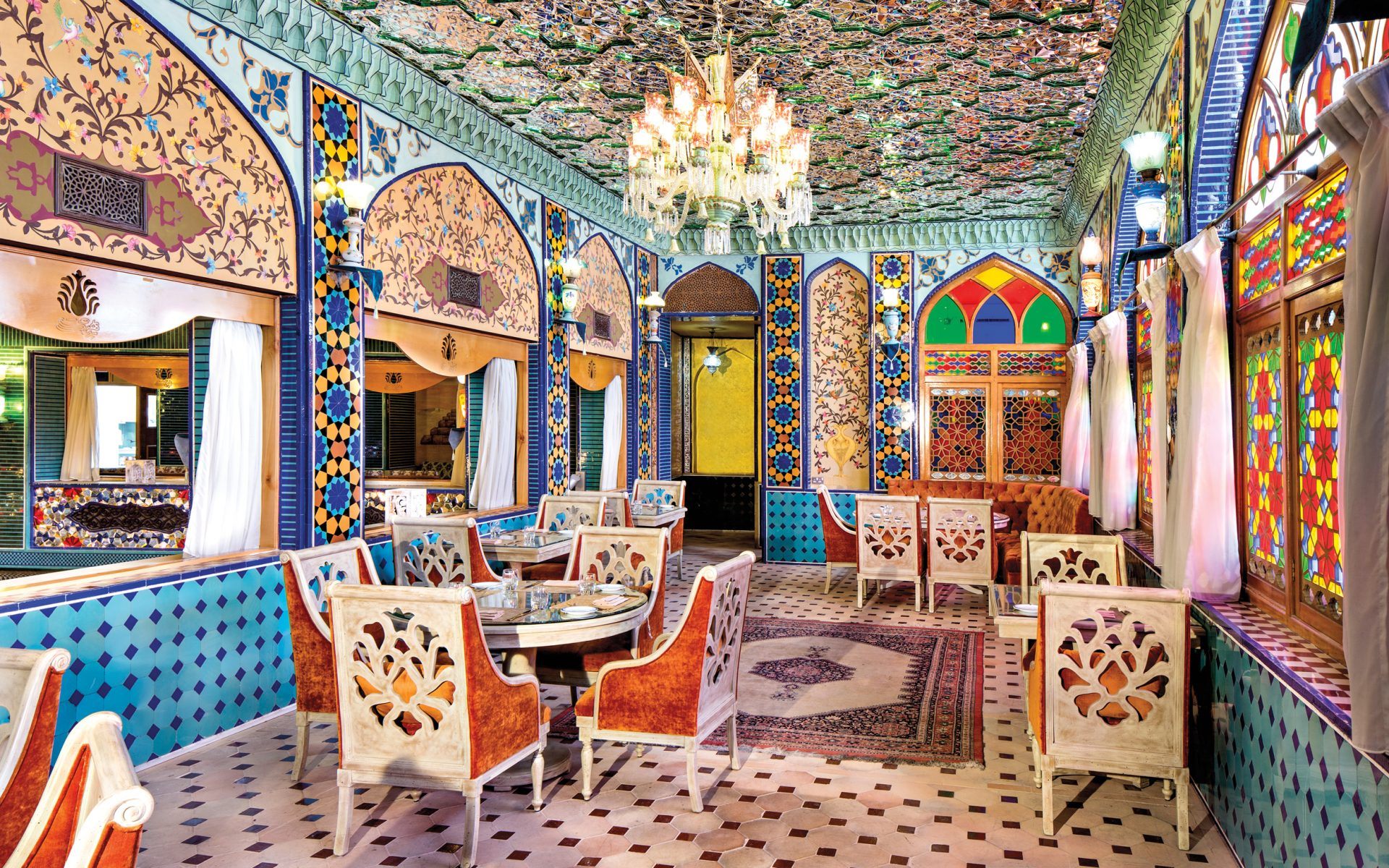 The Ultimate Art Insiders' Guide to Doha
A new world-class museum further elevates the city's reputation as a culturally rich, visually arresting destination
Walking around Doha's spectacular new National Museum of Qatar—like so much in this burgeoning Persian Gulf capital—is almost dizzying. And thrillingly so. Composed of hundreds of massive intersecting sand-colored disks, the building was inspired by the area's desert roses, intricate crystalline rock forms whose "random systems of blades" shaped by wind and sand have been "reimagined on another scale," explains the museum's celebrated architect, Jean Nouvel.
Everything about the 430,000-square-foot institution is expensive, costing more than $400 million to build and taking nearly two decades to complete. Adjoining the refurbished historic royal palace, the asymmetrical building wraps around a vast courtyard, evoking the walled caravansaries that once provided refuge for desert travelers across the region. Inside, an almost one-mile-long circuit takes you through unconventional galleries featuring immersive multimedia exhibits that recount the evolution of Qatar—from its geological origins to its history as a land of nomadic Bedouins and pearl divers to its fossil fuel–rich present as a Persian Gulf power player.
The National Museum is the latest and most visible monument to Qatar's deep-pocketed ambitions of becoming an international hub for culture, tourism, business, and sport. In 2022, this tiny desert nation will host the men's World Cup where matches will be played in state-of-the-art stadiums designed by firms such as Zaha Hadid Architects and Foster + Partners.
Recommended: Shanghai's Art and Design Scene Heats Up
"The city isn't reshaping itself—it's shaping itself," notes Marcel Wanders, the designer behind the fantastical interiors of the two-year-old Mondrian Doha hotel, a building (by the local firm South West Architecture) whose form mimics a resting falcon, an important symbol throughout the Gulf. "The appetite for ambition is high here," Wanders adds, "but Doha doesn't want to overdo. It wants to do."
Creating institutions with world-class art collections and architectural significance has been a cornerstone of the development strategy spearheaded by the ruling Al Thani family. Notably, the first major museum project was the decade-old Museum of Islamic Art, which rises majestically on a spit of land jutting out into Doha Bay. A minimalist stack of stepped cubic volumes designed by I. M. Pei, the museum displays a remarkable array of art, decorative objects, and manuscripts from across the Muslim world. (It's also home to one of the city's can't-miss dining spots, chef Alain Ducasse's Mediterranean-meets-Arabic restaurant, Idam.)
In the ensuing years, Qatar Museums—headed by Sheikha Al Mayassa bint Hamad bin Khalifa Al Thani, sister of the emir and one of the art world's most prominent collectors—has unveiled several complementary institutions in Doha, with more on the way. Mathaf, the region's first museum dedicated to modern Arab art, showcases pieces from its singular 9,000-work collection and mounts special exhibitions, including the current presentation by Ghanaian artist El Anatsui, on view through January 2020.
The Fire Station, a former firehouse converted into a contemporary art complex, houses studios for a thriving artist residency program as well as a gallery for first-rate exhibitions. (Next up is a KAWS show, opening October 25.) And looking ahead, Qatar Museums has selected Pritzker Prize–winning architect Alejandro Aravena to design the sprawling Art Mill cultural center on the Doha waterfront. The project will expand a corridor that now includes the National Museum and the Museum of Islamic Art, among others.
Another head-turning addition to Doha's artistic landscape is the National Library, designed by architect Rem Koolhaas's firm, OMA, with a strikingly angular façade and terraced rows of stacks in a vast, open interior. Containing roughly a million volumes, the library offers diverse programming as well as impressive displays of historic books, manuscripts, maps, and photographs from the national archives.
Recommended: Why Istanbul Is This Season's Must-Visit Art Destination
Intriguing offerings extend outside the city's central hub. Katara Cultural Village, a waterfront development of traditional-style buildings—"much loved by locals as well as visitors," according to Mathaf curator Laura Barlow—features a lively mix of art studios, galleries, shops, restaurants, and performance spaces, including a 5,000-seat amphitheater.
If you want a taste of old Doha, head to the Souq Waqif, an atmospheric warren of cafés and shops, where you'll find endless displays of pashminas, leather goods, handcrafted objects, jewelry, spices, and even live birds. It's also a good place to enjoy the region's traditional cuisine. Julia Gonnella, director of the Museum of Islamic Art, swears by Damasca One for first-rate Syrian dishes and Parisa Souq Waqif for authentic Persian cooking and its enchantingly opulent decor.
When in Doha, an excursion or two out into the desert is essential. There are fascinating historical sites like the Al Zubarah Fort, which was once part of a thriving fishing and pearling settlement and is now a UNESCO World Heritage site. And you'll definitely want to hire a four-wheel-drive vehicle to take you to the Brouq Nature Reserve, which is home to Richard Serra's largest work: East–West/West–East, a quartet of 50-foot-tall steel monoliths spaced out over a half-mile stretch. Walking between the towering slabs, you become hyperaware of the landscape, the light, the wind. Come just before dusk and you might see the sinking sun line up with the sculptures in one direction, with the moon rising opposite. It's a timeless yet contemporary monument that speaks to the stark beauty of the desert and its utter centrality to the identity and soul of Qatar.
A version of this article first appeared in print in our 2019 Late Fall issue under the headline "Art Oasis." Subscribe to the magazine.
Next Post