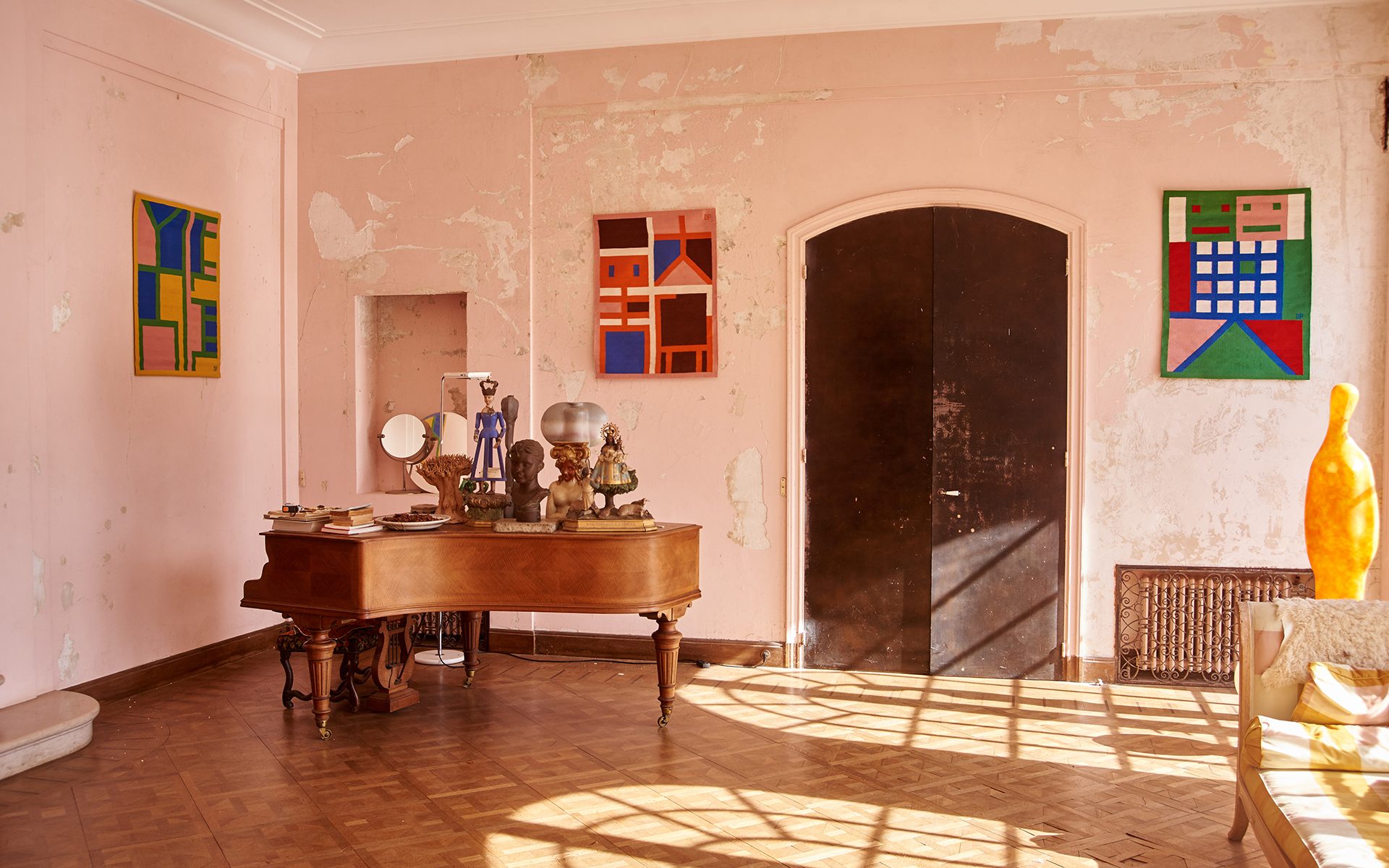 What to Not to Miss at This Year's Collectible Design Fair in Belgium
Among the highlights are surf-inspired tables, a modern interpretation of Memphis design, and colorful tapestries evoking Jardin Majorelle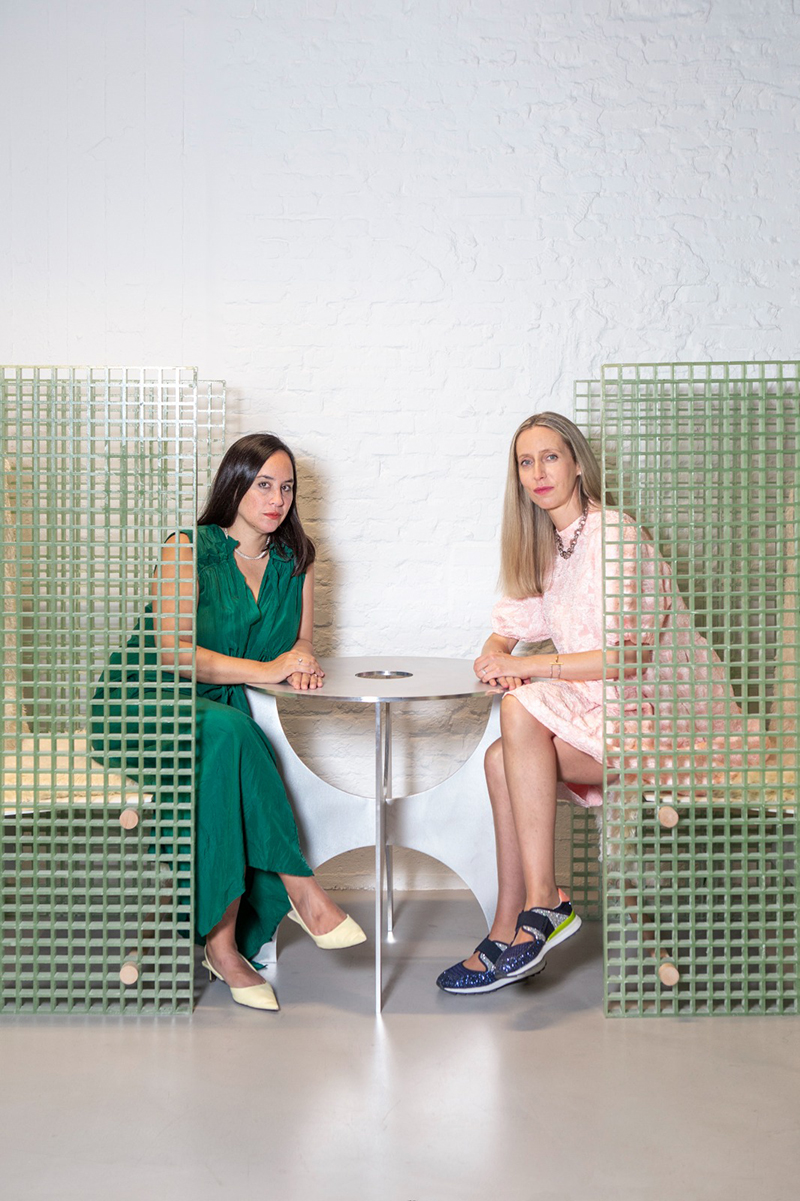 Launched in Brussels in 2018 and now in its sixth edition, Collectible started out as the only fair devoted exclusively to unique and limited-edition contemporary design. "It is most definitely a boutique fair," says co-founder Liv Vaisberg at the VIP opening on March 8. "There are plenty of places to look at historic work. We cherry pick from mostly young designers and galleries, with a mission to show collectors what is exciting at the more experimental end of the market."
This year Collectible has a new home in Brussels' Tour & Taxis buildings. It's a splendid campus of turn-of-last-century brick edifices that once contained customs houses and warehouses for goods from all over the world. Now beautifully reconditioned for 21st-century purposes, they offer office space, retail, and cavernous exhibition halls for art and other luxuries.
The Sheds, where Collectible takes place, are rugged with concrete floors and overhead lighting, perfectly in line with the young and rebellious nature of the fair. It wouldn't be a bad venue for a rave. Though sections exist—among them Bespoke for the more classical galleries, New Garde for emerging talent—the way they are tumbled together means the more hectic and colorful works of the up-and-coming creatives emerge as the dominant energy. Sustainability and upcycling are strong themes here; the Memphis movement a prevalent source of inspiration.
Here, six not-to-be-missed standouts from this year's Collectible design fair, which runs through March 12.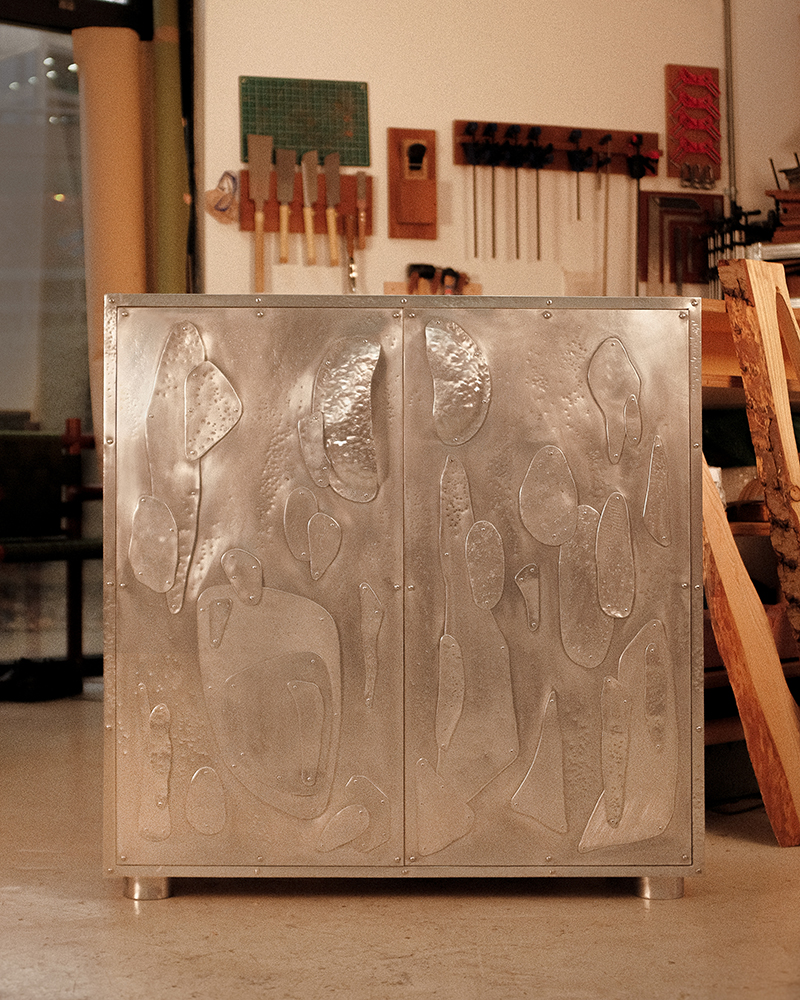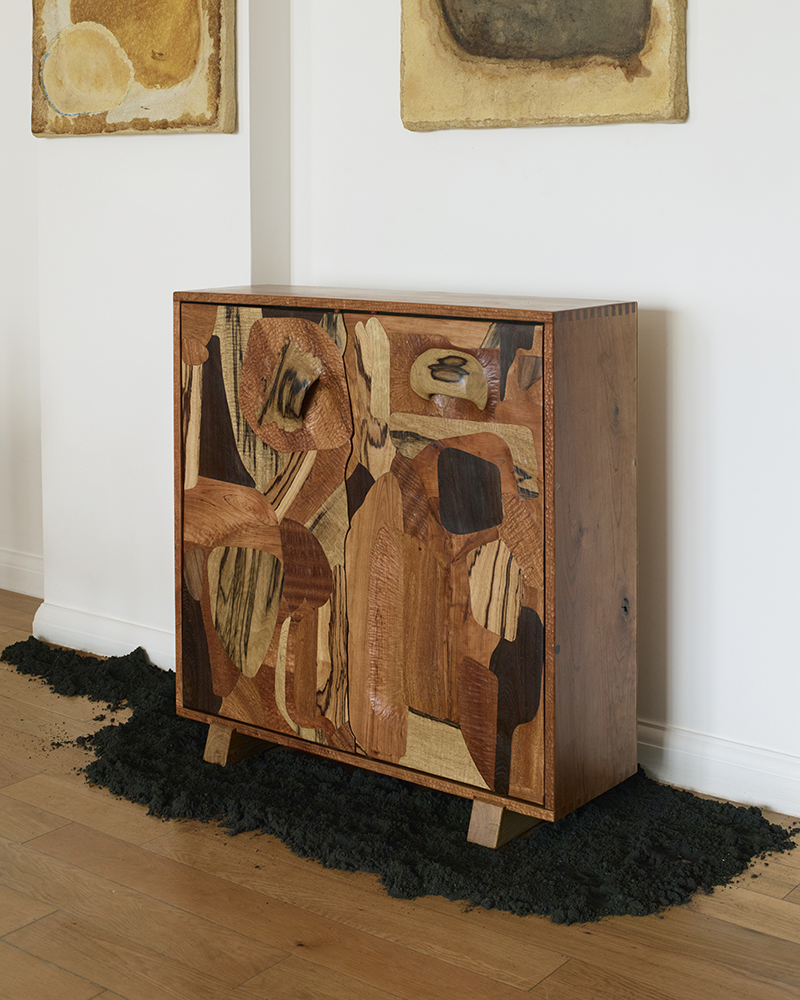 The Radford Gallery
"[This is] the first time we've shown anything outside East London," says Max Radford, 29, who launched his namesake gallery online in 2020. "Even a year ago, I wouldn't have dreamt of doing something like this." The stars of his booth are three works by Lewis Kemmenoe, 27, whose studio occupies the former BBC nightclub in the old Television Centre in West London. Kemmenoe's aluminum Patchwork cabinet only received its finishing touches three days before the fair's opening night. With its overlapping sheet metal parts—some structural, some decorative—it could be the lovechild of Paul Evans and Mattia Bonetti. The artist previously garnered interest with his Patchwork cabinet and screen crafted from intricately assembled pieces of leftover exotic wood scavenged from a timber merchant in London. His ability to extend the concept to metal, and his attention to details such as the luxuriously recessed handles, make him one to watch.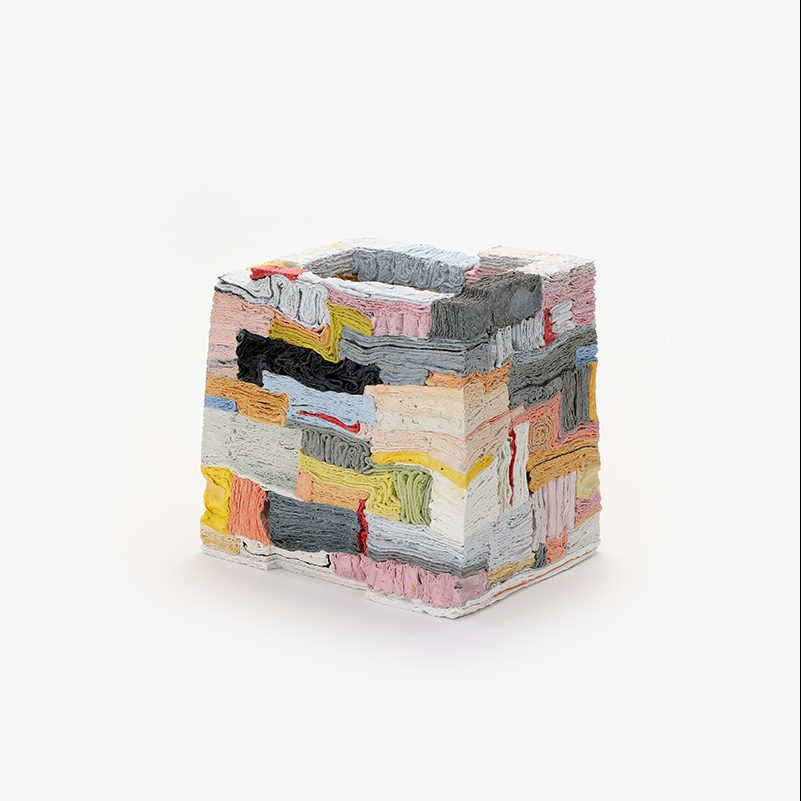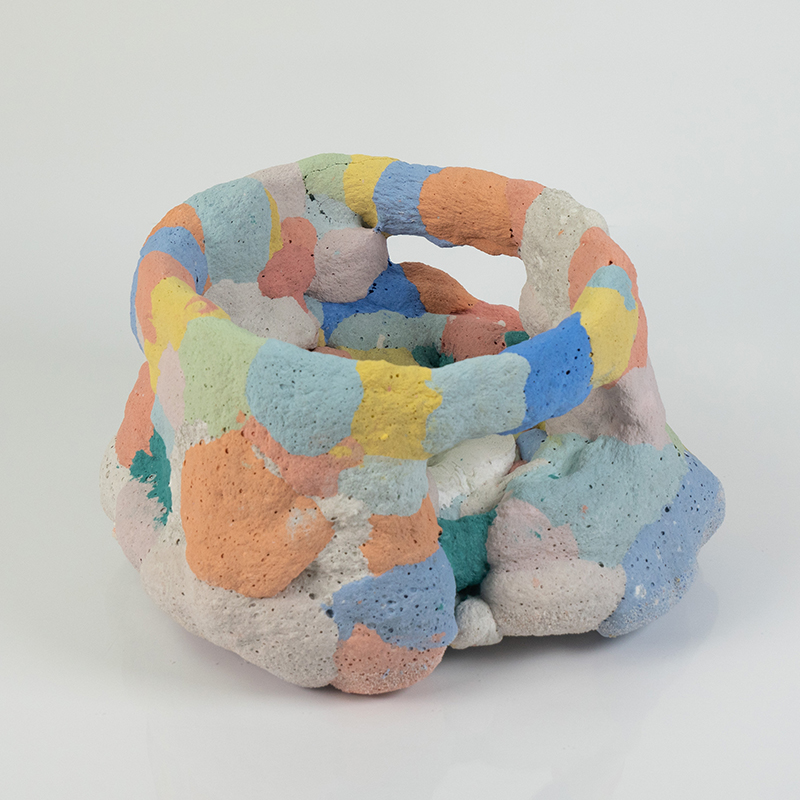 Florian Daguet-Bresson
"Extravagant—that's my word for the mood of the moment," says Florian Daguet-Bresson, who was working in his native Paris with antiques and Old Masters before turning his attention to contemporary ceramics. "You can do anything in ceramics and I have a passion for the strange and the truly surprising." The exhibits at his booth bear this out: the extraordinary work of Korean talent Jongjin Park, who makes square pots out of silk paper soaked in liquid clay. (Peter Marino has already acquired a few.) Kentucky-born artisan Stephen Creech developed a unique method of treating clay that results in a volcanic finish; he completes the matte and pitted forms in delicate pastel shades. Fearless in his tastes, Daguet-Bresson is set to be one of the major forces in collectible ceramics.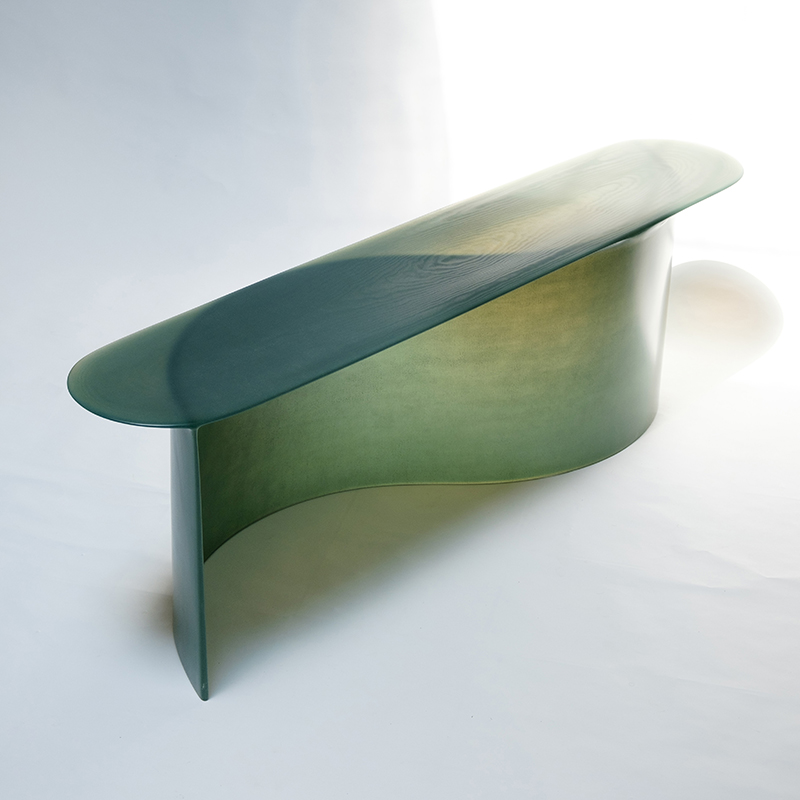 Objects with Narratives
"He's a keen surfer," says Robbe Vandewyngaerde, co-founder of nomadic Belgian platform Objects with Narratives, as he strokes the translucent surface of a resin and fiberglass bench by Lukas Cober. The piece has all the sleek appeal of the surfboards on which the designer spends so much of his time. Vandewyngaerde set up the gallery with his brother and fellow architect Nik Vandewyngaerde when the pair started to edition their own furniture designs. With some modesty, however, they are only representing others at Collectible. Their preference is for designers for whom a mastery of craft is a true priority. These include Tim Vranken who works in gently burned yellow pine, and third-generation Austrian cabinetmaker Laurids Gallée, who constructs multi-part works in the tradition of painted furniture, though his are instead inlaid with birds and animals, rainbows and swirling landscapes. With a keen customer base already established among the interior designers of Los Angeles, Miami, and Texas, Objects with Narratives has seen its followers rise from 3,000 to 30,000 in a year.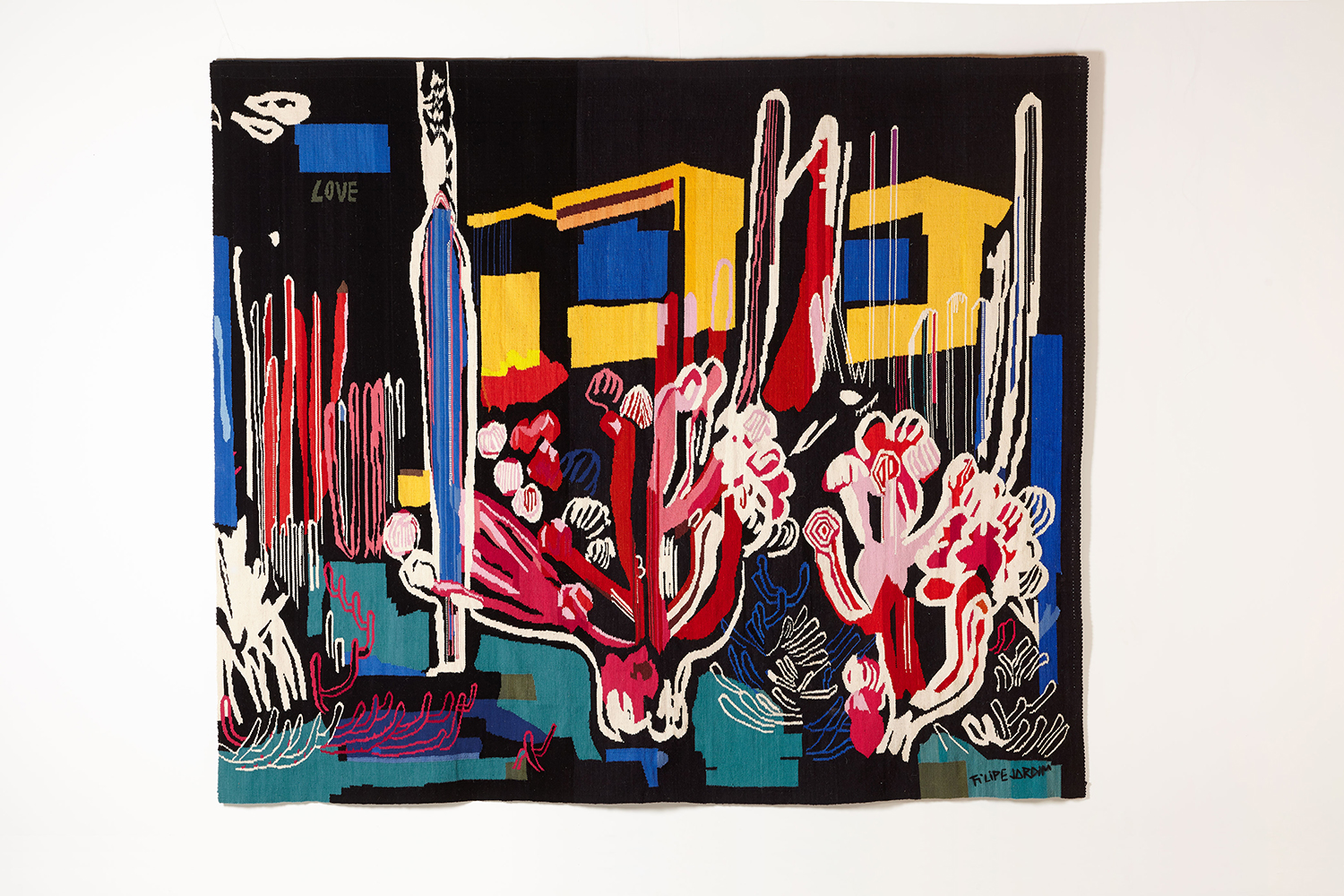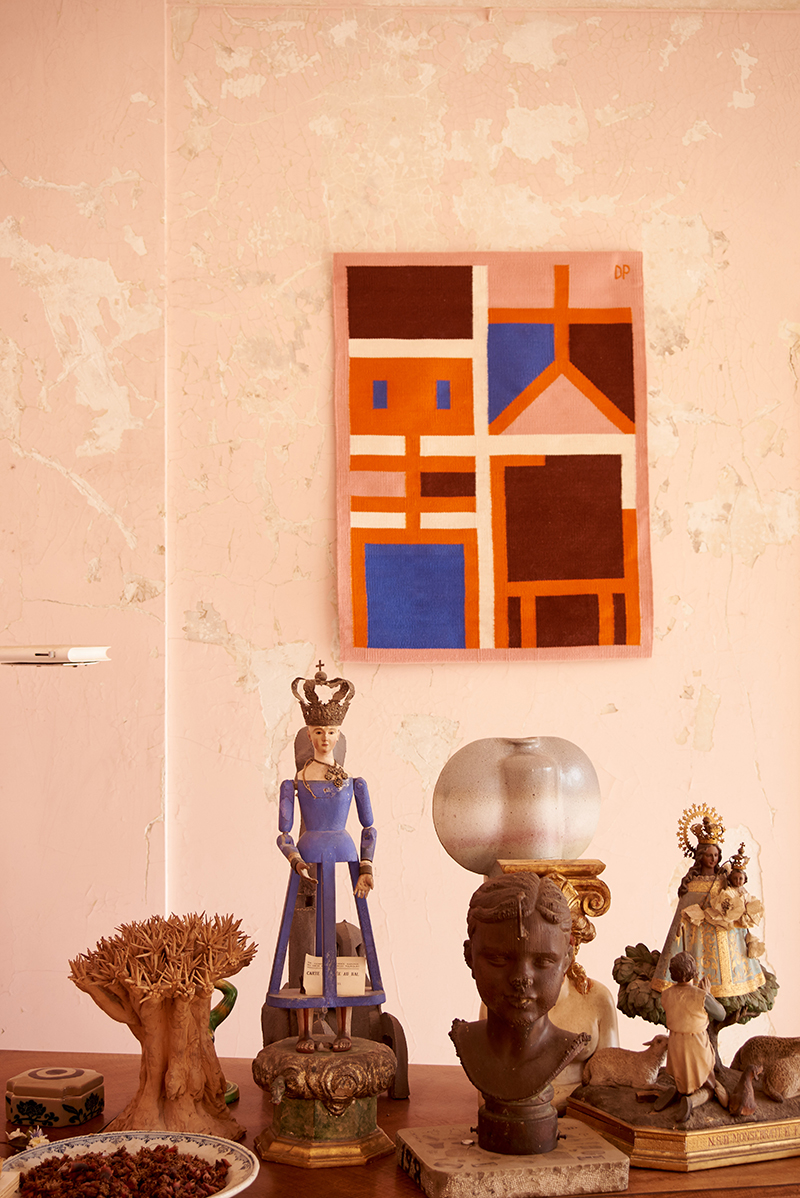 APARA
A Parisienne who worked in classical music A&R and now lives in São Paulo, Hélène D'Apote is the founder of gallery APARA, which specializes in woven works. "Peru has a tradition of weaving that goes back to pre-Colombian times, and Brazil has its own heritage of modernist weaving," explains D'Apote, whose husband, Felipe Jardim, an illustrator whose works have been turned into Hermès scarves, is Brazilian born. A huge woven panel by Jardim that hangs on D'Apote's Collectible booth is an explosive evocation of the Majorelle Garden, designed by Yves Saint Laurent in Marrakech in the 1970s. Exceedingly noteworthy are the works of Damien Poulain, a Paris-based muralist, that feature carefully geometric arrangements of symbols and lines. "He is a colorist, first and foremost," says the gallerist. With interest in textiles in the ascendant, D'Apote's direction is surely in fashion.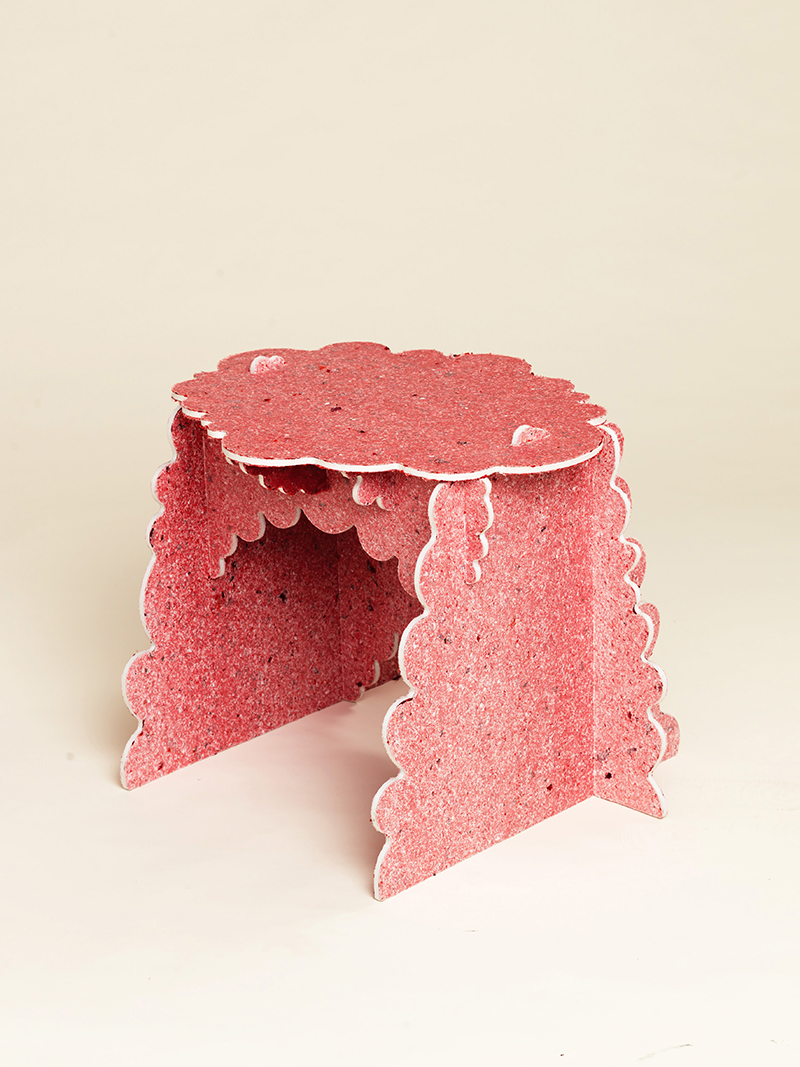 Good Sessions
"We're playing at the boundaries of contemporary art and craft," says Alain Delluc of Good Sessions, a mostly online platform that operates out of Istres, a small town in the south of France. "The selection we've brought to Collectible is about the value of waste. There are pieces here made from paper, climbing ropes, bulldog clips, carpet. It's called 'Beautiful Garbage.'" Ebba Lindgren's rococo series is built using wall material stripped out of hotels and toilets, hand-carved into shape and with unfinished edges. The €4,000 price tag of the table is written roughly on the floor in marker, as if to highlight the ambiguity between our various value systems. If the table is the medium, the message is in the often extravagant use of materials that we then simply leave behind.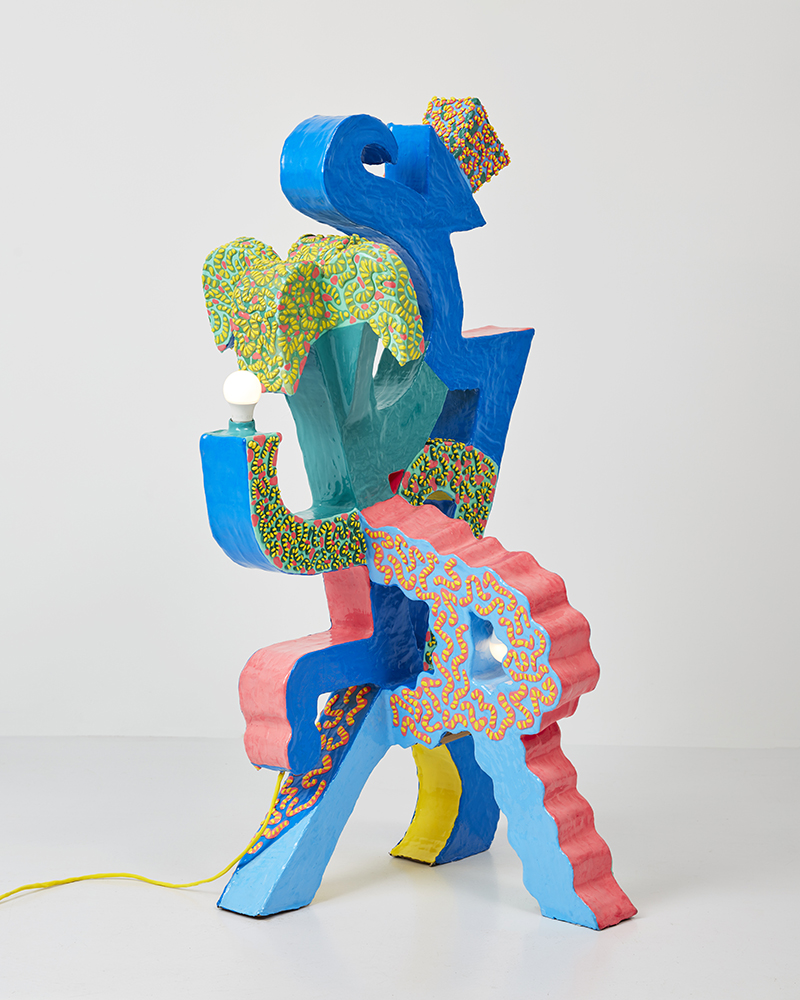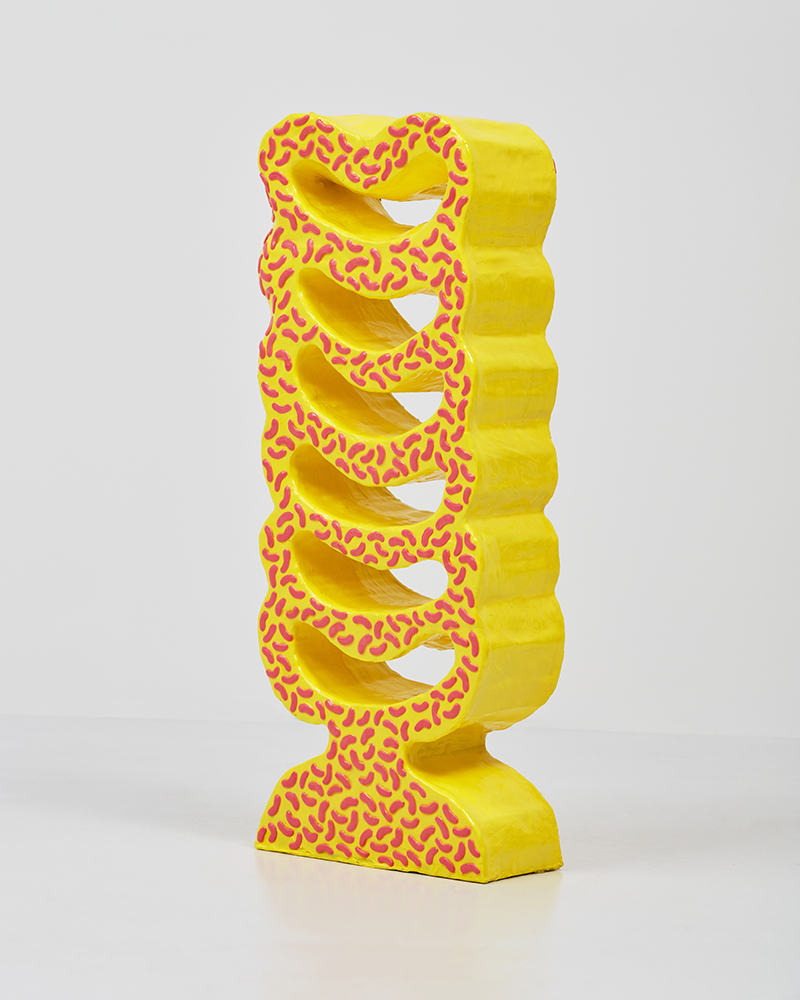 Diego Faivre & Hugo Béhérégaray
When Hugo Béhérégaray and Diego Faivre collaborate, the results are show-stopping works of eye-popping exuberance. Vibrantly colored and fantastically shaped, their shelves and lights would be cartoonishly silly if they weren't so perfectly resolved. Béhérégaray, 28, begins with a 2D drawing on a cardboard sheet that is then built up into a three-dimensional form. "I'm inspired by architects—Shigeru Ban, Hundertwasser, Gaudi," says the artist, who then creates the forms out of cardboard. Next Faivre, 29, applies air-dried Playdoh and then painstakingly paints the pieces in very bright shades. "It is a platform for play, but one that also asks for control," says Béhérégaray. "It's a fusion of the two positions." The names are the final detail: the Boogie Tropical lamp, the Dazzling Light and Storage Solutions. One doesn't have to look far back in history—just to Milan in the 1980s—to see how subversive pattern-making can last the test of time; Béhérégaray and Faivre are making the collectibles of the future.
Collectible runs through March 12. 
Next Post