Lovers of contemporary design have a lot to look forward to this month, with a slew of gallery shows across the country bringing fresh ideas to the fore. Just in time for Frieze Los Angeles, Carpenters Workshop Gallery is showcasing new work by acclaimed Dutch designer Maarten Baas, whose meditations on time itself have produced an inventive series of thought-provoking clocks. On the East Coast, there are specially commissioned lighting creations on view at Manhattan's Culture Object, while Friedman Benda is spotlighting contemporary Mexican designers such as Tezontle, Frida Escobedo, and Fernando Laposse in a guest-curated exhibition. Those in Miami can check out the spellbinding bronze furnishings conjured by L.A. design duo Farrell Hundley, now on view at Nina Johnson Gallery.
Check out the full list below.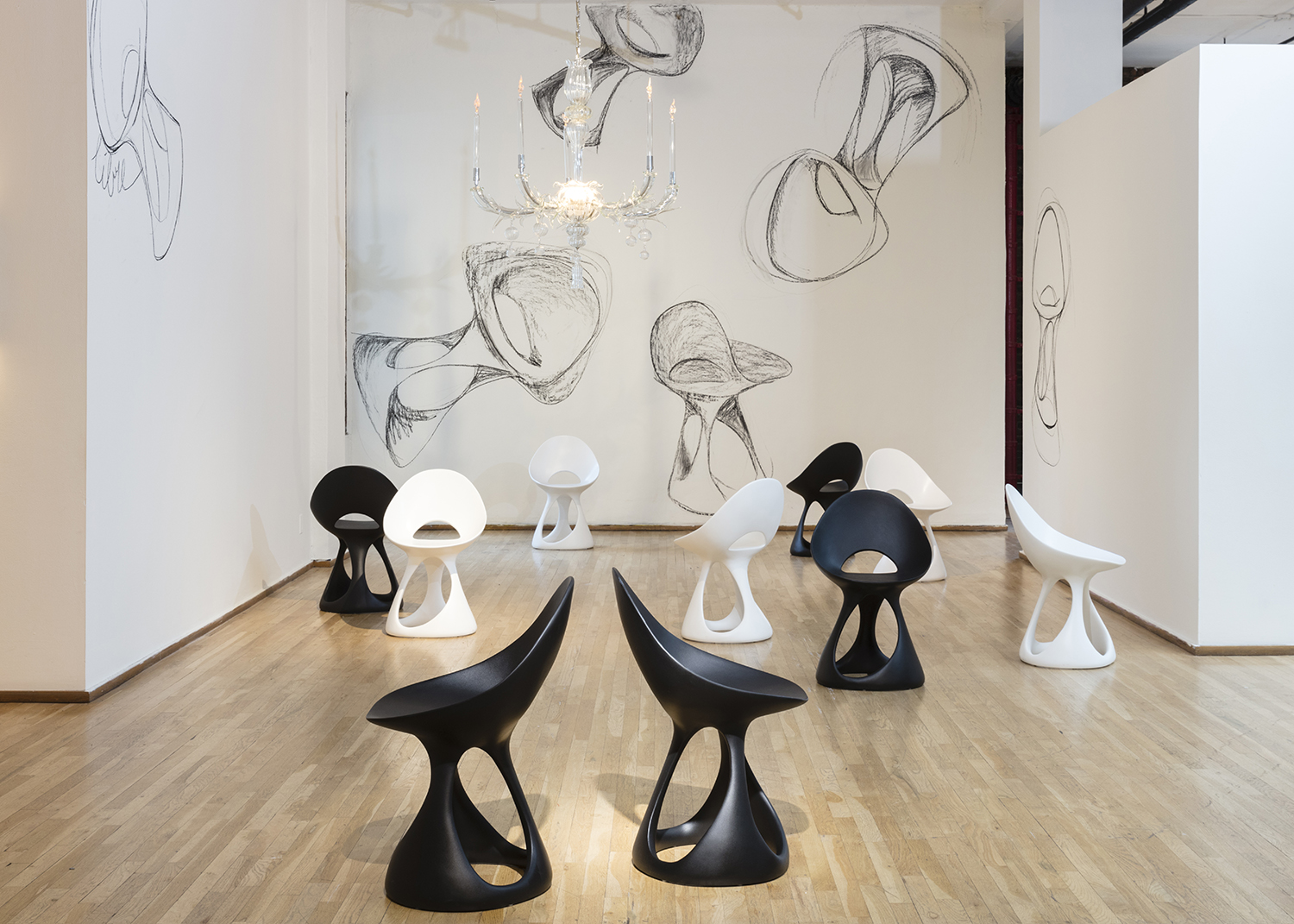 1. Paul Mathieu, Stefan Bishop, John Wigmore, and Christopher Makos at Ralph Pucci | New York
There's plenty to discover at Ralph Pucci's sprawling New York location, with no fewer than four exhibitions opening this month. First is an installation by French designer Paul Mathieu featuring his new Libre chair and accompanying mural. Inspired by childhood memories in his father's workshop, the artisan (who splits his time between New York, Aix-en-Provence, and India) blended graceful curves with ergonomics to create the sculptural seat, which is available in either black or white. Los Angeles–based artisan Stefan Bishop, meanwhile, has added seven alluring tables to his Zoetic series—this time using Pucci's proprietary Plasterglass material. Also on view are Mexican-inspired ceramic table lamps, sconces, and side tables by John Wigmore and a photography series by Christopher Makos.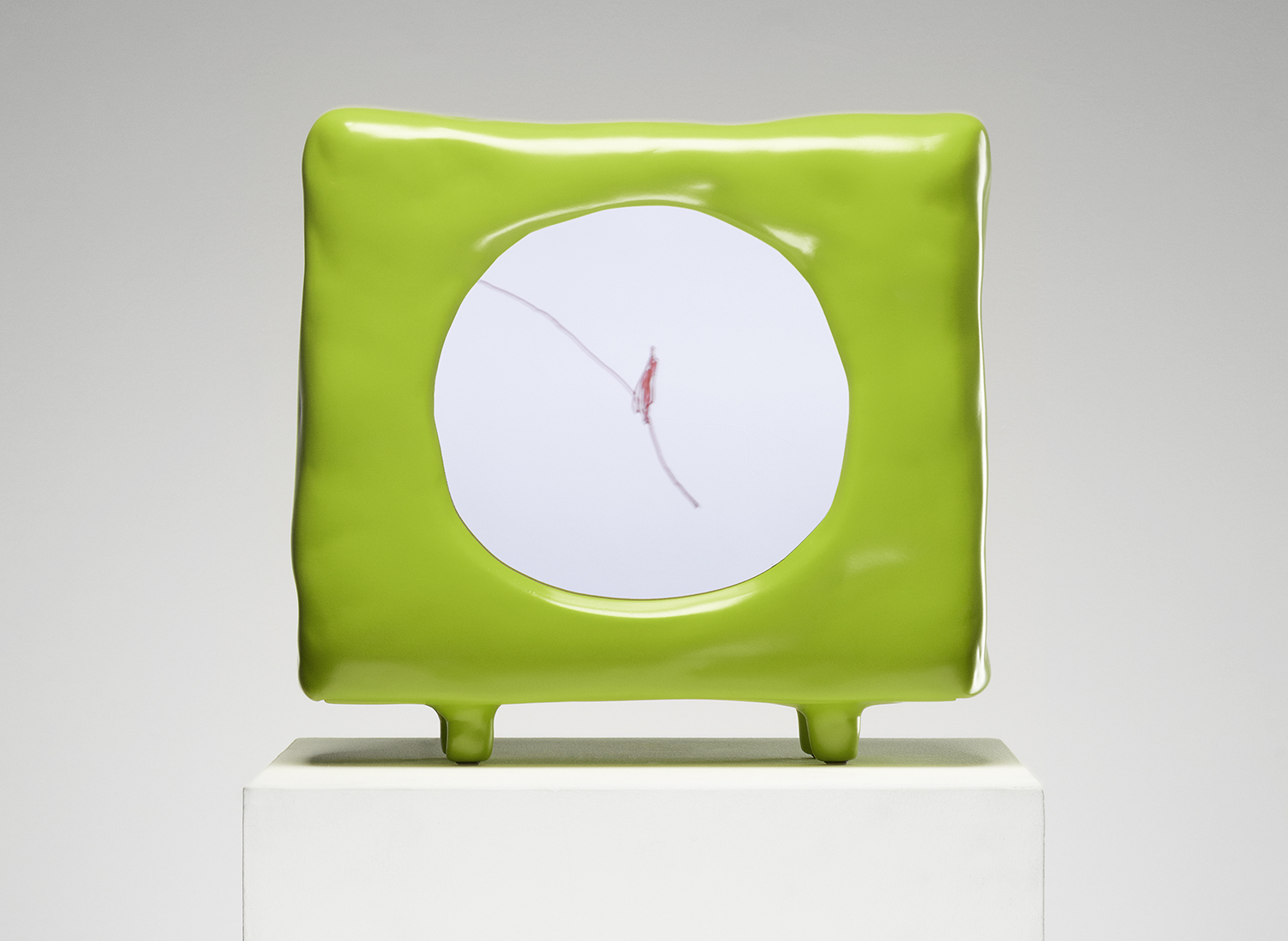 2. "Play Time" at Carpenters Workshop Gallery | Los Angeles
Masterfully blurring the line between art and design, influential Dutch designer Maarten Baas has an intriguing new show, "Play Time," opening at Carpenters Workshop Gallery on February 14, just in time for Frieze week in Los Angeles. Presenting works from existing collections as well as new creations, Baas's first West Coast show aims to reignite a sense of youthful wonder and whimsy in adults, with his Children's Clock series, for instance, featuring 101 hand-crafted timepieces, each in a unique color. (Think lime green, eggplant purple, and Nickelodeon orange.) Notably, Baas worked with 720 Dutch children to individually illustrate each minute of the clock's timekeeping, with the face functioning as a screen that continuously displays the drawings.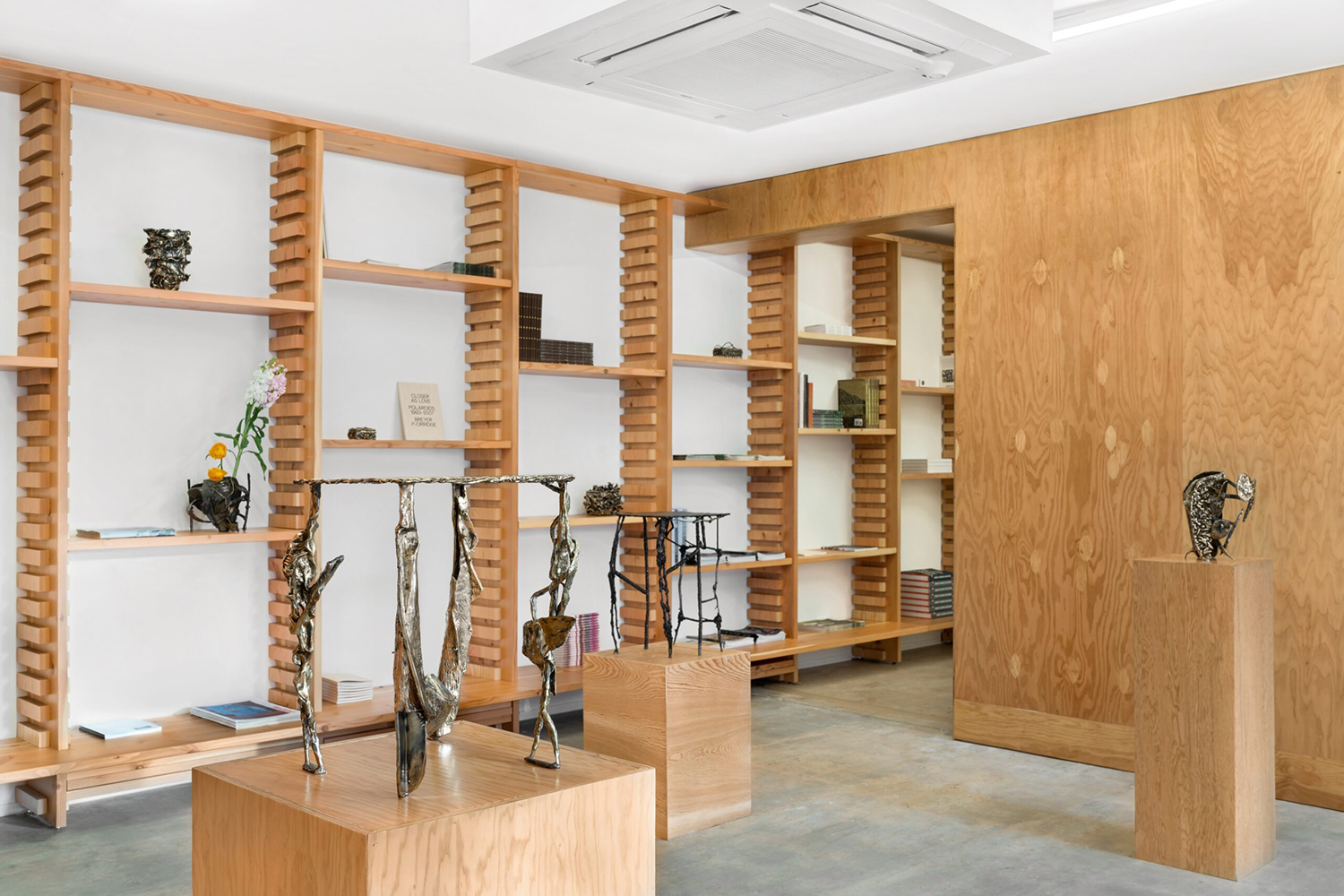 3. "Daphne" at Nina Johnson Gallery | Miami
Since early 2019, artist Elliott Hundley and furniture designer William Farrell have been collaborating as Farrell Hundley, a joint practice out of Los Angeles that focuses on utilizing found objects to produce functional bronze furnishings and works of art. Now, a survey of their one-of-a-kind pieces has gone on view at Miami's Nina Johnson Gallery in an exhibition called "Daphne," which offers a glimpse into their creative universe. By employing burnout cast molds that are destroyed in the firing process, the duo has produced an array of Giacometti-esque tables, vases, boxes, and lighting that can never be replicated. Catch it through April 1.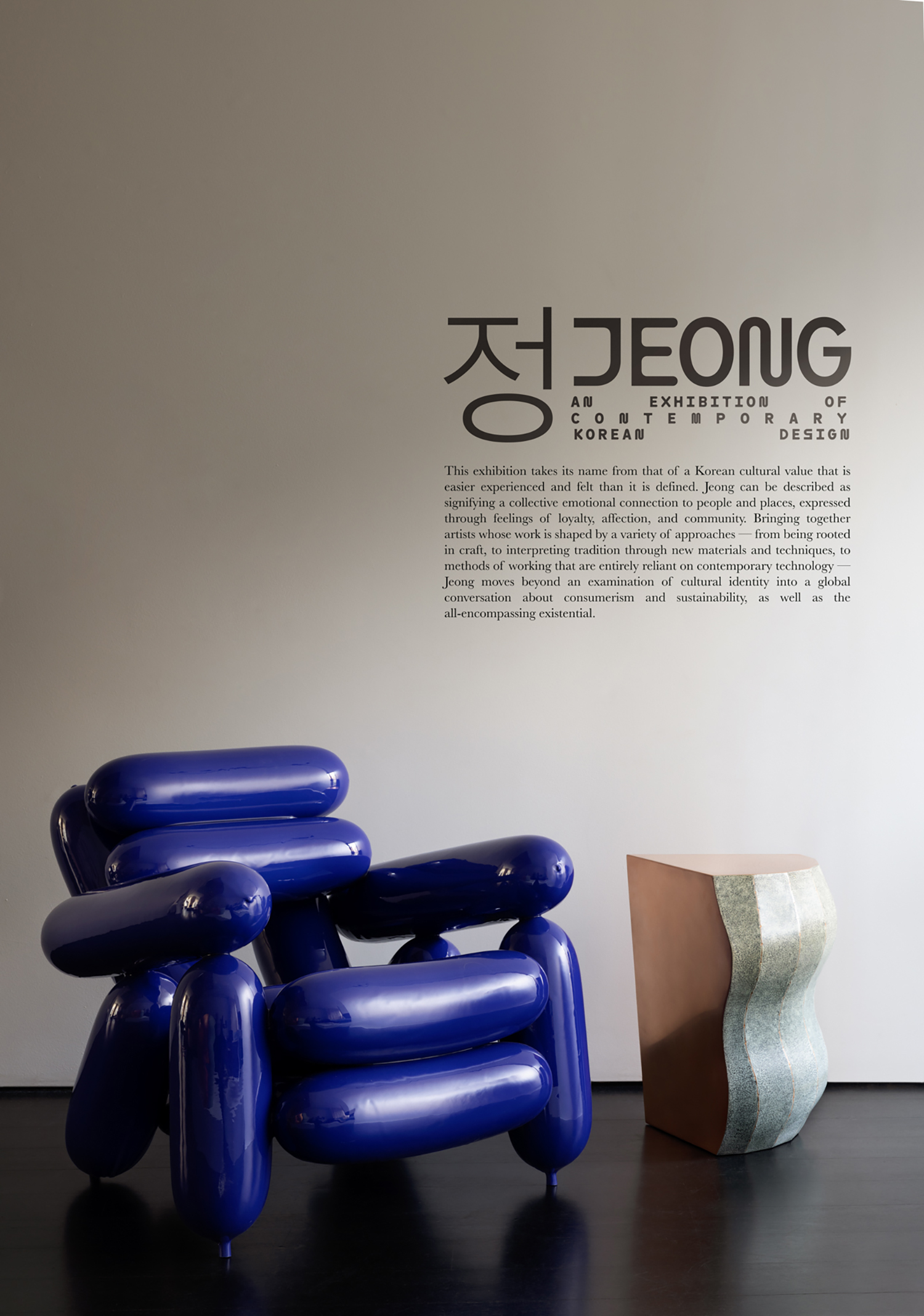 4. "정Jeong: An Exhibition of Contemporary Korean Design" at the Future Perfect | New York
Shining a spotlight on eight contemporary South Korean talents, The Future Perfect's latest show takes its name from the Korean cultural value of jeong, a collective sense of loyalty and a strong emotional bond to people and places. On view now through March 17, the exhibition explores contemporary creatives who are taking the country's rich craft tradition to new heights. Among the highlights are the signature balloon furnishings by Seungjin Yang and ethereal ceramics by Jane Yang-D'Haene, as well as architectural tables and objects made of resin and acrylic by Rahee Yoon.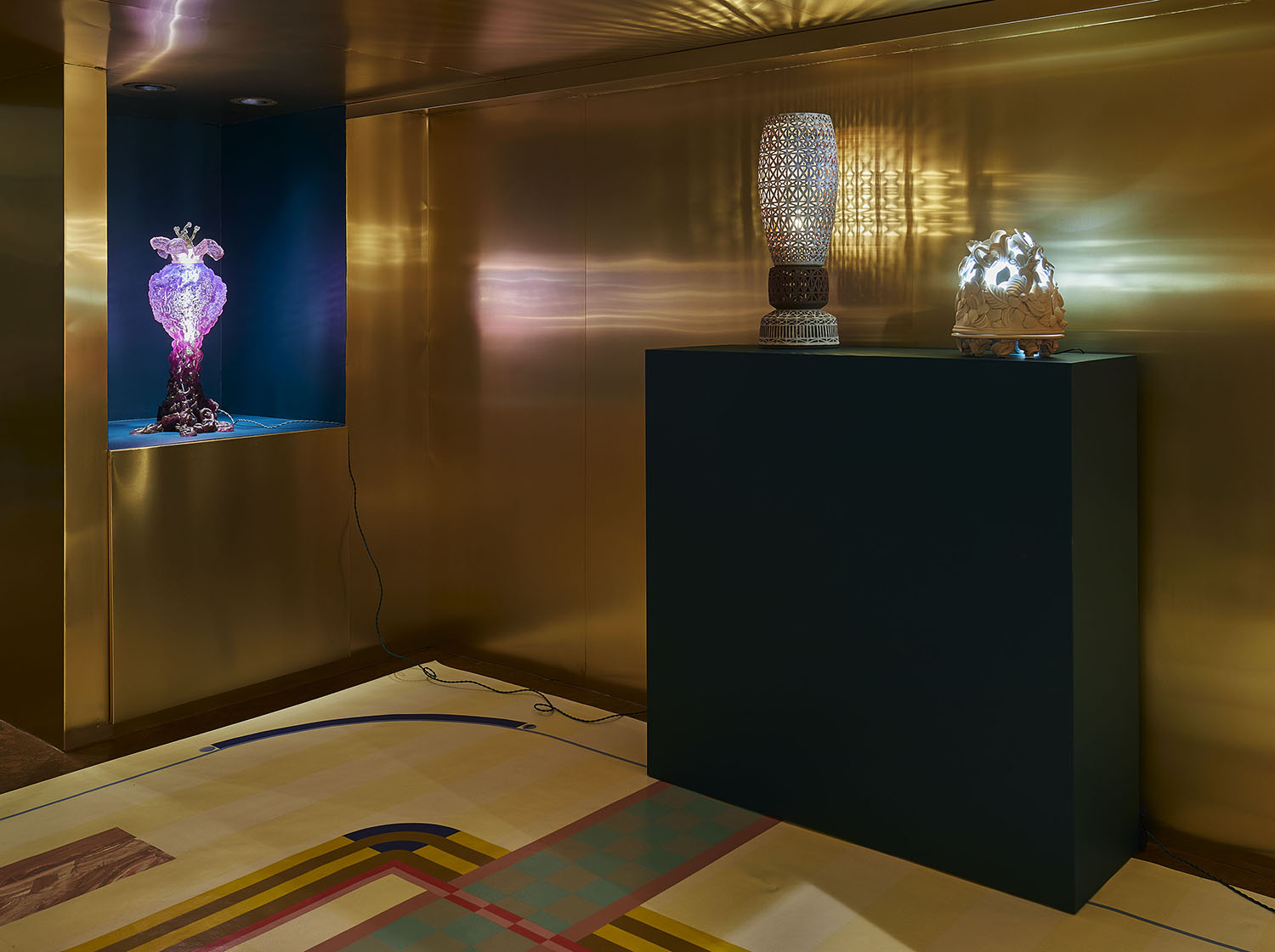 5. "LEO: Light Emitting Objects" at Culture Object | New York
Conceived as a showcase to explore how far artists can push light as a medium, the latest show at midtown gallery Culture Object features an exclusive array of commissioned pieces by artists such as Carol Milne, Dara Schafer, Jo Taylor, Jeannette Ephraim, and Kelly Witmer. "This exhibition proposes that a light should be compelling and conceptually worthy of the attention it automatically commands," explains the gallery's founder, Damon Crain. On view through March 25, "Light Emitting Objects" certainly delivers on its mission. Don't miss Ephraim's stunning gourd chandelier (made from actual vegetables), a floral-inspired crystal lamp by Milne, a curious mushroom garden by Schaefer, and Matt Repsher's lantern made of incised ceramic and cork.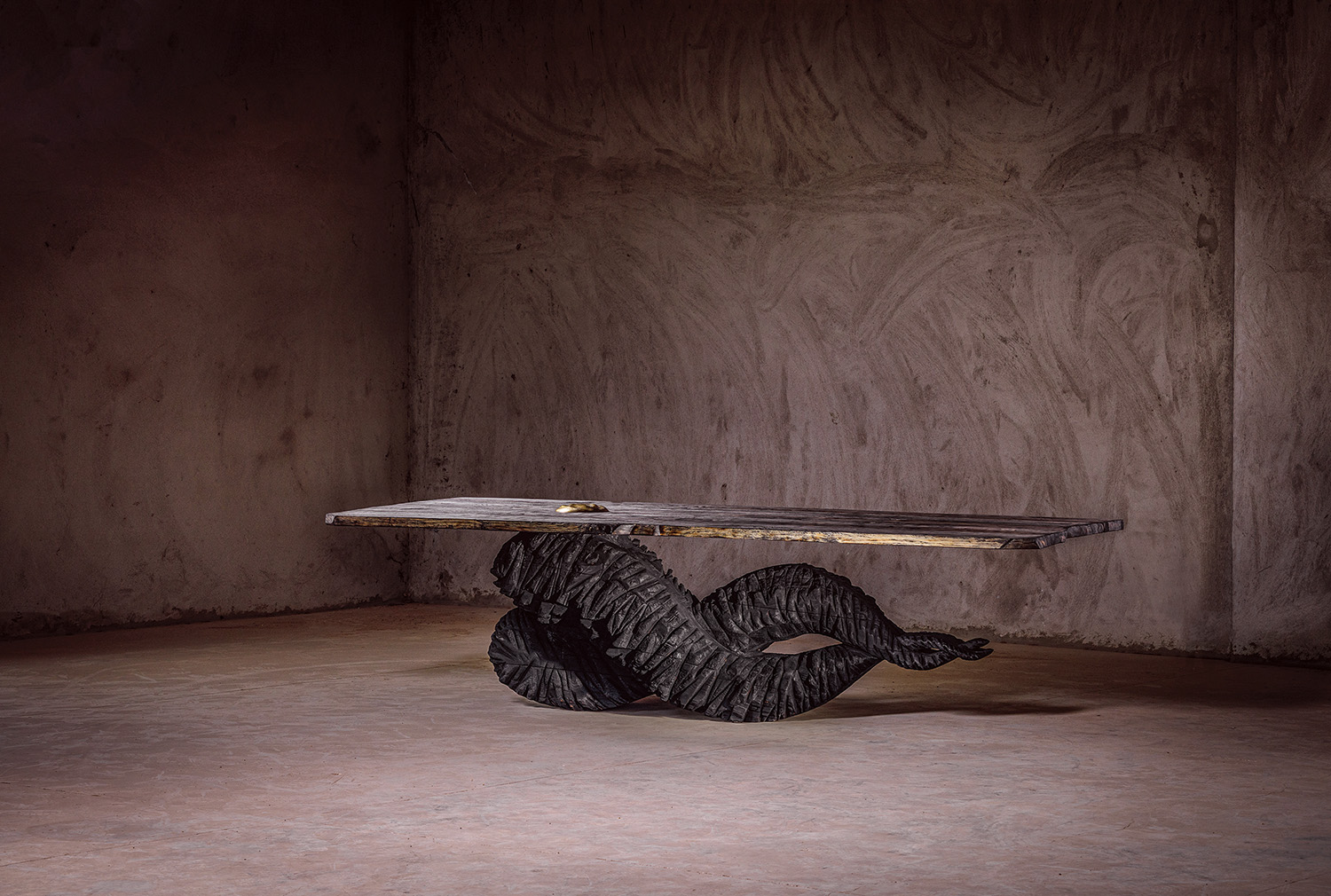 6. Hamza Kadiri at Les Ateliers Courbet | New York
A single tree trunk can become a remarkable work of art in the skilled hands of Moroccan sculptor Hamza Kadiri, who has just made his Stateside debut with a solo show at Les Ateliers Courbet in New York. Born to a family of artisanal woodworkers, the fast-rising artist has been quietly building an impressive cache of awe-inspiring furnishings from his workshop in Casablanca. "I had a visceral response to Hamza's work from the moment I saw it in person," says gallerist Mélanie Courbet, who brought his Eros Brut table to Design Miami/. This new exhibition, which is on view through March 17, includes six new pieces: side tables, credenzas, a bench, and an armoire—each of which perfectly illustrate the artist's masterful technique.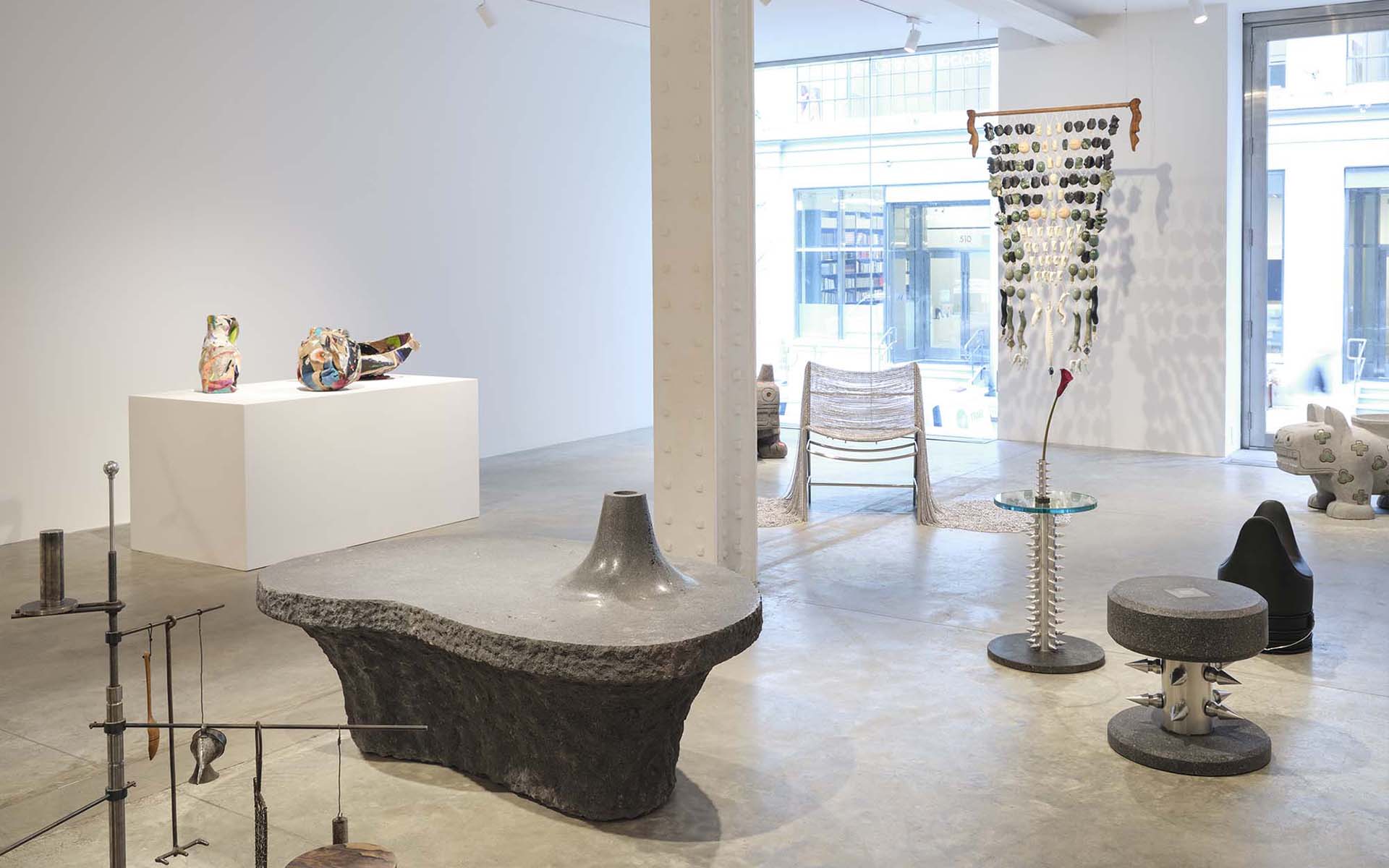 7.  "Everything Here Is Volcanic" at Friedman Benda | New York
A dazzling distillation of contemporary Mexican design, "Everything Here Is Volcanic" is Friedman Benda's ninth guest-curated exhibition and the first to focus specifically on the region. Organized by Mario Ballesteros, cofounder of curatorial agency Andamio, the show takes its name from late Swiss architect Hannes Meyer, who arrived in Mexico in 1938 and became immediately enchanted with the country's physical and cultural landscape. On view through February 18, the exhibition includes a domestic vignette created by Lucas Cantú and Carlos H. Matos, who run art and architecture studio Tezontle (and were named one of Galerie's 2021 Creative Minds). There's also a beaded chair by architect Frida Escobedo; a cactus floor lamp by Fernando Laposse (also a 2021 Creative Mind), and a pair of leather stools by the fast-rising designer and artist Bárbara Sánchez Kane.
Next Post