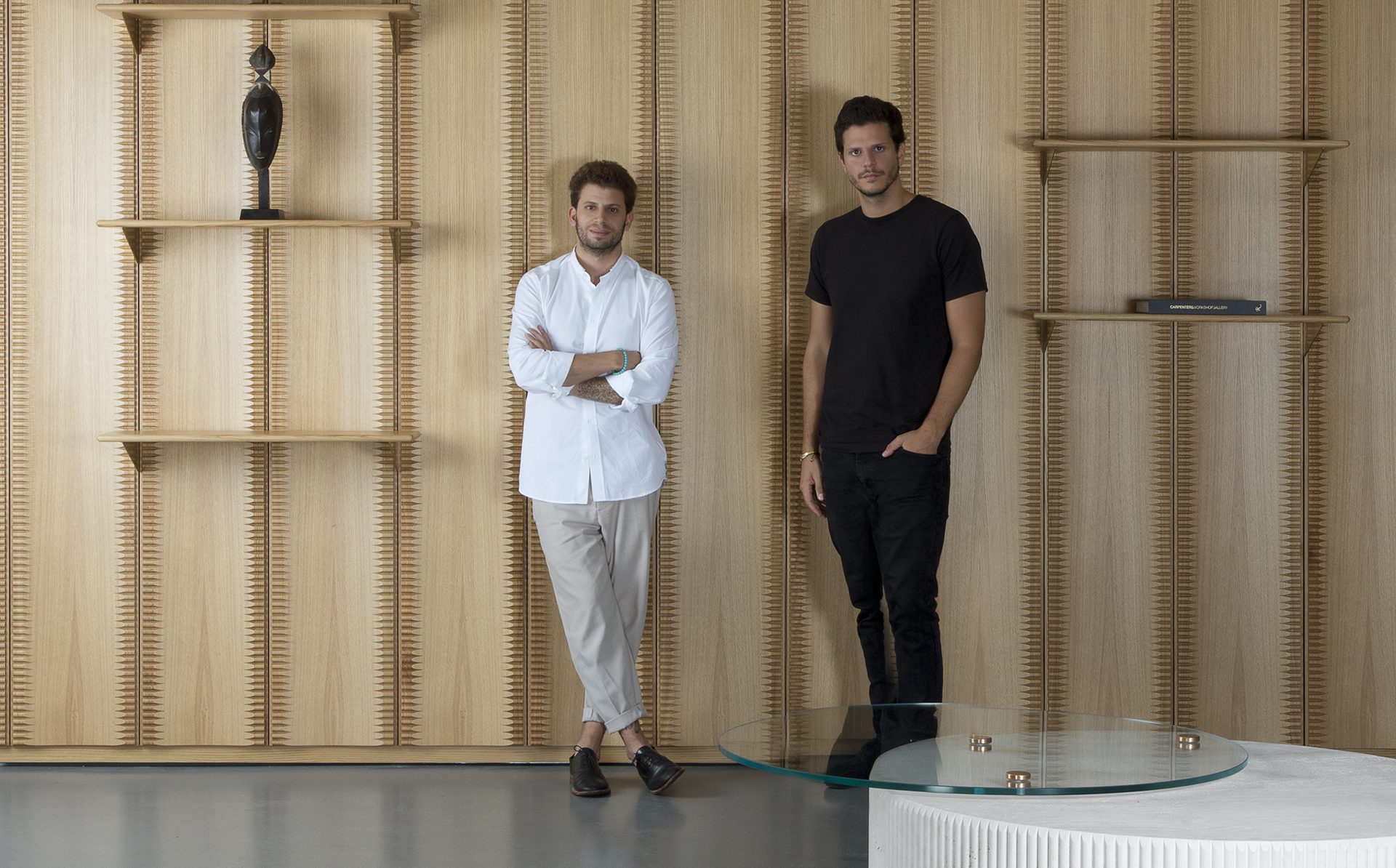 Find Out Why This Design Duo Are Making Waves in Paris
Designers David Raffoul and Nicolas Moussallem talk to Galerie about their "retro-futurist" exhibition at Carpenters Workshop Gallery
Some designers look inward for inspiration, some look out. And then there's David Raffoul and Nicolas Moussallem, who are looking as far as outer space. The founders of design studio David/Nicolas just opened a dazzling exhibition, fittingly titled "Supernova," at Carpenters Workshop Gallery in Paris.
"Astronomy is an interesting way for us to tackle an important subject in design, which is balance," the designers, who are based in Beirut, wrote to Galerie. "The way the universe works is based on balance and gravity, and we believe it plays a major role in people's everyday lives."
"Supernova" is the team's inaugural exhibition at Carpenters Workshop, where shows tread a fine line between furniture and art—what the gallery dubs "functional sculpture." No exception to this rule, the two new collections—named Constellation and Monacle—are nothing short of artful. Encompassing tables, cabinets, and rugs, the lines feature luxe materials that the designers picked not only based on aesthetics but also on their aura.
Recommended: Beloved Italian Concept Store Arrives in New York
"We believe that materials communicate energies," Raffoul and Moussallem explained. "A big mass of travertine is, in our point of view, quite soothing. Its energy is very subtle and reflects a sense of reassurance—you can feel the stone and its weight." That very tangible presence manifests in pieces like Constellation C040, a low table cast in travertine and inlaid with a honed stainless-steel pattern.
If there's one element that pushes the works into the realm of art, it's the designers' personal touch. "One of the biggest challenges we faced was staying true to our own identity," they wrote. "People who are familiar with our work pointed that out at the exhibition."
Now in its seventh year, the studio is known for its retro-futuristic aesthetic, something that's taken it global; its big break came in 2014, when the New York Times selectedDavid/Nicolas as one of Milan Design Week's "Three Breakout Stars." From there, a series of solo exhibitions in Beirut plus an appearance at Maison & Objet, where Raffoul and Moussallem debuted their Orquestra tableware collection for Vista Alegre, solidified their place among leading contemporary talent.
For all the success, the pair still embarks on other creative endeavors from time to time. This could mean anything from refurbishing a classic car to designing a custom interior. Credit their continued success to obsessive attention to detail and a wellspring of inspiration. In addition to astronomy, Raffoul and Moussallem pull ideas from antique furniture, robots, and the city of Beirut, which has long been a melting pot of Eastern and Western cultures.
Recommended: This Concrete Faucet Is Unlike Anything You've Seen Before
But one of the artists who inspires them most? "Daft Punk," they reported, referring to the masked musicians behind hits like "Get Lucky" and "One More Time." Regardless of whether this is because the designers see themselves as the design-world equivalent of the electronic duo or because they just love the music, Raffoul and Moussallem are clearly committed fans.
"We are truly very inspired by Daft Punk. We believe these guys have built such an incredible path, ranging from their vision to the music they create. They've been such a great inspiration since the beginning, and we must say, understanding their vision has definitely helped us to ask ourselves the right questions."
"Supernova" is on view through October 6 at Carpenters Workshop Gallery in Paris, 54 rue de la Verrerie. 
Next Post