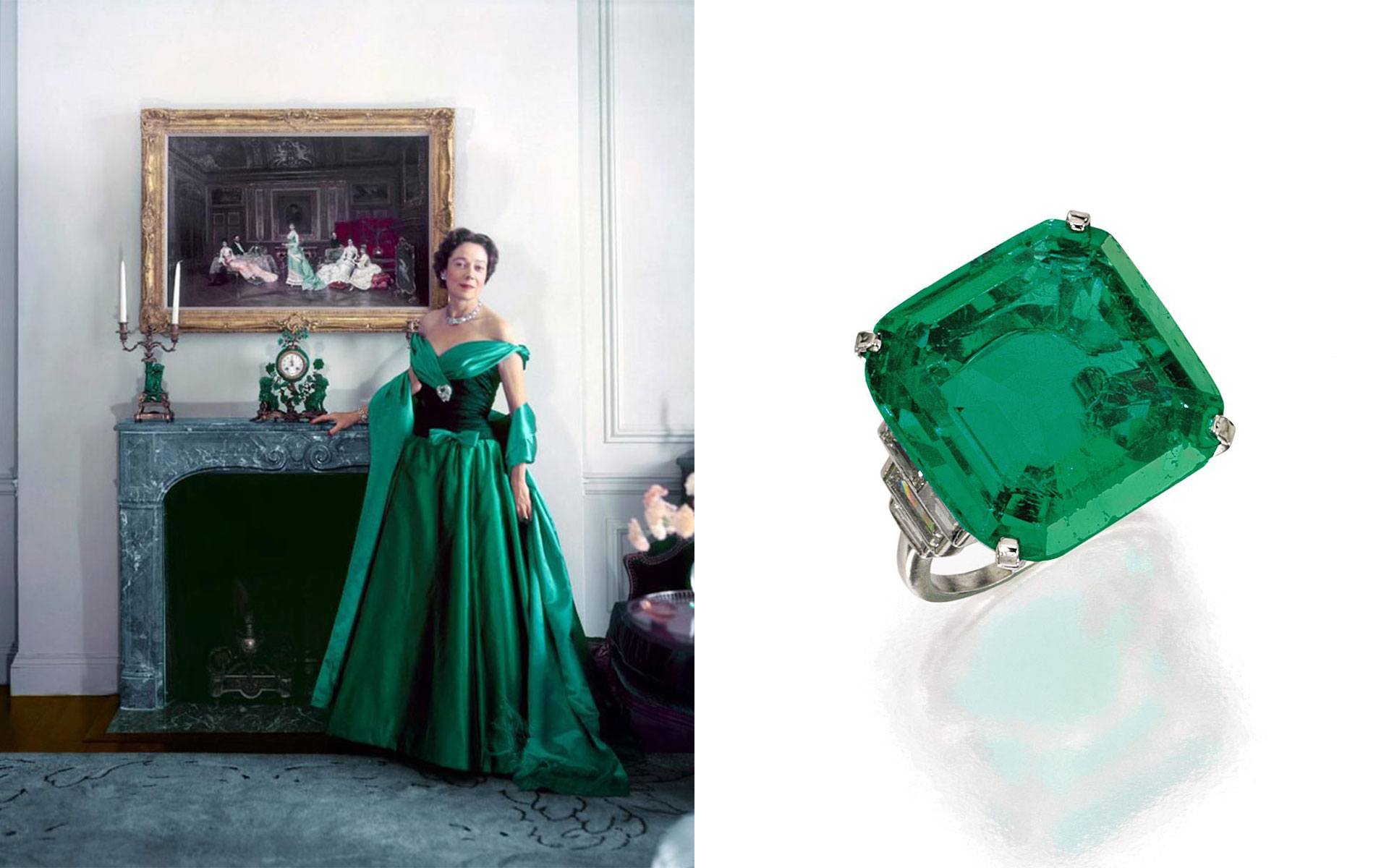 The Most Famous Jewelry Gifts and the Stories Behind Them
From Brooke Astor's engagement ring to Marella Agnelli's iconic necklace, these are the world's most noteworthy tokens of love
Throughout history, jewelry has been one of the most powerful symbols of love, capturing one's passion and devotion into one gleaming bijoux. Below, Galerie looks back on some of history's most extraordinary love stories that were marked by a remarkable gift of multifaceted beauty.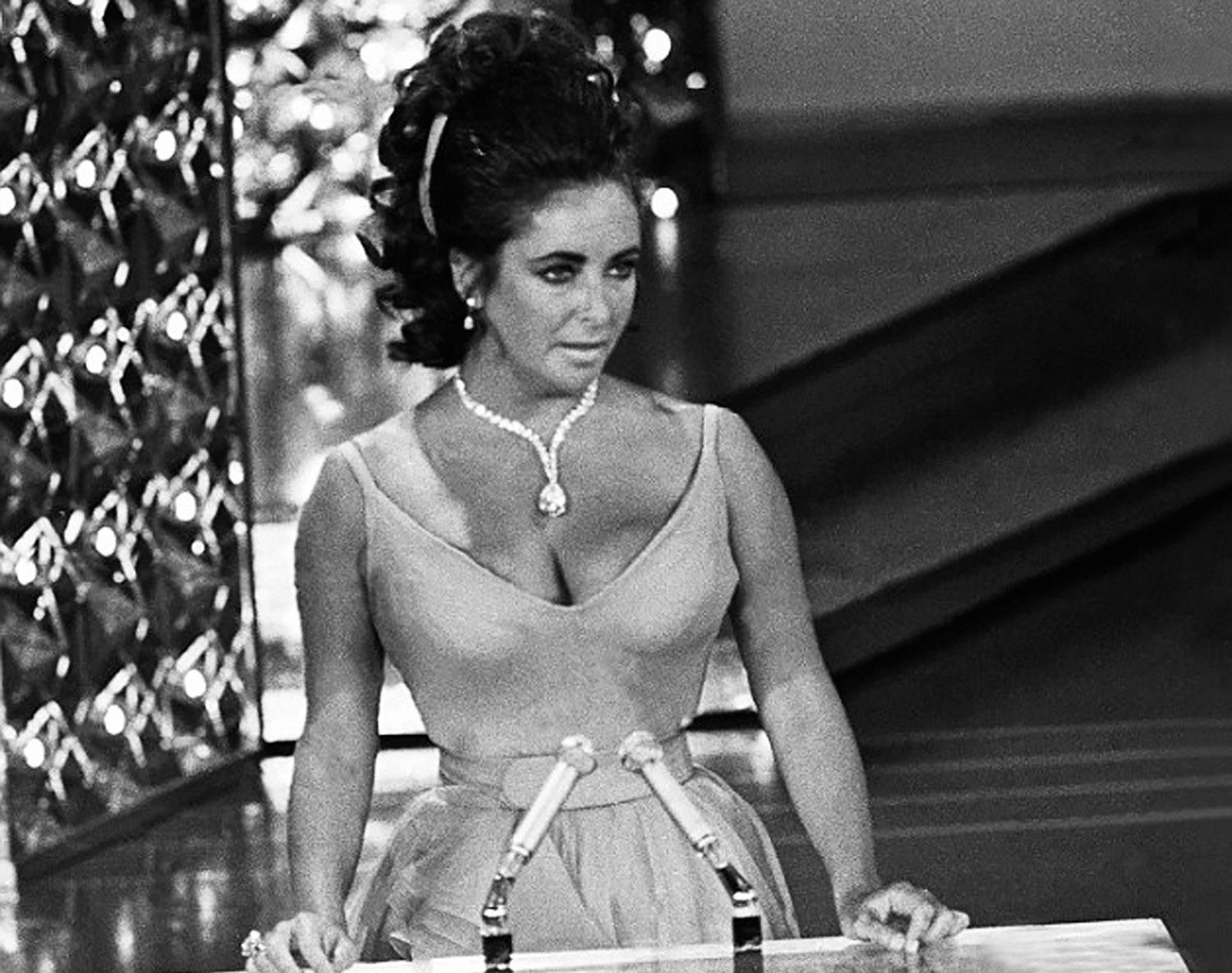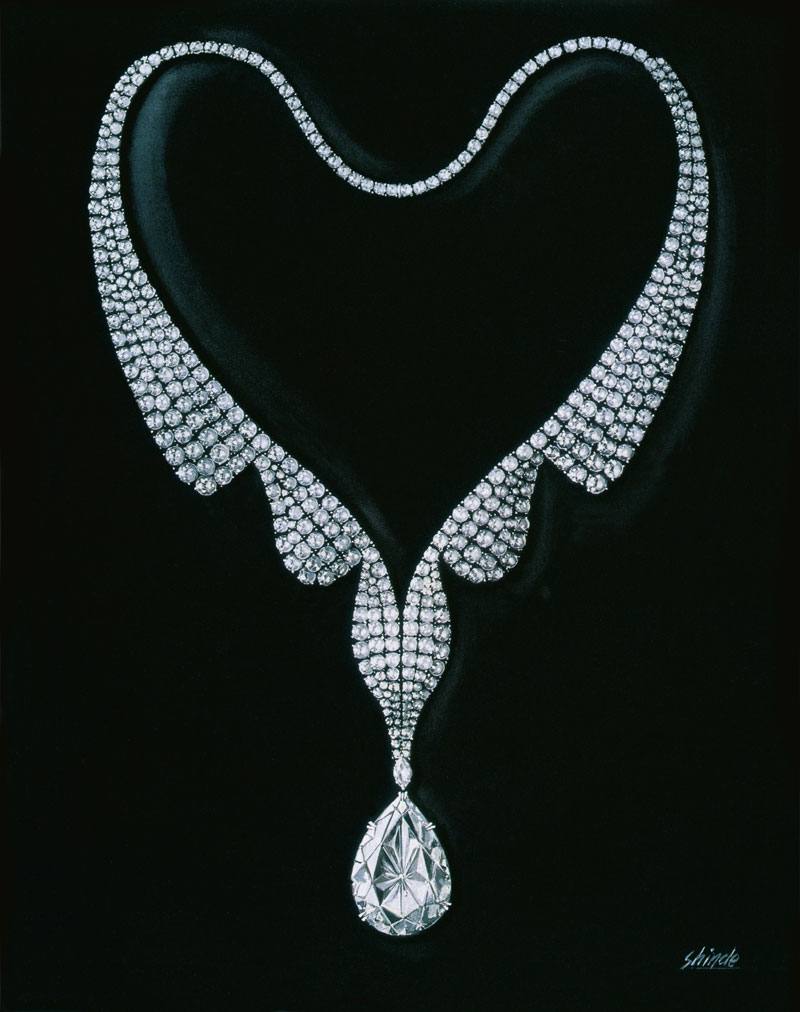 1. The Taylor-Burton Diamond
In 1966, the King of Diamonds Harry Winston purchased a rough diamond of 241 carats, which he had cut into a pear-shaped, nearly 70-carat, flawless stone. Eventually, this iconic gem was purchased by Richard Burton and fashioned into a necklace as a gift for his wife Elizabeth Taylor, earning the piece the glamorous moniker, the Taylor-Burton Diamond.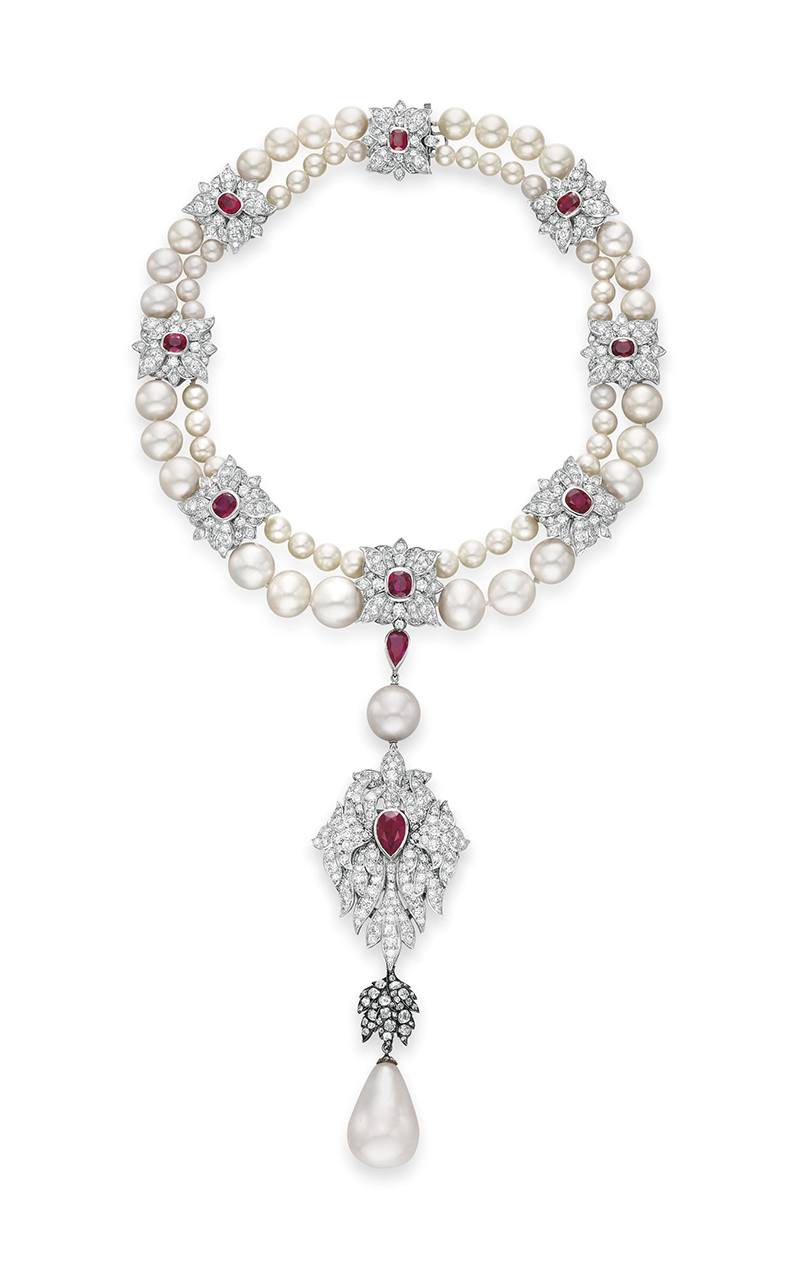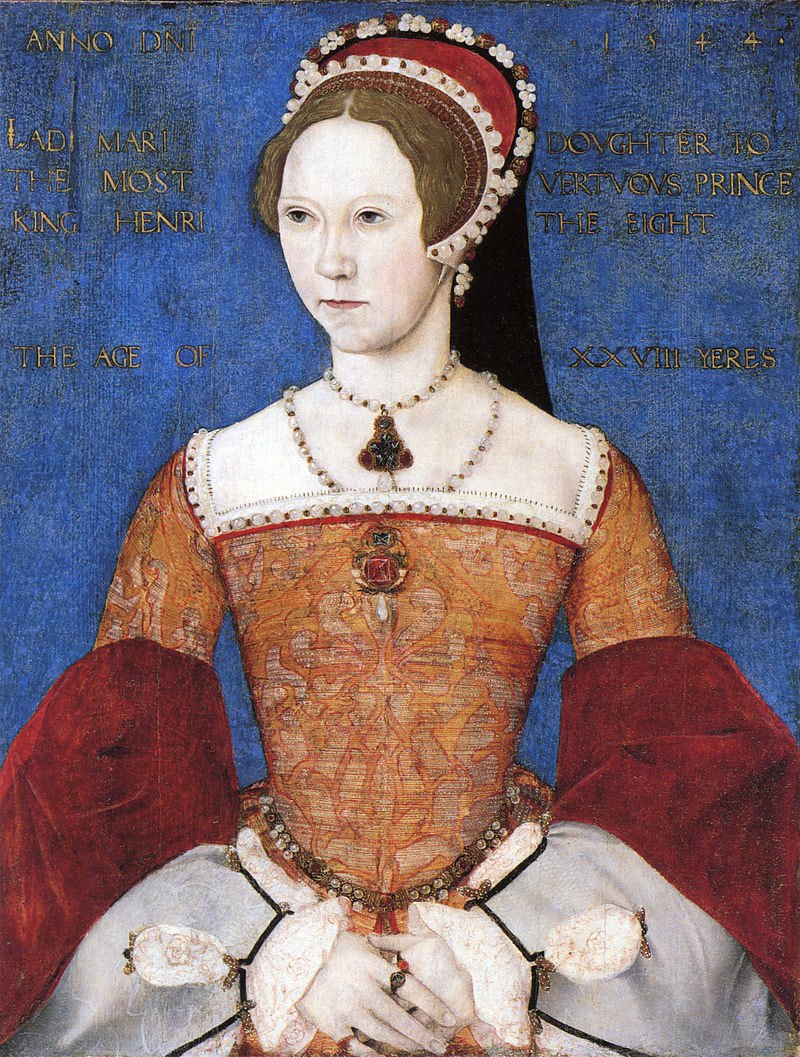 2. La Peregrina
Few jewels boast the excitement, glamor, and provenance of the renowned La Peregrina. The 50-carat pear-shaped pearl is believed to be one of the most symmetrical natural pearls ever discovered. Reportedly found in the gulf of Panama in the 16th century, the La Peregrina, meaning pilgrim, was gifted to King Phillip II of Spain, who presented the jewel to Queen Mary of England (Mary Tudor) as a wedding gift. It has also been owned by the Bonapartes of France, and the British Marquis of Abercorn. It was eventually purchased by Richard Burton for Elizabeth Taylor in 1969, who had Cartier reset it with pearls, diamonds, and rubies. It sold at Christie's in 2011 as part of a sale of Elizabeth Taylor's legendary jewels for a $11,842,500, far exceeding its $3,00,000 million high estimate.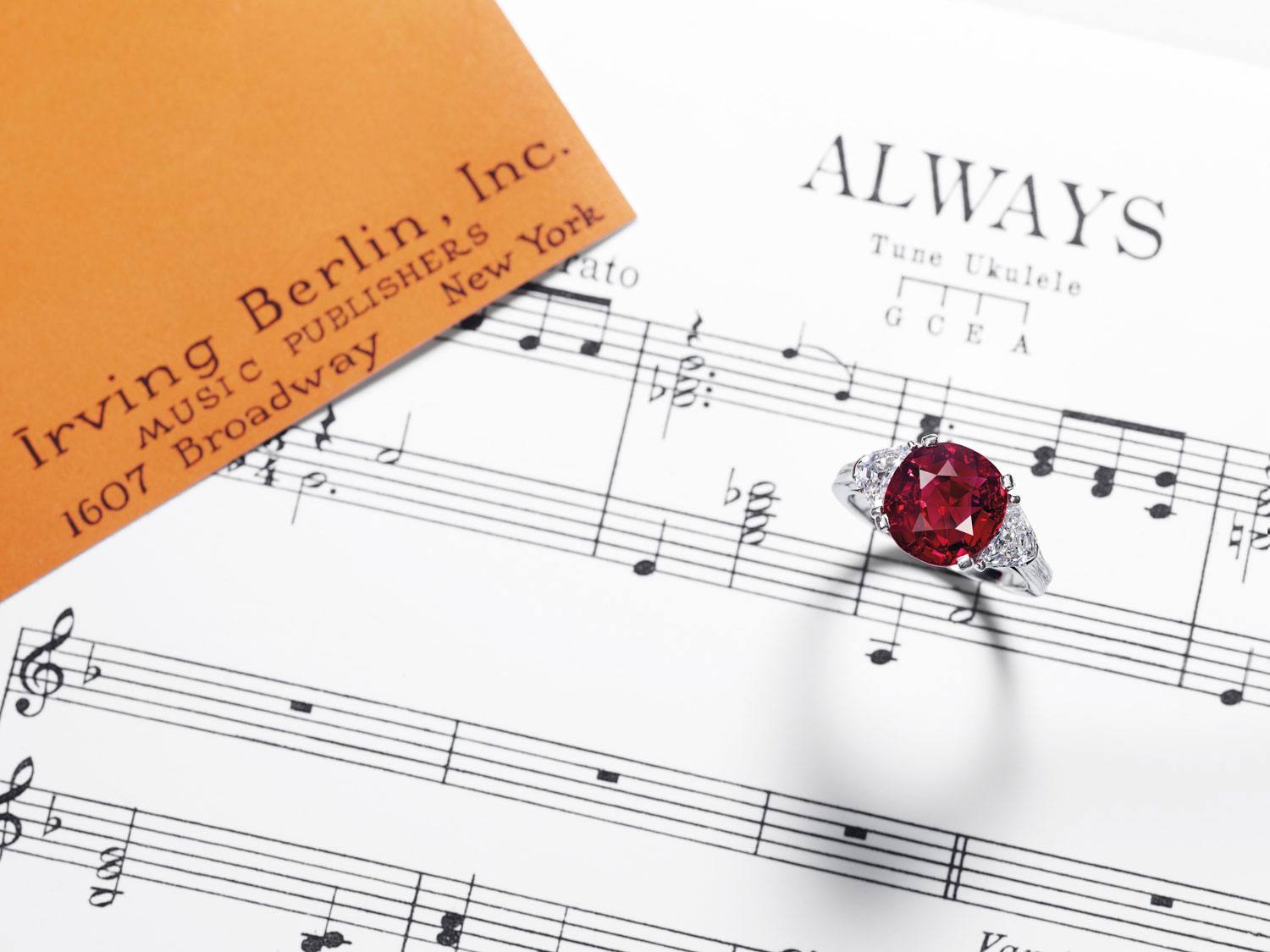 3. The Berlin Ruby Ring
This 4.59-carat, Burmese ruby-and-diamond ring, mounted by Tiffany & Co., was given by the famed composer and lyricist Irving Berlin to his wife Ellin Mackay in 1966 upon their 40th wedding anniversary. The mesmerizing ruby speaks to Berlin's discerning eye for collecting gemstones and is a magnificent tribute to their great American love story. It sold at Christie's "Magnificent Jewels" auction in 2108 for $1,152,500.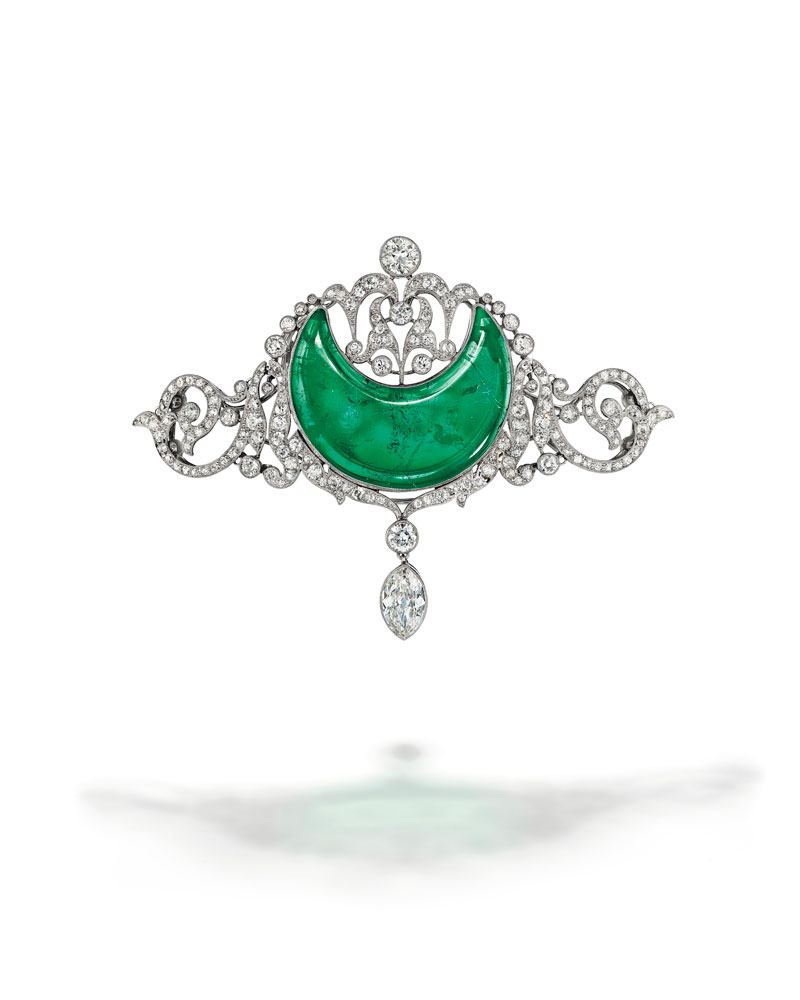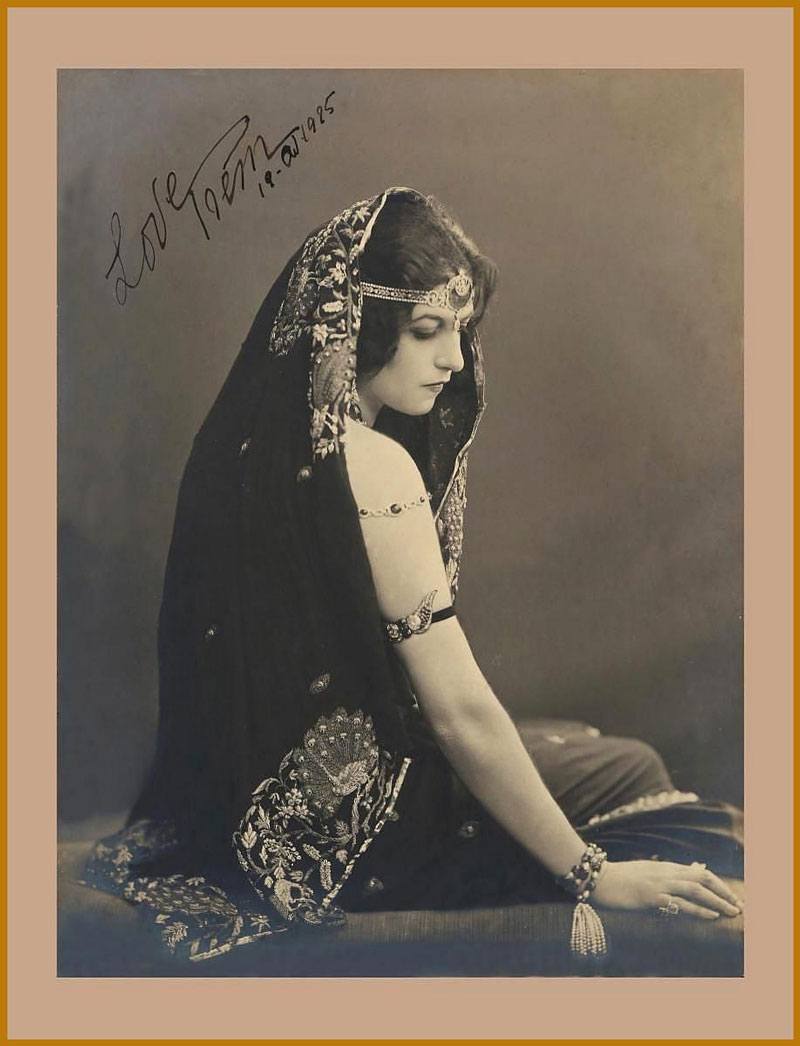 4. Belle Epoque Emerald and Diamond Brooch
This extraordinary crescent brooch was purchased by the Maharaja Jagatjit Singh of Kapurthala as a gift for his wife Anita Delgado. Born in Malaga to a family of modest means, Delgado was a stage dancer who caught the attention of  the Maharaja Jagatjit Singh of Kapurthala, a charismatic Indian prince visiting Spain to attend a royal wedding. Protective at first, the Delgado family eventually allowed their daughter to meet the prince, who quickly proposed and whisked her away to Paris, where she took months of lessons to become a true lady and Maharani of Kapurthala. This magnificent stone originally adorned the Maharaja's most prized elephant until it was given to Anita as a reward for learning Urdu. She was often pictured wearing the jewel on her forehead in formal portraits.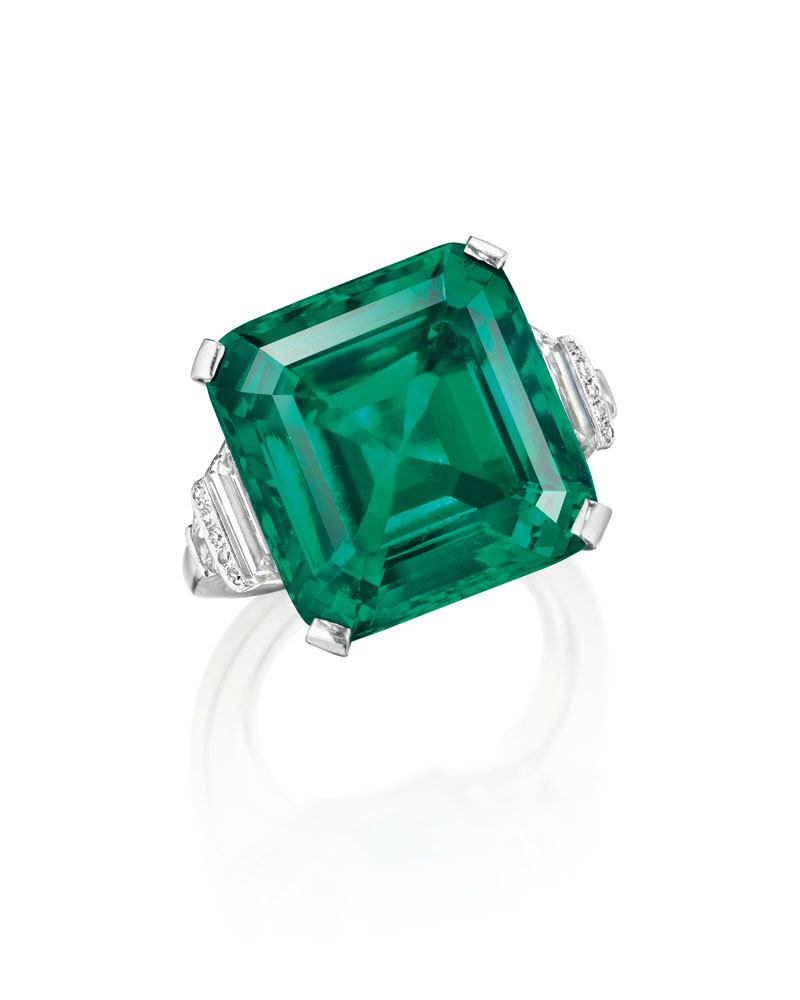 5. The Rockefeller Emerald
In 1930, John D. Rockefeller, Jr. purchased a dazzling brooch centered on a large, exquisitely colored emerald for his wife, Abby Aldrich Rockefeller. When she passed away in 1948, Rockefeller turned to New York jeweler Raymond Yard to disassemble the piece so he could distribute the individual emeralds to each of his children. The center stone, weighing a whopping 18.04 carats, was given to his son David Rockefeller who had Yard fashion it into a ring. It was auctioned at Christie's Magnificent Jewels auction in New York City and sold to jeweler Harry Winston for $5.5 million.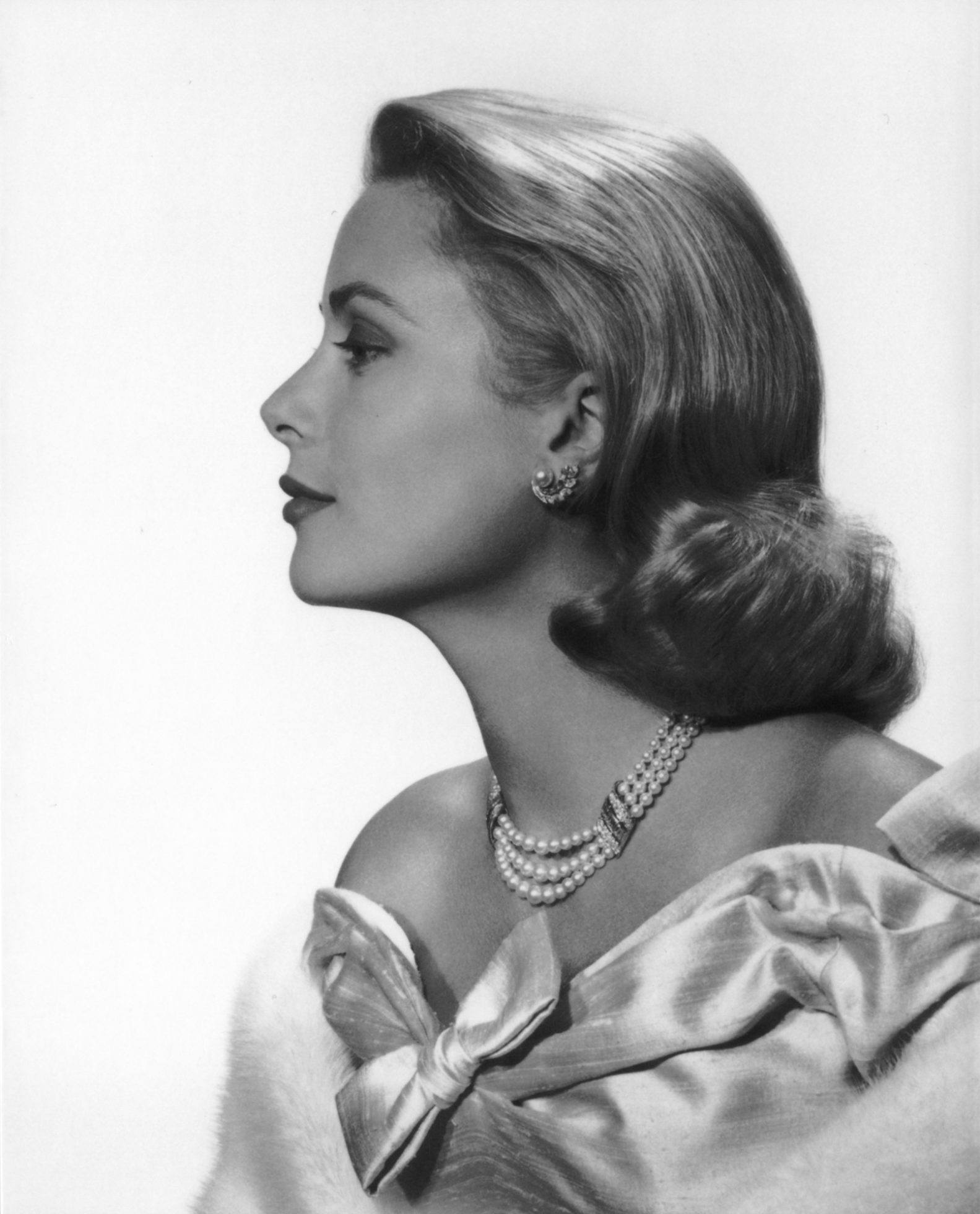 6. Grace Kelly's Van Cleef & Arpels Pearls
"I favor pearls on screen and in my private life," Grace Kelly once said in an interview when asked in the early 1950s about her favorite type of jewels. For a wedding present, Kelly's husband-to-be Prince Rainer took her to the Van Cleef & Arpels boutique in New York where they met with Louis Arpels. The actress chose several pearl jewels created between 1953 and 1956, including this dazzling triple-strand pearl necklace with a diamond swirl motif.  The visit was an important one for the brand, too. Three months later, the French jeweler was named the "Official Supplier to the Principality of Monaco." For the 2019 Rose Ball in Monaco, Grace's daughter, Princess Caroline of Hanover, stepped out in the entire Van Cleef & Arpels pearl-and-diamond suite, bringing the collection out for the first time since Kelly's death.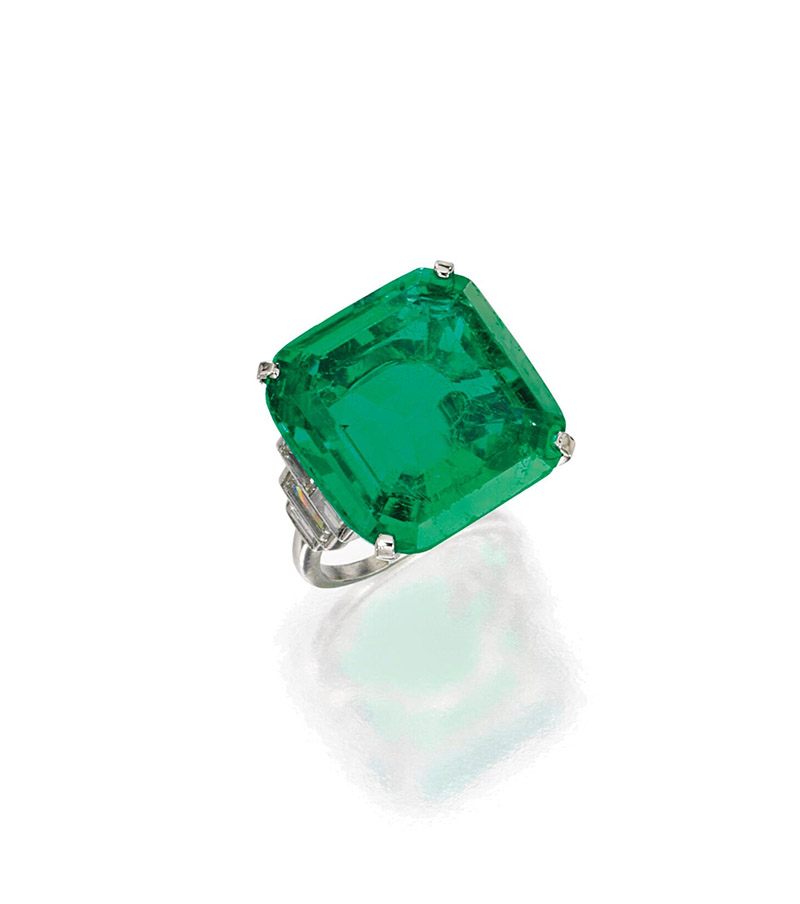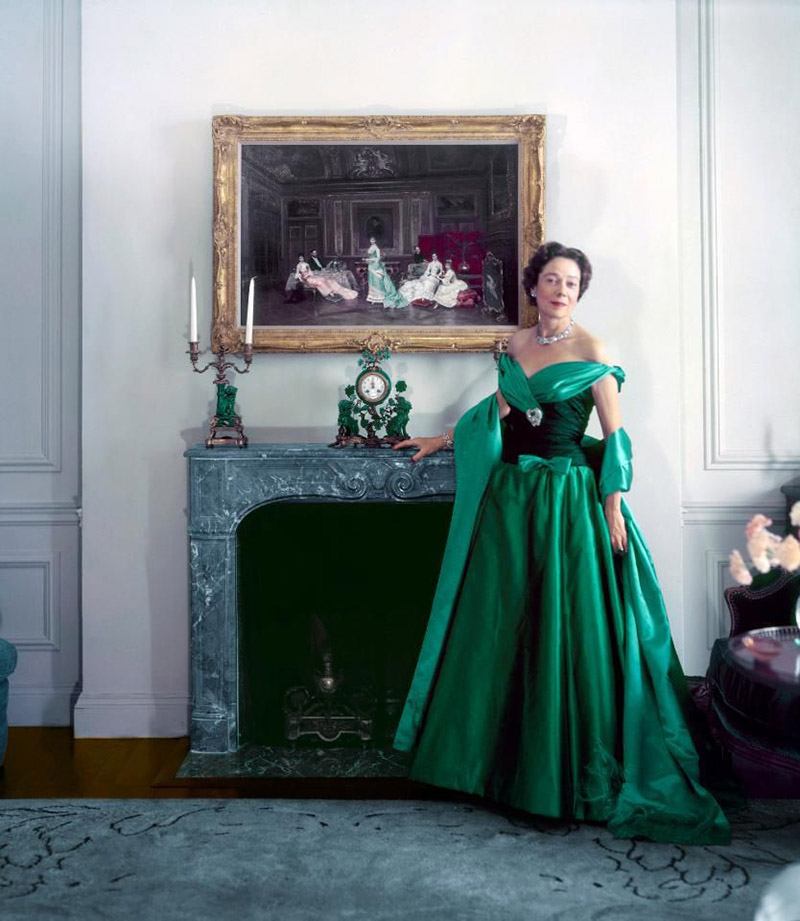 7. Brooke Astor's Emerald Engagement Ring
This 22.84-carat emerald-and-diamond ring was presented by Vincent Astor to the soon-to-be Mrs. Astor upon their betrothal in 1953. Cecil Beaton, a friend of the bride, was asked to take portraits at their engagement party at the St. Regis where she wore a Balmain ball gown made of various shades of green satin. She wrote in her autobiography that she wore the ring that evening "to complete the color scheme." The magnificent piece recently sold at Sotheby's for $1.2 million.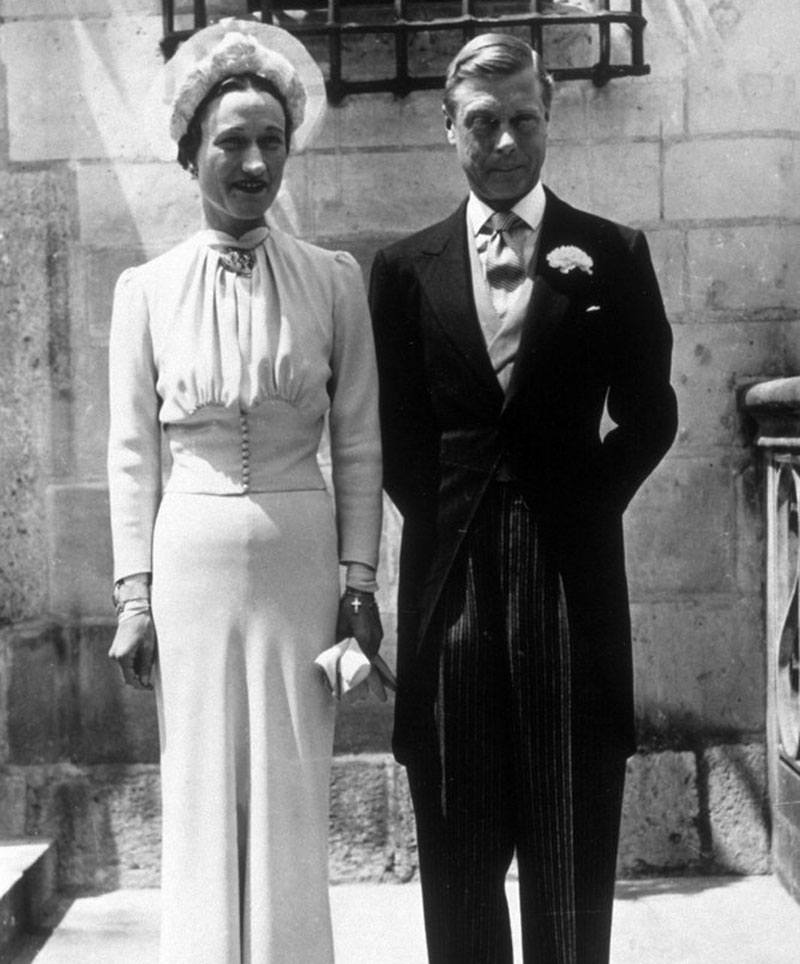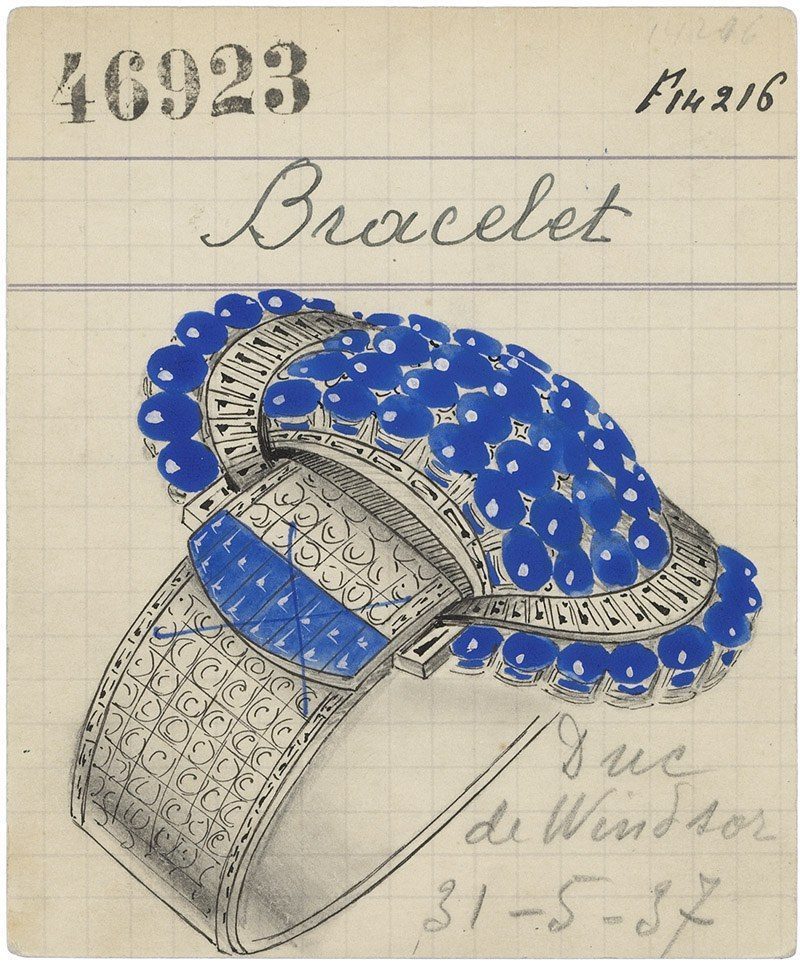 8. Van Cleef & Arpels Jarretière
In 1937, Wallis Simpson married the Duke of Windsor, becoming the Duchess of Windsor. This union consummated a controversial passion between the American and the heir to the British crown, who abdicated in 1936 in order to marry "the woman I love." For her wedding day, she was gifted a statement-making diamond and sapphire jarretière. Van Cleef & Arpels had designed the bracelet as a glittery twist on a bride's garter or jarretière. Their love story is reflected in a number of items by the storied French maison; the couple, who both loved jewelry, would spend hours with the designers coming up with commissioned pieces.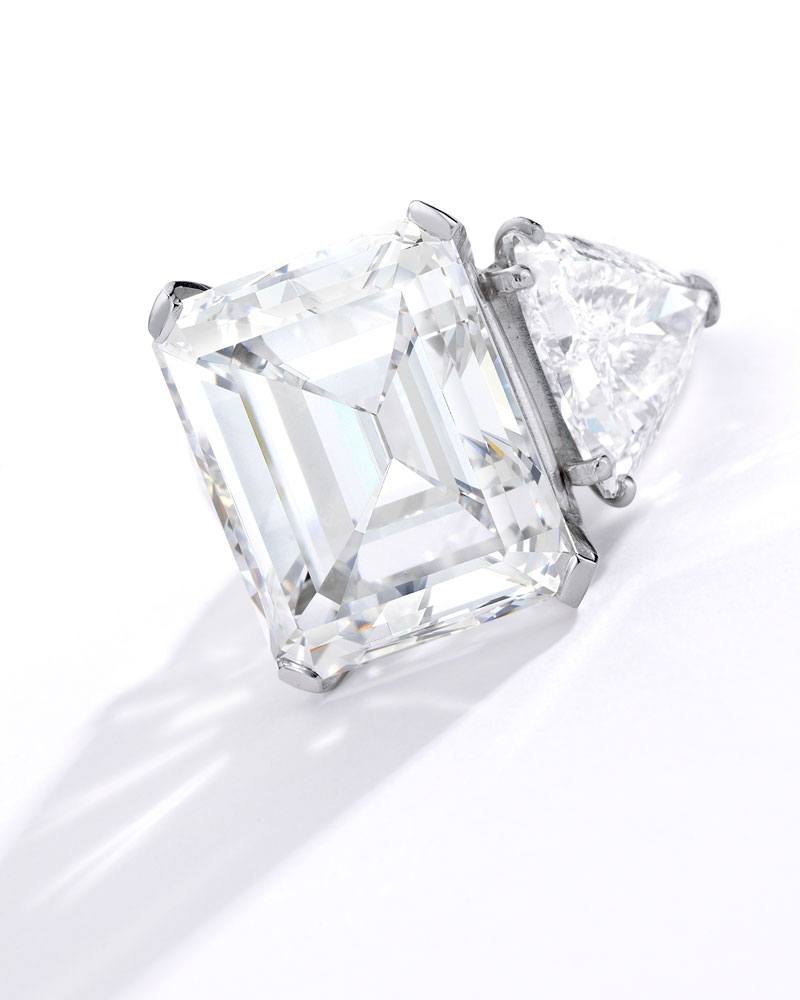 9. Barbara Sinatra's Engagement Ring
This 20-carat emerald-cut diamond ring was one of two given to Barbara Sinatra in a pivotal moment in her four-year courtship with legendary Rat Pack crooner Frank Sinatra. The story goes that Frank threw the two huge rocks onto the bed and told her to pick one. Once her chosen stone had been set, he dropped it into her glass of champagne. When he still hadn't actually proposed, she forced him choose which finger to put it on and the rest is history. It sold at Sotheby's in 2018 for $1,695,000.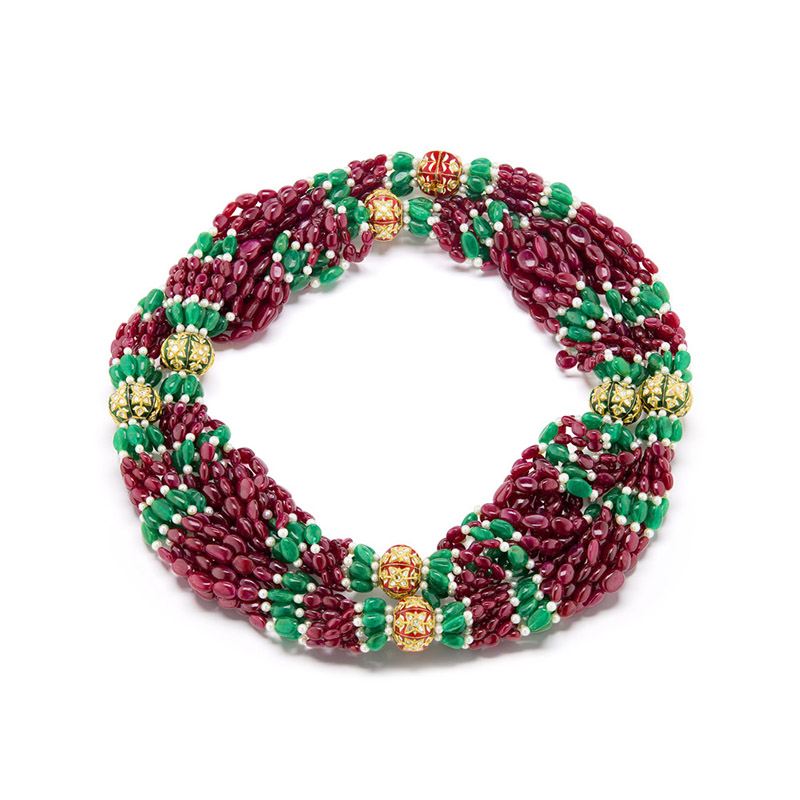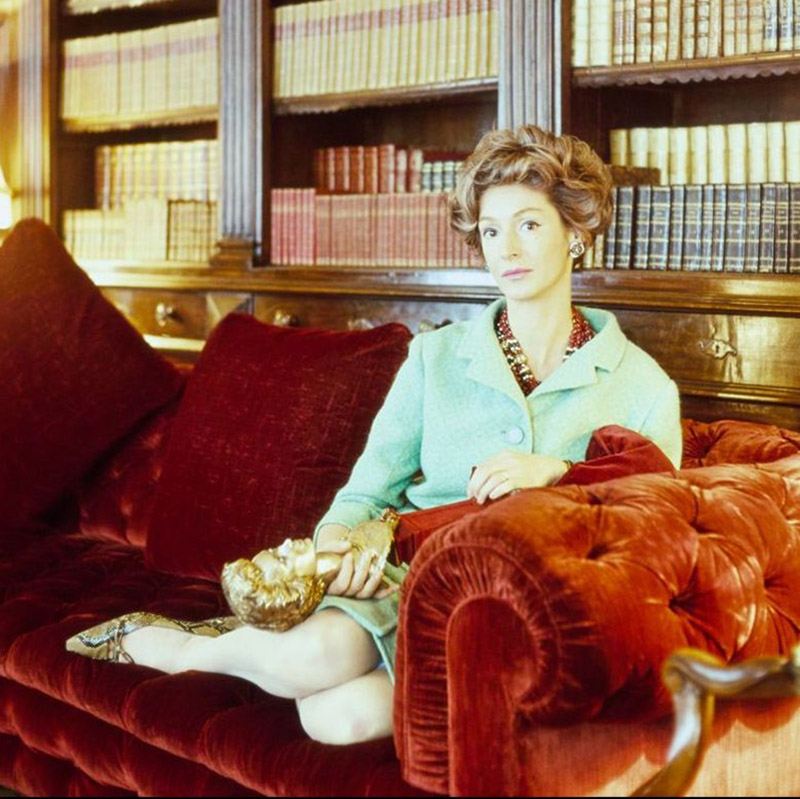 10. Marella Agnelli's Beaded Necklace
One of Truman Capote's society "swans," Marella Agnelli was an international symbol of jet-set glamor and style. In 1955, her husband, Gianni Agnelli, the Italian business magnate and president of Fiat, bought her a dazzling necklace of ruby and emerald beads accented with seed pearls. He had been to visit the famed Gem Palace in Jaipur, a go-to source for some of the most important and rare gemstones in the world, owned by the Kasliwal family, when he noticed a strand of beads that once belonged to a Maharaja. He requested to have them restrung as a necklace for his beloved wife. The piece instantly became a favorite of Marella's and was worn frequently throughout her life. Photographs over the years reveal how she paired it with everything from shift dresses and cotton shirts to shimmering evening gowns. A pair of modern necklaces, dubbed "The Last Swan," were recently created using the remaining beads from Marella's original version. 
11. The Marie Louise Diadem
Napoleon gave this striking Diadem to his second wife, the Empress Marie-Louise, on the occasion of their marriage. Commissioned in 1810, it was originally set with emeralds, which were replaced in the mid-1950s with turquoise. It is currently in the collection of the Smithsonian Museum in Washington D.C.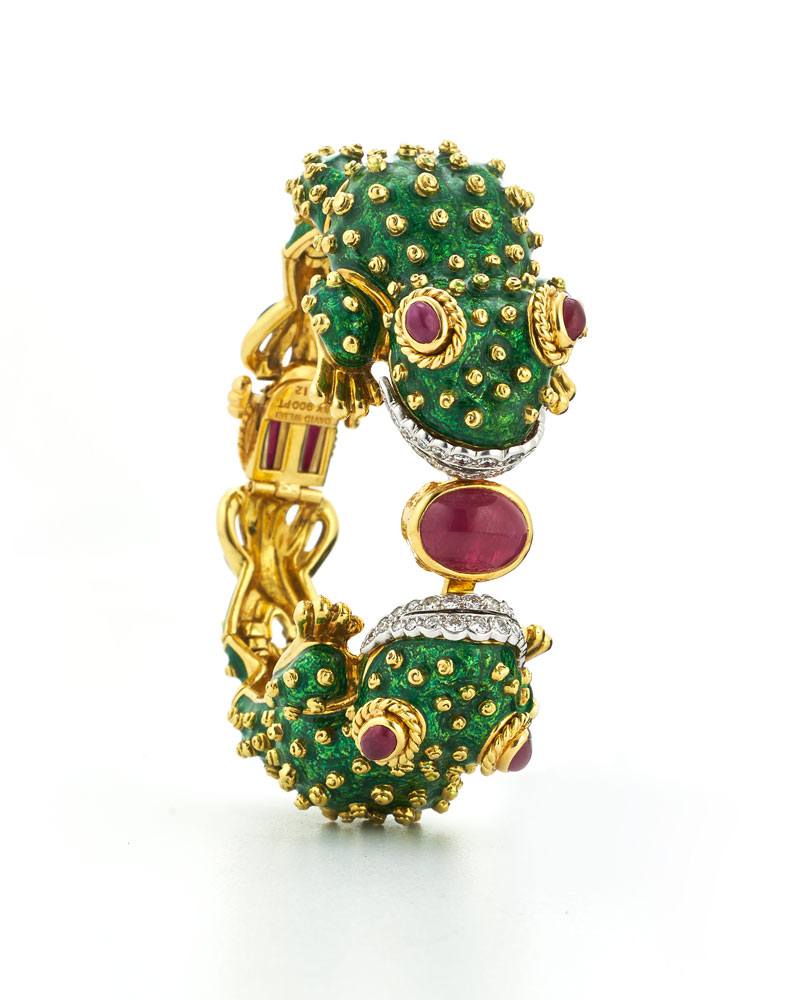 12. David Webb Double Headed Frog Bracelet 
This whimsical Double Headed Frog Bracelet was given to the Duchess of Windsor by the Duke of Windsor in 1964. One of designer David Webb's first animal bracelets, it was crafted by the great American jeweler using green enamel, cabochon rubies, circular-cut diamonds, platinum, and gold. It was purchased in New York, sent to Palm Beach, and then shipped aboard an ocean liner back to France. 
Next Post