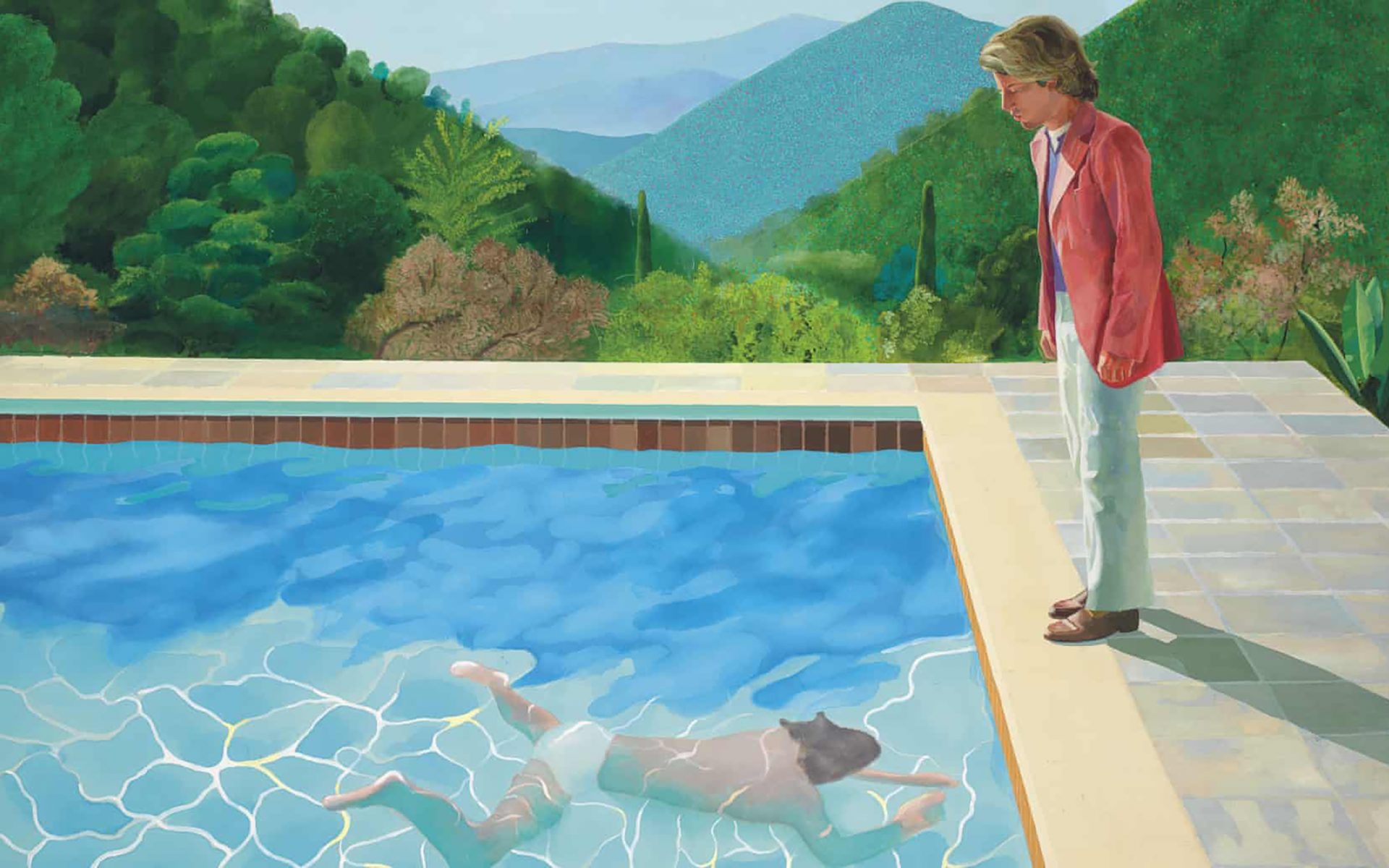 David Hockney Eclipses Jeff Koons to Become the Most Expensive Living Artist
The 81-year-old artist's Portrait of an Artist (Pool with Two Figures) sold at Christie's last night for $90.3 million
As was predicted, David Hockney, the 81-year-old British artist, became the most expensive living artist last night when his painting Portrait of an Artist (Pool with Two Figures) sold at Christie's for $90.3 million.
The final figure shattered the piece's presale estimate of $70 million. The massive sale also means that Hockney dethroned Jeff Koons, who had held the title of most expensive artist since the 2013 sale of his orange balloon dog for $58.4 million. Hockney's previous at-sale record was a modest-seeming $28.5 million.
The painting was put up for auction by British billionaire Joe Lewis, who acquired the work in 1995 from another collector, entertainment mogul David Geffen.
Bidding started with $18 million and drew at least seven bidders. The winning buyer bid by telephone and was represented in the room at Rockefeller Center by Christie's U.S. chairman, Marc Porter.
Recommended: Edward Hopper Painting Sells for Record-Breaking $91.9 Million
The 1972 painting is among the artist's most famous pieces and was recently part of a Hockney retrospective at Tate Modern in London that toured to both the Metropolitan Museum of Art in New York and the Centre Pompidou in Paris. The show was Tate's most visited exhibition ever, with nearly half a million visitors.
The creation of the work was chronicled in the 1974 Jack Hazan film A Bigger Splash.
Other notable pieces sold at the auction included Francis Bacon's portrait Study of Henrietta Moraes Laughing, which was sold from the collection of the late publishing magnate S. I. Newhouse. The work was won by a telephone bidder for $21.7 million. A piece by Mark Rothko, Untitled (Rust, Blocks on Plum), from the collection of Francois and Susan de Menil sold for $32 million.
Overall, the total for Christie's semiannual postwar and contemporary art auction was $357.6 million, right in the middle of its estimate of $314.1 million to $409.5 million.
Next Post