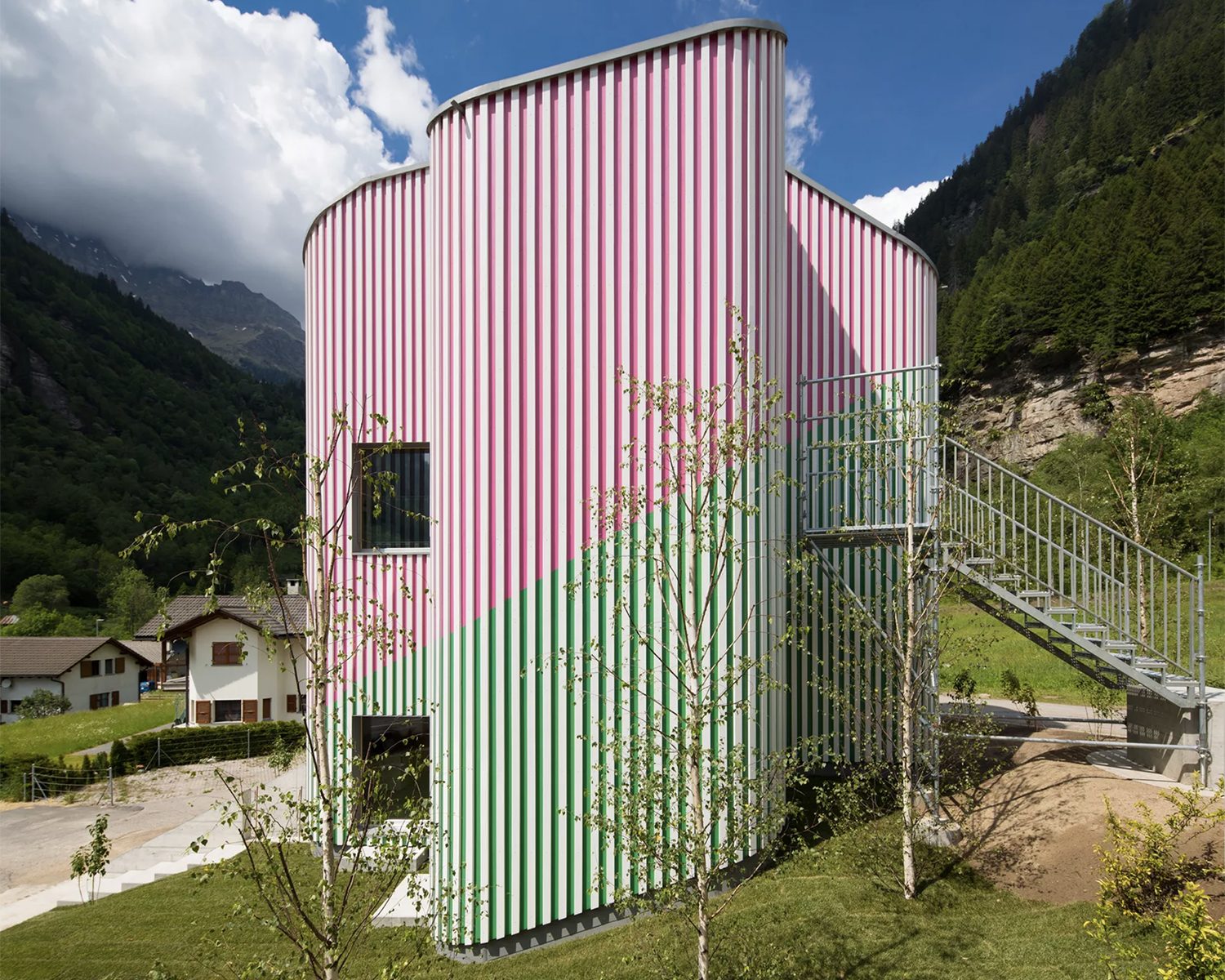 This Home Gives New Meaning to the Term 'Living Sculpture'
See inside this colorful abode designed by artist Daniel Buren and architect Davide Macullo
A candy-colored hideaway nestled in the tiny Swiss village of Rossa is giving new meaning to the idea of a "living sculpture." Swiss architect Davide Macullo owns the home and designed it in collaboration with French conceptual artist Daniel Buren.
Functioning as both a livable retreat and an art installation, the house is wrapped in pink, white, and green vertical stripes, colors  inspired by the local flora and fauna. The exuberant stripes—a signature of Buren's work—contrast with the home's minimalist interiors, which are clad entirely in knotty pine and paved with poured concrete.
Recommended: Maison Valmont's Intimate Art Exhibition in a Swiss Castle
The residence straddles "the cusp of art and architecture," Macullo told Curbed.
In lieu of buying art for the house, Macullo has invited artists like Adoka Niitsu, Marta Margnetti, Flavio Paolucci, Lola Cambin, and Miki Tallone to stay there and create site-specific installations.
The home includes a double-height communal living area and two separate apartments, one for Macullo and one for friends. Each window captures a unique view of the surrounding Alpine landscape. "We don't hang paintings," Macullo explained, "because the windows are paintings."
The untreated pine is seen not just on the walls but also in the furniture, including a dining table that is a reproduction of one of Macullo's first designs.
The high, vaulted ceilings are a nod to the farmhouses that dot the region. "The house seems to be a strange thing," Macullo said, "but at the same time, it is completely in harmony with the landscape."
Macullo regularly invites curious passersby in for a cup of coffee. "It's beautiful to see the expressions on their faces: They're astonished, and children love it," he said. "Everybody comes in. If we're there, you're welcome."
Next Post