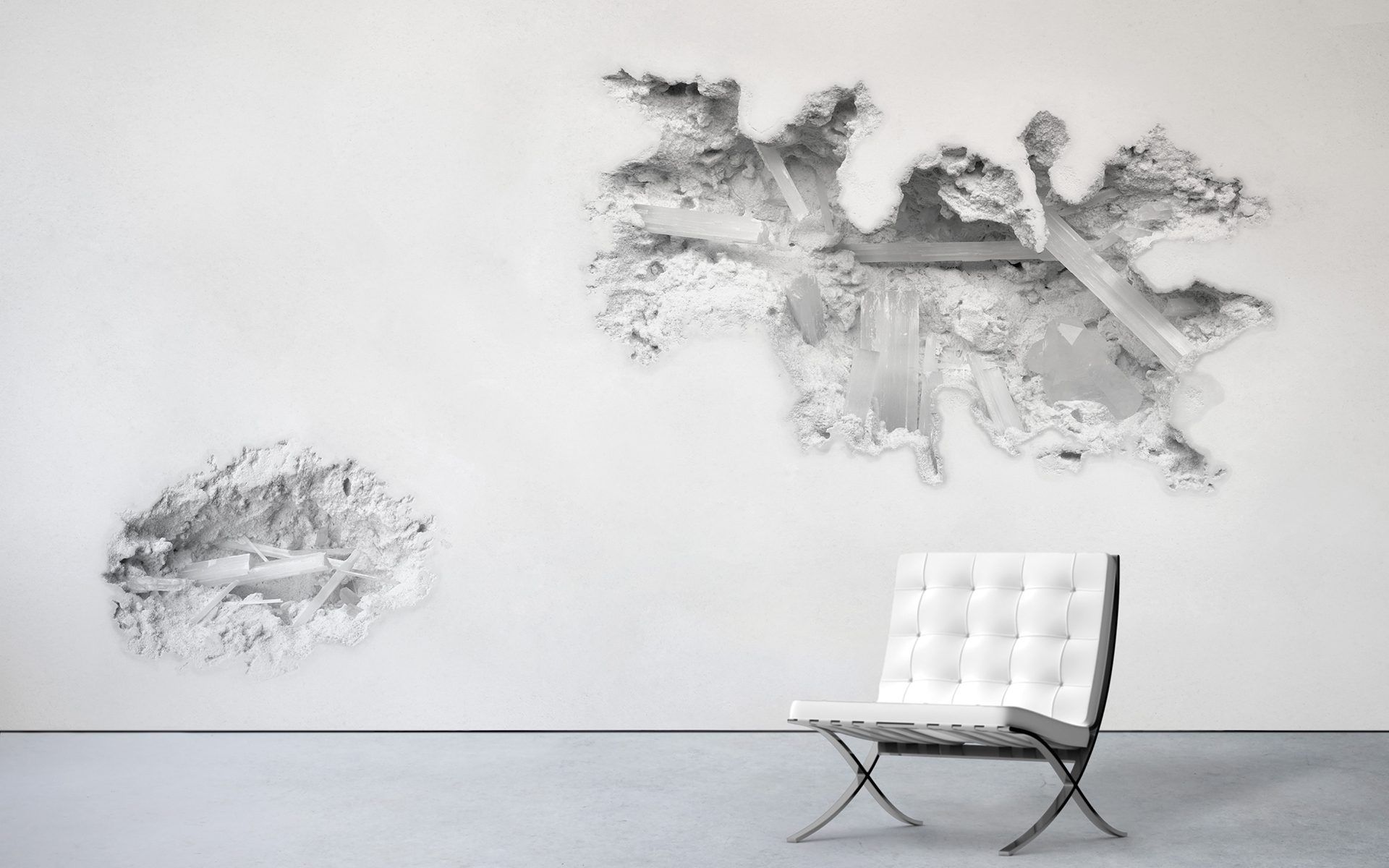 Transform Your Home with Daniel Arsham's Otherworldly Wallpaper
Discover the artistic inspiration behind the new collaboration with Calico Wallpaper
When it comes to creative vision, few are on par with Daniel Arsham—the polymathic contemporary artist and Snarkitecture cofounder. And when it comes to output, he just may be in a league of his own as new works and dynamic collaborations pop up at a staggering pace.
Just this month, Arsham has brought forth several different introductions, including a bold reimagining of one of his most famous art series into a dazzling wallpaper for the home and a reinterpretation of one of Pop Art's most recognizable icons, the Brillo box sculptures introduced by Andy Warhol in 1964—all while gearing up for a major exhibition in Paris this fall.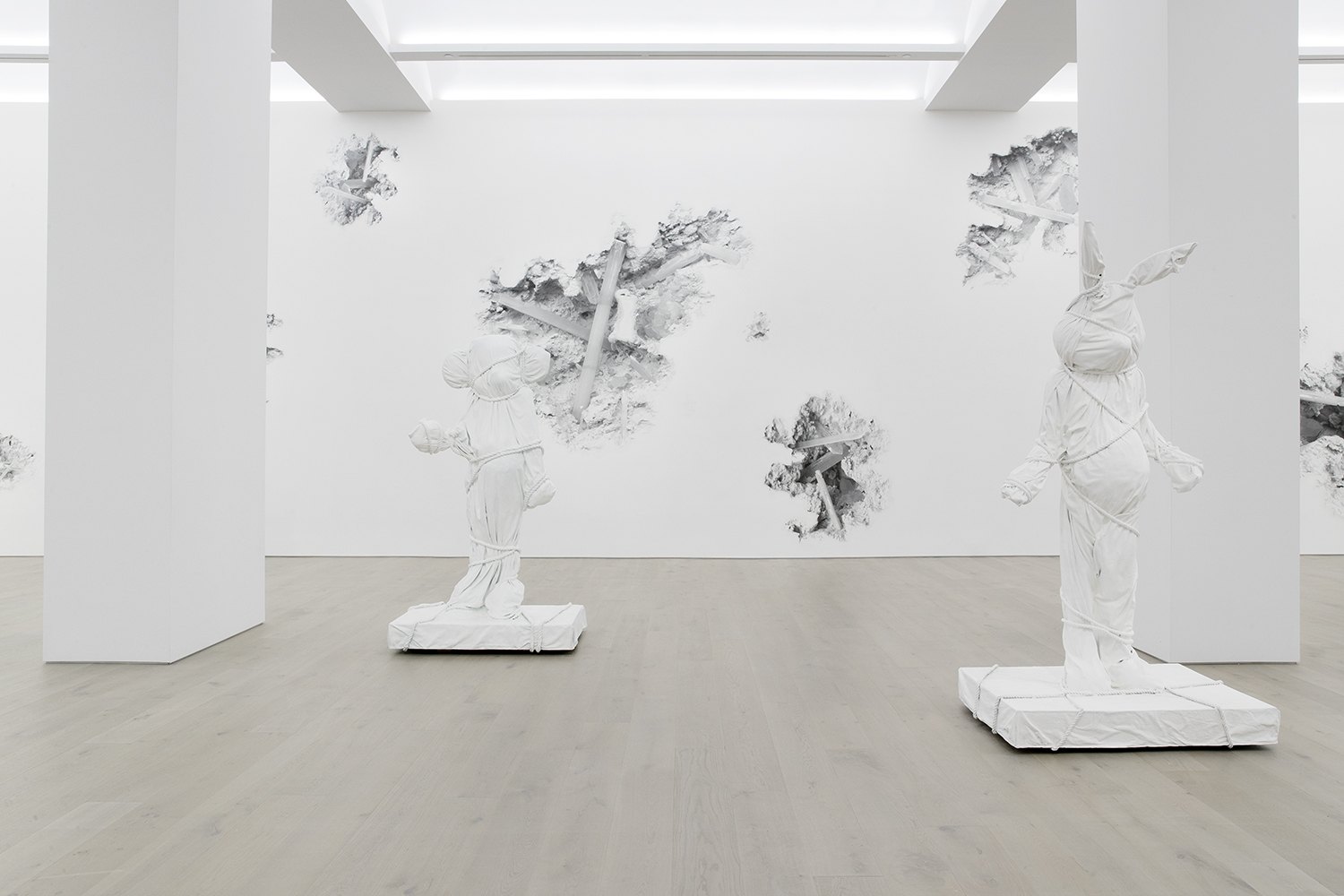 Visually exploding from the wall is Erosions, a new collection for Calico Wallpaper that builds off of Arsham's large-scale murals displayed at Perrotin gallery in 2018. The vast trompe l'oeil design captures a multifaceted cluster of crystals bursting through the plaster surface of an otherwise nondescript wall.
The original design is informed by a series of selenite works Arsham created that capture his "dystopian vision of the future," where culture is eroded and the objects that define our modern life are rendered irrelevant. "Artistic process is at the heart of Calico Wallpaper, and we're excited to bring the result of an ongoing collaboration with Daniel Arsham to a wide audience," Nick Cope, cofounder of Calico Wallpaper, said in a statement.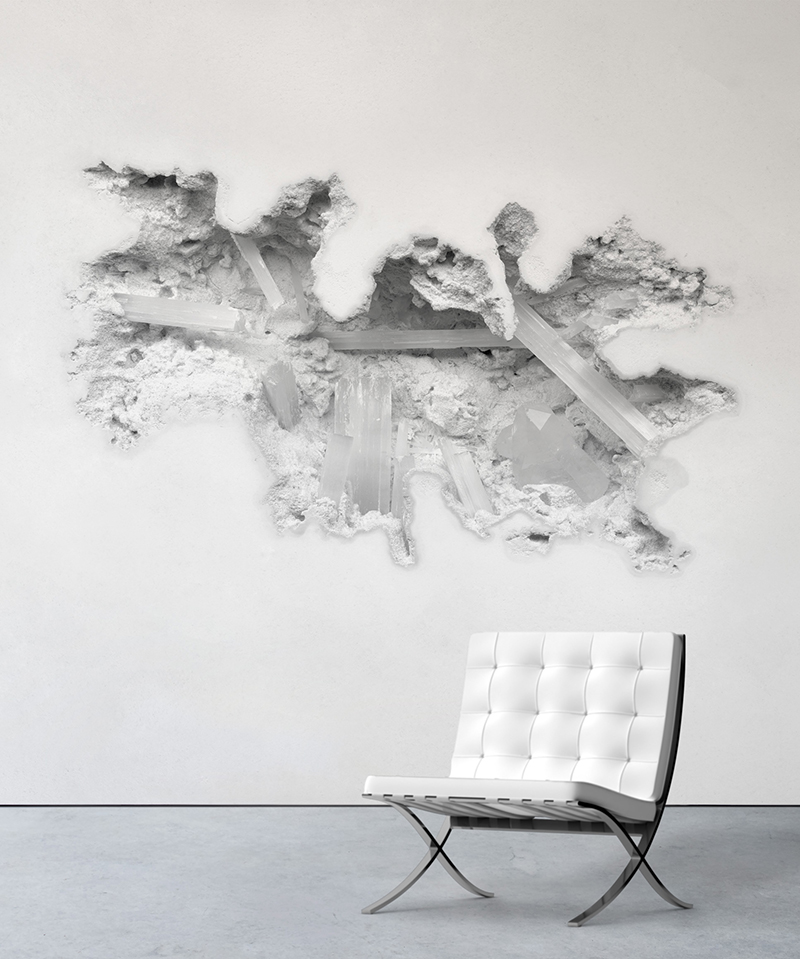 To create the hyperreal designs, Calico Wallpaper cofounder and creative director Rachel Cope experimented with new technology to capture every minute detail. For its debut, Erosions is available exclusively in its original white colorway, but will be expanded into other shades commonly found in Arsham's work, like Volcanic Ash, Pyrite, Blue Calcite, and Rose Quartz.
This collection marks the second collaboration between Arsham and Calico, following 2017's Topographies, which was introduced in Milan during Salone del Mobile. For that collection, the Snarkitecture design team layered pieces of torn paper to create a two-dimensional topographical map, capturing the undulations of a landscape in a textured gradient wall covering.
For those who missed the original exhibition at Perrotin, one of Arsham's latest works, Blue Calcite Eroded E.T. Video (2020), is currently on view at the New York gallery through August 14 in a group show entitled "The Secret History of Everything." Arsham's installation transforms a VHS tape, an emblem of a bygone era, into a snowy jewel encased in hydrostone and selenite. The piece captures the crystals in all their faceted, multidimensional glory while offering an artistic statement on the ever-changing nature of pictures.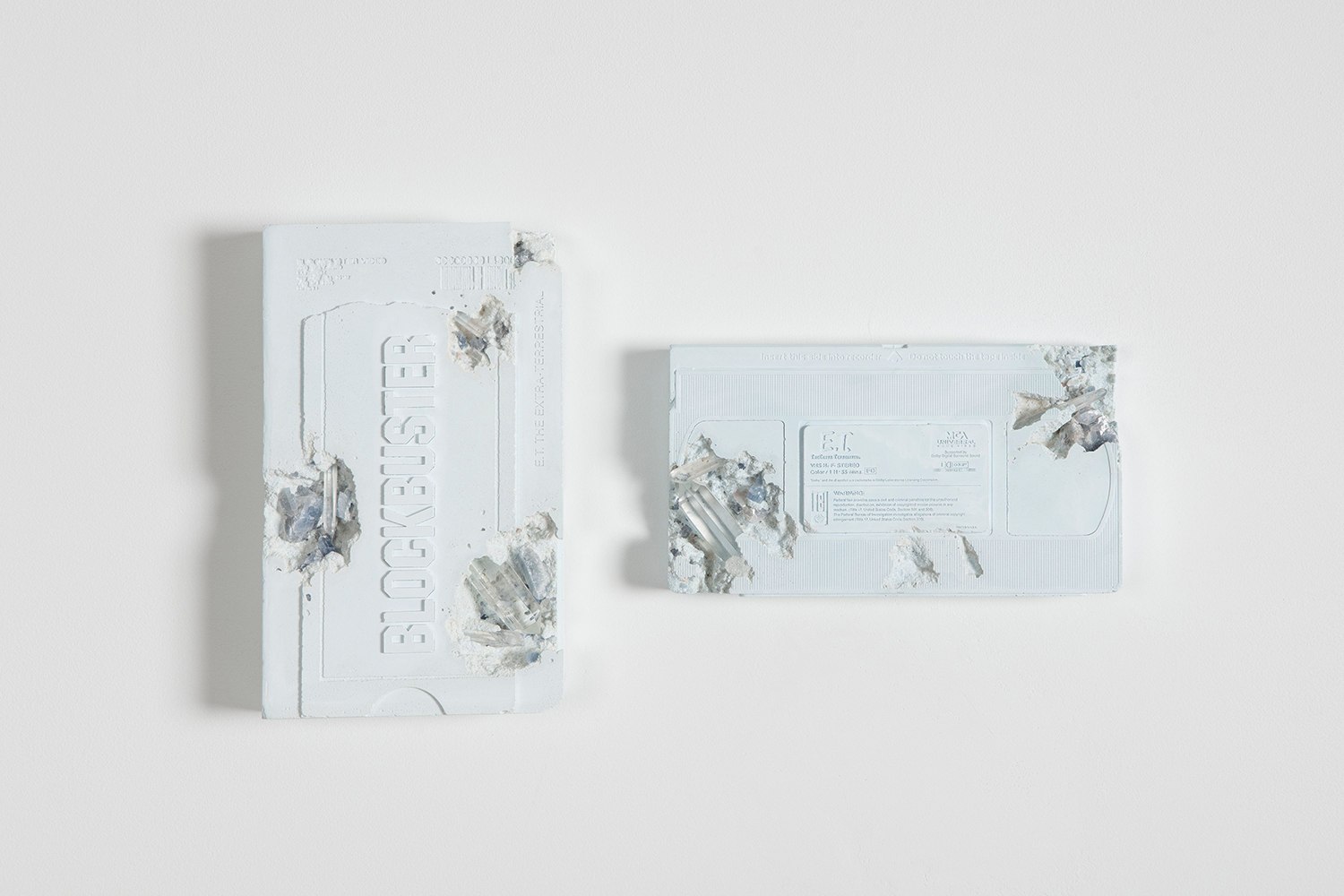 Meanwhile, to help commemorate the 25th anniversary of the Andy Warhol Museum in Pittsburgh, the artist has reinterpreted Warhol's famed Brillo box work as only Arsham could, as a crystalized archeological artifact, erasing the bold primary colors of the Pop Art original in lieu of a flat white. Sold in a limited edition of just 500 pieces, the reimagined Eroded Brillo Box captures the same essence of the original. The edition quickly sold out, and a portion of the sales went to support programs and exhibitions at the Warhol.
"Having the opportunity to work within the history and lineage that Andy placed on these everyday stereotypical objects and blending this with my own artistic language has been an interesting conceptual exercise," Arsham said in a statement. "Andy and I share the message of art in the everyday and this edition perfectly encapsulates this idea."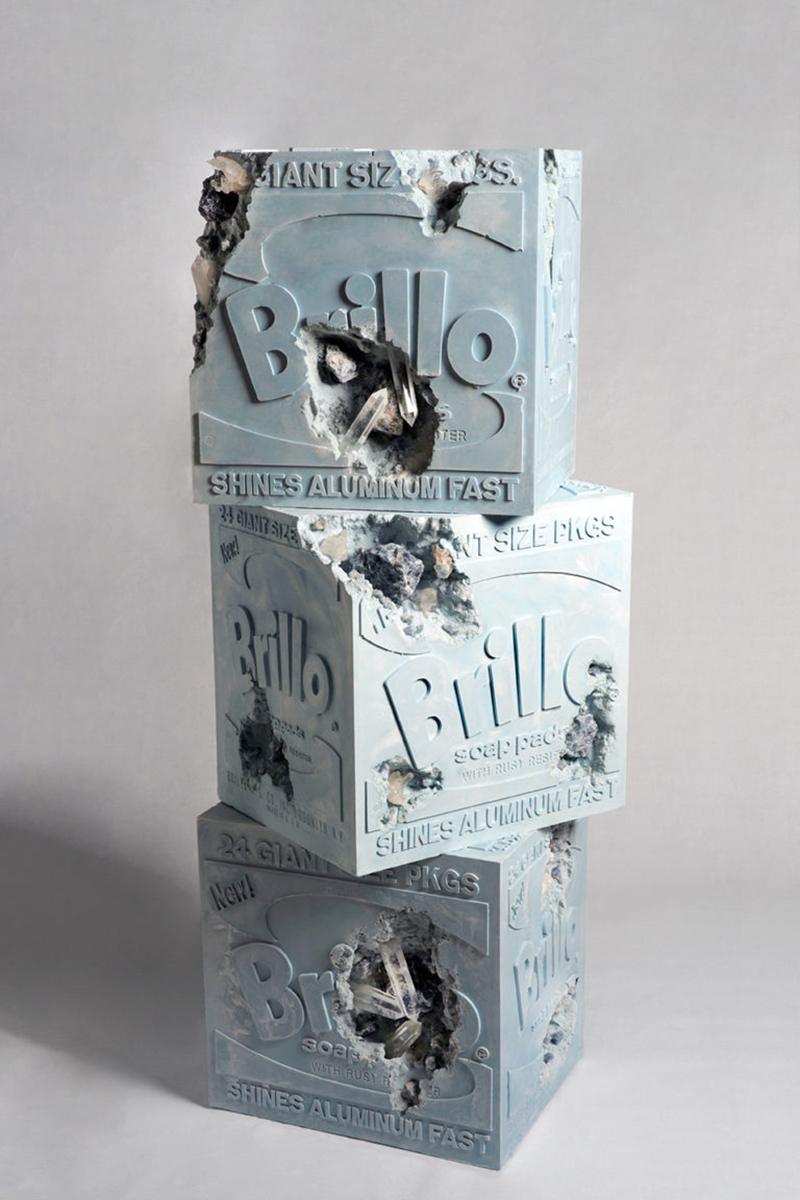 In the pipeline is an exhibition at the Guimet Asian Art Museum in Paris that will take place from mid-October 2020 through January 2021 for which Arsham will be creating casts from the Réunion des Musées Nationaux, Grand Palais workshop's molds of Asian antiquities. Given carte blanche, Arsham is presenting eroded sculptures from his longstanding fictional archeologies concept paired with works in the museum's permanent collections.
Whether working in homewares, design, fashion, or fine art, Arsham isn't interested in distinguishing among disciplines. Said the artist, "I think my job as an artist is to create that tension, to allow people to look at these objects from their contemporary lives as if they're viewing them from the future."
Next Post