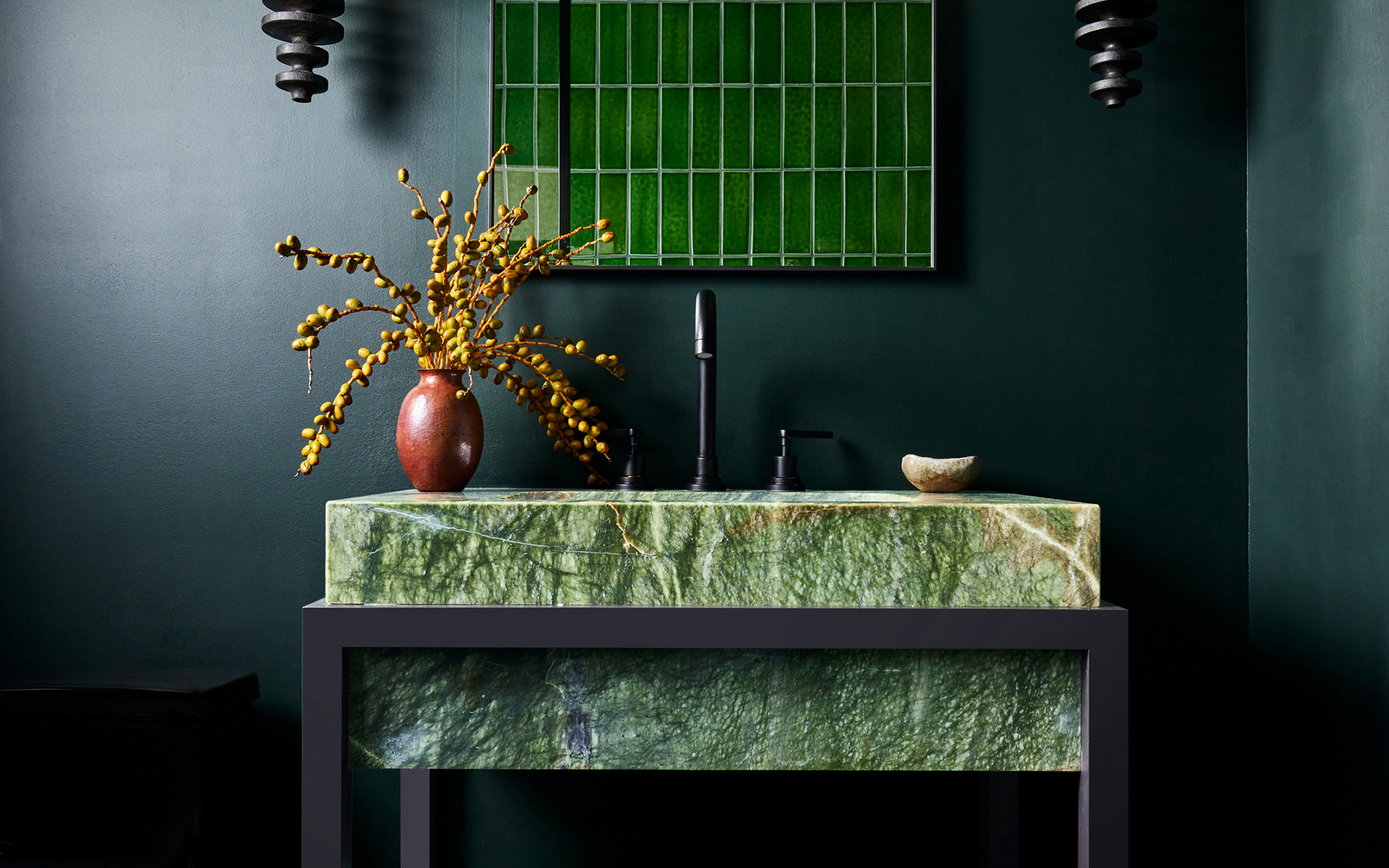 How to Build an Unforgettable Powder Room
Designers share their secrets for giving one of the smallest rooms in the house some major wow factor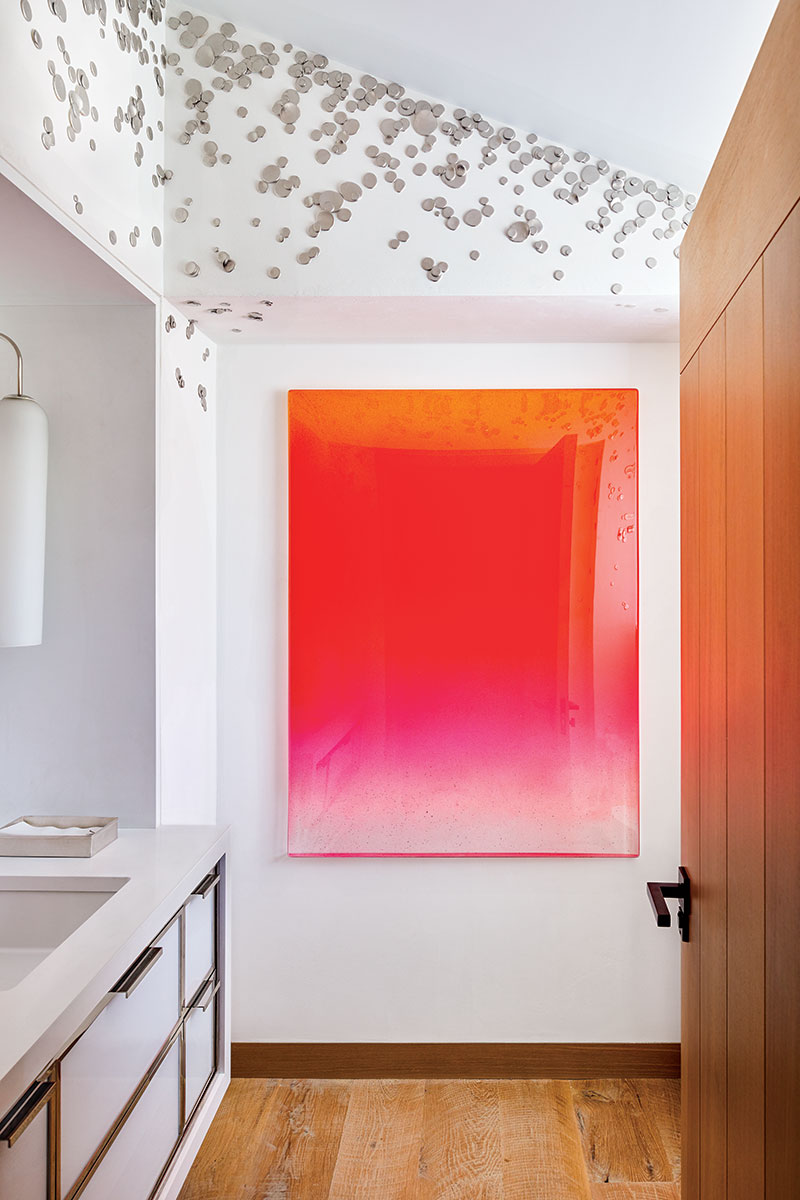 Perhaps nowhere in the home gives designers a greater opportunity to let loose on aesthetics than the powder room. Heavily veined stone paired with expressive wall coverings and ornate tiles readily transform these petite spaces into visual feasts that far surpass their square footage. "In the majority of our projects, the powder rooms are an opportunity to amplify, and the design definitely tends to be bolder, more of a statement," says Drake/Anderson's Caleb Anderson. "Because it's a space used most frequently by guests, our clients like the idea of it being an experience."
Whether the design complements the rest of the home or is its own memorable moment, eye-catching materials, notable works of art, and one-of-a-kind installations can all amount to this intimate area leaving a lasting impression.
Materials
Because these spaces aren't exposed to water and steam like a main bath, clients can invest in more delicate yet attention-grabbing materials, like hand-painted silk wallpapers, metal vanities, and glass mosaics. "A powder room should be something dramatic and fabulous and unexpected; for me, that means go as crazy on the stone as you can," says designer Natalia Miyar, who sculpted a multitiered vanity from an emerald marble that was also installed on the floor of a Coral Gables, Florida, residence. "I prefer using as much as possible in the space, but I'm also careful about it not feeling like a mausoleum."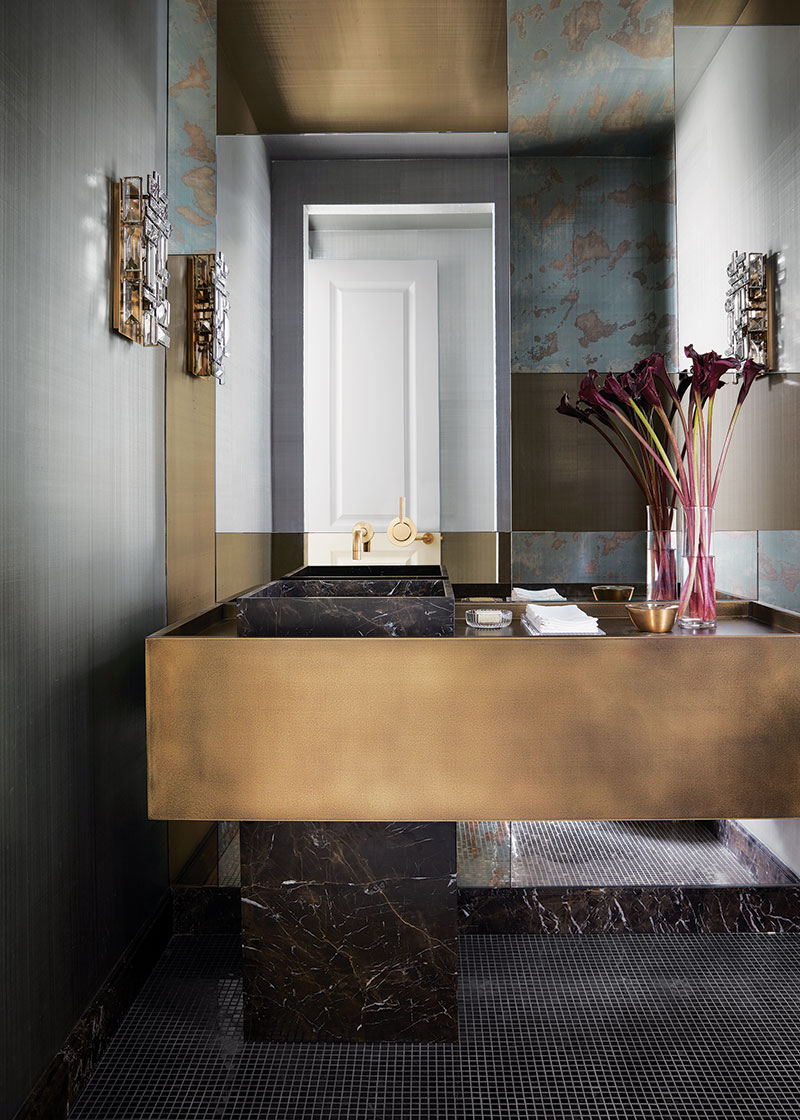 Enveloping the room in deeply saturated hues can also influence the feeling of scale. "Dark colors have this sense of infinity that almost makes them seem bigger," adds Miyar. "There's something expressive about a dark color, like you imagine the possibilities beyond it."
Conversely, a powder room in gleaming white can lend an unanticipated twist to a home awash in rich shades. Cullman & Kravis designers Ellie Cullman and Alyssa Urban created such a space to juxtapose the warm woods and palette of blues and grays in a Hamptons guesthouse. "You open the door to something very bright and cheerful and surprising," says Urban.
Fixtures
While decorative elements bring the fun, it's also important to address the function. Thankfully, purveyors such as Cielo, Antoniolupi, and P. E. Guerin have introduced toilets, sinks, and faucets that enhance the overall aesthetic, but even with the best-designed products, managing sight lines is still crucial. "If the space allows, it's always nice to have that separation, to not open the door and right away face a toilet," says Anderson, who has crafted powder room vestibules and other alcoves, letting the room unfold. "I think that progression is really nice."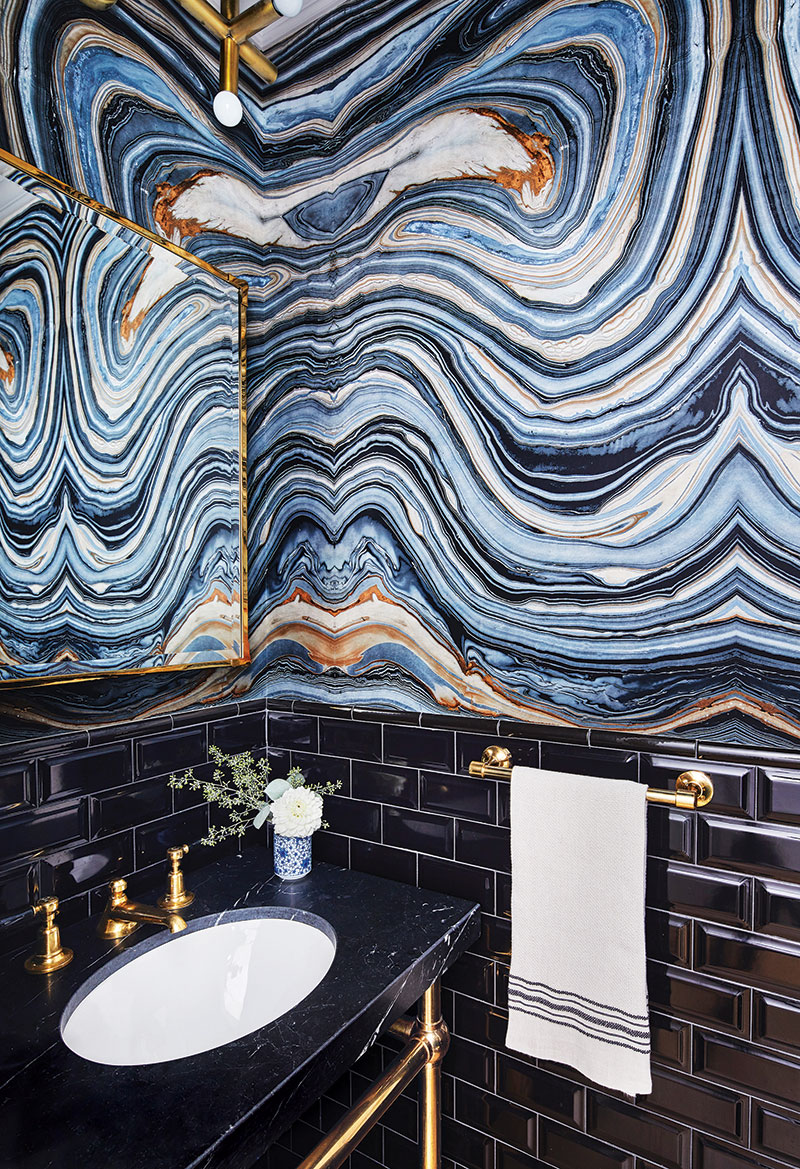 Fittings then serve as the room's jewelry, with faucets available in an incalculable array of metallic and matte finishes as well as decorative enhancements like leather, wood, and semiprecious stones. "Fixtures are wonderful because you really engage with them," says New York designer Phillip Thomas.
Without the need for task lighting required for makeup and shaving, there's also an opportunity for sconces or chandeliers that are vintage rarities or by interesting artisans. "I try as much as possible in my powder rooms to use lighting that I wouldn't normally associate with baths," adds Thomas.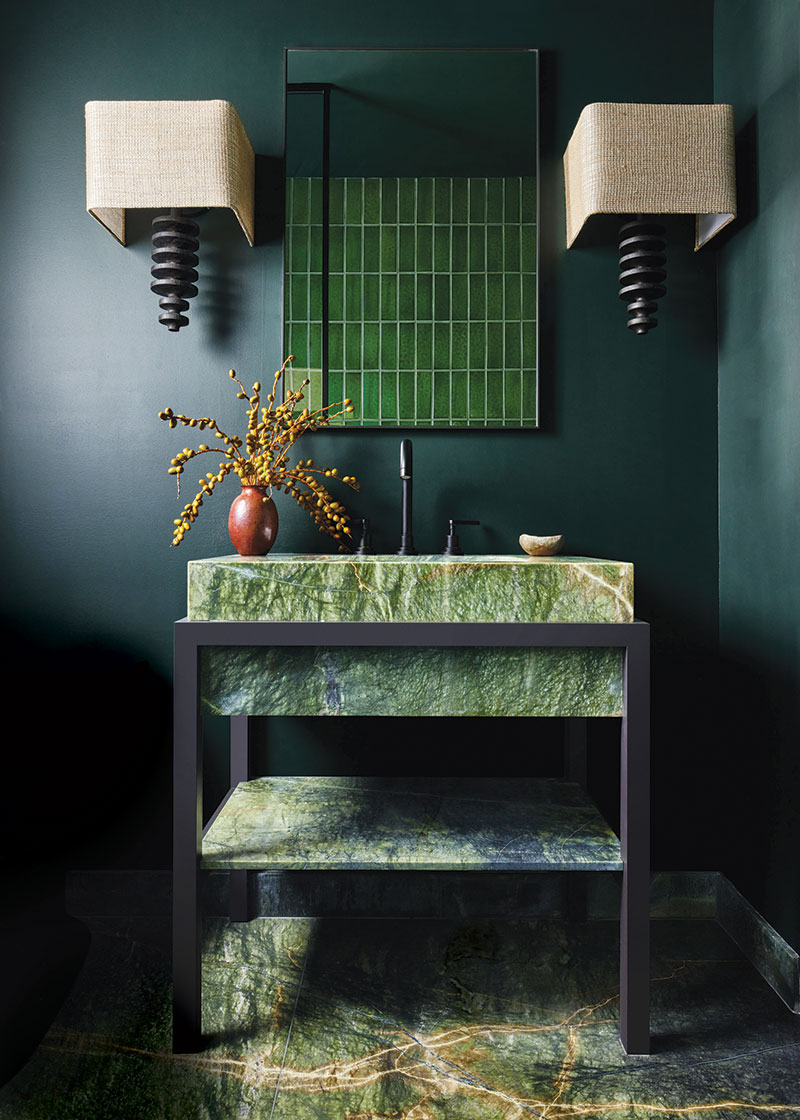 Accessories
Mirrors, linens, artworks—even unique case goods—further a powder room's individual style. Yet there still needs to be a modicum of restraint. "One could layer funk on top of more funk, but I do think letting certain things be simple and practical goes a long way as well," says Carrier and Company principal Jesse Carrier, who chose a streamlined brass mirror for a boldly patterned powder room. "I would also love to do a gilded 18th-century frame that is a bit more sculptural to balance a straightforward wall finish or a simpler tile."
As with any room in the home, installing art always makes an impact. "It's such an intimate space that you can have the little pieces of artwork that might otherwise get lost in a bigger room," says Carrier, whose book, Defining Chic: Carrier and Company Interiors (Rizzoli), is out in September.
That's not to say a large-scale piece, like the vibrant Mika Tajima work Cullman & Kravis surrounded with Dougall Paulson paillettes, couldn't also find a home there. "Powder rooms are an opportunity to bring a guest's attention to a particular passion of the homeowner, because they're in there on their own and not distracted by chatter, music, or delicious food," says Thomas, who created a feature wall of small pre-Columbian artifacts in a collecting couple's New York pied-à-terre. "When they open a powder room door, I want a giggle, I want a gasp—just give me a reaction."
A version of this article first appeared in print in our 2023 Summer Issue under the headline "Hidden Gem." Subscribe to the magazine.
Next Post