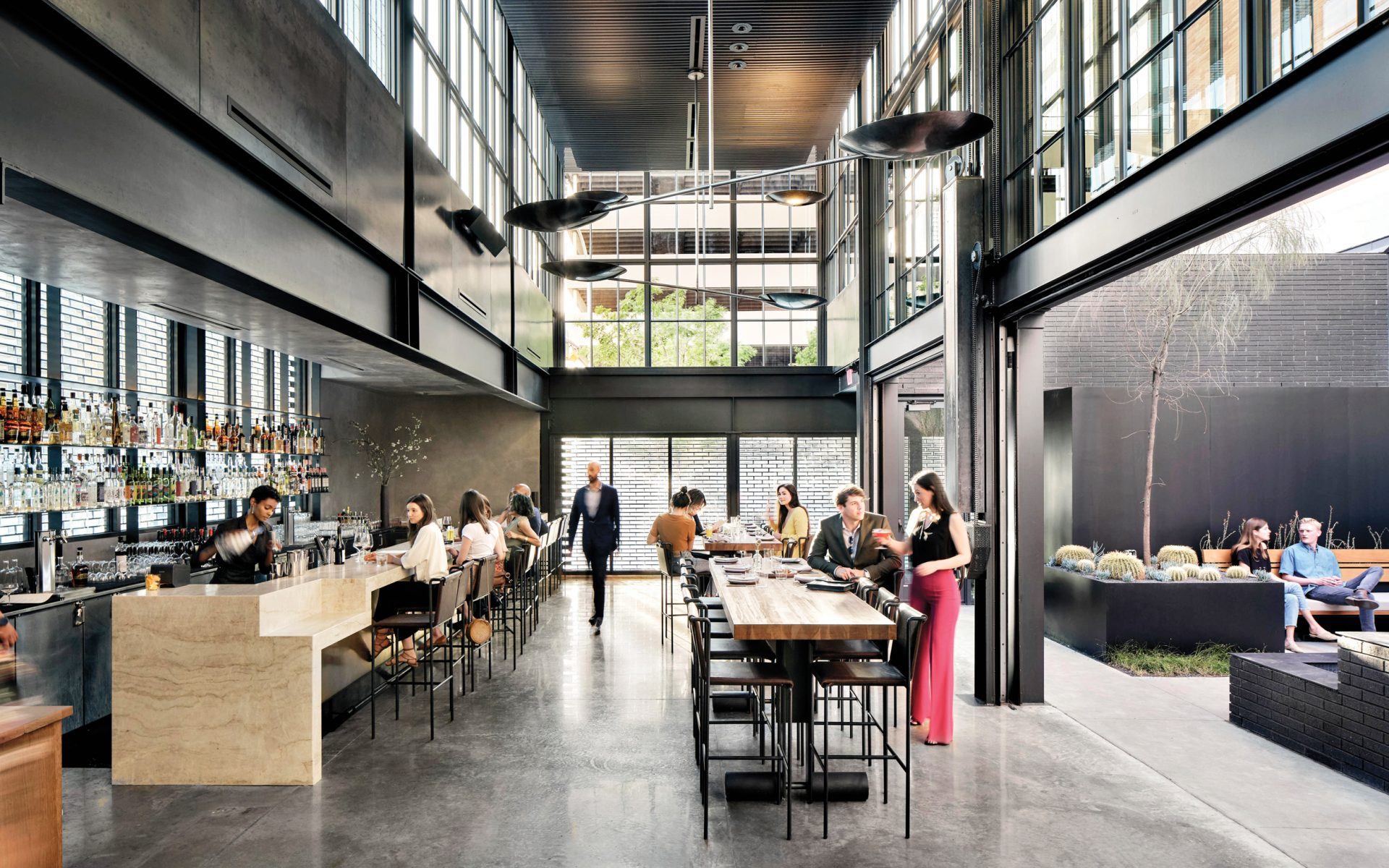 Tom Kundig Designs a Spectacular Mexican-Inspired Restaurant in Austin
Comedor wows with its dishes steeped in tradition and its stunning design
Over the past decade, the Austin food scene has received such tremendous accolades that the fanfare has sparked foodie pilgrimages to sample the slow-cooked BBQ served on paper plates and cheesy Tex-Mex staples. But as the city continues to grow—and grow up—so does the level of its culinary exploits.
Newcomer Comedor, which debuted in April, may not be the first local joint with early ties to a food truck, but it has definitely made the biggest leap, opening in a dazzling building designed by acclaimed architect Tom Kundig of Seattle-based firm Olson Kundig. Built on a former parking lot, where chef Philip Speer and partner William Ball once operated their coffee trailer, My Name Is Joe Coffee Co., the modern space mixes glass bricks, wood, and steel in an aesthetic that's part Austin, part Mexico City.
The result is a quiet oasis tucked away from the buzz of the city's downtown yet still absolutely part of it. The double-height dining space is connected to an interior courtyard via guillotine windows operated by hand cranks, which have become a signature of the architect. "The restaurant feels balanced, poetic, coherent," says Kundig, "from the way you open a door to the way you order a drink."
The restaurant's managing partner, Ball, who spent his childhood in Austin, explains that Comedor's cuisine reflects that same mix of inspiration, drawing on dishes "from Jalisco to Mexico City and a lot of Oaxaca." This culinary direction takes cues from a modern Mexican movement marked by a rise of restaurants such as Cosme in New York and Broken Spanish in Los Angeles.
Recommended: David Adjaye Conjures a Museum Wonderland in San Antonio
But Austin is sacred Tex-Mex ground. Comedor's chefs—Speer, along with Gabe Erales, who came from Dai Due (another Austin hot spot) and trained with René Redzepi at Noma—have found the perfect balance between authentic Mexican and Texas traditions with their local interpretation. Take, for example, the undisputed crowd favorite: bone marrow tacos served with a gremolata, which is a very grown-up interpretation of the butter tortillas Speer and Ball snacked on as children. Sourcing ingredients straight from Mexico certainly adds to the complex flavors, especially with a special corn procured from Oaxaca and then nixtamalized in house.
"The Mexican influence is present throughout the culture in Texas, and we didn't want to change that," says Ball. "We wanted to give a nod back to that and create dishes and a genre of food that embraced all the regions of Mexico." Perhaps no dish exemplifies that cultural amalgamation more than the showstopping tres leches dessert, a corn-milk-soaked cake served with ice cream made from tejate, a traditional Oaxacan drink derived from maguey seeds, and topped with meringue and South Texas citrus. Certainly, far from the lone star on the menu.
A version of this article first appeared in print in our 2019 Late Fall issue under the headline "Austin Powers." Subscribe to the magazine.
Next Post