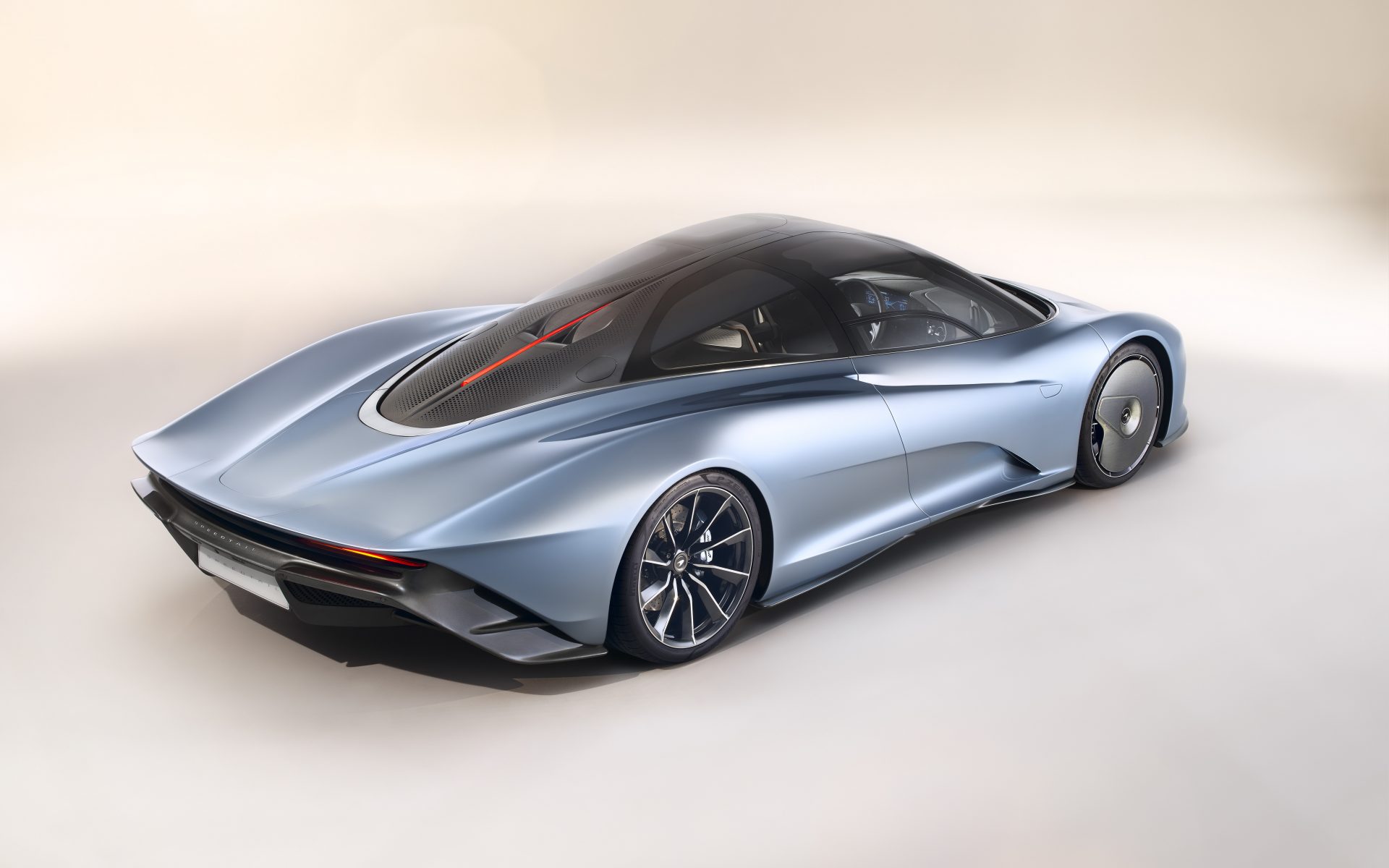 Here's Why Car Collectors Are Raving About the New McLaren Speedtail
The ultra-bespoke luxury car is being hailed as the famed McLaren F1's successor
After months of anticipation, McLaren has finally unveiled the latest luxury vehicle in its portfolio—and it's already sold out. Dubbed the Speedtail, the teardrop-shaped sports car will be produced in a limited edition of 106, each one unique, thanks to a range of bespoke options. The car's lucky few buyers snagged their models for $2.25 million apiece.
Showy as this model's ultra-aerodynamic exterior is, it's the car's interior that holds special resonance for collectors. With seating that positions the driver front and center, flanked by two passenger seats, the arrangement evokes McLaren's legendary 1993 F1. In a sense, the Speedtail is intended as the F1's successor.
McLaren is priding itself on having introduced a new standard of technical luxury and bespoke customization: Scandinavian-sourced leathers with hand-finished accents adorn the seats, and while the "cockpit" is compact, storage space is located in both the nose and tail of the car. (A one-of-a-kind luggage set, designed to match the car, is available to the Speedtail buyers.) Mirrors have been swapped out for rear-facing cameras, and an auto-darkening electrochromic windshield dismisses the need for sun visors. Even the brand badge can be tailored to the buyer's taste, though the company takes pride in a handcrafted 18K-white-gold version.
Recommended: Tour an Ultra-Luxurious Boeing 747 Crafted by Alberto Pinto Interior Design
Another exquisite touch to the interior comes courtesy of Swiss watchmaker Richard Mille, who worked alongside McLaren to develop the automotive industry's first thin-ply technology carbon fiber. Delicately positioned and milled to resemble flowing water, this material is applied to the overhead control panel, gearshift paddles, and steering wheel clasp.
The gas-electric hybrid is also McLaren's fastest model, reaching speeds of 250 miles per hour.
As company spokesperson Wayne Bruce said at a recent press viewing, "This is the first car designed to do this speed and also take friends to the opera on the same set of tires."
Next Post