Few contemporary artists have reinvented the medium of photography like Cindy Sherman. Behind the lens she is a conceptual mastermind, completely in control of her fearless vision; in front of the camera, she is her own most malleable subject. Celebrating her genius and revealing her newest bodies of work, "Cindy Sherman at the Fondation Louis Vuitton" is Sherman's first exhibition in France in 14 years and comes hot off the heels of her recent major show at the National Gallery in London last year. After the highly anticipated exhibition was delayed due to COVID-19 this spring, its September 23 opening (with a live virtual press viewing on the same day) proves the show was well worth the wait.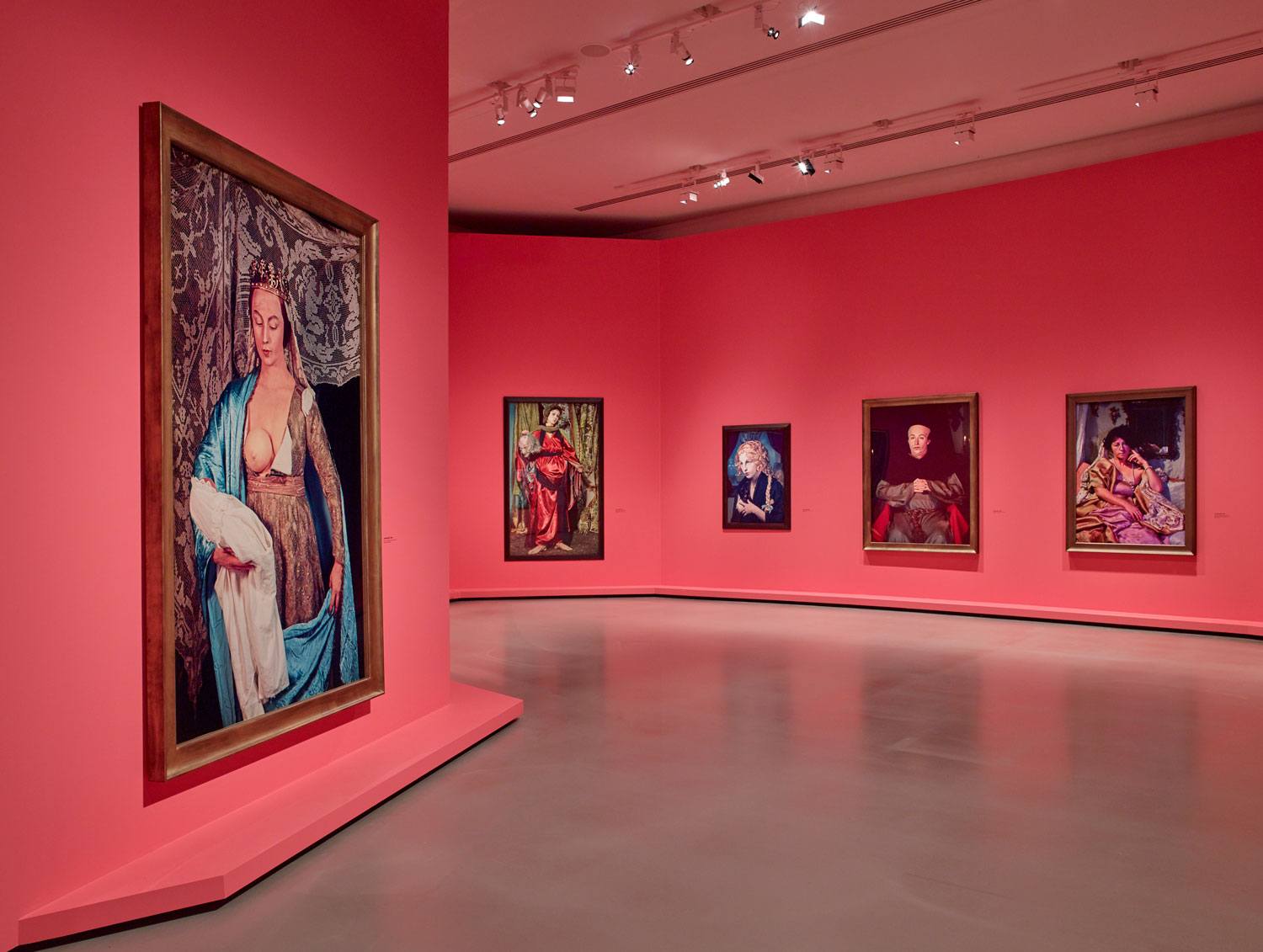 On view at the Frank Gehry–designed museum until January 3, 2021, the exhibition is twofold—it begins with a retrospective of Sherman's work from 1975 to today, while the upper-level galleries display "Crossing Views," a presentation featuring rarely seen pieces from the museum's own collection selected by Sherman. The overarching narrative between both components is an exploration of identity—the mask and what's behind it.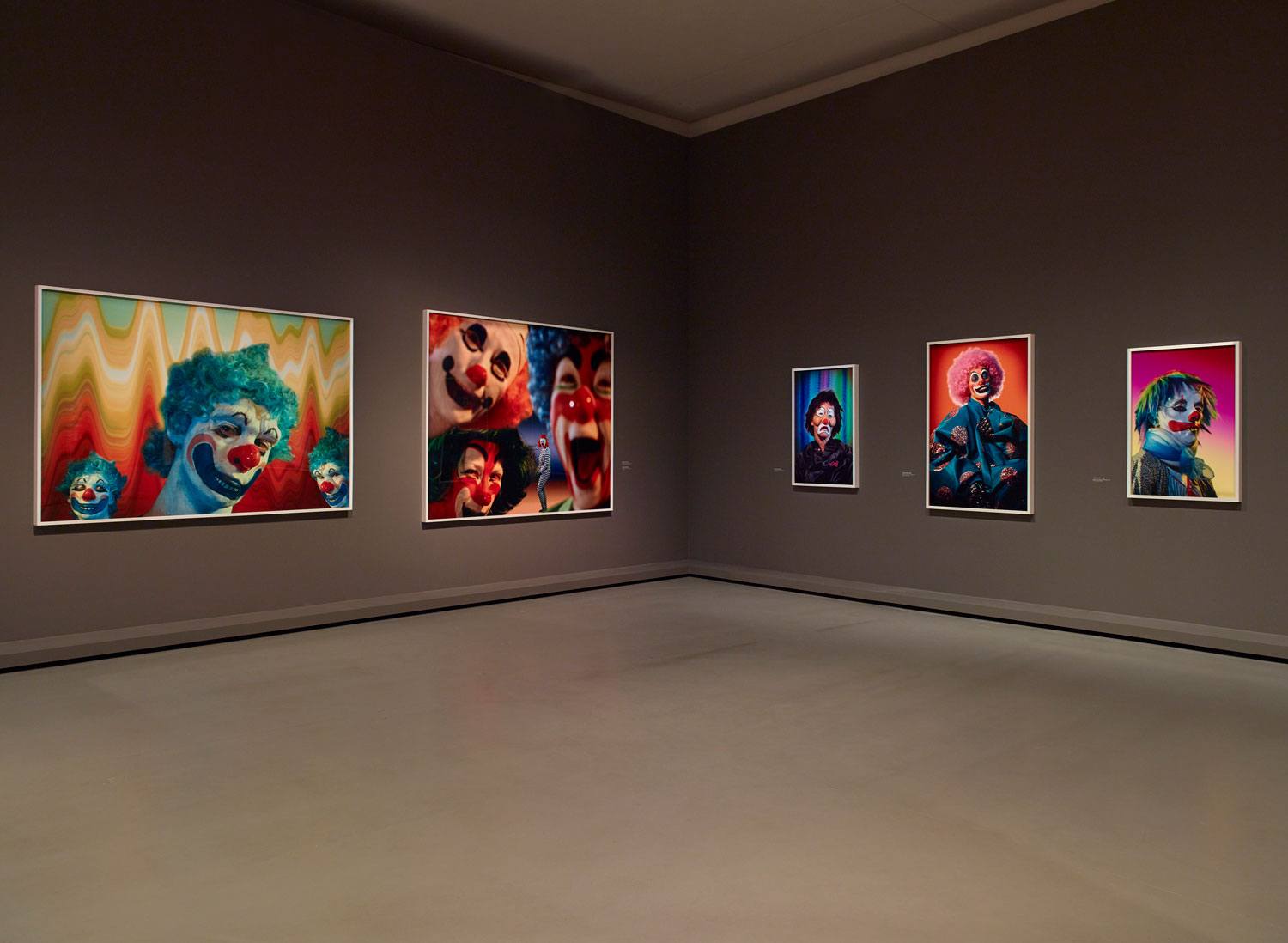 "The enthusiasm so many of us share regarding Cindy Sherman's work spurs us to seek a trace or an echo in her personal life, some reflection of her own private story, given that she has always staged herself. And yet she herself cautions against this," Bernard Arnault, president of the Fondation Louis Vuitton, writes in the exhibition's foreword. "When someone terms her work 'self- portraits' she replies: 'Technically, maybe they are, but I don't see these characters as myself.' This confidence explains the fascination she exerts, because paradoxically, it is precisely by disappearing behind masks, makeup, and disguises that Cindy Sherman has become an 'icon,' one of too few artists recognized beyond the world of art, notably in fashion."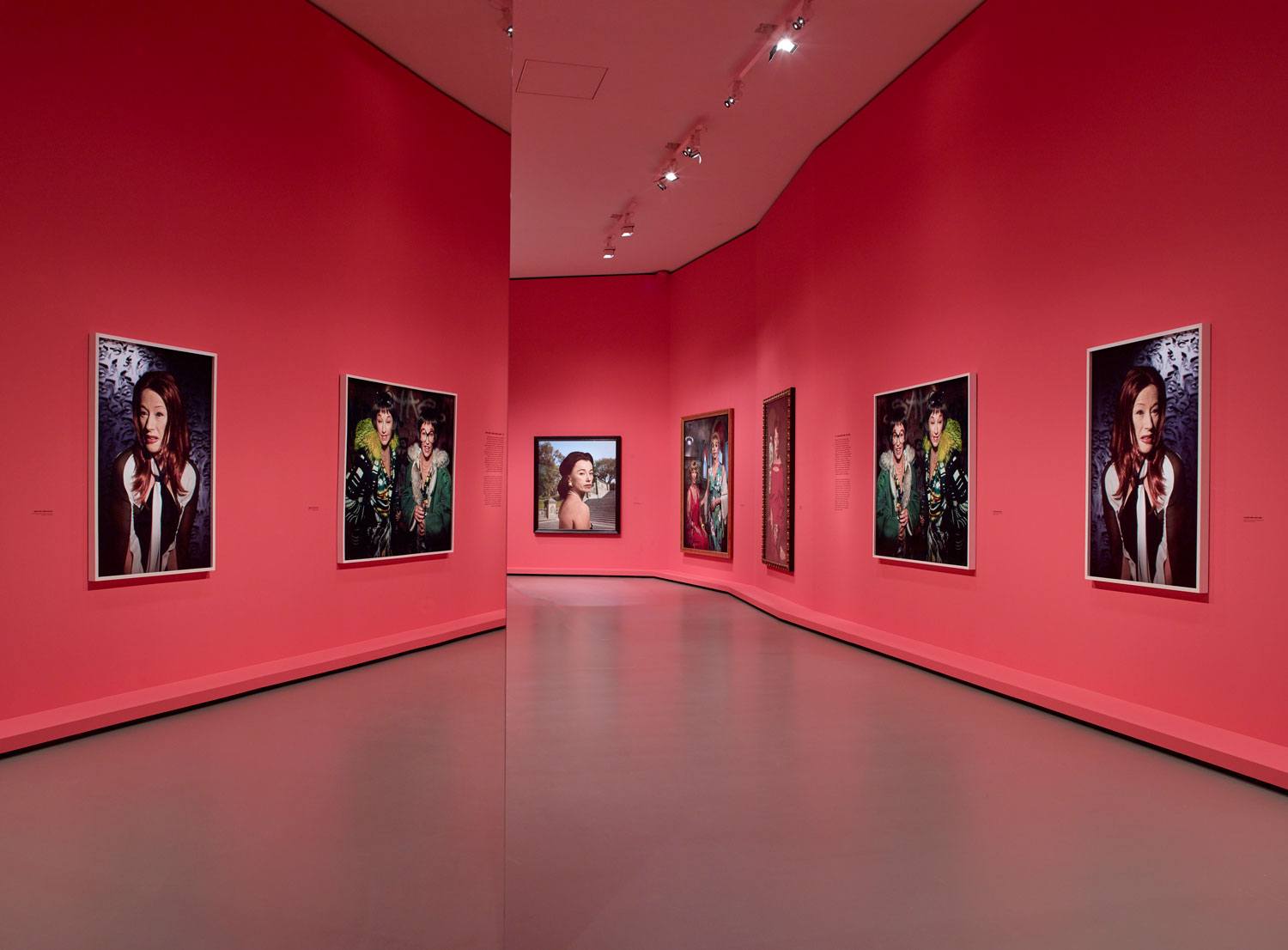 The exhibition design directly references Sherman's exploration of identity and disguise. The dark pink, deep gray, turquoise, and bright yellow color palette reflects the lipstick, eyeshadow, and other such cosmetics that the artist so often employs in her photographs. Mirrors are placed throughout to disorient the viewer and blur the lines between reality and fiction, as Sherman's work does too. They also force museumgoers to examine their own identities, as well as those nearby. The resulting funhouse effect is especially fitting for Sherman's "Clowns" (2003–04) series.
While the 300-plus-image retrospective is largely organized chronologically, it begins in a room dedicated to film as a key influence on Sherman's oeuvre. Theatricality and cinematography in their most literal sense set the tone for the exhibition and the many "characters" on display. Here, we see 13 of Sherman's career-defining black-and-white "Untitled Film Stills" (1977–80),  as well as "Flappers" (2015–18), a series on aging Hollywood heroines and has-been stars. The range of emotions conveyed in Sherman's work from the get-go is illuminated: on one hand, the images are enigmatic and exhilarating; on another, they can be conspicuously grotesque, sardonic, confrontational, and tacky. No matter the subject matter, they remain unapologetic and arresting.
The next part of the exhibition focuses on Sherman's personal documents, including an album from her childhood in which she pens, "That's me!" under family photos, proving a preoccupation with her own identity at an early age. The exhibition expands from Sherman's small black-and-white photographs into the monumental colorful works for which she is best known, followed by those in which social media and digital image manipulation come into play.
"Fashion" (1983–2018), "History Portraits" (1988–90), "Disasters" (1986–89), "Headshots" (2000), and "Society Portraits" (2007–08) are among the series on view, each a testament to Sherman's unparalleled storytelling capabilities and wide-ranging personae. In several images she's the ultimate womanly symbol—Botticelli's Venus or Jean Fouquet's Virgin Madonna, for example—but her latest body of work is all about androgyny. On view for the first time at Fondation Louis Vuitton, this series sees Sherman depicts male figures, as well as couples for which she plays both genders. Works from this series will also be on view in New York at Metro Pictures in Sherman's exhibition opening on September 26.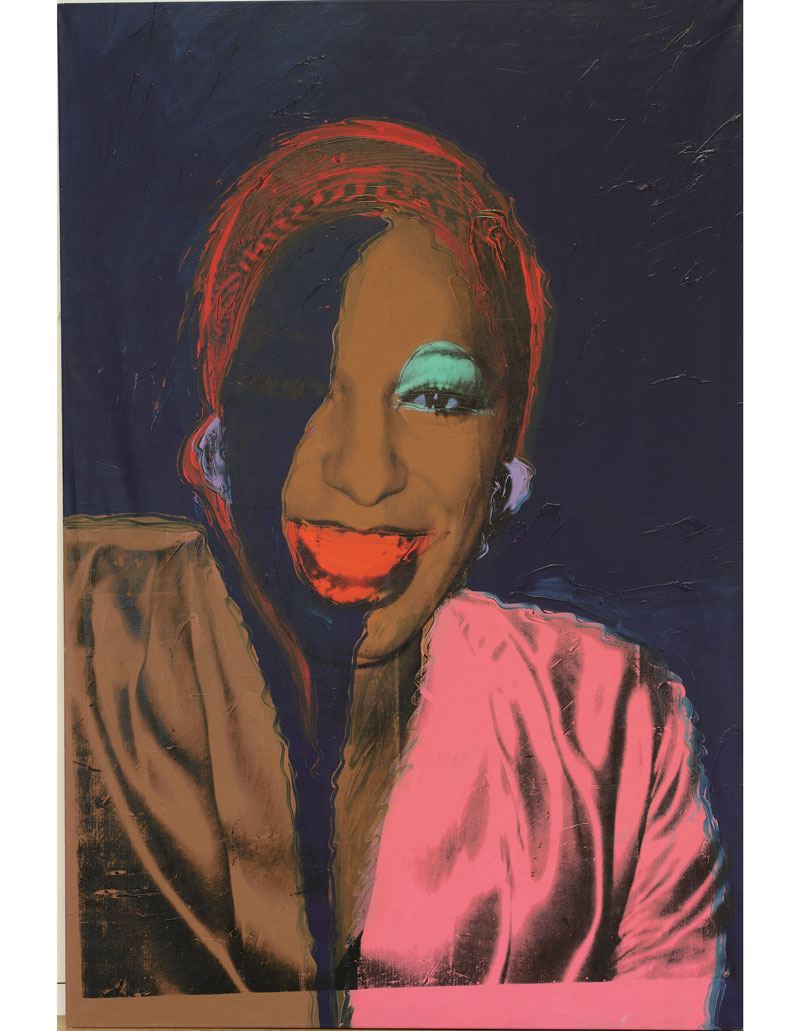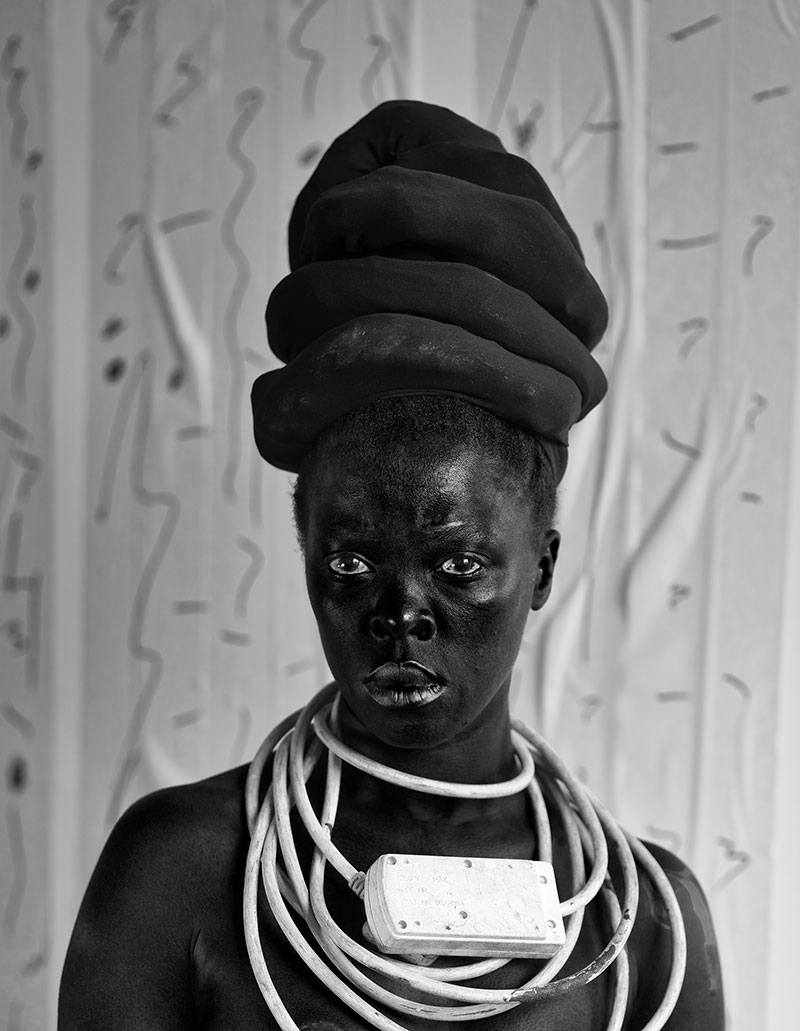 Connecting the retrospective to "Crossing Views" is Sherman's monumental wallpaper Murals (2010), seen on the outer walls of all of the foundation's three levels. Otherwise, this exhibition includes 60 works from 1960s to present day by Rineke Dijkstra, Damien Hirst, Gilbert & George, Wolfgang Tillmans, Marina Abramović, Zanele Muholi, and more. "The idea of these 'crossing views' came to me during a working meeting in the artist's Parisian apartment, where she has a large number of works by young artists, many of them little known," Suzanne Pagé, artistic director of the Fondation Louis Vuitton, said in a statement. "This was a sign of her attentive, active presence on the art scene and the acute, militant curiosity of her gaze."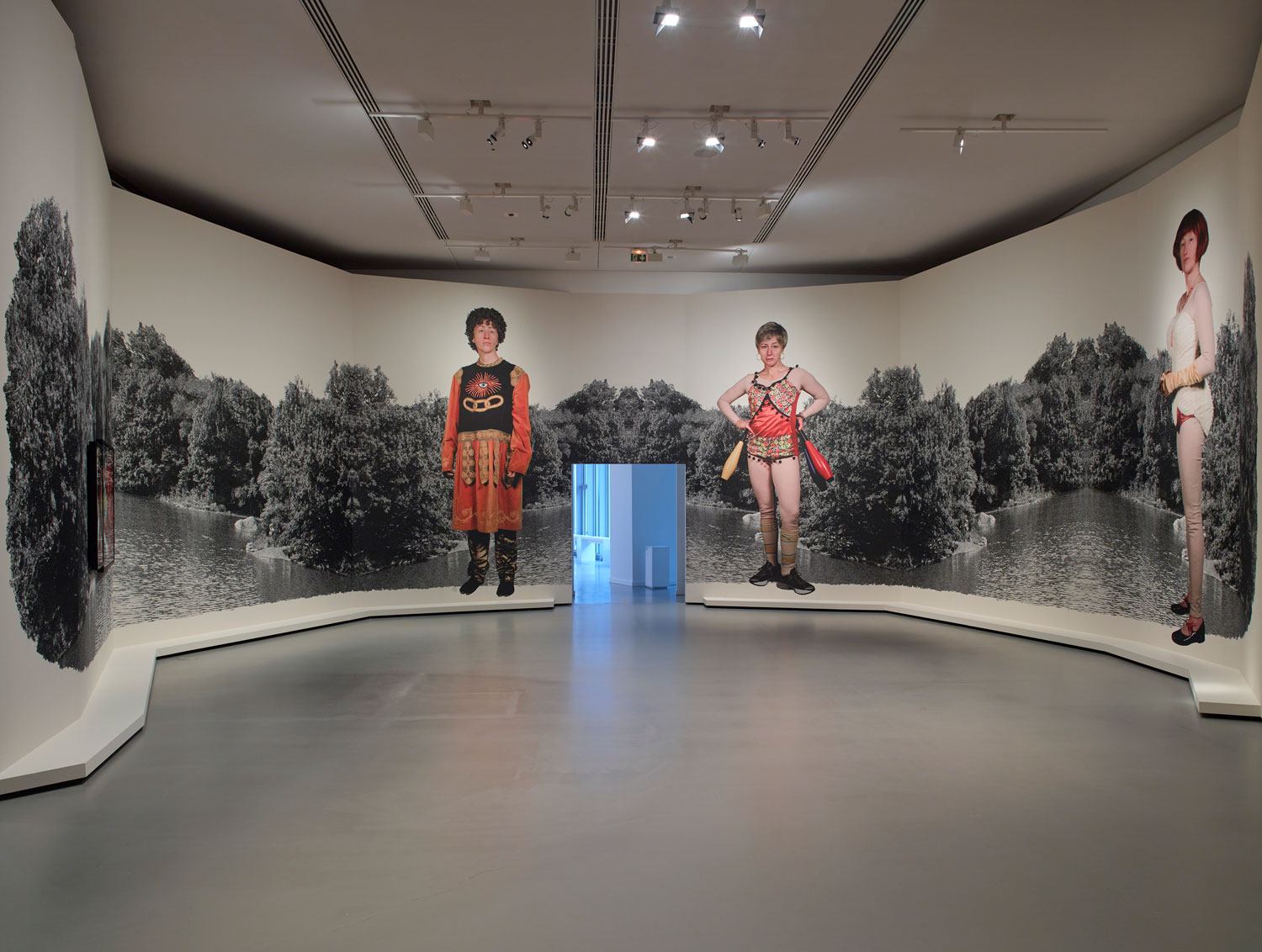 Highlights include Louise Bourgeois's No Exit (1989), an installation inspired by her childhood memory of spying on her dad from underneath a staircase and learning of his affairs. Unsurprisingly, portraits abound throughout "Crossing Views" but range in medium—Andy Warhol, a major influence on Sherman, is represented in Polaroids, in which, like Sherman, he is clad in both masculine and feminine ensembles, as well as other works, such as his "Ladies and Gentlemen" series (1975), featuring New York transvestites.
For "Crossing Views," Sherman also loaned a new series of seven tapestries depicting images conceived on Instagram in cotton, wool, acrylic, and silk. Never before seen in public, these textiles represent another first for the artist: an artificial eye color. In her past imagery, Sherman's blue eyes have remained the one eternally "real" detail, as if her own signature.
"[Sherman] has become a hugely influential artist who intimately understands the implications of appearance and self-portraiture, including the role played by vanity in such exercises, along with the extraordinary creativity required," says Arnault. "Indeed, she has taken on many roles that each of us would perhaps like to play but have never dared to attempt."
"Cindy Sherman at Fondation Louis Vuitton" is on view from September 23 to January 3, 2021.
Next Post