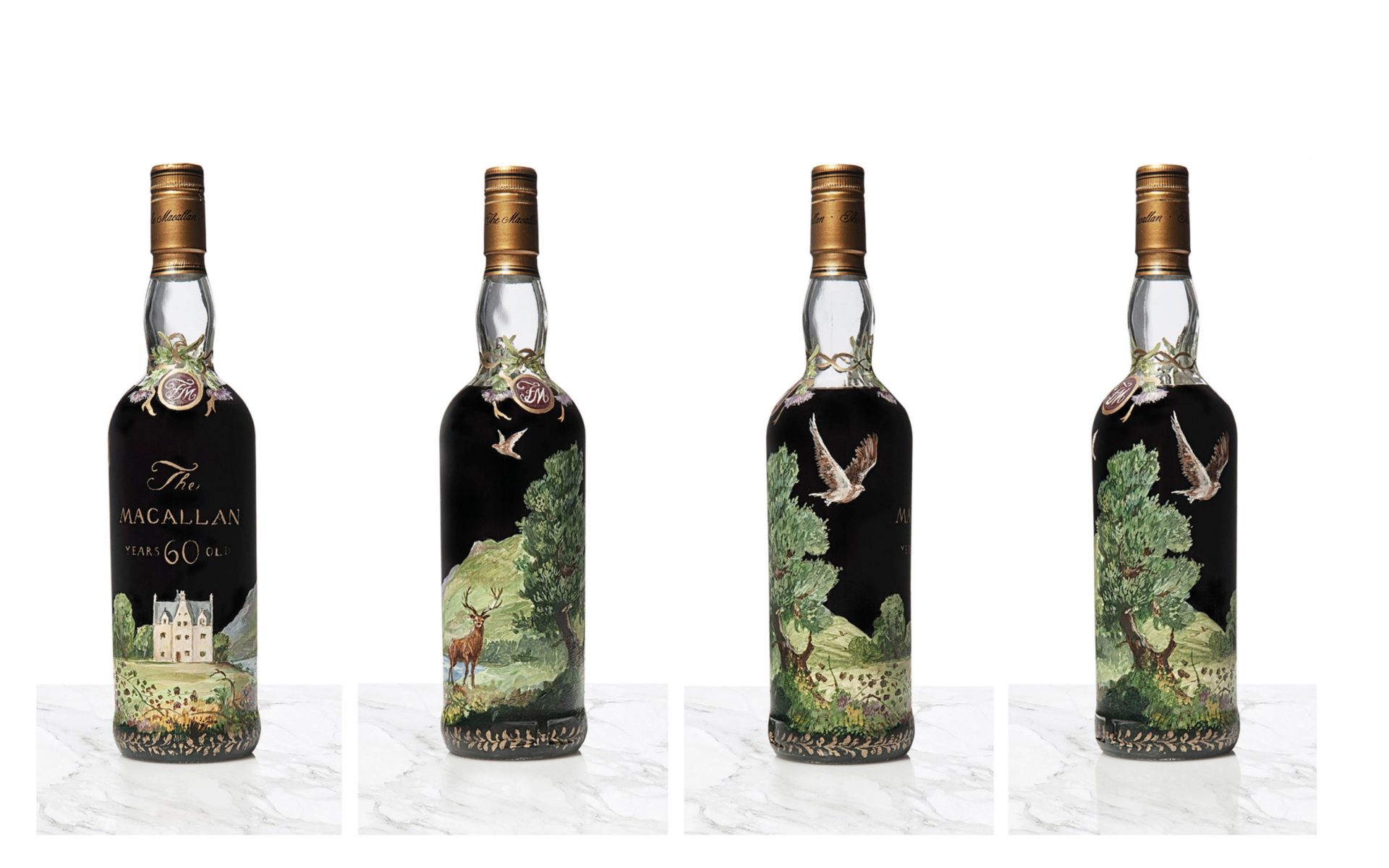 Bottle of Whisky Sells for $1.5 Million, Shattering World Record
Distilled in 1926, the coveted Macallan malt was aged for 60 years and features a hand-painted label by artist Michael Dillon
The Macallan 60-Year-Old 1926, presented in a unique bottle painted by Irish muralist Michael Dillon, smashed the world auction record for a bottle of whisky today at Christie's in London. The bottle sold for $1,528,800 in the auction houses's Finest & Rarest Wines & Spirits sale.
The staggering price supersedes the $1.08 million October sale of the same Macallan malt, alebit with a label by Italian artist Valerio Adami. Just 40 bottles of the 1926 were ever produced, each one aged for 60 years in the same sherry cask at Macallan's northeast Scotland distillery. Both Adami and artist Peter Blake, who created the cover art for the Beatles' Sgt. Pepper's Lonely Hearts Club Band, were asked to design a label for the special malt, and 12 individually numbered bottles from each artist were released.
This particular bottle, however, is something of a holy grail for whisky collectors, since it's the only one featuring a hand-painted label by Dillon. Commissioned by Fortnum & Mason in 1999, the bottle beautifully depicts the Easter Elchies House of The Macallan against the backdrop of the Scottish Highlands.
Recommended: David Hockney Eclipses Jeff Koons to Become the Most Expensive Living Artist
"The sale represents a landmark moment in the whisky market," Tim Triptee, Christie's international director of wine, said in a statement. "The results confirm the strength of the market for whisky and the continued success of Christie's in offering the finest spirits to our collectors across the globe."
Full results of the Finest & Rarest Wines & Spirits sale are still to come.
Next Post