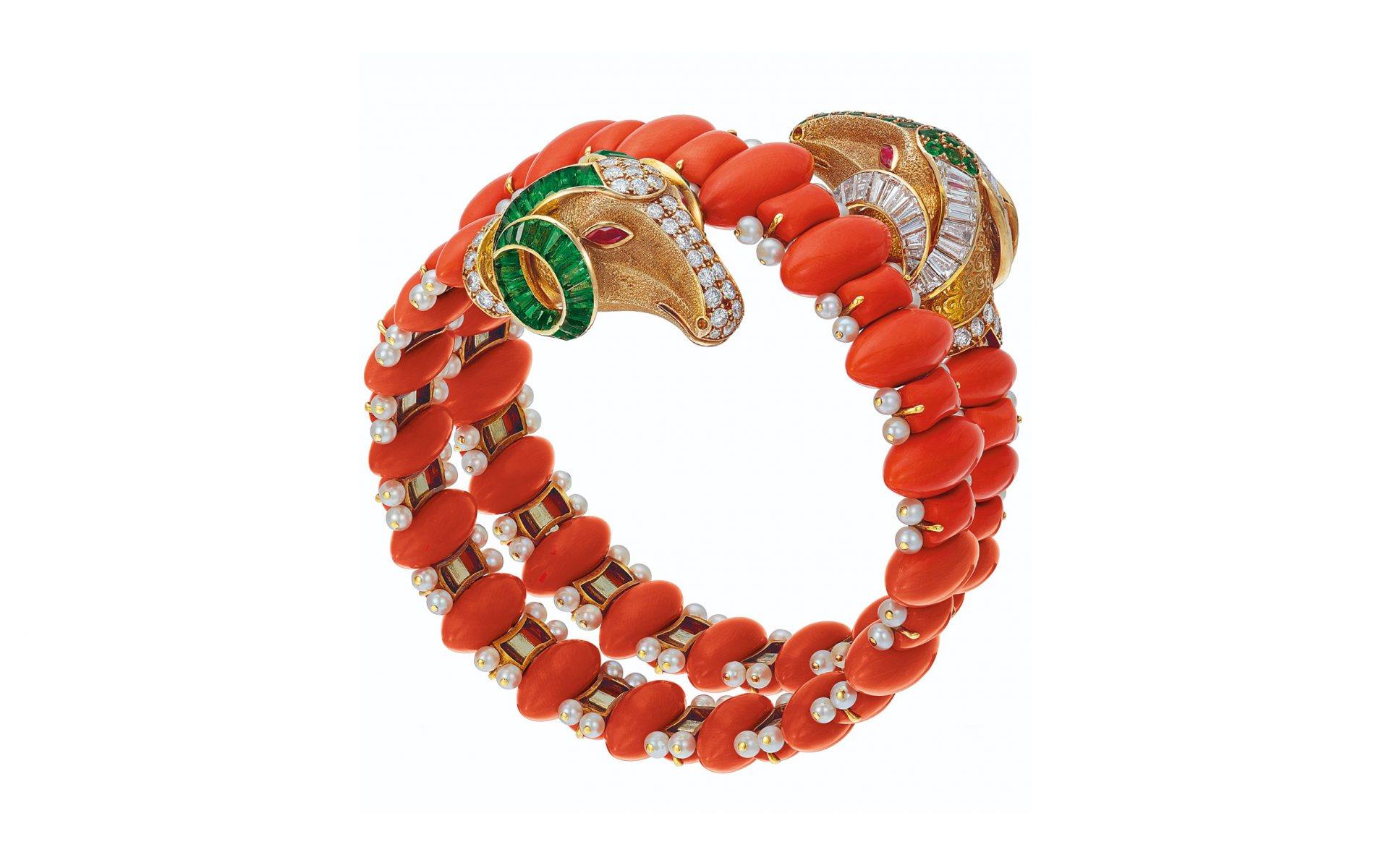 The 9 Most Incredible Jewels Hitting the Block at Christie's This Week
The Magnificent Jewels sale features 450 items, including property from the Rothschild family and important signed pieces by Belperron, Boivin, Bulgari, and Cartier
This month's Magnificent Jewels sale at Christie's offers over 450 lots, highlighted by noteworthy gemstones, renowned private collections, and a wide selection of important signed jewels by makers, including Suzanne Belperron, René Boivin, Bulgari, Cartier, Harry Winston, Tiffany & Co., and Van Cleef & Arpels.
1. The duPont Ruby
A pair of historic colored gems, both formerly from the collection of Jessie duPont, a noted philanthropist and wife of multimillionaire businessman and duPont gunpowder heir Alfred duPont, are among the most important jewels being offered. The first lot is the magnificent duPont Ruby, an 11.2-carat Burmese ruby on a brooch accompanied by emeralds, diamonds, and natural pearls, mounted on platinum. The ruby has not been treated with heat, according to the condition report from the American Gemological Laboratories, which describes the hue as the desirable shade of "pigeon blood." Currently owned by the Virginia Museum of Fine Arts, it is on offer for between $3.5 million and $5.5 million, and the sale will benefit future museum acquisitions.
2. The duPont Emerald
The second item from the noted collection is the duPont Emerald, a Belle Epoque–era 9.11-carat Colombian emerald mounted on a platinum ring by Tiffany & Co. It is flanked by a row of old-cut diamonds and is on offer for between $500,000 and $700,000.
3. Carved Elephant Emerald Necklace
In 1954, two young Frenchmen, André Chervin and Serge Carponcy, met working at the famous workshop of Louis Féron in New York City. They soon founded Carvin French Jewelers and worked for some of the top jewelry houses in the world, including Van Cleef & Arpels. This delightful necklace reflects the house's exquisite craftsmanship and features a carved emerald elephant, oval cabochon rubies, ruby and faceted diamond beads, pear-shaped diamonds, and seed pearls. It is on offer for between $100,000 and $150,000.
Recommended: Meet High Jeweler Emmanuel Tarpin, De Grisogono's New Artist-in-Residence
4. Van Cleef & Arpels Diamond Sautoir 
Sautoirs may have had their heyday in the early 20th century, but they remain as alluring as ever today. With their dramatically long form, sautoirs work to draw the eye to the pendant hovering around the waist and were thought to be a response to more streamlined fashions of the 1920s. Van Cleef & Arpels is known to create the most exquisite versions, and this beauty is no exception. It hits the block for between $500,000 and $700,000.
5. Suzanne Belperron cuff 
A bracelet made with spiked rock crystal and hematite by Suzanne Belperron, circa 1930, for Maison Boivin is a standout among the 70 or so Art Deco pieces in the sale and has an estimate of between $50,000 and $250,000. The minimal design reflects a departure from the overly ornate aesthetic of the Belle Epoque and Art Nouveau styles that preceded it.
6. Chaumet emerald, ruby, and diamond brooch
This circa-1925 brooch by Chaumet is fashioned with cushion-, oval-, and drop-shaped cabochon carved emeralds; calibré-cut rubies; old-, single-, and rose-cut diamonds; and cabochon onyx plaques, and is set in platinum and 18K white gold. From the collection of Judith-Ann Corrente, a philanthropist and CEO of the Metropolitan Opera Association, it is on offer for $250,000—$350,000.
7. Kashmir sapphire ring
This 1915 Belle Epoque Kashmir sapphire and diamond ring of a whopping 30.14 carats has been passed down through three generations of a distinguished New York family. The rarest sapphires in the world are from the region of Kashmir, on the Indian subcontinent, boasting a deep cornflower-blue palette and a luscious quality reminiscent of velvet. The stone has no gemological evidence of heat or clarity enhancement. To draw attention to the exquisite gem, the band is a simple platinum setting with a row of old-cut diamonds. Its presale estimate is between $3.5 million and $5.5 million.
8. Coral and Diamond Ram's Head Bracelet by Cartier 
Among the most coveted signed pieces in the sale, this circa-1955 ram's head bracelet by Cartier is a highlight, not only for its whimsical design but its stylish provenance. It was originally featured on the cover of Harper's Bazaar in 1956 in a photograph by Leslie Gill and comes from the collection of style icon and magazine editor Barbara "Babe" Cushing Mortimer Paley. It features coral plaques and navette-shaped beads, baguette, and circular-cut diamonds, emeralds, marquise-cut rubies, and seed pearls on an expandable bracelet.
Recommended: De Beers's Latest High-Jewelry Collection Combines Rough and Polished Diamonds
9. A pink topaz, emerald, and diamond necklace by Taffin 
This beautiful necklace by contemporary designer Taffin is not to be missed. The one-of-a-kind topaz, emerald, and diamond necklace on a flexible gold band was created by the French-born, New York–based designer James Taffin de Givenchy, a nephew of the fashion legend Hubert and a master at transforming antique stones with highly creative silhouettes.
Christie's Magnificent Jewels sale takes place on December 11 in New York City. 
Next Post