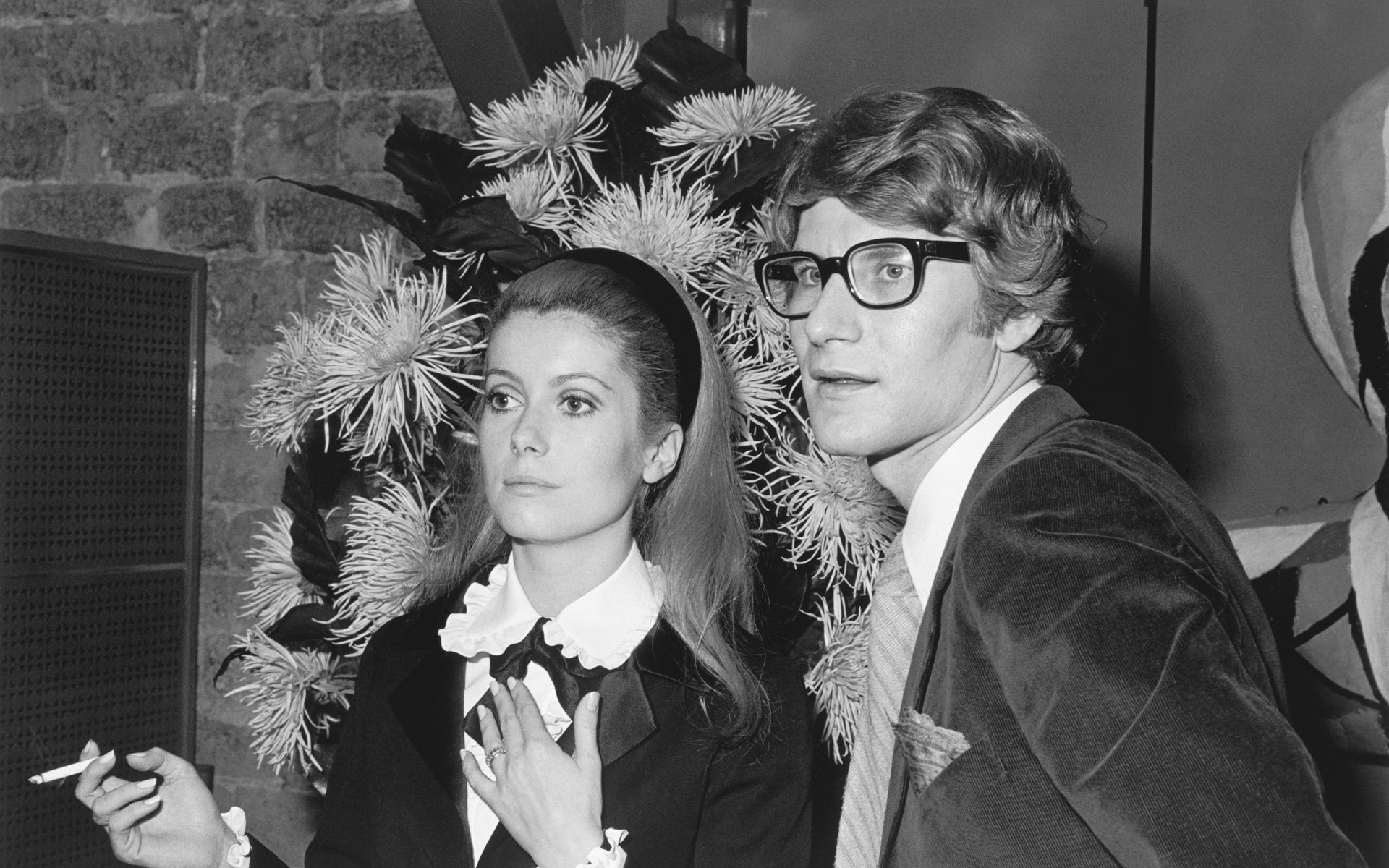 Catherine Deneuve Auctions Collection of Yves Saint Laurent Couture
The beloved French actress was a muse and close friend to Saint Laurent and has more than 300 pieces by the designer
This week, in the midst of Haute Couture Fashion Week in Paris, Christie's France will sell dresses, suits, and accessories of Catherine Deneuve, one of the most beloved stars of French cinema.
The wardrobe of Catherine Deneuve includes mainly haute couture with several Yves Saint Laurent Rive Gauche pieces designed between the end of the 1960s and the last show of Yves Saint Laurent, in 2002. The sale, which takes place on January 24, will offer 120 lots in a live auction and 180 online.
Recommended: See Artist Claudia Comte's Eye-Popping Wall Works
There will be iconic pieces by the designer, including numerous evening dresses worn by the French actress in Cannes, Hollywood, and Venice, as well as trench coats, the signature Le Smoking suit (Deneuve was one of the first women to wear it), and colorful dress suits; the online-only sale will offer daywear and cocktail dresses.
"His supreme gravitas during the fittings alongside his shy charm outside the atelier made all the years we shared so enchanting," Deneuve said of the prolific designer in a statement. "I was only 20 years old when I had the privilege of receiving access to this world of luxury, to train my eye and my taste by his side. He dressed me several times for films, and I believe that Belle de Jour owes a great deal to him. Now I am leaving my house in Normandy, where I kept this wardrobe—not without a certain sadness—these are the creations of such a talented man who only designed clothes to beautify women."
Recommended: Anne Vanderbilt's Manhattan Townhouse Hits the Market for $21 Million
One of the highlights of the sale is a superb short, beaded dress designed by Yves Saint Laurent for the spring/summer collection in 1969. The evening dress, worn by Deneuve when she met Alfred Hitchcock in 1969 in the company of Philippe Noiret and François Truffaut, is estimated to sell for $3,400 to $5,600.
"This auction is particularly dear to our hearts, having organized the legendary Yves Saint Laurent and Pierre Bergé sale at the Grand Palais 10 years ago," François de Ricqlès, president of Christie's France, said in a statement. "It is a pleasure to offer these pieces, which bear witness to a love story and a friendship between a most talented French actress and the most illustrious designer of all time."
The live auction of Catherine Deneuve and Yves Saint Laurent will take place on January 24 at 2:30 p.m.; the online sale runs from January 23 to 30.
Next Post