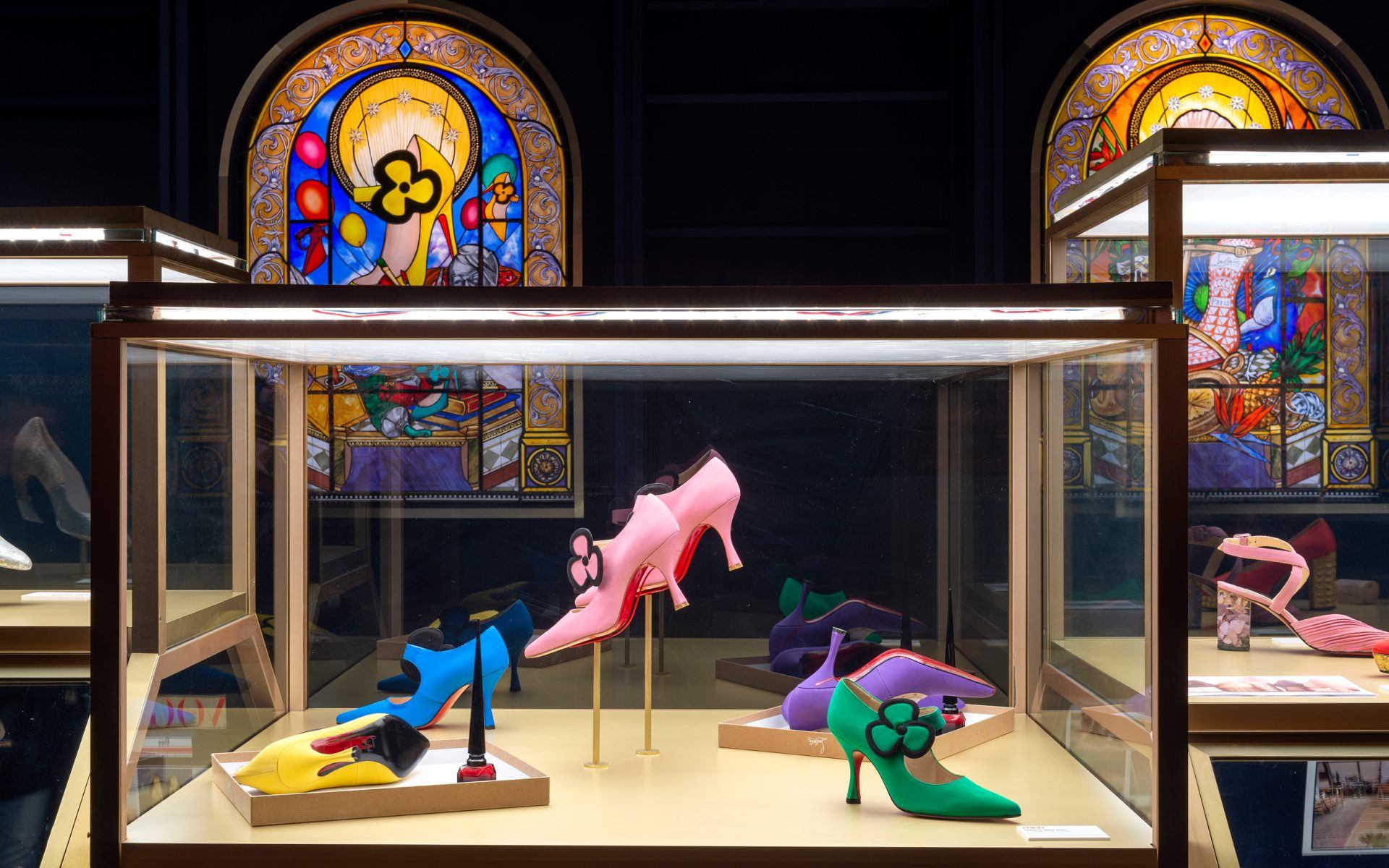 Christian Louboutin Shares the Unexpected Inspirations Behind His Iconic Shoes
The famed shoe designer talks to Galerie about his major new show in France
Christian Louboutin's red-soled shoes are iconic the world over, worn by celebrities, royalty, and fashion lovers alike. But this month, the public will get a rare glimpse into the designer's wildly imaginative mind and learn more about the unexpected cultures and makers that have inspired him along the way.
Kicking off on February 26, a new exhibition transforms the majestic Palais de la Porte Dorée, a historic museum and aquarium located on the outskirts of Paris, into a fantastical extravaganza. The show, titled "Christian Louboutin: L'Exhibition(niste)," was curated by Olivier Gabet, director of the Musée des Arts Décoratifs and the boldface name behind such blockbuster fashion exhibitions as "Christian Dior: Designer of Dreams." More than a retrospective, the installation, which is spread across 11 rooms in the museum, is a celebration of creativity and the power of collaboration.
The show is also a homecoming of sorts: Louboutin has a personal history with the museum and its trove of African and Oceanic art. "This building belongs to my childhood—I have been going since I was around five or six," Louboutin tells Galerie. "It opened my eyes to so many worlds at such a young age. I felt it was natural to celebrate a lot of people and makers in this show. It is an exchange of ideas and influences."
Recommended: Christian Louboutin on the Lamp That Shaped His Career
A sign at the Palais de la Porte Dorée even inspired one of Louboutin's first shoe designs, the iconic Pigalle, which he has since reinvented numerous times over the years. "The mosaic floors were incredibly precious, and you weren't allowed to wear stilettos," he recalls. "I remember thinking the drawing of the shoe was unrealistically high, but it gave me inspiration to dream."
Alongside Louboutin's shoe designs, the exhibition features works by contemporary artists such as Pakistani talent Imran Qureshi, who in 2013 splattered the roof terrace of the Metropolitan Museum of Art with red paint in decorative patterns drawn from Persian and Indian miniatures. For this show, Qureshi created a similar installation featuring a pair of shoes covered in gold leaf.
Elsewhere there is a video work by New Zealand artist Lisa Reihana, who represented her country in the 2017 Venice Biennale. Visuals of Louboutin's fetish shoes, culled from a shoot by filmmaker and photographer David Lynch, which were first unveiled in 2007, are shown alongside pornographic illustrations by Lynch himself. Another installation by British artist duo Whitaker/Malem features nine nude forms in the skin tones of Louboutin's Nude shoe collection.
"The art on view is not mere illustrations of inspiration, which can sometimes not feel very respectful to the artwork. Here, they have their own spaces and are treated as an imaginary museum," says Gabet. "And the shoes are works of art in themselves. It's a celebration of visual culture."
The exhibition also pays homage to craftsmanship: There are stained-glass panels created by the Maison du Vitrail; a monumental rendering of a crystal Louboutin shoe by Parisian sculptor Stéphane Gérard, ensconced on a silver palanquin throne fashioned by Orfebrería Religiosa Villarreal in Seville, Spain, and clad in embroidery by Indian designer Sabyasachi Mukherjee; and a theater crafted by Bhutan artisans.
"Unless you are in the fashion world, you just see the result of the collections," says Louboutin. "You don't see where the designs are coming from. It's nice to show people the many different aspects of your world."
"Christian Louboutin: L'Exhibition[niste]" is on view at the Palais de la Porte Dorée museum through July 26. 
Next Post