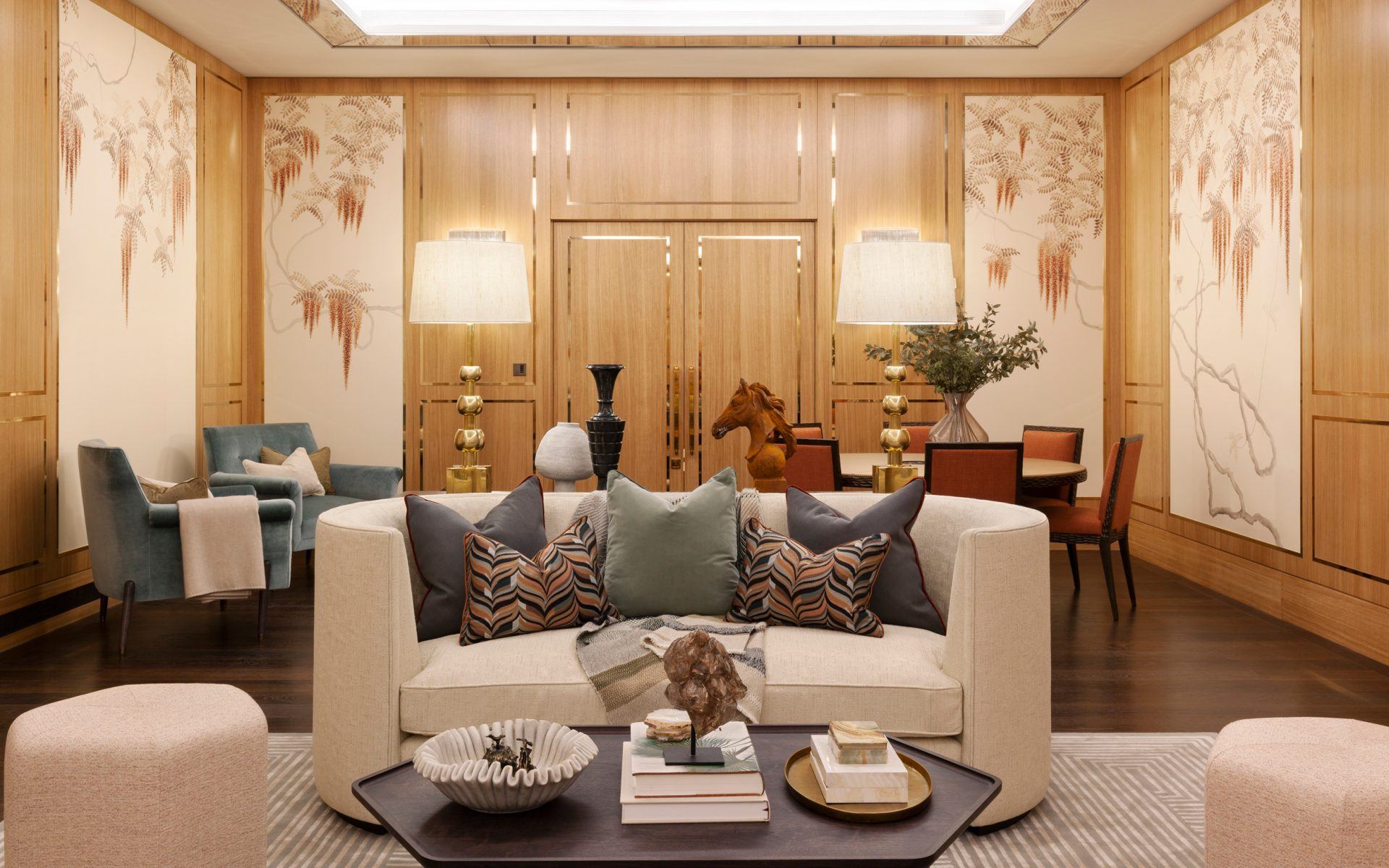 Tour London's Most Exclusive New Development, Chelsea Barracks
An A-list team of designers creates a full-service neighborhood from the ground up
After selling for a record $1.3 billion in 2007, a prime parcel in London has been reborn as the city's most in-demand neighborhood. Having been designed by architect George Morgan in 1855, the 13-acre site nestled between Chelsea and Belgravia—now known as Chelsea Barracks—was historically home to the British Royal Army. The complex remained in operation until 2007, when the land was sold to Qatari Diar, a branch of the Qatari Investment Authority. While the barracks themselves were razed—save for a chapel designed by Morgan that has since been restored—a master plan was put in place to create a full-service new neighborhood replete with sleek residential buildings, townhouses, a mews house, and five acres of public garden squares.
To realize its vision, Qatari Diar enlisted an A-list design team: architecture firms Dixon Jones and Squire and Partners devised the master plan and buildings; Kim Wilkie handled the landscape and garden design; and Elicyon oversaw many of the interiors, including the residential common areas, amenity spaces, meeting rooms, and model units. (Lawson Robb has also conceived a model unit, and a large treelike sculpture by Conrad Shawcross anchors one of the pedestrian entrances.)
Recommended: Why Buying a Private Island Is Easier Than You Think
"Chelsea Barracks is a hugely important site," says designer Charu Gandhi of Elicyon. "The architects deliberately kept the buildings not very tall and left lots of open garden spaces. So it's become part of the fabric of Chelsea that pays homage to the existing architecture. It feels like it's been there much longer than it has." Gandhi's firm spent countless hours researching the history of the area to come up with the right narratives for the spaces. The residential lounge's color palette, for instance, pays homage to the neighborhood's rich botanical past, which included being a hub of apothecaries and herb suppliers.
The three-bedroom duplex model unit, meanwhile, references the annual Chelsea Flower Show, the biggest in the world. "Every year the whole neighborhood bursts into color," Gandhi tells Galerie. "The model apartment, which we call 'Blossom,' overlooks the site where the show takes place, so I wanted it to feel like you're living in a giant flower bouquet." To that end, Elicyon deployed a palette of dusty nudes, blonde timbers, and blush accents to give the residence a vibrant floral essence. Bespoke elements, like rugs with abstracted botanical patterns, enhance this theme.
Residences at Chelsea Barracks start at £5.25 million for a two-bedroom unit, while townhouses are available starting at £38 million, and the penthouse is on the market for £42 million. In addition to the prime location, owners will gain access to the Garrison Club, a hotel-style amenity space featuring a 12,800-square-foot spa, indoor swimming pool, fitness center, sauna, and tepidarium, plus private office suites and boardrooms. Rounding out the amenity package is a 24-hour concierge for which no quest is too small.
Tour the complex below:
Next Post