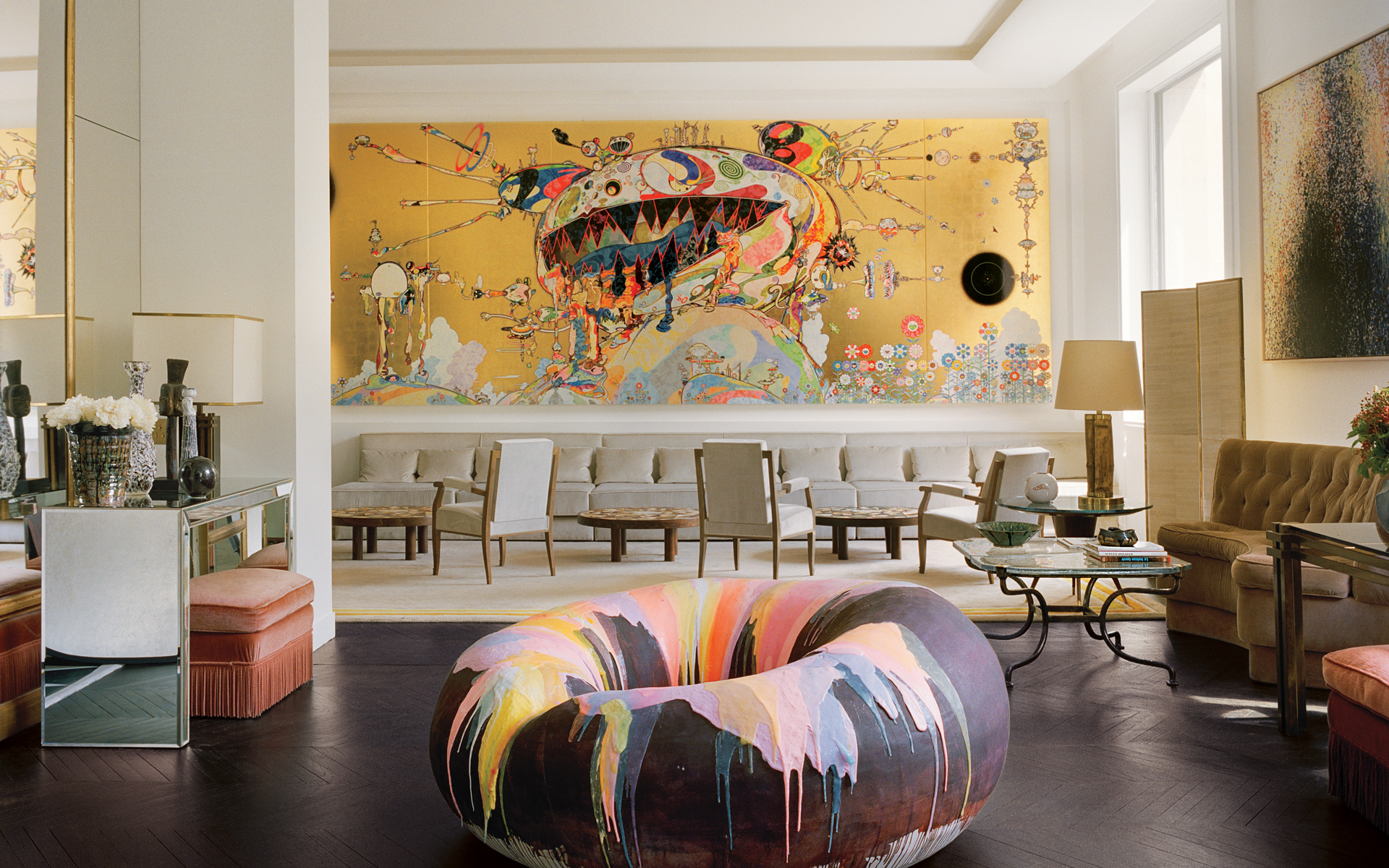 Explore an Adventurous Art Collector's Wildly Imaginative Paris Apartment
Partnering with architect Benoit Dupuis, designer Cathy Vedovi brings her confident, creative flair to a career-launching commission
Though Cathy Vedovi never formally trained to be an interior designer, the French tastemaker has been engaged with the creative arts her whole life. Her father, Hervé Odermatt, was a Paris dealer of Impressionist and 20th-century art. In the 1980s, she moved to Los Angeles to study fashion design at the Fashion Institute of Design & Merchandising, convinced that the coolest things were happening in America. In L.A., she met her husband, Paolo Vedovi, who owns a Brussels gallery specializing in modern and contemporary works.
Vedovi's interest in interiors truly awakened in 2005, when she and her husband acquired an 18th-century house in Brussels that had been renovated for previous owners to minimalist perfection by architect Vincent Van Duysen. "That Vervoordt mix," she says, referring to the quintessentially Belgian, spare, rustic-refined aesthetic made famous by designer Axel Vervoordt, "was so inspiring for me."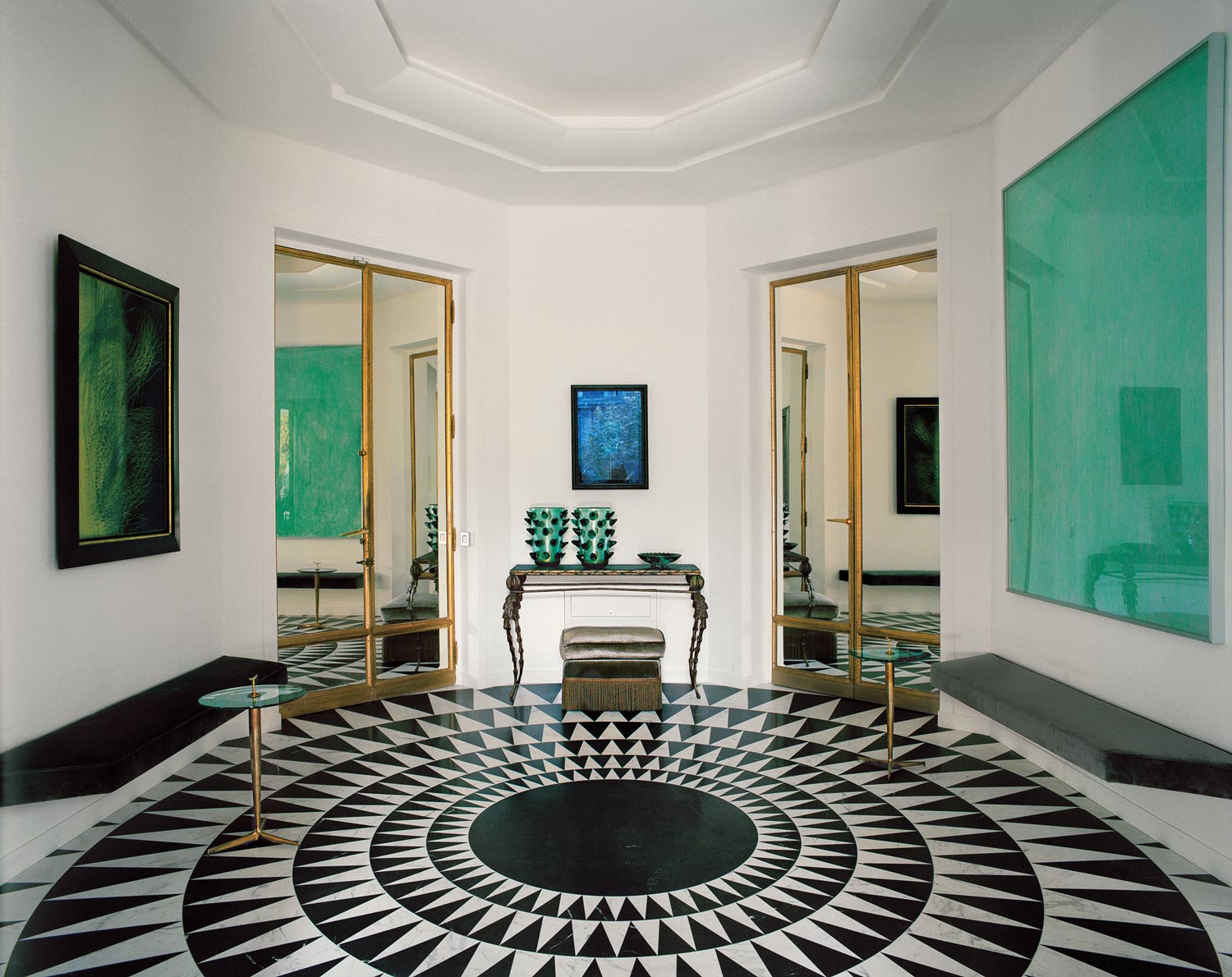 Her instinctual command of design is apparent in her first commission, the revival of a Paris apartment for an art collector a couple of years ago. The project came about when the collector sought her advice on what to do with the 3,875-square-foot space in an Art Deco building. Although it had good bones—originally designed as a residence by Jansen, the rooms featured ample windows and clean-lined proportions—the apartment had been chopped up into offices.
Vedovi reeled off a host of design ideas and touted the talents of an architect friend, Benoit Dupuis, the creator of boutiques for Christian Louboutin and homes for Keith Richards and Bella Freud. To her surprise, the collector offered her and Dupuis the job, giving them carte blanche. "I admired interior design," Vedovi recalls of that time, "but I didn't know I was capable of doing it myself."
Having free rein allowed Vedovi and Dupuis—who continue to work on projects together—to unleash a daring approach to the interiors without going overboard. The circular entrance, for example, boasts a razzle-dazzle sunburst pattern of black and white marble for the flooring. Dupuis's Deco-ish design was inspired by the building's original wrought-iron balustrade, conceived by modernist metal master Raymond Subes. Its symmetrical elegance points the eye to walls displaying quieter abstract paintings by Damien Hirst and Hans Hartung and a conceptual work by Pamela Rosenkranz.
Vedovi's choice of furnishings, which mix flea market finds and singular vintage pieces with tailored custom designs, reflects her exuberant spirit and confident, lifelong sense of style. For her, the art must divine the decor. "I don't do projects unless there is art," says Vedovi, who has since crafted art-filled homes for gallerist Emmanuel Perrotin and a fashionable young relative of the Agnelli family, among others, and is currently designing a beach club in the Bahamas. "Otherwise, I don't have anything to hang on to."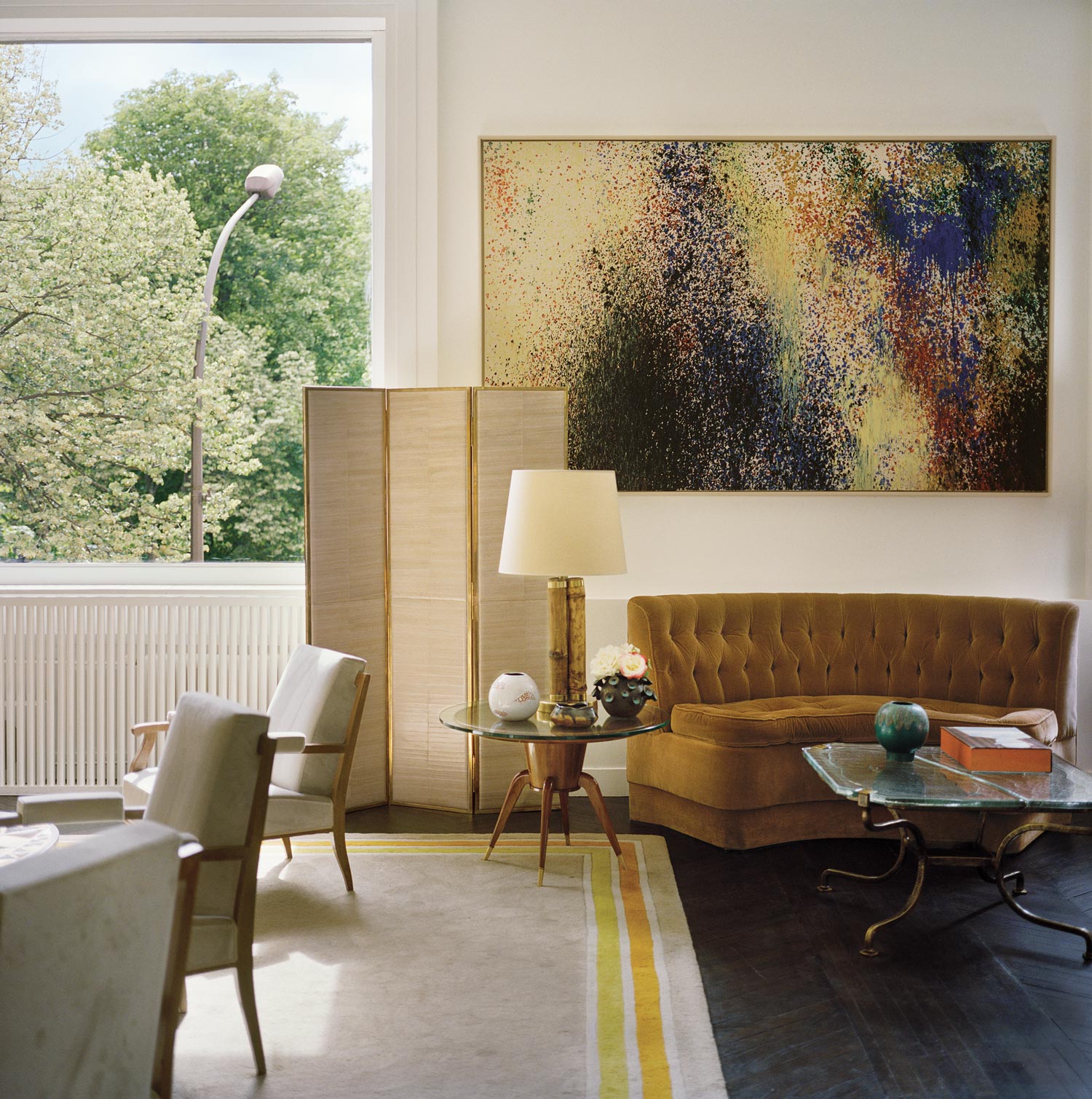 Here, the client had only one request—actually three, to be precise: He owns a trio of enormous, multi-paneled Takashi Murakami paintings, and the walls needed to be expansive and sturdy enough to handle them. Dupuis's solution for the largest of the three, a work that spans 23 feet of living room wall space, was to set it within a niche, so that the architecture frames the art. "The apartment doesn't have long views," Dupuis says. "The paintings create a landscape and give a sense of perspective."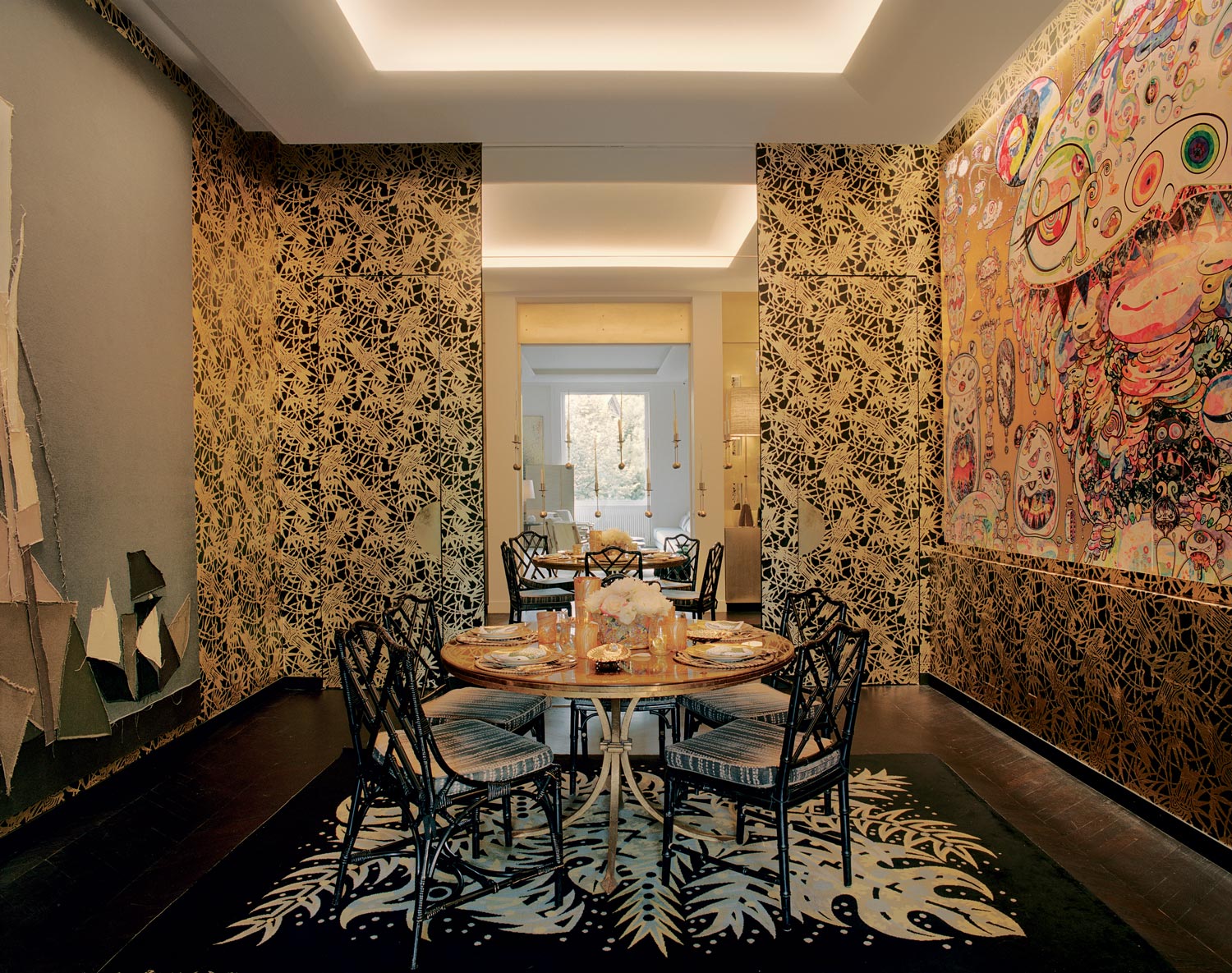 Murakami's wildly imaginative, color-splotched works also served as a launching pad for Vedovi's design plan. In the dining room, a gold-leaf canvas inspired a gleaming 1960s Ramsay table in bronze and glass that Vedovi positioned atop a flamboyantly patterned vintage French rug. She clad the walls in an equally spirited hand-stenciled wallpaper aflutter with a riot of golden bamboo leaves.
In the sprawling living room, beneath Murakami's painting of a toothy monster, Vedovi installed a wall-length banquette that is joined by vintage Jules Leleu armchairs and 1960s cocktail tables by ceramist Roger Capron. The seating's silvery upholstery harmonizes with the painting's metallic tones, while the work's brushstrokes of pink rematerialize in rose-color ottomans Vedovi bought when the Ritz Paris hotel auctioned off its furnishings prior to a renovation. "I basically went on a shopping spree for a year and a half," she says with a laugh.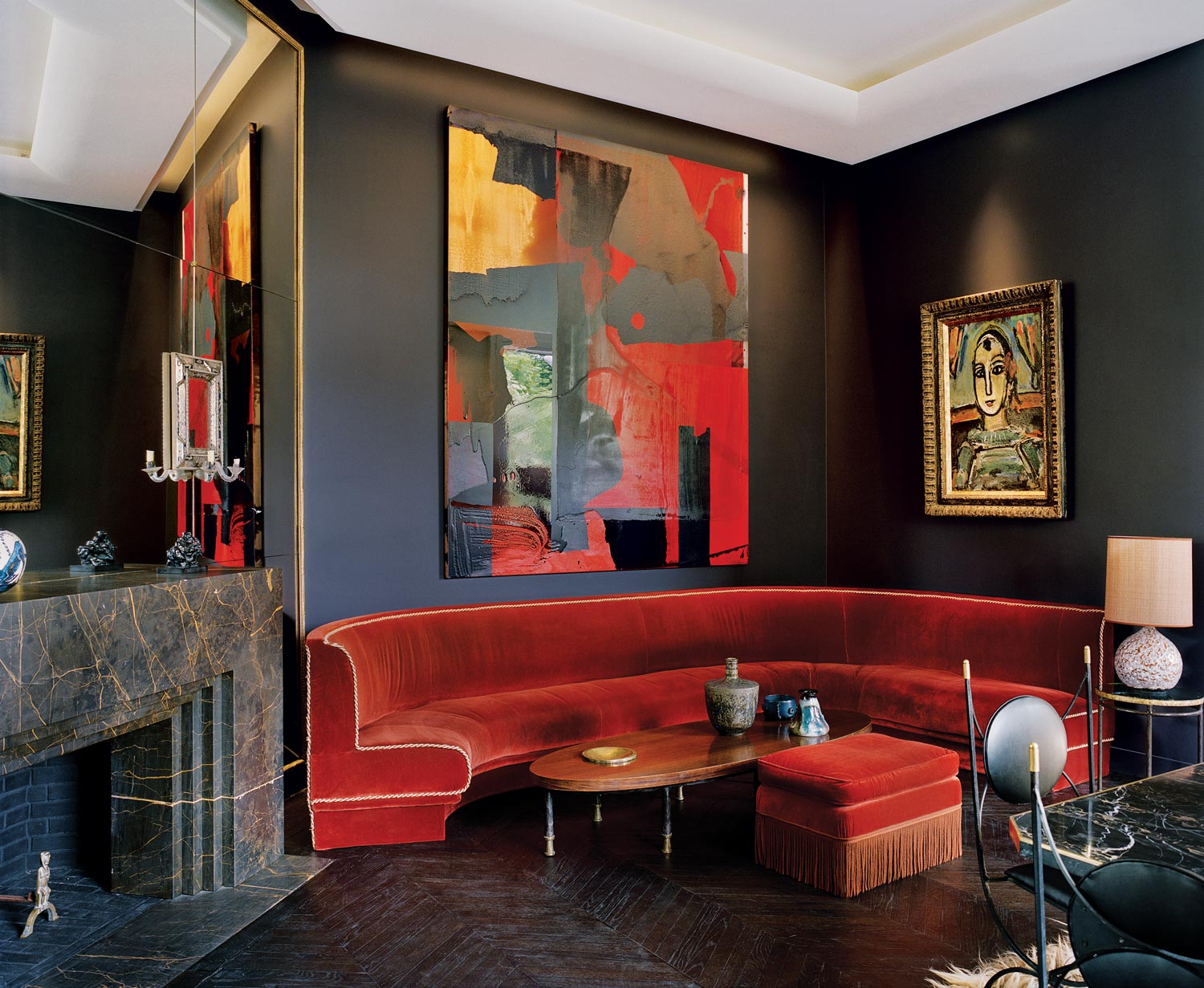 A number of those acquisitions pay homage to the apartment's original designer. A vintage Jansen carved-wood table and lacquer-and-brass lamps by the firm spruce up the primary bedroom, where the third wall-spanning Murakami presides. On installation day, when Vedovi put all the elements together, the first item to emerge from the moving van was a foam-filled, canvas-wrapped sculpture by Nathalie Djurberg that looks like a giant doughnut dipped in candy-color glazes. "At first I didn't know what to do with it, but it turned out to be the icing on the cake," says Vedovi, noting how the offbeat object keeps the room from becoming staid.
"When something is too formal," she adds, "you need to give it a kick."
A version of this article first appeared in print in our 2021 Fall Issue under the headline "Fresh Start." Subscribe to the magazine.
Next Post